You may be attending an Indian Wedding, birthday party. casual function or any other random event and need inspiration for the perfect Indian party hairstyle. Different hairstyles are great for different occasions. As well as, different hair lengths and textures allow your hair to be styled into a particular way for the specific event.
Indian Party Hairstyles
Picking up a good hairstyle may seem a tough a job but it depends on your own choice. It can be traditional, casual or can be an up to date hairstyle. Here are 20 Indian hairstyles for women that can opt for wedding functions, birthday parties or any other occasion.
Best Hairstyles for Indian Wedding Parties
Wedding parties are very glamorous in India & ladies love to style in those wedding parties. Here are our top 5 recommended hairstyles for Indian wedding parties you can try.
Loose Twists & Braided Bun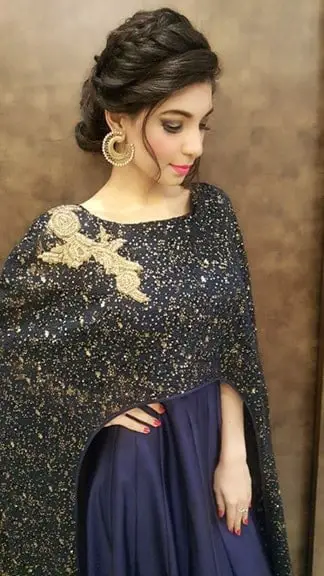 This wedding party hairstyle is very simplistic yet exquisite. All the hair is French braided and flat twisted and pinned into a low bun. The braid is bigger than the twist which adds more texture to the look. As well as, a loose curl is hanging from each side which adds more flair. You can spice up the look by adding hair accessories to your bun or braid.
Long Hairstyle Ideas for Indian Brides
Classic Low Bun
A low bun is a very classical Indian hairstyle because it fits any occasion. To not take away from the bride to be's big day you can choose to wear a low bun. Then, jazz up the look with a bun accessory or even earrings. Ensure that the bun is styled to frame your face shape.
French Braided Curly Bun
Sometimes a sleek bun isn't enough so French braid it! French braid your hair into a curly/messy bun. The bun and the French braid adds more texture to the style. You don't have to wear one French braid, you can do 2, 3 or as much as you would like.
Flowered Bun
The Flowered bun can be worn if the bride is not wearing it. If you are a family member or a friend of the bride to be and you know what hairstyle she will be wearing, then you rock it. It's a classic wedding hairstyle but can be worn at the reception. It is a beautiful hairstyle that shows the authentic Indian hairstyle.
Curly or Wavy Hair
This Indian wedding party hairstyle with saree is perfect for your curly or wavy hair. If you have straight hair you can braid your hair to get the curls. A very simple hairstyle that is perfect for a wedding reception. In addition, it takes the least amount of time to style. You can add flowers at your ear to spice up the look.
Indian Hairstyles for Birthday Parties
Straight Hair
Can you ever go wrong with wearing your straight hair? It's such a classic and simple hairstyle. Priyanka Chopra rocks her straight highlighted her gracefully in this photo. If your hair is layered it adds body to the style. Lastly, highlights that match your skin tone will have all eyes on you at the party.
Curled Bun
A beautiful and intricate hairstyle that is perfect for a birthday party, especially if it's your birthday. Your hair is in a loose ponytail then formed a curly bun. Instead of messy curls, each hair is curled to form the bun. It takes some time to achieve so this cannot be a last-minute look. Then, a couple of strands are used as fringes.
Layered Half Ponytail with Side Bangs
If your hair is layered then it is perfect for you. The half ponytail will make add to your youthfulness. Hence, if you are older you may want to wear this hairstyle. The side swept bangs add volume without hiding any of your beautiful features. You can choose to curl the ends or let it happen naturally.
Wedding Guest Hairstyling Ideas
Flat Twist Layered Outdo
Layers add texture to any hair, especially this one. The hair gets longer towards her ends which allows the hair to fall gracefully on her bag. In addition, the layers create the volume making the top look fuller than it actually is. To spice up the look, there are flat twists done and bobby pinned to the rest of the hair.
Dutch Braided Low Messy Bun

Definitely a beautiful and natural texture shot. The braids, messy, bun, and side fringes add dimension to the hair than straight hair will ever do. If you want your hair out of your face for a birthday party, then this is your go to.  A simple and quick hairstyle.
Hairstyles to Attend A Casual Function
Curly Ends
A simple hairstyle for a casual function such as going out with your friends. All you have to do is curl the ends with your curling iron or even a flat iron. This hairstyle will literally take you less than 5 minutes depending on the thickness of your hair. If you want to add body you can pin a section of your hair towards the back. A go-to hairstyle for any casual event.
Wavy/Curly Shoulder-Length Bob
If your hair is naturally wavy or curly then this is perfect for you. You can wear it at neck or shoulder length, depending on what you like. The bob will give you a sassy yet youthful look. Also, the natural waves will add texture. You can wear it for a night out, for school, or any random event that you want to go to. The headband adds playfulness to your hairstyle.
Side Swept Outdo
Definitely, a unique hairstyle for Indian wedding parties with the top layered being wrapped around the hair, then pinned back into the rest of the hair. It adds the authenticity of the look. Then, the ends are curled to add sassiness to the look. You can choose to wear it on your back or to one side, depending on your preference.
Braided Bun
Sonam sports a braided bun. The hair is pulled back with an exquisite headband which leaves slight partings at the front of the hair. Then, the ends are braided to mimic the idea of a crown. A simple hairstyle fit for any casual function. It may be difficult to achieve but it lasts for days.
Exquisite Low Bun
The hair jewelry is what creates the exquisiteness of the look. Buns are an easy to go hairstyle for any casual function, however, you may want to enhance the look of it. So, adding accessories to the bun such as clips, and scrunchies. As well as, taking out some curls to frame your face and add to the simplicity to the look. Lastly, ensure that hair jewelry matches or blends with your outfit.
Watch The Following Video of Quick And Easy Indian Party Hairstyles
Other Indian Party Hairstyles We Recommend
Sleek Hair
You can never go wrong with wearing your naturally sleek hair to any event. Or straighten it using a flat iron. Simple hairstyles are always best. To add to the thickness and luster you can alma oil which is rich in antioxidants that serves these purposes.
Shoulder Length Bob
Bobs are another classical hairstyle you can try when attending an Indian party. Shoulder length bobs are trending because they are a spin on an old hairstyle. You can bump the ends to add flair to the look. As well as, part it to your best side so that the heavier side adds volume to your hair.
Pompadour with long curls
Another classical Indian wedding party hairstyle with a twist on it. The pompadour adds body to the hair instead of being flat and boring. The pompadour is pinned into the rest of the hair. Also, the balayage layered curls add texture to the style. It's a very fun look that can be worn to any event that you choose to.
Long Curly Outdo
This has to be recommended because it is perfect for any event or occasion. It is a bold yet subtle look for your next hair event. The ends of your hair are curled in clumps to give the hair more body as opposed to individually. Also, you can add a middle parting with your Maang Tika for some flair.
Flat Twisted Side Layered Outdo

Lastly, this is a beautiful hairstyle to attend a wedding party or simply in any event. It may take some time to master especially if you do not know how to flat twist. The sides are flat twisted to give off a shaved side looked. Then, the rest of the hair is bumped and layered which makes the hairstyle look very fun.
There are wide varieties of Indian hairstyles for you to choose from depending on numerous factors. Which hairstyle will you wear?