Makeup for blonde hair blue eyes can be tricky! It's a fun fact that only 8% of the entire world population has blue eyes and only 5% of the population in Europe and America are natural blondes. With such a situation,  we have compiled 10 exclusive makeup ideas for blondes with blue eyes here.
Best Makeup Looks for Blondes with Blue Eyes
Blue and blonde aren't earthly colors; hence, appropriate makeup looks can be achieved with thoughtful color coordination and synchronization. Here's a list of stunning makeup for blondes with blue eyes.
1. Electric Blue Hue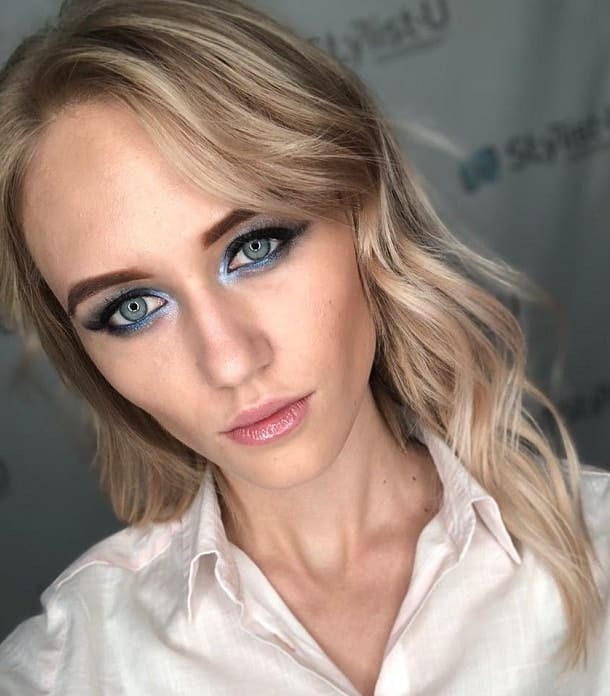 Contrary to popular belief, blue eyeshadow makeup for blue eyes and blonde hair does look stunning.
Ideal for: Ladies with bold eyebrows, sleek face and cat blue eyes can opt for this look.
How to style: The electric blue eyeshadow will steal the show. Hence, keep the rest of your makeup minimalistic. A primary base coating, with some light shade of lips, will work best for this makeup creation.
2. Art of Definition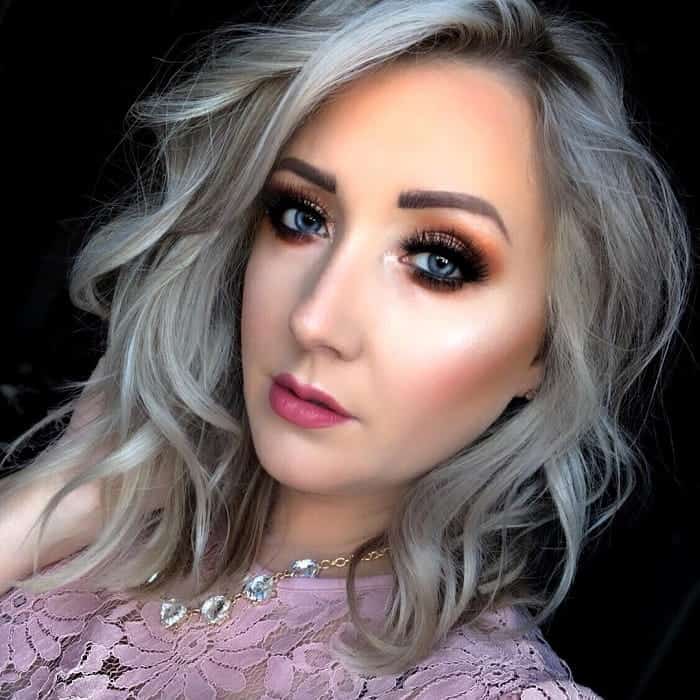 Blue eyes with blond hair are a terrific combination. It's only fair that you define them well and flaunt it.
Ideal for: Women with defined cheekbones and big blue eyes can pull off this bronze makeup look with grace.
How to style: Goal is to define your light eyes with a dark makeup look. Use voluminous fake lashes, and some good bronzer to highlight your cheekbones. A light matte lip for this look is perfect.
3. Solo Color Show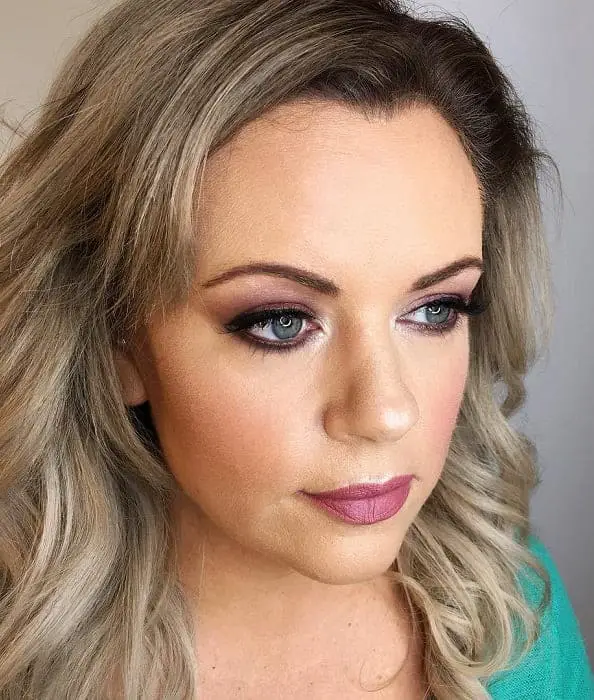 Pick one color and use it cleverly to create elegant and simple makeup for blondes with blue eyes.
Ideal for: If you want a simple yet striking makeup look, this is the one.
How to style: Blue is contrasting with shades of pink. Hence, choose any shade of pink and use it for matte eyeshadow, blush, and lipstick. Define your eyes with some eyeliner, Kohl, and mascara.
4. Bold Red Lips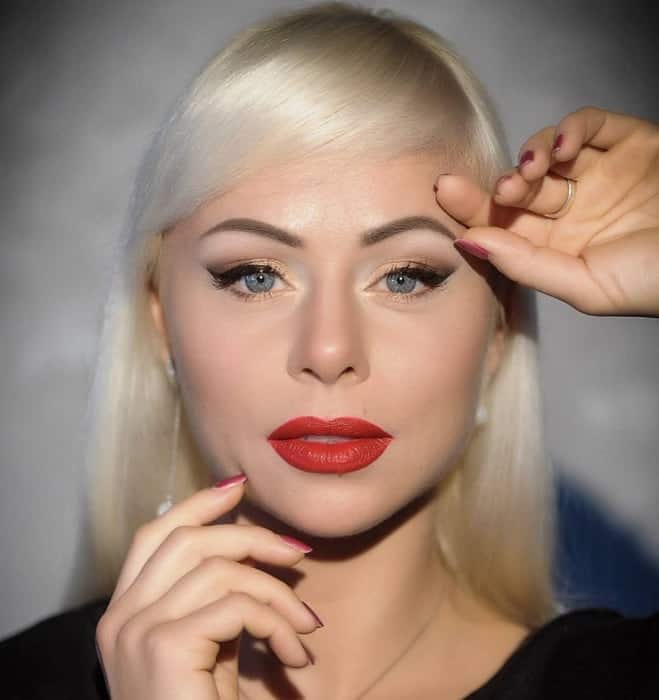 For a royal look, the deadliest combination is gold and red. With blue eyes and silky blonde hair, you can walk the streets feeling like a queen.
Ideal for: A triangular face, with bow-shaped lips and electric blue eyes, can look royal with this makeup.
How to style: Bold red lips look flawless with blonde hair. For the eyes, shape them with a good winged liner and fill the lids with a soft nude pastel shade. To complete the makeup look for blonde hair blue eyes, some gemstone jewelry and diamonds would be majestic.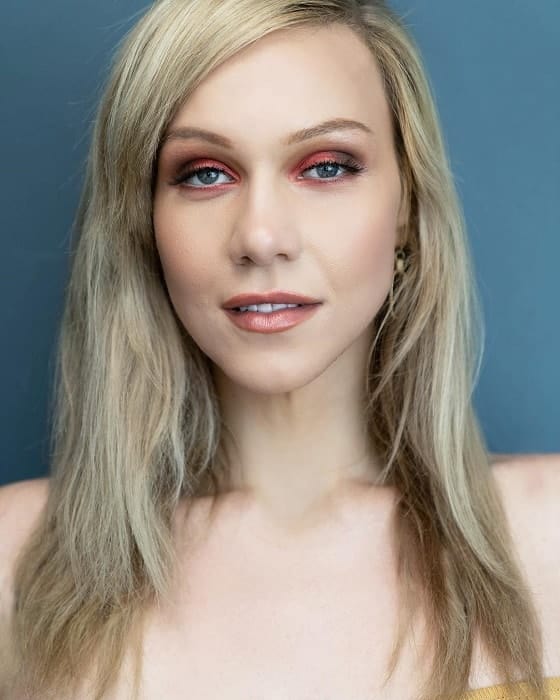 A useful trick for makeup for blondes with blue eyes is that contrasting color makes the blue eyes pop.
Ideal for: Women with a long sleek face, thin eyebrows, and hooded blue eyes.
How to style: Hues with a pink undertone look great with blonde hair and blue eyes. Instead of using black kohl, go for grey and sooty shades. Complete the look with some semi-matte light lip color.
6. Power of Contrasts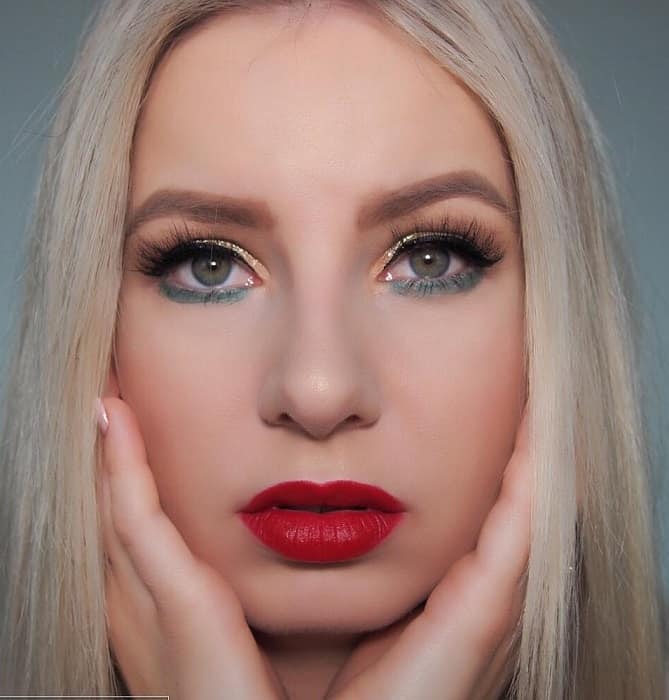 What happens when you get two primary contrasting colors together? A dynamic makeup for blondes with blue eyes.
Ideal for: A dramatic look for dressy events. Women with full eyes, heavy lower lip, and bushy eyebrows.
How to style: For blonds, deep navy blue and sooty grey is the new black. The lower eye can be defined with turquoise liner, along with a simple sparkly rose gold eyeshadow. For lips, choose a bright tomato red matte lipstick.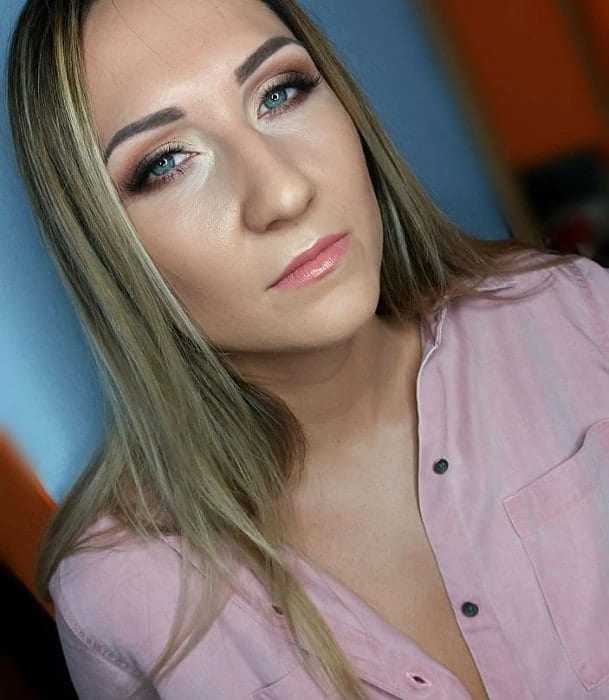 On regular days, you want to keep the makeup light but make the blue eyes pop. A simple definition is a way to go.
Ideal for: Ladies with an oval or long face, with thin lips and hooded eyes.
How to style: The trick here is to enhance the beauty of your blue eyes and blonde hair with perfect makeup. Use fluttery fake lashes and define them with mascara and kohl. To keep it simple, match the eyeshadow and glossy lip color.
8. Dramatic Eyes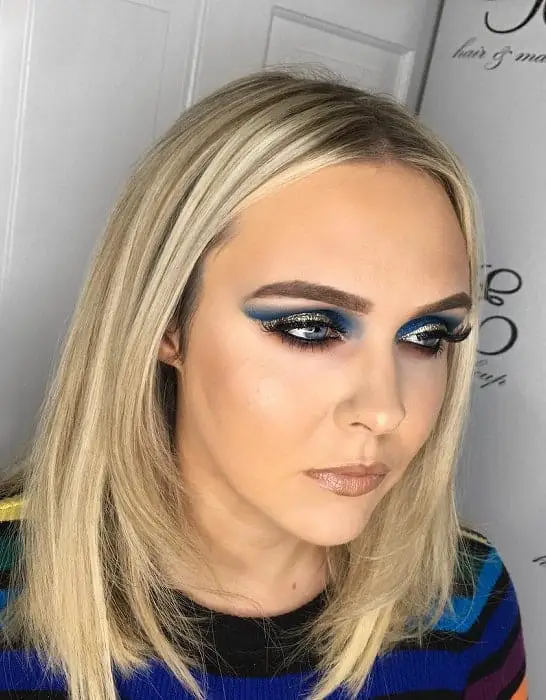 Blue eyes are dreamy enough; but to create a dramatic statement look, opt for deep blue eyes makeup for blondes with some shimmer.
Ideal for: Almond shaped eyes, thick eyebrows, pouty lips, uplifted cheeks, and a broad forehead; ladies this is for you.
How to style:  Use the makeup blue eye shadow palette to unleash an overly dramatic glitter makeup look to make heads turn.  Keep it simple with the rest of the makeup.
9. Elegance and Charm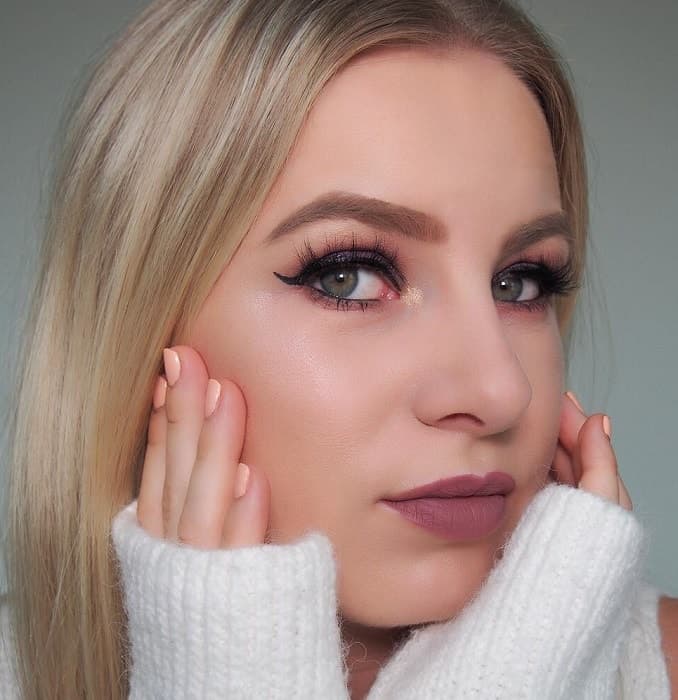 A minimalistic makeup for blondEs with blue eyes can be achieved by using mute colors that give a soft glow.
Ideal for: Round face, plump lips, chubby cheeks, and full eyes.
How to style: Blend the effect of matte and subtle glow to create a terrific makeup look for white dresses. Soft highlighter on your cheeks and nose, a matte mauve lip and a winged eyeliner finishes the look.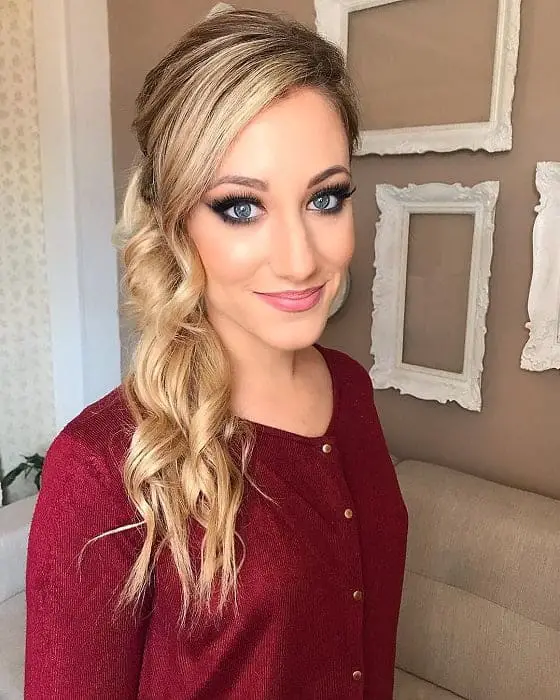 Dark and defined eyes look great with every eye color. Sooty and smoke eyes are one of the best makeup looks for blonde hair with blue eyes.
Ideal for: Women with a long face, dramatic eyes and a bow-shaped lip structure
How to style: Use sooty grey eye shadow to create the bold look. For the lips, keep it light with pink or nude semi-matte lipstick.
Choose from any of the above makeup for blonde hair blue eyes compilation and walk the streets with heads turning.