Proper outfit ideas for 80 degree weather shouldn't be that much hectic for women. It's not always easy to look flawless when the temperature starts to rise, however, there are some great hints and tips to follow that'll keep you looking cool all season.
So, if you are thinking about your next hot weather wardrobe then take a look at our top ten 80 degree weather outfits that you can easily copy.
Attractive Outfits for 80 Degree Weather
Following are the 10 best dressing options to wear in 80 degree weather.
1. Clever Cotton Fabrics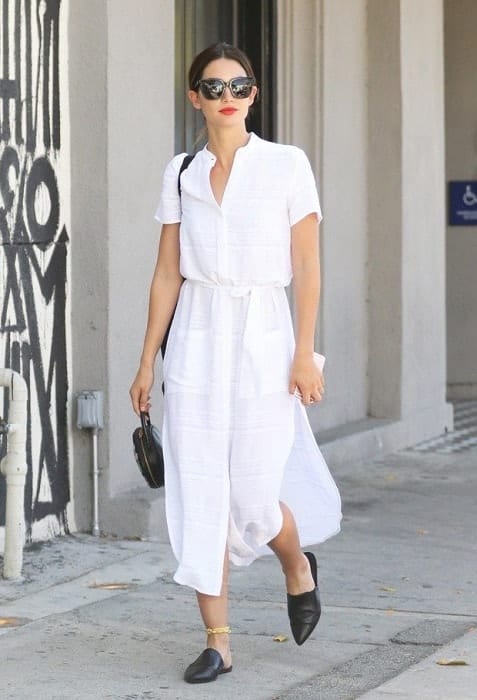 If you are chained to the office all day, it's not always easy to stay fresh and cool, and often work is not the most appropriate place to wear more skimpy outfits. Clever dressing in the heat can mean that you need to turn to smart materials and cuts.
This thin cotton dress with button down front and capped sleeves are smart enough for work, cool enough for the weather and still very sexy with that dipped neckline and synched in the waist.
Modern and Stylish Summer Dress
2. Baby Blues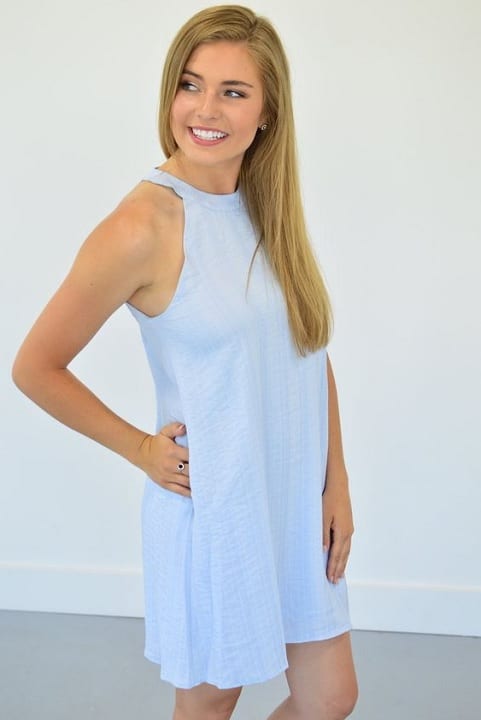 This outfit for 80 degrees is a plain and very understated cotton dress but is still very stylish and contemporary. The baby pastel blue is great for combatting heat and the halter neck can keep you breezy even when the thermometer is soaring.
Plain dresses like this can be dressed up with well-chosen metallic accessories such as these strappy flats and a quirky pink shoulder bag.
3. Bold Print Cropped Pants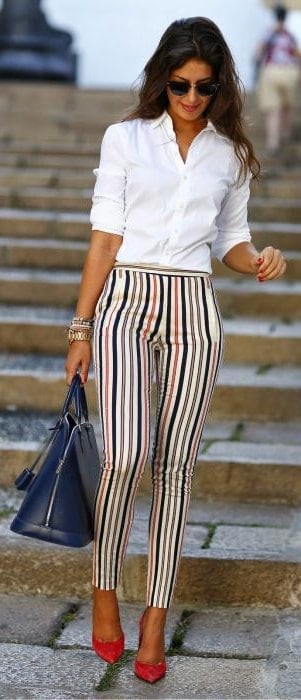 The hot weather is a great time to crack out those cropped or Capri printed trousers and they are always a great look for the workplace. Pairing bold patterned pants with a crisp white shirt is a classic, smart and very weather-appropriate look.
4. Festival Inspired Chic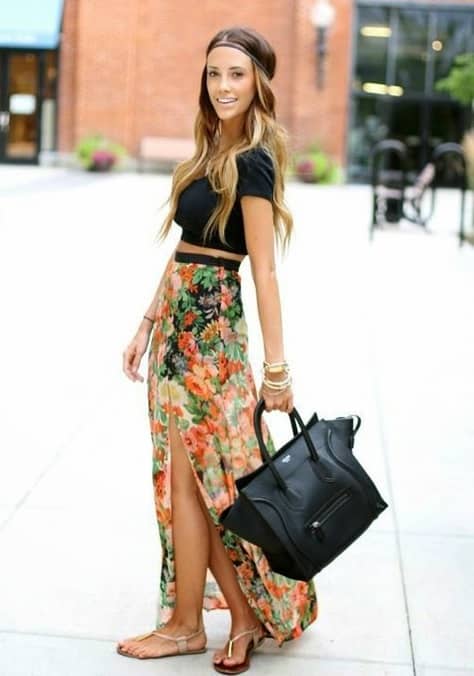 Keeping it casual and cool doesn't mean that you have to miss out on being stylish. Crop tops are always a great wardrobe essential for summer as they are versatile and a very cute staple to your summer arsenal.
Pair with a long flowing patterned maxi skirts, high waisted gypsy skirts and festival inspired hair accessories. Here the feminine print skirt with a side split is sexy, subtle and very girlish as an 80 degree weather attire.
Lovely Knee Length Skirt Ideas for Ladies
5. Big, Bold, Beautiful Blouses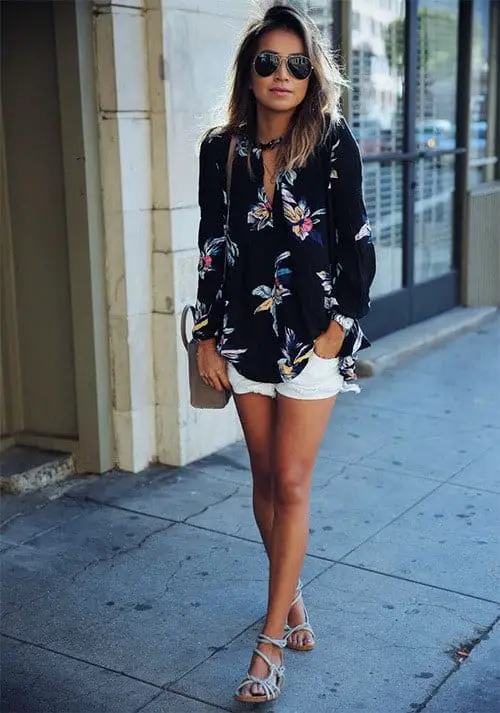 Loose silk or cotton blouses are key to a cool summer vibe and pair well with capri pants, skinny jeans or denim cut-offs. For a casual 80 degrees day outfit, that keeps you easy and breezy, why not opt for an oversized satin shirt and crisp white tailored shorts? Wear with flat sandals and those quintessential summer must-haves – the oversized shades.
6. Feminine and Flirty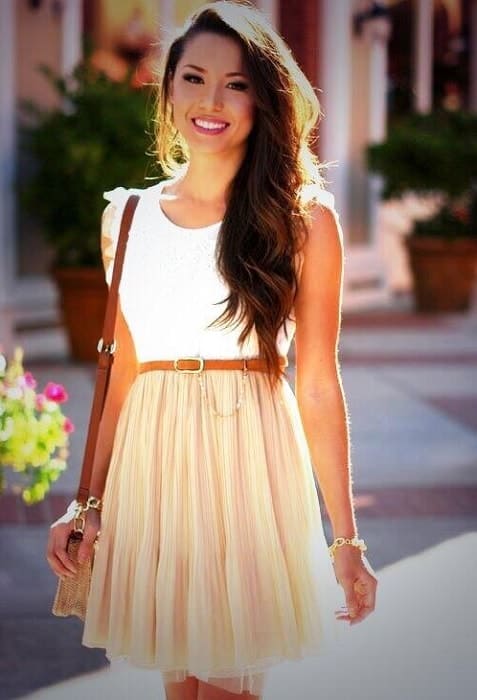 Keeping it cool when you want to party into the early hours can be difficult but with some clever clothing choices, you can rock a sultry style without overheating!
Light colors are a great option for hot days and nights – so where possible opt for whites and baby pinks. By accessorizing with contrasting items such as a dark brown bag or belt, you can give this pale outfit some definition.
7. Mellow Yellow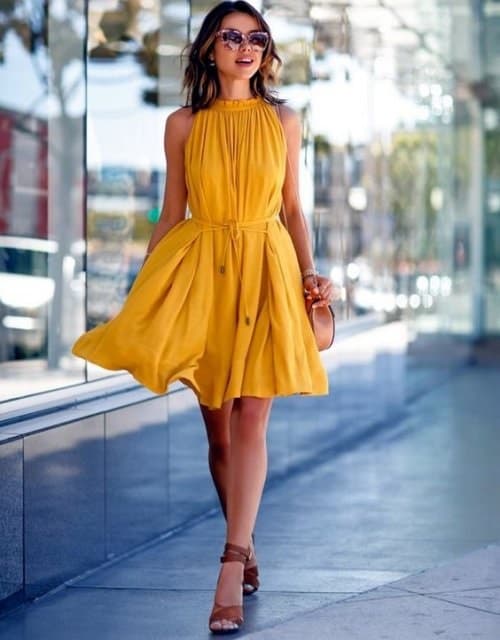 Ok, so light colors may not be for everyone so, for those who like to catch the eye, summer is also a great time for beautiful and bold bright hues like yellow and orange.
This above knee dress is very sexy and flirty in it's cut and features a halter neck back that can help keep you cool whilst still being stylish and chic.
8. The Classic White Trouser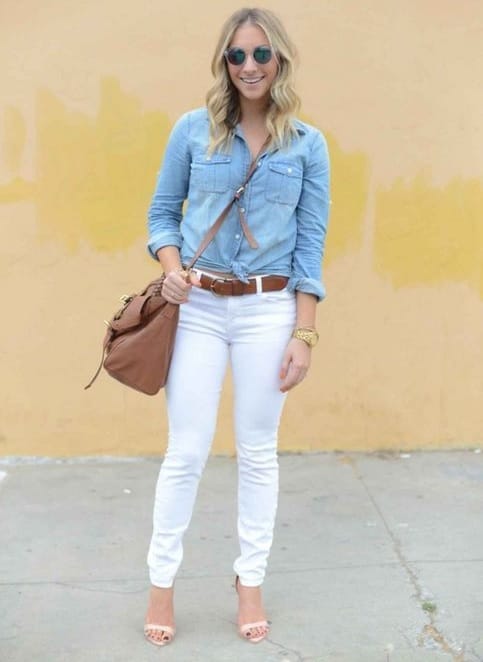 This sober clothing ideas for 80 degree weather is perfect. If you are out and about with your friends or meeting for a summertime lunch or picnic, then casual and cool is key.
White jeans are a must have for any hot weather wardrobe and are a classic and versatile item that will see you through the season. They can be dressed up for heading out or worn more casually for a lunch date with a tucked in cotton denim shirt and strappy shoes.
9. Fashionable Hats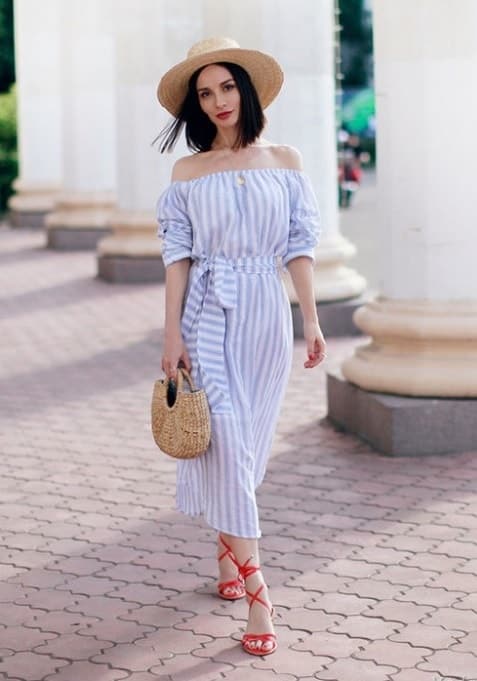 Hats are a super cute way to see you through summer in a stylish way. You may not be used to wearing hats or think they don't suit you but with countless options available there is something for every fashion-forward female.
A hat can be a big statement to make sure you don't over-do it with your outfit choice (unless you really want a bold look!) Here the baby blue and white off-shoulder light cotton dress is a classic cooling summer style that really draws attention to that wide-brimmed hat, wicker clutch and contrasting strappy shoe.
10. Lovely Layers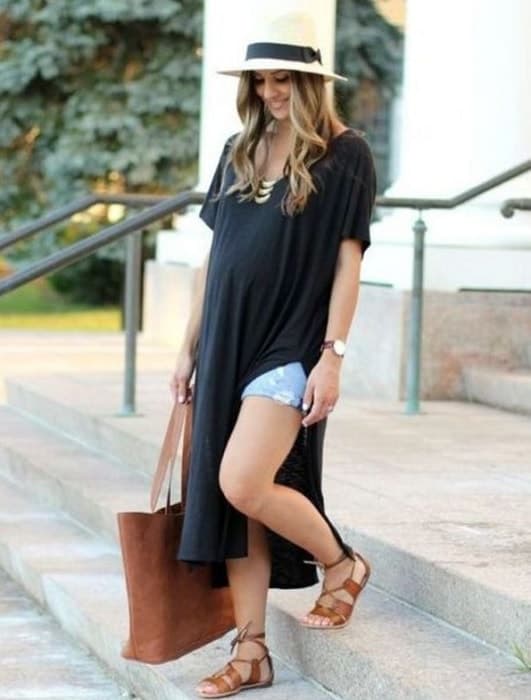 Being pregnant when the temperature is soaring is never easy but there are many outfit options available to help you still look glowing, go-getting and gorgeous despite the heat.
For a more casual day look at 80 degrees weather, layering is a good call. While you may think to add long layers to an outfit will make you feel warmer, light cotton, dark colors and covering up can actually repel the heat. This is a lovely choice of a tunic paired with denim cut-offs and a statement Panama hat. Gladiator style sandals really compliment this low-key, high-style look.
Tips to Look Great on 80 Degree Weather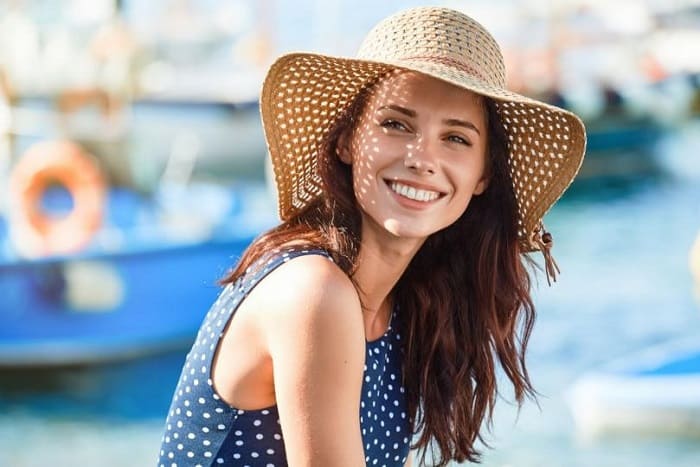 Crop tops are a great option for summer! Not only are they cute but they are versatile and can be paired with cut off denim, jeans or a skirt.
Where possible keep your clothes loose – think maxi dresses and cotton wide-legged pants.
Natural fabrics are a must – cotton is a perfect choice as it is more breathable and absorbs any sweat faster than a manmade material.
Hats are an ideal way to shield your head and shoulders from the sun and heat when you are feeling too hot – plus they always look fantastic!
Cover up – it may sound counter-productive but adding clever layers can keep you cooler. By diminishing the sun's direct contact with your skin, it can actually stop you overheating.
Enjoy the bliss of summer and flaunt your beauty even in hot weather with these outfit ideas for 80 degrees.