Every young lady needs help in the fashion department, so we decided to bring you 35 cute outfits for teenage girls. Whatever you're looking for, you'll find it here. There's pretty much anything you can think of, starting with the latest trends and all seasons covered.
This means that the outfits range from super-sporty to even elegant vibes. Teens sure do need to look their best everywhere they go, because these are the best years to experiment with clothes. If you love fashion and always want to be the best-dressed, you simply have to check out the ideas below. You'll have plenty of styles to copy in the upcoming year.
Most Trendy Outfits for Teenage Girls
We have compiled here 35 teenage girls outfit ideas that every girl can try and sport this year.
1. Sporty Chic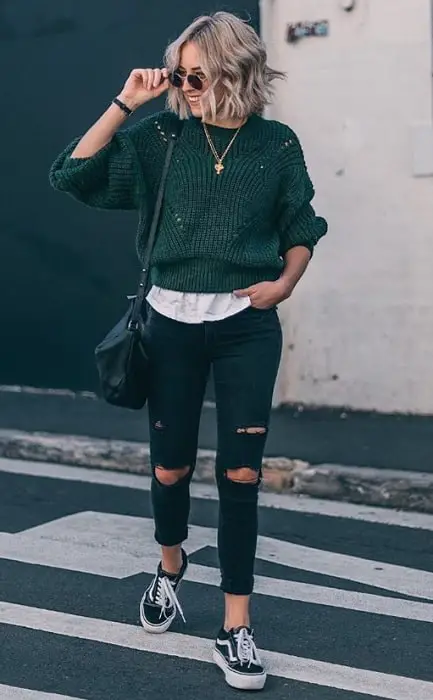 If you're simply not a girly girl, we also have several sporty teenage girl outfits for you to choose from. These young ladies are in love with Vans sneakers. So, if you want to join the cool kids club, you might want to start there.
The second essential piece is ripped jeans in any color. To make things easier, always have a white tee in your closet. Cross-body bags are favorite of sporty girls since they can fit quite a lot in.
2. Jumpsuits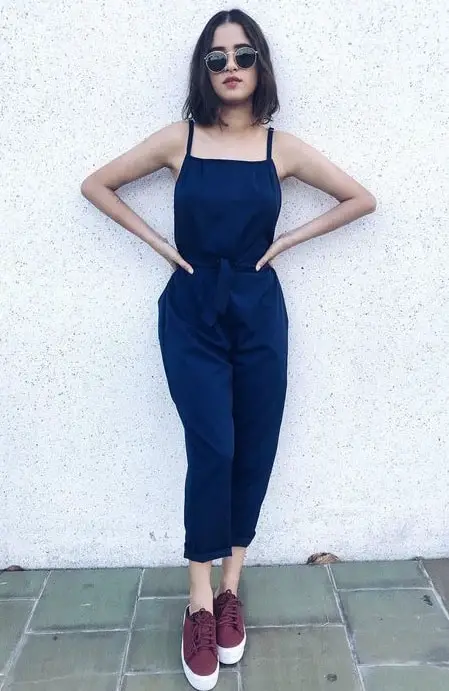 Jumpsuits are such an easy piece to wear because they are a one-piece with no need to combine it with other designs. This teen outfit seems like the most casual summer outfit you'll ever wear.
3. Teddy Coats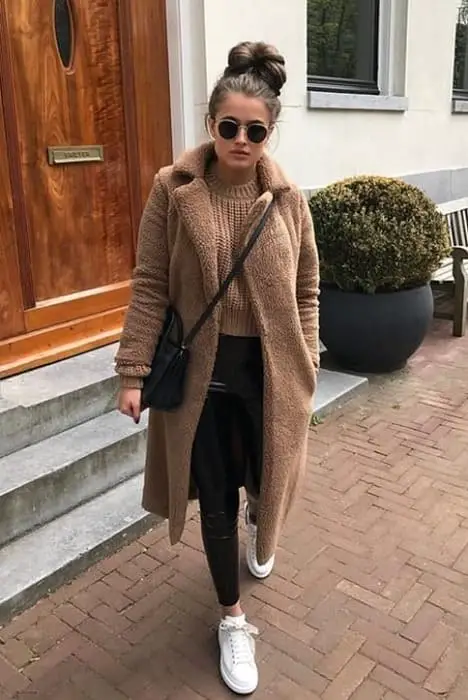 There's nothing cozier than these teddy coats. On the first day of winter, you can put it on and never take it off. That's how good you'll feel. A perfect teen outfit for 50 degree weather!
4. Stripes Are In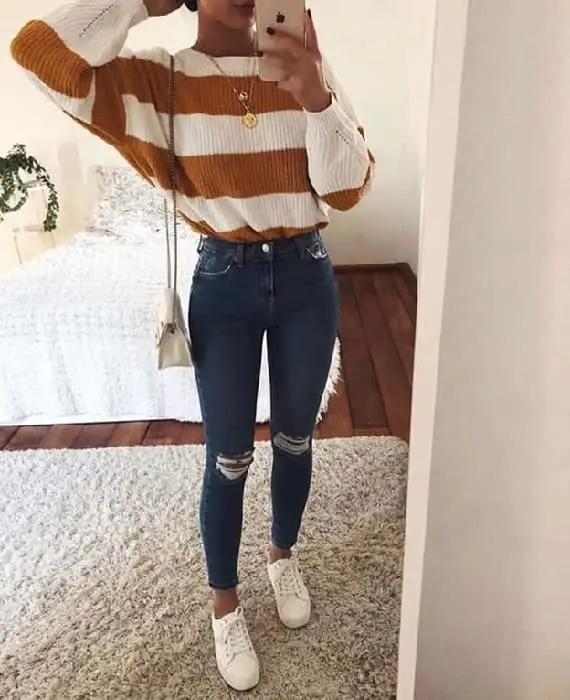 Whatever you buy in a striped print, you'll be wearing it for quite a while. It's true that these pieces are popular over and over again. Teen outfits can be so cute if you add a chic sweater such as this one and ripped jeans.
Just keep in mind where that ensemble is meant for. Distressed denim is not a thing you can rock everywhere. Finish up with your favorite sneakers.
5. Corduroy Cute Outfits for Teenage Girls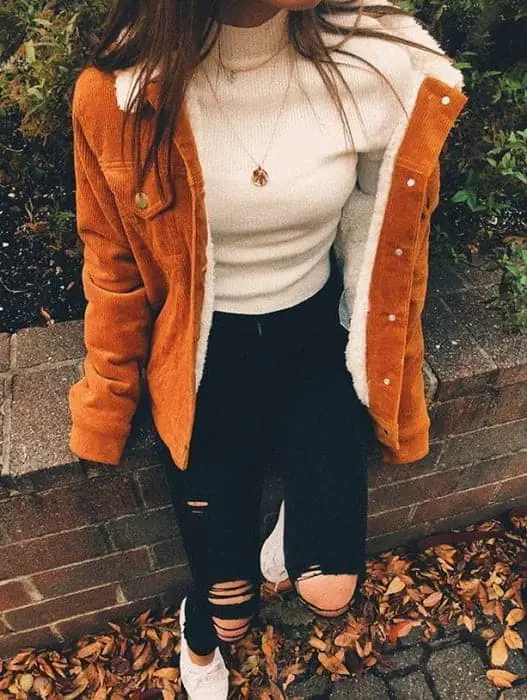 The coolest fabric of the 70s is popular once again. Today's teen girls are not familiar with throwback fashion, but they will be wearing plenty of corduroys this season. Go for a chunky warm jacket that is a long-term investment. You'll be able to flaunt it with so many things.
6. Denim on Denim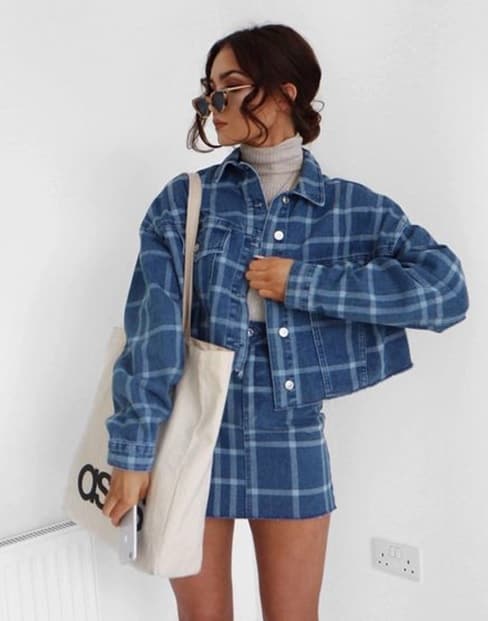 Another amazing example of cute outfits for teenage girls is a double denim one. This fabric is so versatile and the main reason why we love it so much. When you are bored with the same old jeans and jacket look, we want to remind you that matching sets are the trendiest ensemble this year.
7. Cute Shorts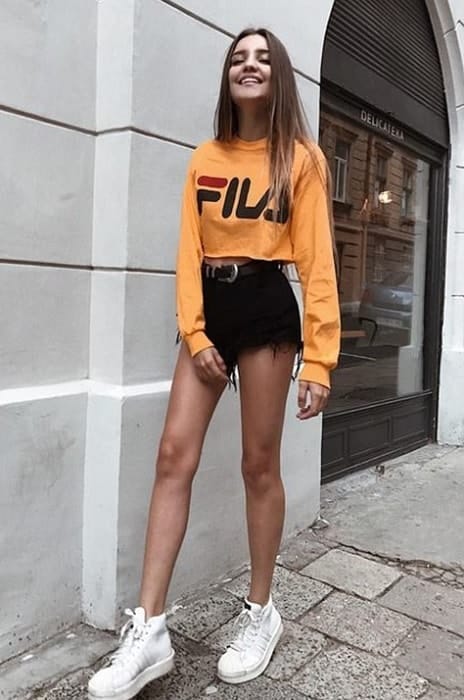 Every teen is in the need of cute shorts, especially during summer. They will become your favorite thing to wear day and night. Go for a basic pair that you'll have for many years and one that is distressed and super-cool.
Both will work with simple tees, hoodies, shirts and more. You will even find ways to rock them in spring, so don't hesitate before buying. A cute 80 degree weather outfit for teenage girls.
8. Off-The-Shoulder Tops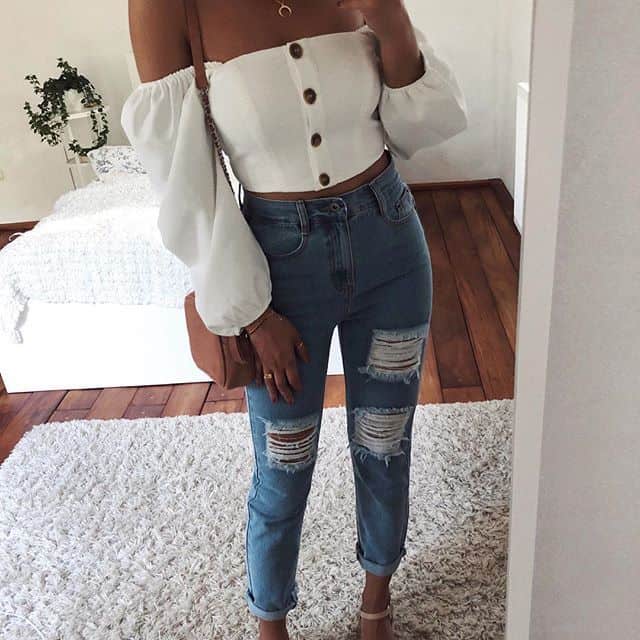 There is no chance in the world that you've missed this trend! Every single blogger on Instagram is obsessed with showing skin with off-the-shoulder tops. Find one that works for you and flaunt it year-round.
The fashion runways did confirm that this design will also be trending in 2023 as well. This girl paired her cute white top with ripped jeans and added some bold necklaces to upgrade the teen outfit.
9. Sporty Chic in Winter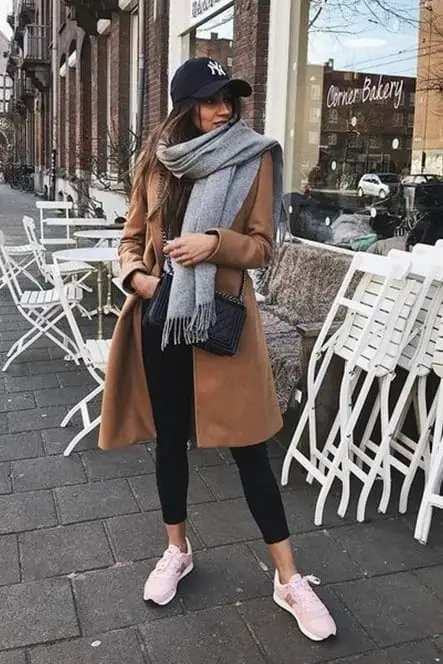 Winter might not be your favorite season, but that shouldn't stop you from looking flawless. This is among the easiest stylish teenage girl outfits you can pull off with clothes you already own. Every girl has several pairs of black and grey leggings at home.
Get your favorites, throw on a coat and spice it up with accessories. When it's cold, you definitely need a scarf. Skip the regular beanie and go for a baseball cap. To keep the look casual stick with sneakers.
10. Summer Teenage Outfits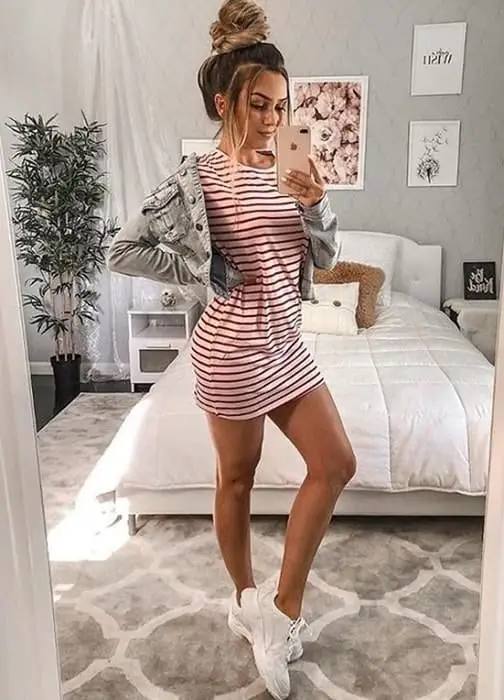 The cutest teen outfits are also the easiest ones. Take this as an example. It features so many basics, but when you look at it, you want to copy it. That is why young girls shouldn't overdo it.
When you have no idea what to wear, grab the mini stripped dress that you have, add a cropped denim jacket and sneakers. You're ready to go!
11. Attention to Details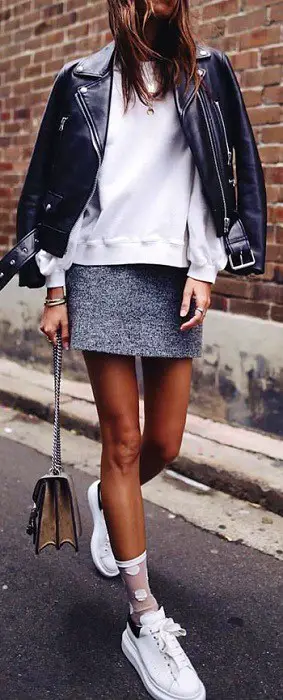 This ensemble is a real proof that details make the outfit. The blogger rocked the coolest polka dot socks with white sneakers. It looks like the socks are the best part of the whole attire.
The rest of it is also kept, minimalist. When you think of teenage girl outfits, you think of mini skirts and sweatshirts. That's exactly how you can score a fashion moment. Throw a biker jacket on top, for colder days.
12. Neutral Tones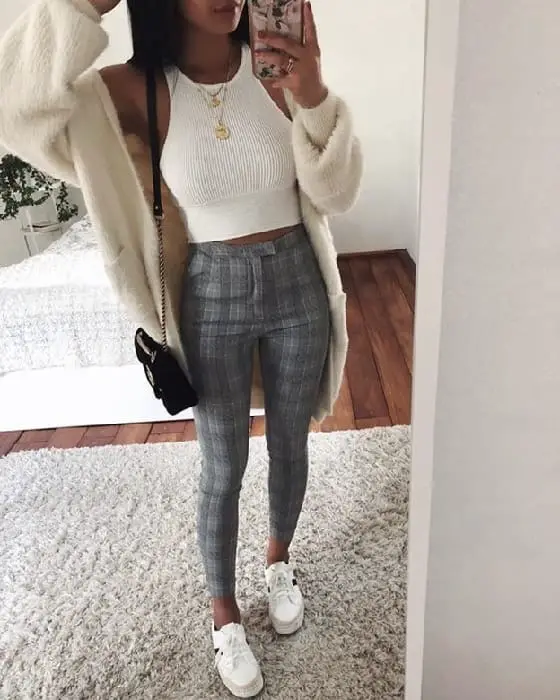 You can never be bored with neutral tones. If vivid colors are simply not your thing, stick to hues such as grey, white, beige, nude and more. These are all easy to mix and match, that is why a lot of bloggers buy tons of neutral pieces.
These same pants are among the biggest current trends. They will also be a great design to choose for a more elegant event. Top them off with a classic shirt, and that's all you need.
13. Puffer Jackets
Meet the puffer, your best friend through all the super-cold winter days. It is officially the cutest teenage girl outfit you will ever buy. It's available in so many different colors, designs, and cuts.
There are long and short ones, depending on what you're looking for. Puffers are perfect with jeans and sneakers, but that doesn't mean that pants and boots won't look as good.
14. Layered Outfits for Teenage Girls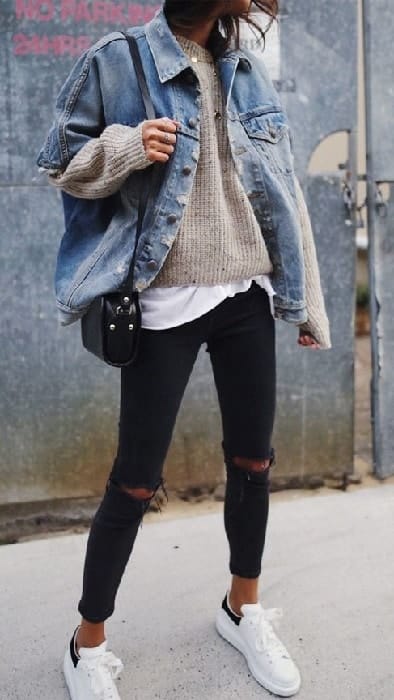 The more layers you add, the more you'll love teenage girl outfits for schools. The blogger did go for several different colors, but they are all matched together in the best possible ways. It's already proven that denim jackets are so much fun when you flaunt them with black jeans. If it's still spring, go for a basic white T-shirt. Once it's chilly outside, add a chunky oversized sweater.
15. Everything Black
This all-black is anything but dull. Yes, teen girls can wear black, as long as they make it fun. This is a grunge-inspired combo, with a very cool embellished black denim skirt. The whole look is toned down with an Adidas long-sleeved top. We love how the trendsetter mixed different styles to get a very eye-catching final teenage girl outfit.
16. Ready to Go Out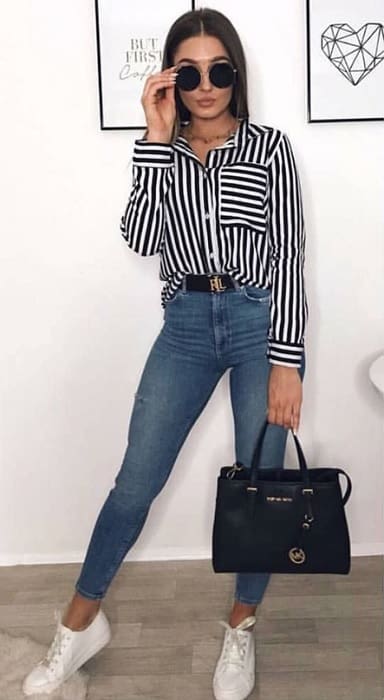 There are times when you'll need to put your best look during the day. That doesn't mean wearing a simple tee or ripped jeans. Find a classic button up shirt that you'll be able to flaunt with both pants and jeans. That way you're covered in that department.
17. Sweater with Casual Jeans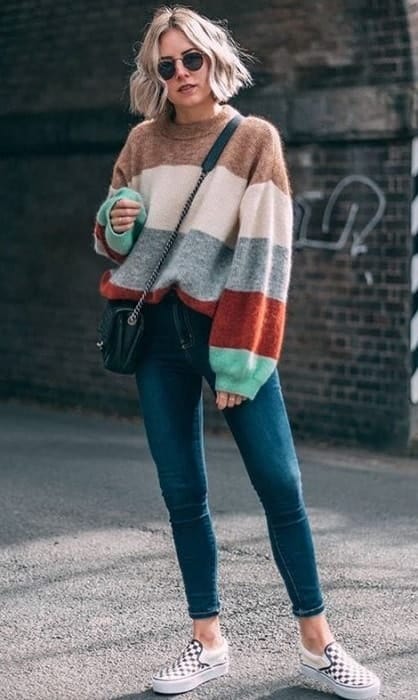 This is officially among the most beloved cute teenage girl outfits. It's so easy to wear, comfy and doesn't require too much work. Remember, almost any sweater will look fashionable with jeans.
18. Have Fun Tin Fall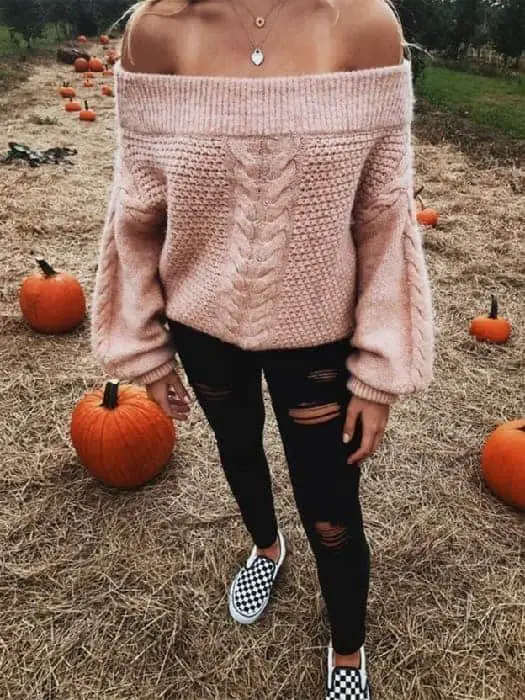 Fall is one of the most beautiful seasons full of gorgeous colors. You can adapt to that color wave by wearing cozy pieces in nude, brown, burgundy and more. This is a very pretty off-the-shoulder knit that you can probably find in stores. It will be a great addition to your winter closet as well. When it comes to the black ripped jeans, at this point they are already a classic in teen outfits.
19. Oversized Fashion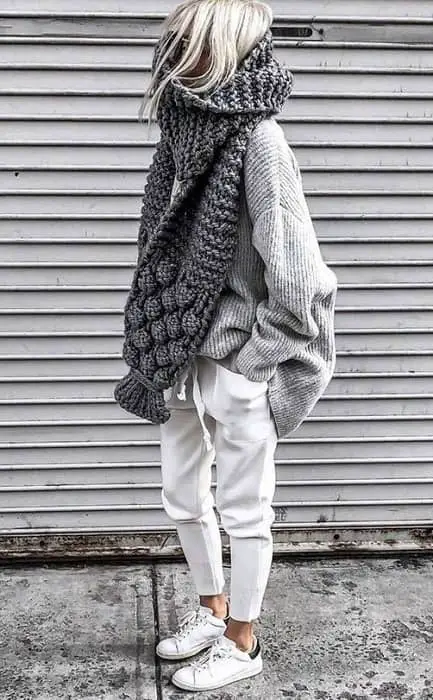 Athleisure dictates that oversized is on trend and will continue to be in 2023. In other words, once in a while, you'll have to forget about your super-tight jeans and tops. Instead, opt for a bit larger ensemblesfor teenage girls that are so cozy! You can see how the sweater is two sizes larger, but still looks fabulous.
20. Cardi Party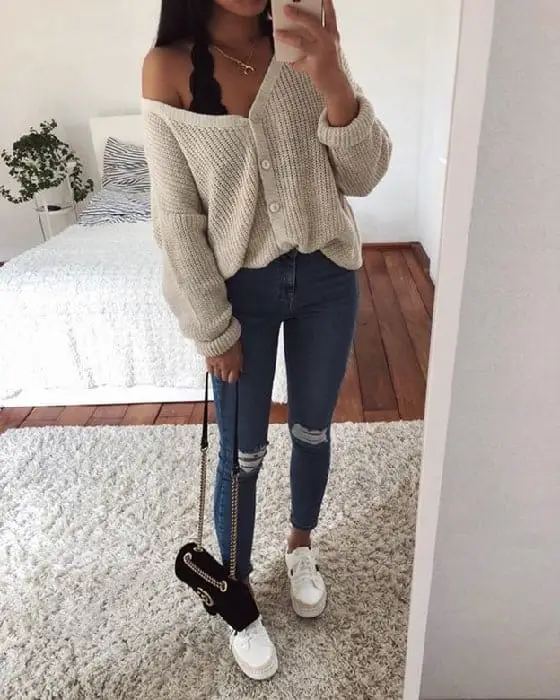 Cardigans are equally amazing as sweaters. Their biggest benefit is that you can wear them as a sweater and as outerwear as well. When you are in a hurry and you are already late, take your favorite jeans, a simple tank top and finish off with a warm cardigan. That way you have an effortlessly cool outfit for teen girls.
21. Cute Mini Dresses
Every teen girl should own a mini dress. This season plaids are mega-popular, so why not get one in that print. Find a design that you can actually wear in several different ways so that you'll get the best out of it. There will be days when you'll want to put it on for school, and days when you'll want to rock it for a going out with friends.
 22. Denim Skirts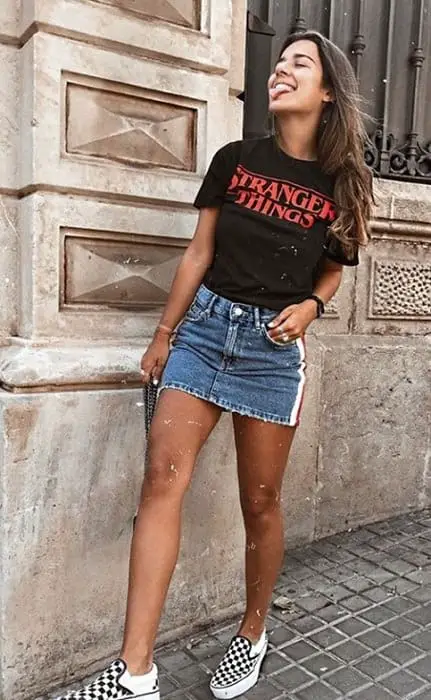 Another staple in both adult and cute teenage girl outfits is a denim skirt. You've probably already seen that this skirt looks so fun in any way you combine it. Hoodies, tees, sweatshirts, and button up shirts are just a part of the choices.
23. Stylish Animal Print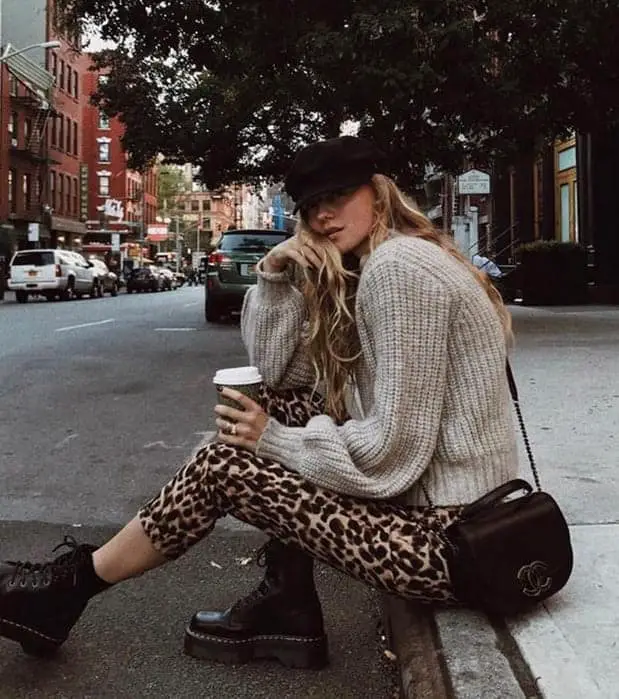 Get ready to include the popular animal print in your everyday looks. Get the best out of the holiday sales, and start buying clothes that feature these patterns. Cute teenage girl outfits are all about standing out. A pair of leopard pants will make sure that you do.
24. Fluffy Coat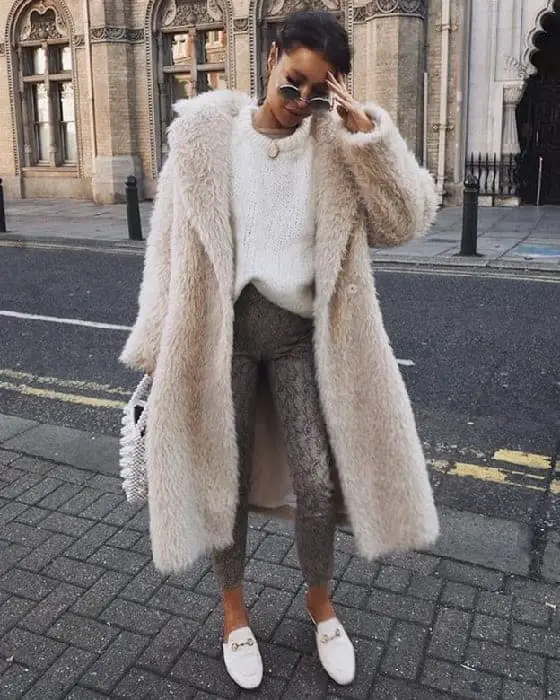 Warm, fluffy coats are huge on Instagram at the moment. They will keep you safe from the cold, plus give that fashionable touch to the teen outfit you're wearing. These coats can be combined with sneakers, boots and shoes as well.
25. Combat Boots
If you are a fashion lover, you know that combat boots are everywhere! This design is amazing in any teen outfit that you'll put on, including skirts and dresses.
26. Plaid Sets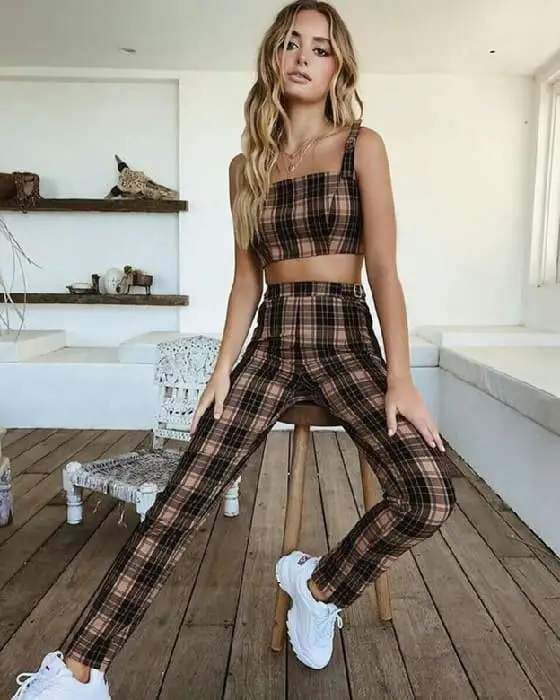 All trendy fashion stores sell plaid sets. Some feature skirts and tops, other pants and blazers. Either way, you want this set polyvore outfit for teenager girls, so that you can be a true fashion maven.
27. Street Style at Its Finest
After seeing all those street style shots from your favorite bloggers, you can copy them with a pair of ripped jeans, Vans sneakers and an oversized sweatshirt. A boho and cute outfit for teenage girls.
28. Linen Dress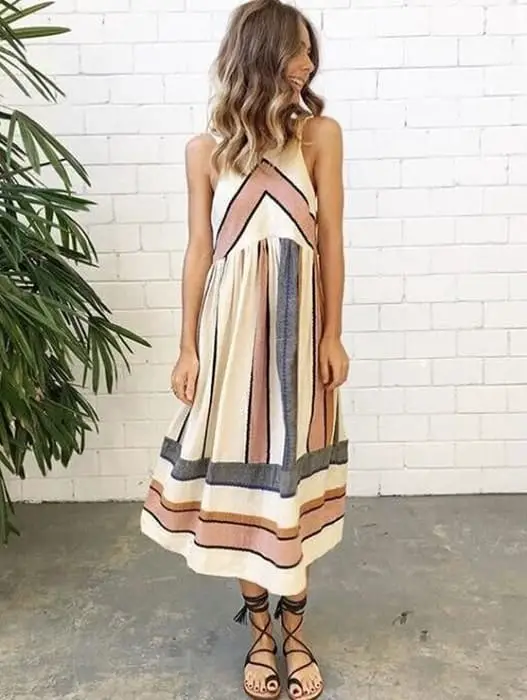 You simply can't go through summer without a linen dress. Choose whichever color and print that you like, and match it with sandals. This will make everyone copy your cute teenage girl outfits.
29. Summer Vibes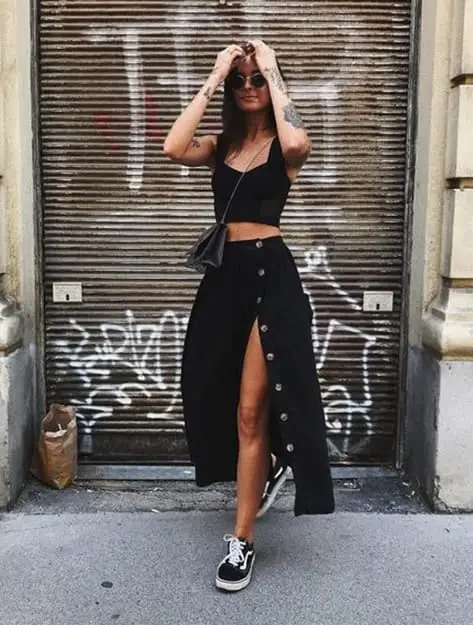 The teen outfit is so casual and on trend. Black might not be the color you'll choose for summer, but this two-piece set will steal your heart.
30. Polka Dots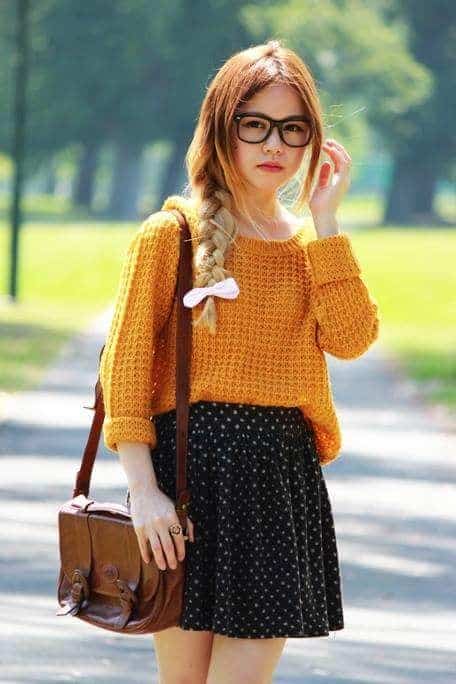 If you are not obsessed with polka dots, you're probably not following fashion trends. It is featured in so many cute pieces including tops, skirts, and dresses. If you want to stand out, you have to get at least one polka dot printed piece for the summer.
31. Fall Vibes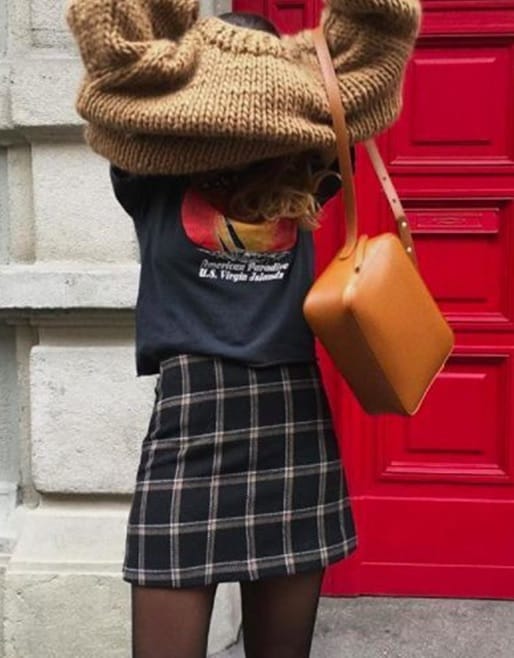 How cute is this teen outfit? These past few months plaid skirts have been the main attraction on Instagram and Pinterest. They're so popular because it's easy to style them in a full range of looks. Rock a plaid skirt with a chunky sweater or work it with a more classic button-up shirt. Another idea is to get creative with footwear. The options include sneakers, over-the-knee high boots, ankle boots and more.
32. Always Cozy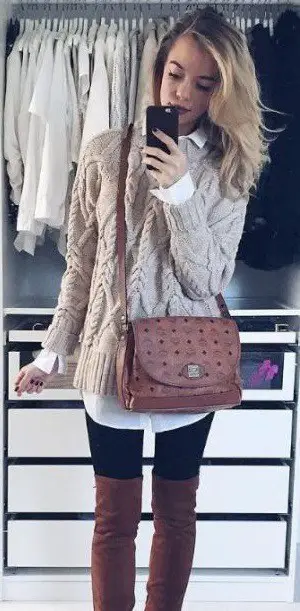 As the days get colder everyone needs cozy pieces to mix and match. One of those pieces you will never get enough of is a chunky sweater. Actually, everything knitted is a good idea. The more sweaters you have, the more fun your teenage girl outfits will be. When it comes to the bottoms, a pair of basic black leggings should do the job as long as you also opt for thigh-high boots and a longer sweater.
33. Rock-Inspired Outfits for Teenage Girls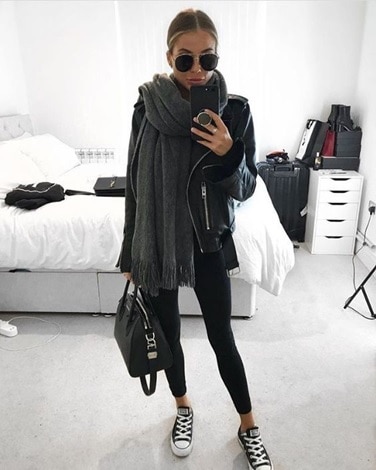 All-black is what you want to be wearing if you want to recreate those cool rock-inspired teen outfits from bloggers. Black leather pants and a biker jacket should do the job. The chances are you have a pair of Converse sneakers to rock as well.
34. Summer Set
Once the sun comes up, feel free to take out your colorful summer sets. They are cute and what's even better you don't have to overthink about which piece to pair with what. One of the cutest outfit ideas for teenage girls.
35. Blazers in Teen Outfits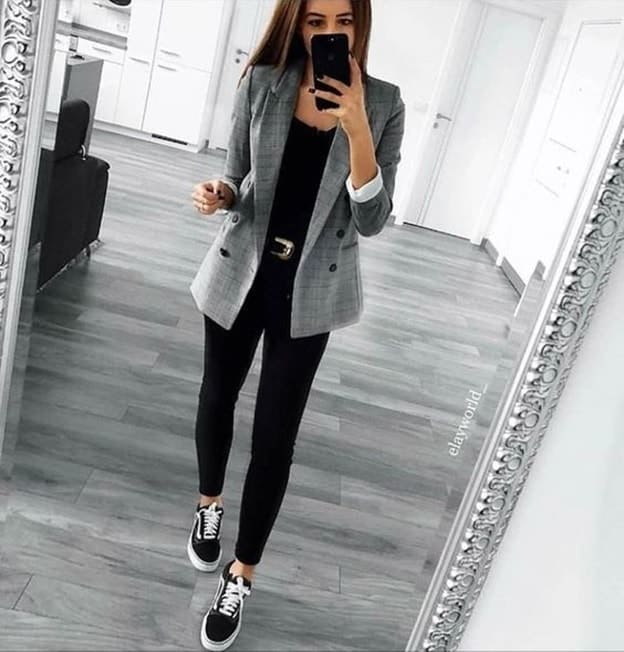 Teenagers do and should wear blazers. If this will be your first time buying one, all you need to think of is that it shouldn't be a classic design. Pick a blazer that is trendy, tailored and will be super-chic with your jeans and sneakers. You'll be wearing it so many times! A classy idea for a teen outfit!