It can be challenging to be a student and put together cute outfits for school every single day. There is a reason why we all need inspiration from fashion pros, who have already figured out how to work a single piece of clothing in numerous ways. Even trendy teen ladies can steal fashion secrets from these 40 school outfits.
Fashionable Outfits for School
Following are the sassiest & cutest outfit ideas for girls to waer at school or college. Hurry and go through all the ideas to get inspired.
1. Ready for Fall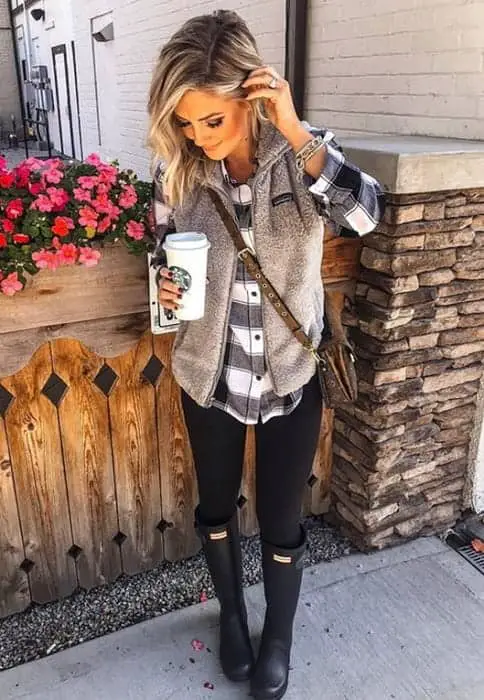 There are so many fashionable details about this cute fall outfit for school, we don't know where to start. How about with the super-cute flannel shirt, which is a must-have for autumn?
Don't forget about the Hunter rain boots, that will save you from the gloomiest days in fall. So, next time you don't know what to wear to school, you can turn to this picture for inspiration.
Best Peplum Top Outfit Ideas for Ladies
2. Cute Vests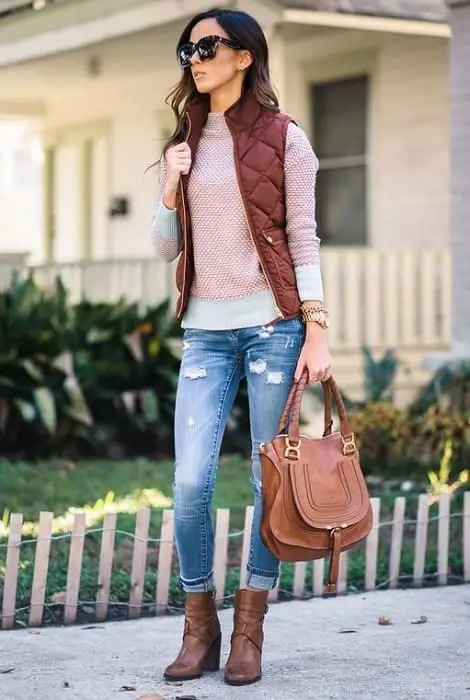 When the weather is not too hot or too cold, what you need is a vest. By doing one layer you will be perfectly warm in spring. By working a shirt, sweater, denim jacket, and vest you've scored the winning combo for fall. It's a very useful piece of clothing, especially in outfits for high school.
3. Cool Denim Jackets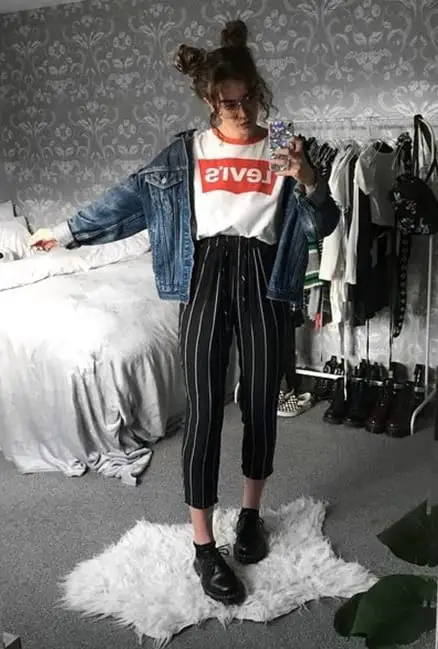 There is no way you can go through school without owning a denim jacket. It is one of the main staples in so many school outfits.
If you scroll through Instagram you'll see bloggers working it with jeans, pants, track pants, skirts, dresses, literally everything. You want to keep it casual for school, so pants and jeans are the best options.
Best Jeans and Top Designs for Ladies
4. Easy, Chic, Cute Outfits for School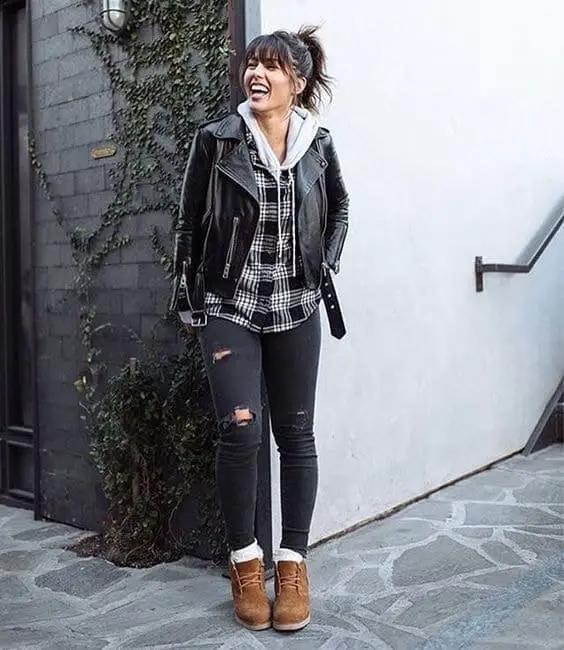 Very casual and cute outfit ideas for school. In other words, throw on whatever you grab first. Every little teen owns all of these items in their wardrobes, so the next step is to style them together. It's so simple, just follow the lead. Thinking about what to wear every day can be so time-consuming. Skip that and copy everything with your own clothes.
5. Plaid Pants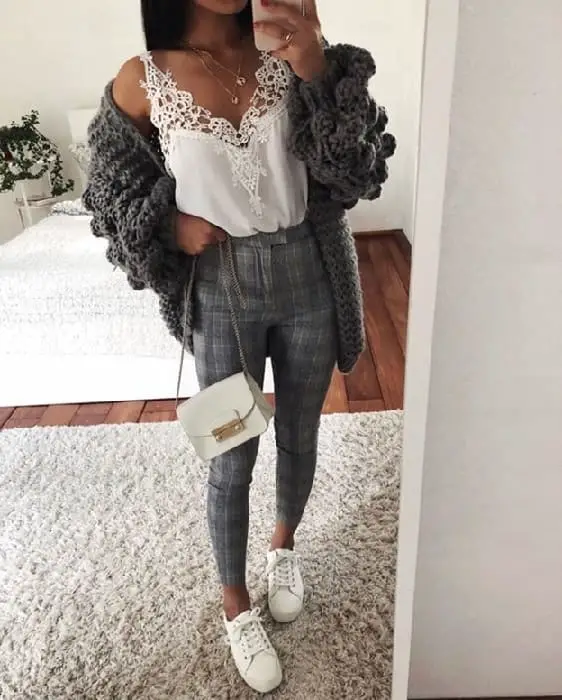 Plaid pants are school-approved. You can make them totally laid-back by flaunting a very simple white top and a sweater. It all depends on the weather. Once it gets cold, pair these pants with ankle booties and a warm coat.
6. High Shine PVC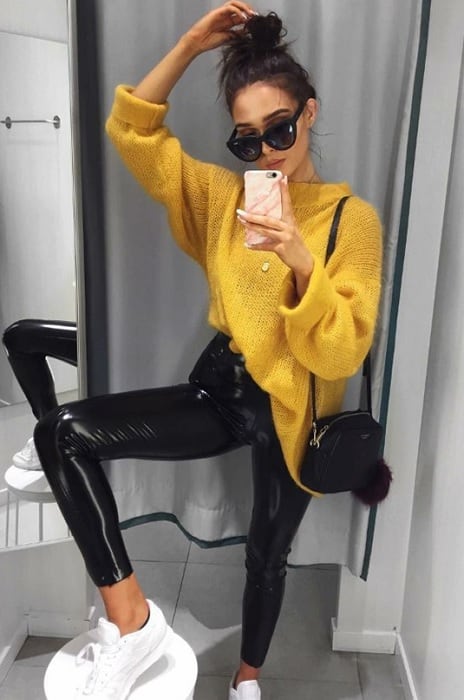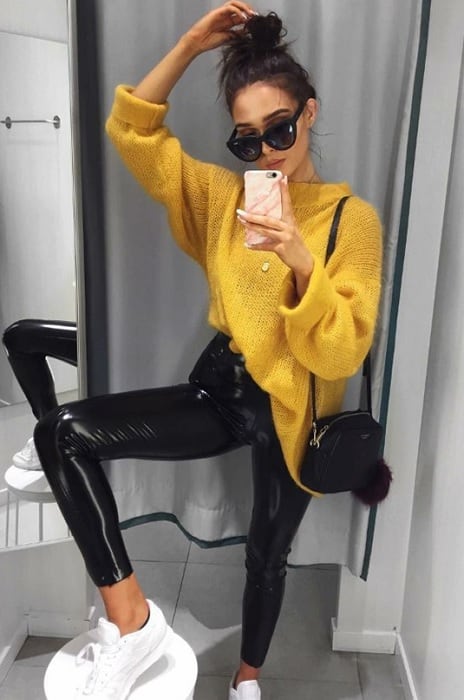 Latex black or grey leggings and skirts are the big trend on Instagram you can adopt in your outfits to wear for school. Black is always the best option, followed by burgundy and red.
The last two can look a bit too much for college or high-school. But it all depends on the dressing codex in your school. If other girls are rocking them, why not!
7. Mix of Colors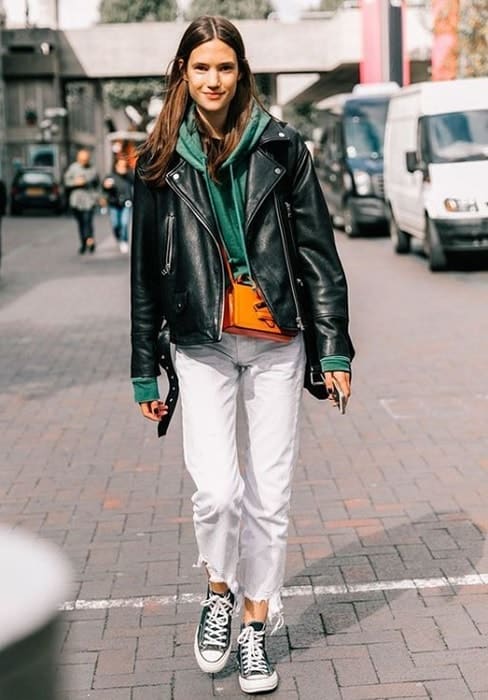 You don't want to wear all the same colors day after day! There are so many things wrong about not experimenting with different shades. First of all, your style will get boing. Second, you're missing out on a whole range of stunning hues.
That's why you should add a hint of green for example once in a while. As you can see this school outfit features the all-time favorite black and white, but also has a green beautiful hoodie. The orange bag gives the look such a fun finishing vibe.
8. Shearling Is Everything
If you're always in the search for clothing pieces that you'll wear many seasons in a row, we have a new one for you. Shearling coats are very much trending among fashionistas. These are not designs that last a season or two.
Shearling jackets can be equally fashionable decades after. So all the girls who still haven't bought warm outerwear should definitely try these designs.
9. Crop It Up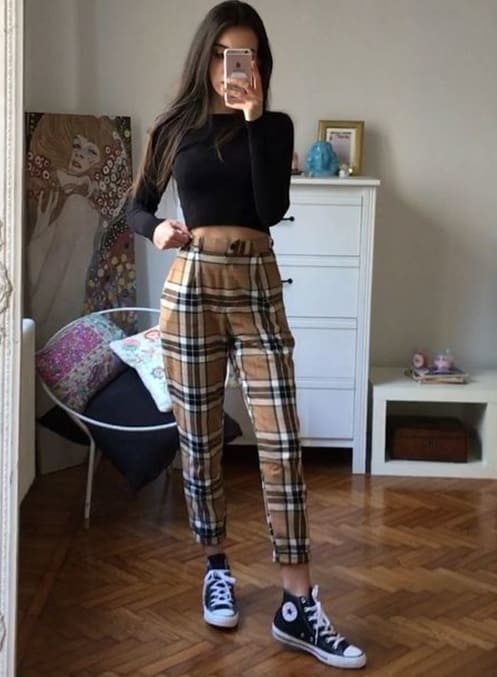 Our guess is that girls in your school are already in love with crop tops. During spring and summer, cropped tops can be such a fun item to style. They work best with high-waisted pants.
That way you show less skin and your cute outfits for school are also suitable. Converse sneakers are the all-time favorite design of both girls and boys at school. These casual sneakers can tone down any type of look.
Summer Tank Top Ideas for Girls
10. Christmas Sweaters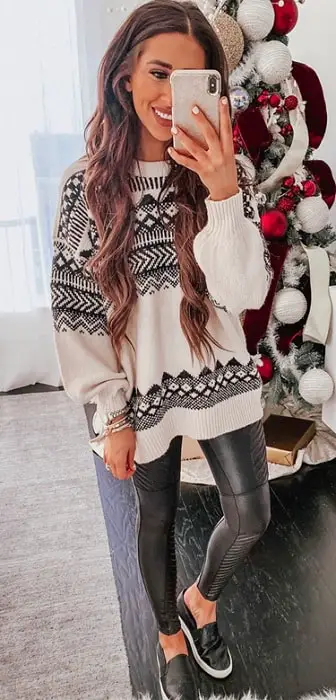 Christmas sweaters are not lame! It doesn't have to be an actual Christmas one with a tree and reindeers. This black and white knit on the picture is actually the perfect design.
It gives you the space to pair it with so many different bottoms. Since the holiday season is coming up, we definitely want to give you an option or two so you can bring that jolly spirit to school.
11. Striped Pants
Welcome to a world where striped pants rule the fashion world. All you trendy school girls out there should buy a pair if you want to look like bloggers. The best thing is that these pants are a statement piece that doesn't need too much thinking when it comes to pairing them with a top.
It can be a monochrome tee, sweatshirt or a sweater. Sure you can add a colorful piece here and there.
12. Work on The Details
Accessories are such a great way to upgrade any outfit. The beanie on the picture is an item that every teenage girl will fall in love with. Plaid scarves are also very popular, which means you should invest in accessories such as these. They will elevate all of your winter school outfits.
13. Army Style
An army-inspired jacket will keep you fashionable for years! Try out a basic look with jeans and a turtleneck. You'll see how good this jacket will fit in. The only thing you are missing is a cross-body bag.
14. Simple & On-Trend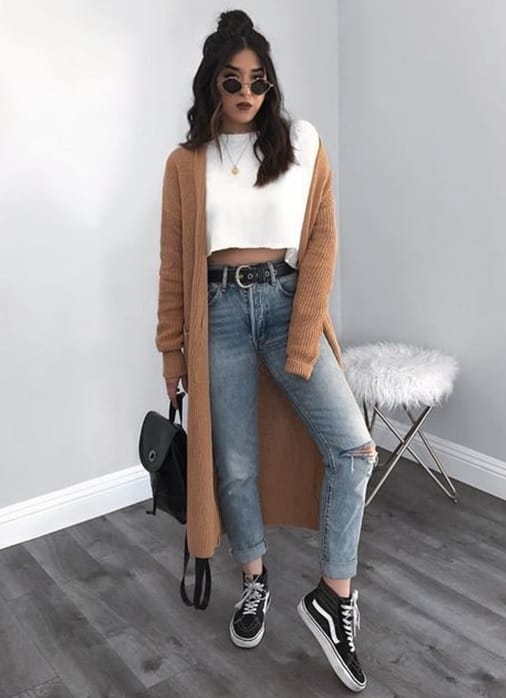 You can never get enough of jeans. They are literally the perfect piece of clothing especially in cute outfit ideas for school. Both high-schoolers and college gals swear on jeans.
After putting on a pair, all you need to do is think of fun ways to finish the look. One of those is a cropped top with a long cardigan. Add accessories such as sunnies and a backpack, to be the coolest girl around.
15. Chunky Coats
The warmer the coat, the more fun you'll have this winter. Inspired by the biggest fashionistas, teddy coats are ruling the fashion game. There is no chance that you'll open Instagram and not see one of these coats.
If you are a huge fashion lover who follows the latest trends, this is what you need for a standout look these months. It comes in many different colors. Teddy coats can be elegant and sporty as a cool winter school outfit.
16. Baggy Tomboy Outfits for School
Everything baggy and loose is what you want to opt for. Even if you are a girly girl, you should try this style. It is so good for when you attend classes. There's nothing more comfortable than a hoodie with loose jeans.
17. Real Winter Vibes
A long puffer together with a beanie is what you want to opt for when it's freezing. Stack on as many layers as you can, since that's obviously a thing right now.
Elegant 50 Degree Weather Outfits for Women
18. Casual All The Way
Casually throw on some laid-back pieces, so that you'll feel very comfortable all day. That's the beauty of high school outfits, you can get creative with any style that you feel like in the moment.
19. The More, The Better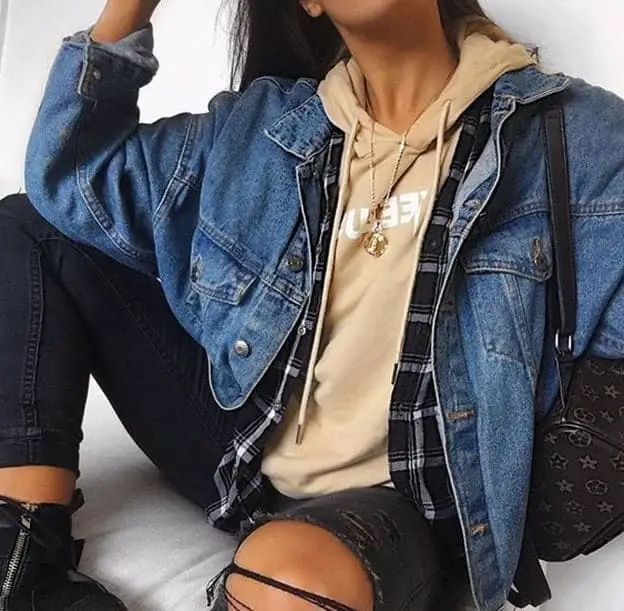 Cool girls love to layer clothing. A hoodie, then a shirt, then a jacket. Looks so much fun, right?
20. Basics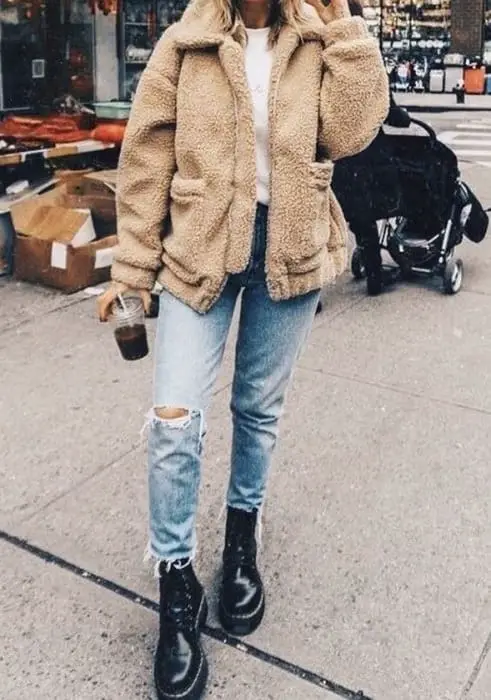 When you don't want to overthink in the morning and you're even late, go with a very basic ensemble. Grab a pair of jeans, a warm sweater and the cool combat boots you have. If it's cold, you'll want to add a coat too. It can be the warmest one in your closet to finish off that 'I'm cool, but I don't care' look.
21. Chic & Elegant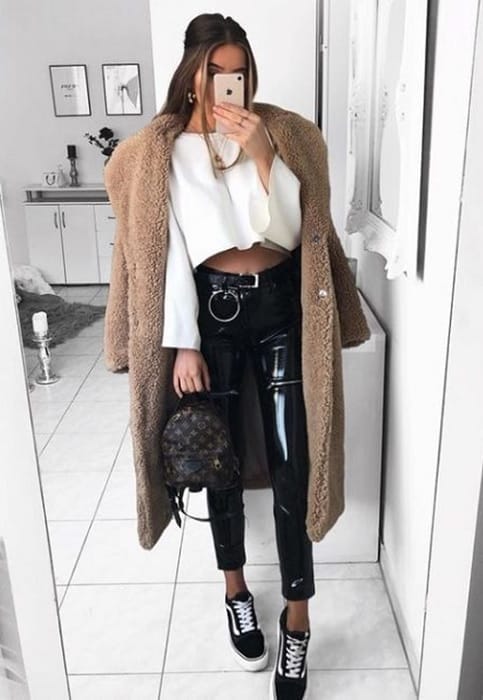 These two styles work together if you find the right way to do it. The white top is definitely more on the elegant side, while the shiny PVC pants are rock-grunge-chic. Another thing you'll find interesting is how great the color combination of white black and caramel looks.
Beautiful Ladies Double Layer Tops
22. We All Need A Plaid Coat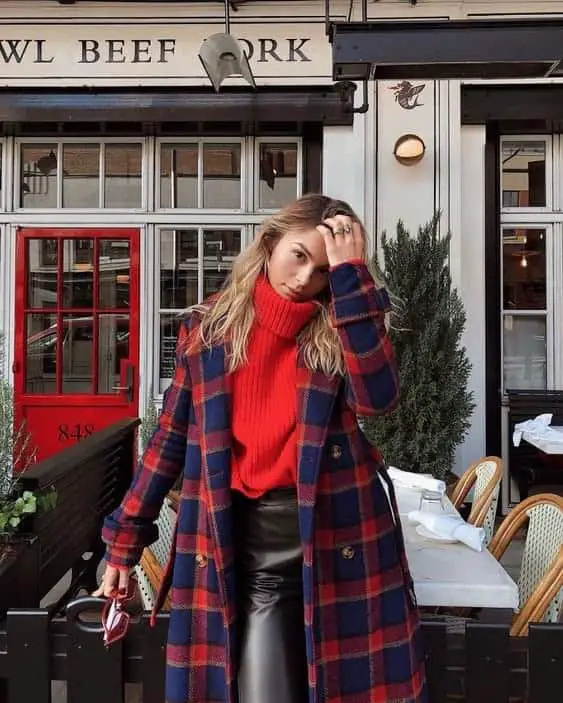 No matter the age, every school girl needs a plaid coat. Thankfully there are so many designs that you can really find one that fits your needs. It can be short or long, but it will definitely elevate your style.
Teenagers will absolutely love how a vibrant coat as this one looks with jeans and sneakers. For a night out combine it with ankle boots. A classy attire to wear for school.
23. Color-Coordinate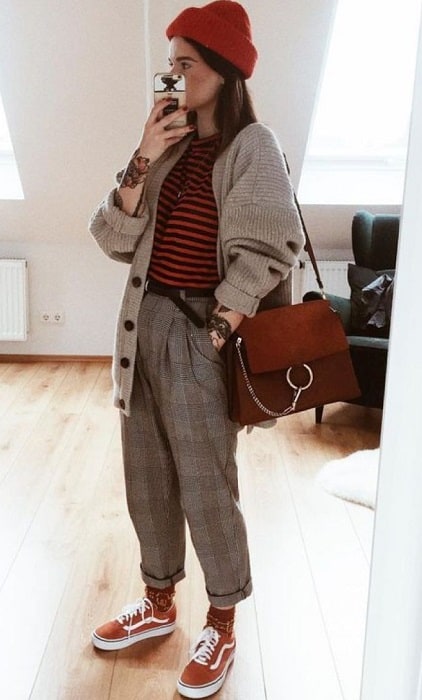 If you've been looking for the two most perfect colors to match in fall and winter, we have the answer. Try the palettes of red and nudes. These colors offer quite an impressive range of hues that are so flattering.
The smartest way to put together your outfits for school is by often buying pieces in the same color wave. Add a hint of red in the nude selection, or add a hint of nude tones in the red ensemble. It's as simple as that.
24. Faux Fur Jackets
On the days when you want to be a bit more elegant, you will need a trendy faux fur jacket. In the array of ways to flaunt it, choose jeggings and ankle boots.
25. Extreme Athleisure
If everyone else can try it, so can you. Extreme athleisure is great when it comes to summer or fall outfits for school. You will find it so easy to pull off, because there is no need to think of footwear, accessories and other details.
26. Fanny Packs Outfit for School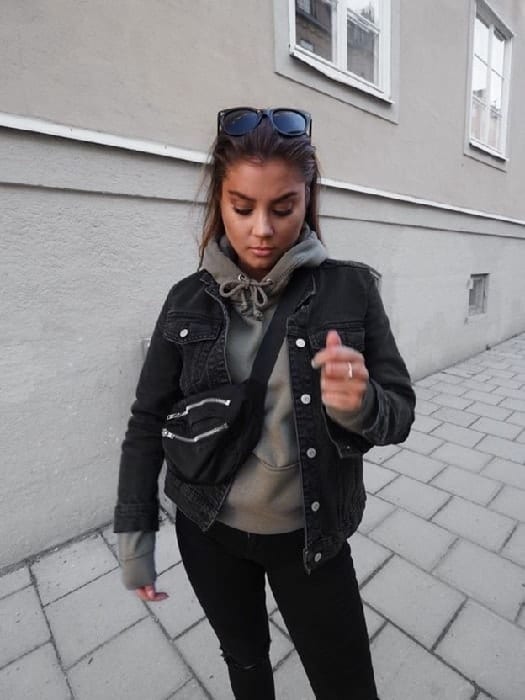 Those cute little bags that were popular in the 90s are once again a big trend. Upgrade your sophisticated school looks with one of these cuties.
27. Keep It Simple
You know the saying 'less is more'! That thing really applies to cute outfits for school. In other words, there are times when a pair of jeans and a basic plaid shirt will really transform you into a fashion blogger. It doesn't matter if it's high school or college, this combo is for all ages.
28. Black with A Twist
Avoid wearing everything black by including blue jeans. A very simple, but very effective tip for fashionable girls.
29. Grey Is Popular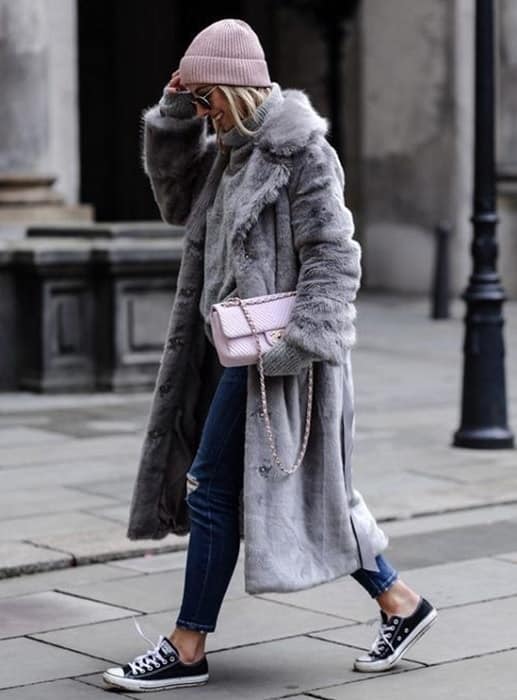 This winter shades of grey are very popular. Whether you'll pick a single one, or mix multiple, it's your choice.
30. Fedora Hats
Even if you are not very keen on hats, there is one that will complement everything you wear. The fedora hat is so perfect for cute outfits for school. It gives a sophisticated vibe for both day and night.
31. Chunky Sweaters As Cute Outfits
Chunky sweaters will become your go-to clothing item for many occasions. The first one is absolutely school. You can't go through a year without stocking up on these oversized knits.
32. Tracksuit in Action
You don't always have to be overdressed for school. On the days when you're exhausted, in a hurry or have a cold, put on your tracksuit. Athleisure lovers often use their favorite sports pieces in everyday life.
33. Black And White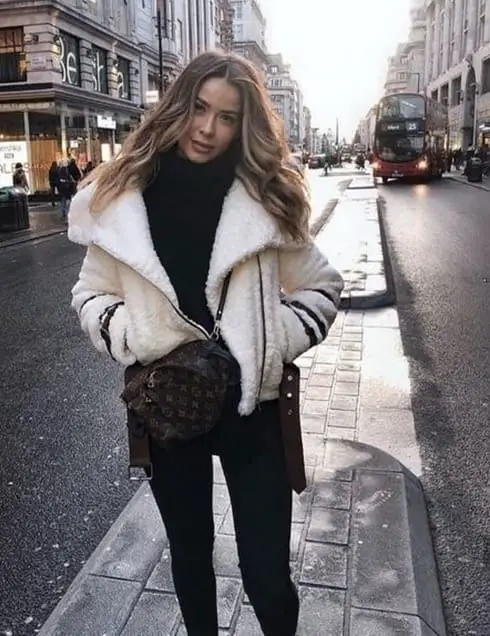 It is a very secure combination of colors, which you already know it looks fabulous. Make your all-black school outfits pop, by adding some items in white. There are no rules you need to follow, just use the best of what you own.
34. Don't Forget about Converse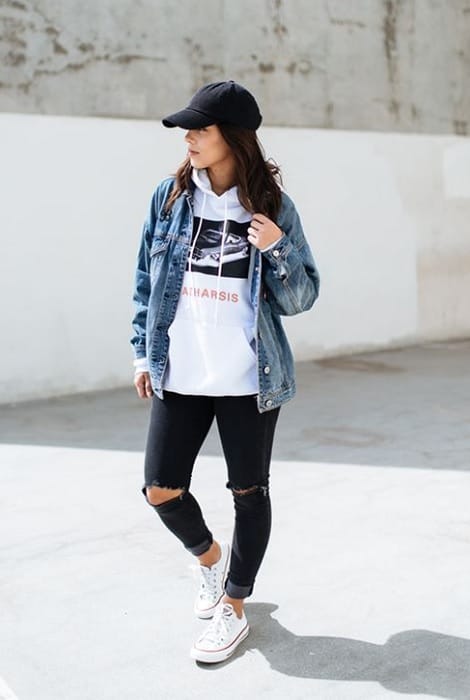 We've said it once, and we'll say it twice! Converse sneakers are a classic! Whichever style of school outfits you prefer, make sure that you own a pair of two of these chic sneakers. They will be your go-to design when you have no idea what to wear. Converse flatter very casual and also sophisticated outfits.
35. The Trendiest Print Right Now
If you don't own anything in the animal print, it means you are not a real fashion obsessive. Just with a single glance of your Insta feed, you'll see that everyone is going crazy over leopard and snakeskin patterns.
You'll actually find them very simple to wear, even in cute outfits for school. Some pieces look very dramatic, but when you work them with basics, you'll see why everyone loves animal prints so much.
36. Sporty Casual
This winter you don't want to overdress, especially not for school. The long coat that you own will look equally trendy with a hoodie and sneakers. In fact, bloggers love pairing hoodies with a classic coat, so it's your turn to try it out. Don't be shy about mixing completely different styles. It is plenty of fun and that way you'll stand out from the others.
37. Cute Dress
There is officially nothing cuter than dresses on young ladies. If you are under the impression that dresses are not school-appropriate, it's time to change your mind. Yes, they are, plus there is quite the number of ways to pull them off.
The first rule to keep in mind is that a dress shouldn't be too short. The second one is that you can always rock it with thigh-high boots, that way you'll show less skin.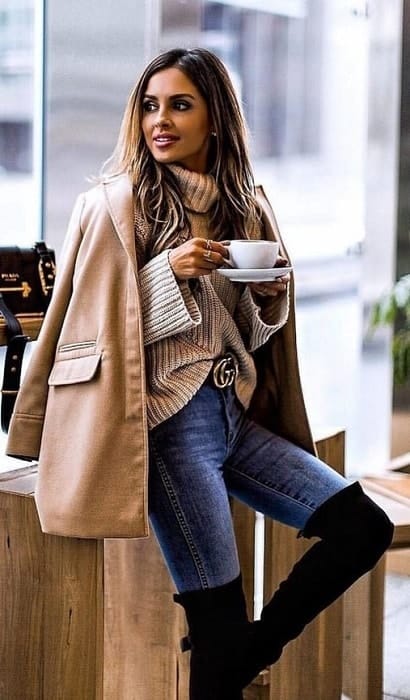 Thigh-high boots will be your go-to footwear trend once you figure out how flattering they are. This design is so amazing for many body types. Aside from making you look taller and slimmer, the boots are so easy to match with clothing. Choose the color that you like the most and enjoy your over-the-knee boots with skirts, dresses, jeans and more.
39. Sneakers Any Time of The Year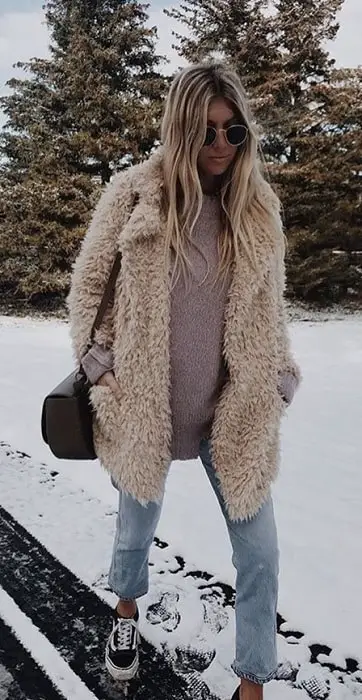 There was a time when girls used to wear sneakers only in spring and summer. These days things have changed a lot. You'll see so many young ladies flaunting their sneakers on the coldest days of the year.
They can be fashionable when there's snow outside, which means you'll need more than one pair. This trend definitely comes from bloggers who experiment with different styles in different weather conditions.
40. Statement Jacket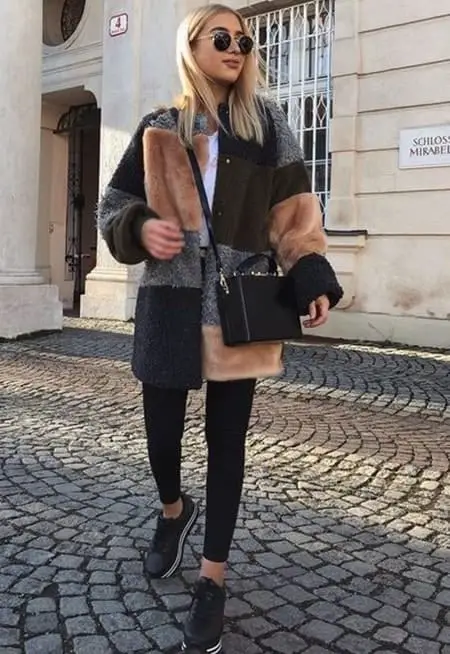 When you have an eye-catching jacket it's so much easier to keep the rest very minimalist. Just go for a pair of leggings, pants or jeans. This multicolored coat is made of faux fur, which is another trend to keep an eye for in 2023.
All teens will love to rock a colorful jacket that helps them stand out in the crowd. That is why putting together cute outfits for school is so much fun.