Dreadlock seems like a permanent style of hair which is very famous among many men and women. There are endless options of style with the dreadlock hair and these styles suit well in all the function along with the wedding. Not only the common people but many brides also love to do many dreadlock hairstyles at their wedding.
With this type of hair, various styles can be adopted such as different dreadlock updos, ponytail, bun or the braid. Here are 23 best dreadlocks hairstyles for weddings you'll love to try.
Popular Dreadlocks Hairstyles to Rock in the Weddings
Everyone wants to look perfect from head to foot in any occasion. And choosing the best hairstyle is one of the most important things for the lovely look. With the dreadlock hair, one may get confused in picking up a style especially at a wedding. But there are many dreadlock hairstyles which are perfect for any wedding function. Have a look at the following dreadlock hairstyles for the wedding and opt for the best one.
1. Balayage Dreadlock Extention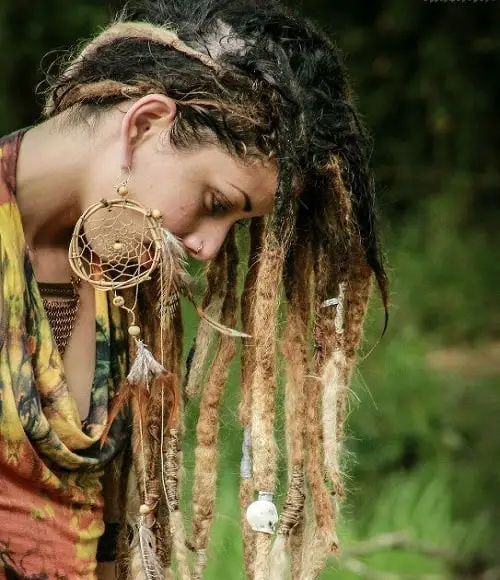 Do you have short hair and worried about styling your hair for a wedding day? Need not to worry more! Try out the balayage dreadlocks extension to add more volume and texture to your short and thin hair. Keep the hair open and wear feathery earrings for an eager look.
2. Black Medium Hair With Flower
Have a look at the gorgeous dreadlocks hairstyle for short hair. It is ideal for oval and oblong face shape. The upper half hair of the head tied with the bobby pins. White floral headpiece on the top left corner of the head along with white edgy wedding dress provides a sophisticated look to a bride.
3. Dreadlock in Long Hair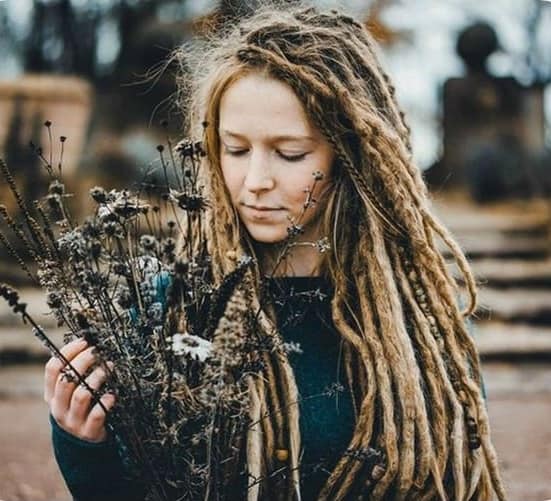 Want to go for a simple natural look for your wedding? Try the long opened dreadlocks hairstyle for this purpose. Apply honey blonde on your hair for a stylish look.
4. Dreadlock updo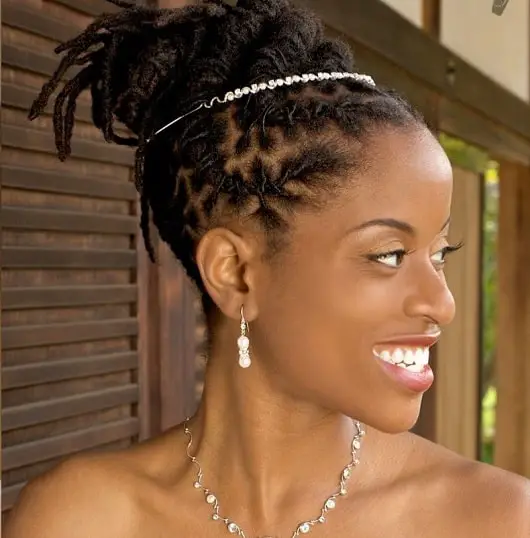 Dreadlocks Updos are always in trend if we talk about the wedding hairstyles. It is ideal for oblong, heart, and oval face shapes. The multiple dreadlocks twisted and tied into a bun. Wear a tiara for a more promising look.
5. Half Up- Half Down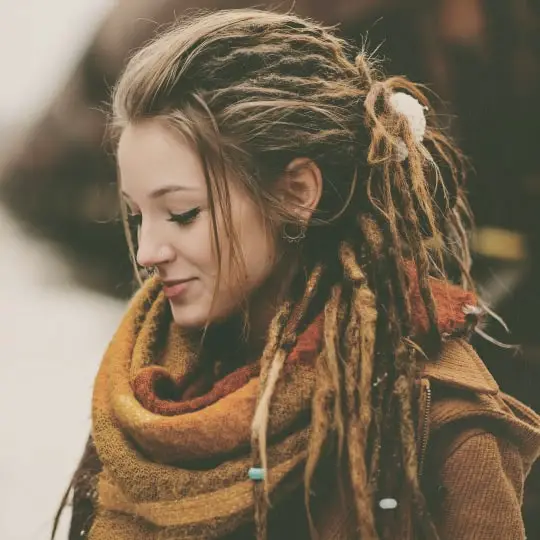 Straight hair with dreadlocks is an alluring combination of hairstyle to wear on a wedding. It is ideal for any face shape and hair type. Tie the half up hairstyle a little bit messy for a voluminous look. Pull out some hair strands at the front for an edgy appearance.
6. High Bun Style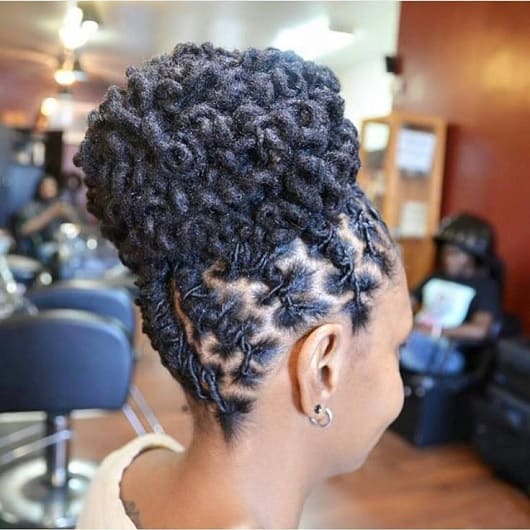 A high bun is pretty as well as easy to maintain wedding hairstyle. Give a unique look to high bun with dreadlocks incorporation. You can wear birdcage veil or a tiara for a balanced look.
7. Highlighted Side Swept Dreadlocks
Keep it simple as well as striking at the same time, by side-sweeping your dreadlocks. It is ideal for any face shape and hair length. Highlight the few strands of dreadlocks in order to add a more charming factor.
8. Short Dreadlock Hairstyle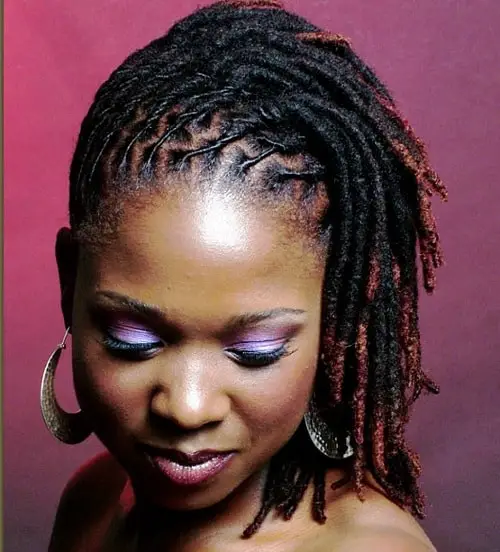 Here is another awesome dreadlocks hairstyle for short hairs to wear on a wedding. It suits oval, heart, and oblong face shape. Twist the dreadlocks from the right side towards the left side of the head. Apply the reddish golden dye at the tips of each dreadlocks strand.
9. Stylish Dreadlock Mohawk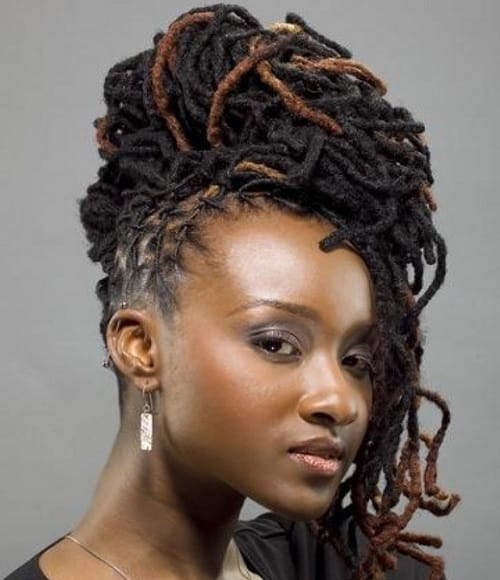 Inspire others by your bridal look at your wedding through dreadlocks Mohawk. It is ideal for long hair. Grab all the dreadlocks and gather them on the top of the head. Leave a few strands at one side of the head to cover the broad cheeks of your face or contour your face shape.
10. High Dreadlock Ponytail
High dreadlock ponytail with bold lipstick and elongated winged eyeliner is the coolest and smart choice of hairstyle to carry on a wedding. It is ideal for oval, oblong, and diamond face shape. Grab all your dreadlocks and tie these into a high ponytail. Wear a copper or gold jewelry for a complete look.
11. Bantu Knots Dreadlocks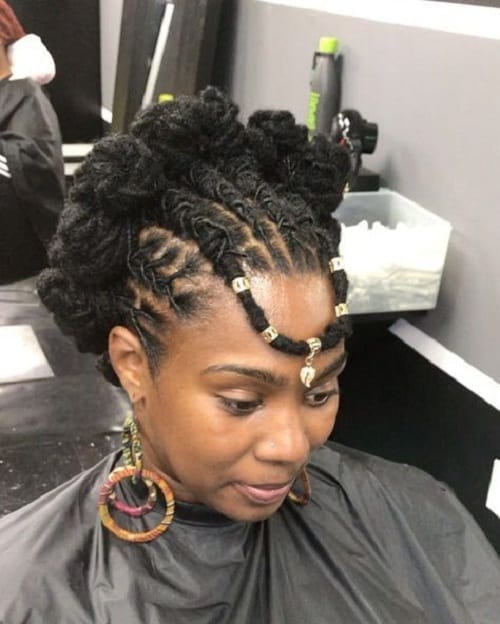 What an innovative and stylish dreadlocks hairstyle for weddings. It is ideal for long and textured hair. Divide hair into several sections and twist each dreadlocks strand into small buns or knots.  Cover the forehead with one dreadlock strand that will serve as the wedding headpiece chain. Beautify that dreadlocks headpiece with adorable golden beads.
12. Dread Faux Hawk Updo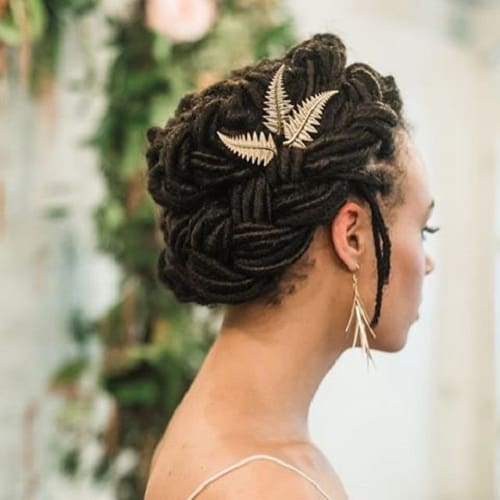 The dread fauxhawk updo hairstyle is so glamorous that every girl deserves to wear it on her wedding day. It is ideal for long hair. Make simple long braid of dreadlocks and twist the braid till it gathers on the top of the head resembling like a crown. Wear a sparrow winged hairpiece for a more appealing look. Pull out few dreadlocks strands from the sideburn area for an edgy appearance.
13. Elegant Dreadlocks Hairstyle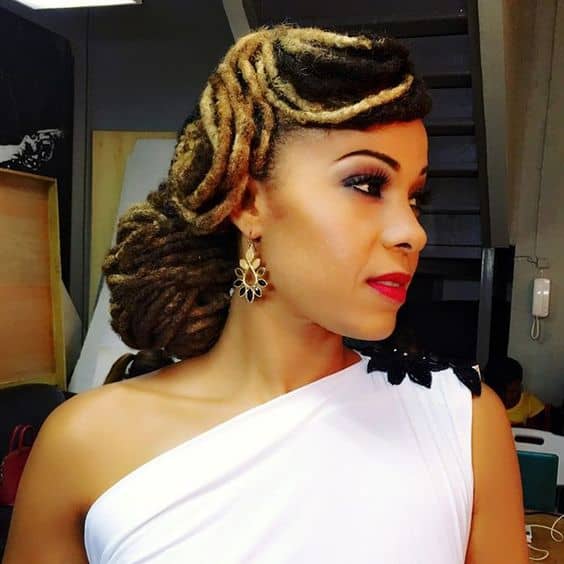 Look at this elegant bun hairstyle made from dreadlocks. It is ideal for long and thick hair. Blonde the dreadlocks and make a low bun for a tame look.
14. Dreadlocks with Bangs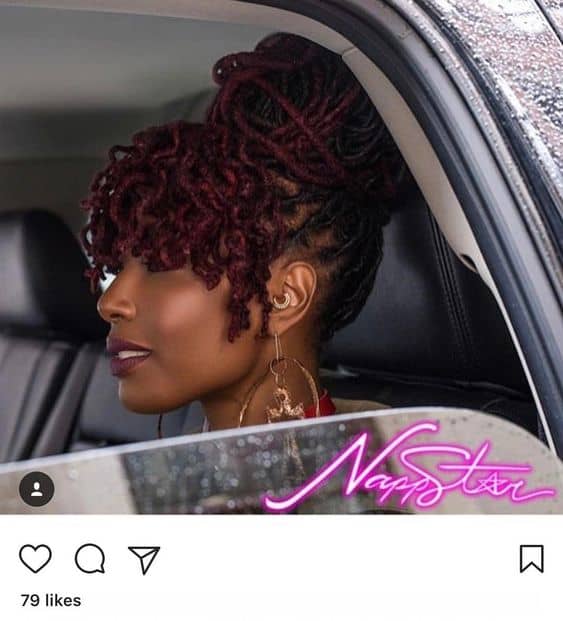 Dreadlocks with front bangs hairstyles are impressive to wear for weddings.  It is ideal for long hair. Apply deep red dye on the front dreadlocks bangs and keep the remaining dreadlocks black.  Deep Red bangs make the hairstyle more captivating. You can open the hair with front bangs or make a high bun with them. The choice is all yours!
15. Messy Braid Dreadlocks hairstyles for Weddings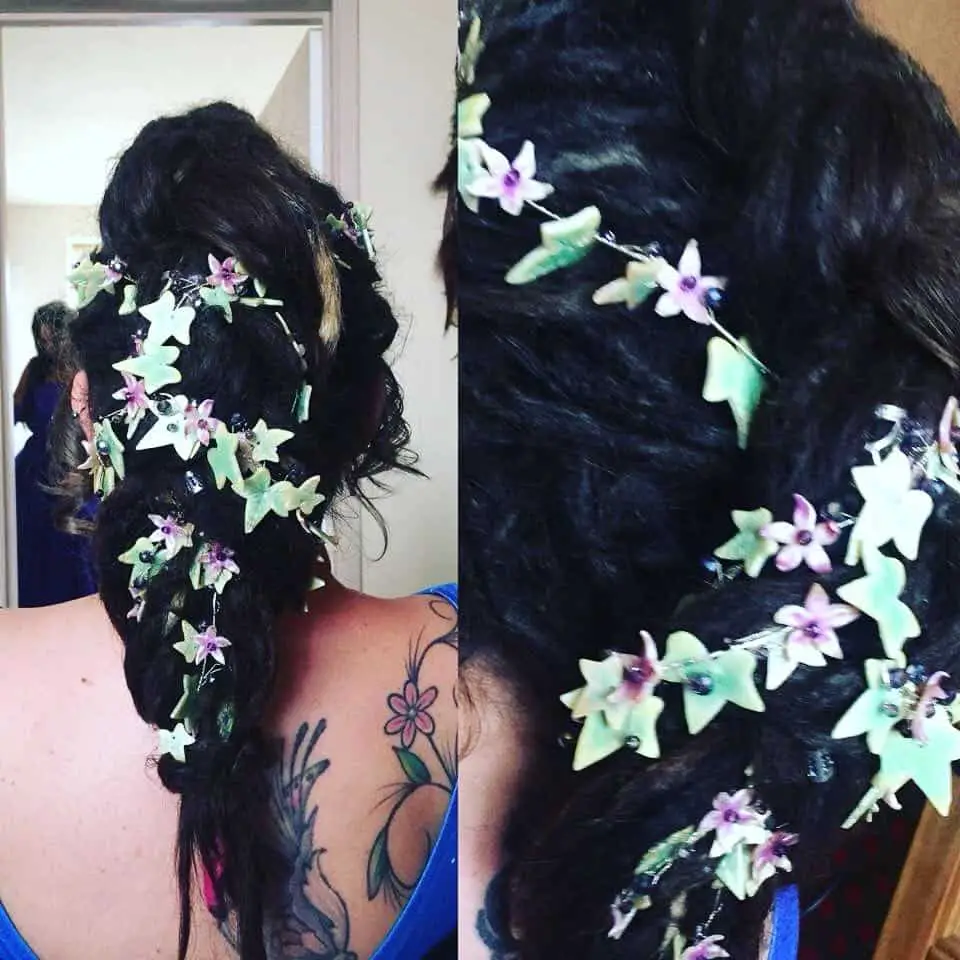 Woo Hoo!  Dreadlocks messy braids hairstyle with floral hairpiece looks so mesmerizing on an edgy dress for weddings. If your wedding is in summer season or you are going to a wedding held in summer season then, you must try this heavenly beautiful hairstyle that will surely steal the people's heart.
16. Braided Dreadlocks Hairstyles for Weddings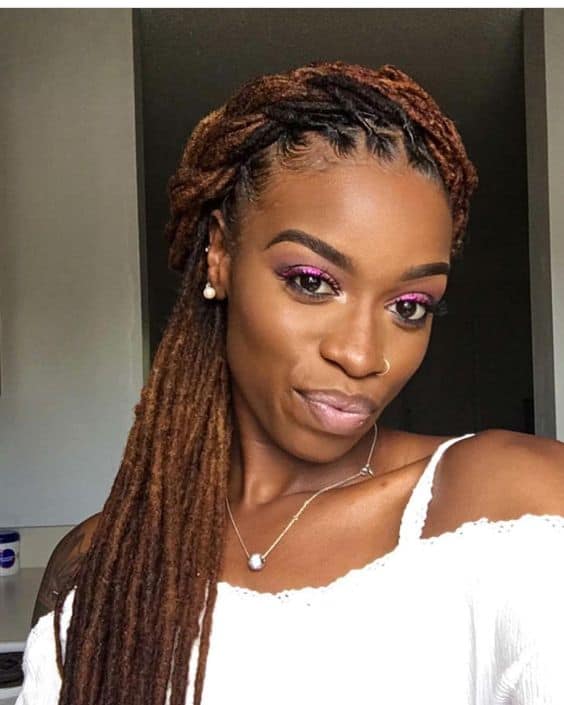 Side upper braids with half-open hair look very graceful on ladies. It is ideal for any hair type and texture. Start braiding the dreadlocks from left side leading towards the right side of the head. hold the braid with bobby pins. Leave the remaining dreadlocks open and sweep them on the side. Copper blonde your hair for a more attractive look.
17. Spiral Dreadlocks Hairstyles for Weddings
Give a unique stylish look to a simple updo or high bun hairstyle with spiral dreadlocks. It is ideal for long hair. It suits oval, oblong, and heart face shape. Divide the hair into several sections. Turn each section into a spiral shape. Hold each spiral dreadlock with bobby pins.
18. Twisted Dreadlocks with Adornments
It is one of the magnificent dreadlocks hairstyles to carry on weddings. It is ideal for long hair. Swept back all the dreadlocks and start crisscrossing the dreadlocks with each other. It will give a V-shape to the hairstyle. Beautify it further with adornments to inspire other.
19. Rolled Bangs Dreadlocks Hairstyles for Weddings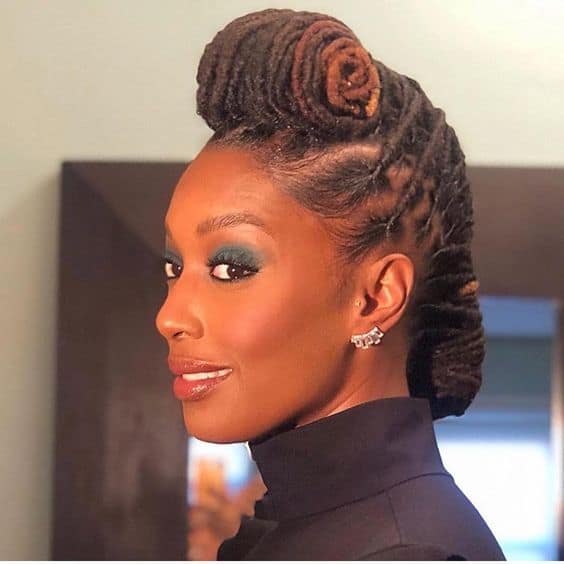 Rolled dreadlocks bang with bun looks very classy on women. It is ideal for oval and heart face shape. You must have long hair in order to achieve this hairstyle. If you do not have long hair then, worry not as you can wear weave.  Roll up the front bangs and hold them with pins or hairspray. Make a bun with remaining dreadlocks.
20. Wavy Dreadlocks Hairstyles for Weddings with Accessory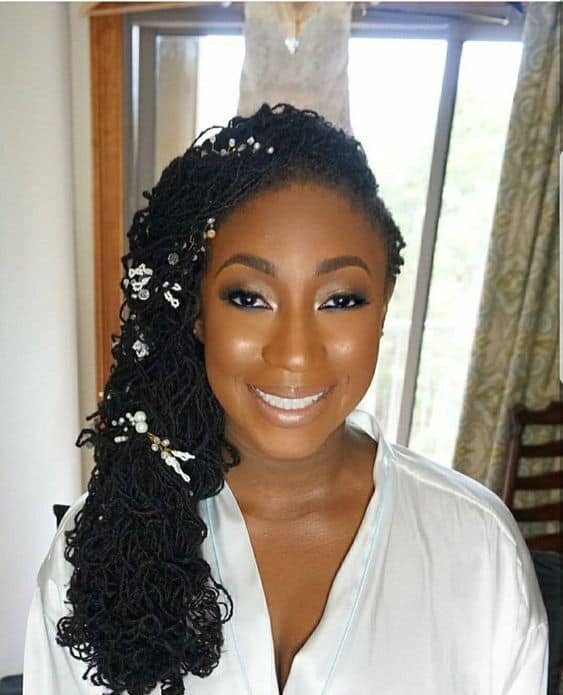 The marvelous wavy dreadlocks when swept on the side along with rhinestones hairpiece, create a winning look among the dreadlocks hairstyles for weddings.
21. Edgy Dreadlocks Mohawk Hairstyles for Weddings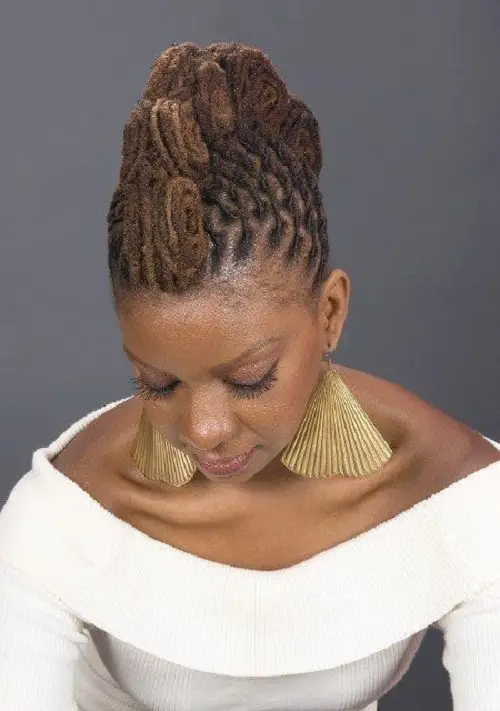 Edgy dreadlocks Mohawk hairstyle is a ravishing choice to wear for weddings. If you have a square face, go with the edgy Mohawk. It looks also good on oval face shape. Gather the dreadlocks at the central area of the head in the form of Bantu knots, which will resemble the Mohawk later. Complete the look with beautiful wavy earrings.
22. Cross Strand Dreadlocks with High Bun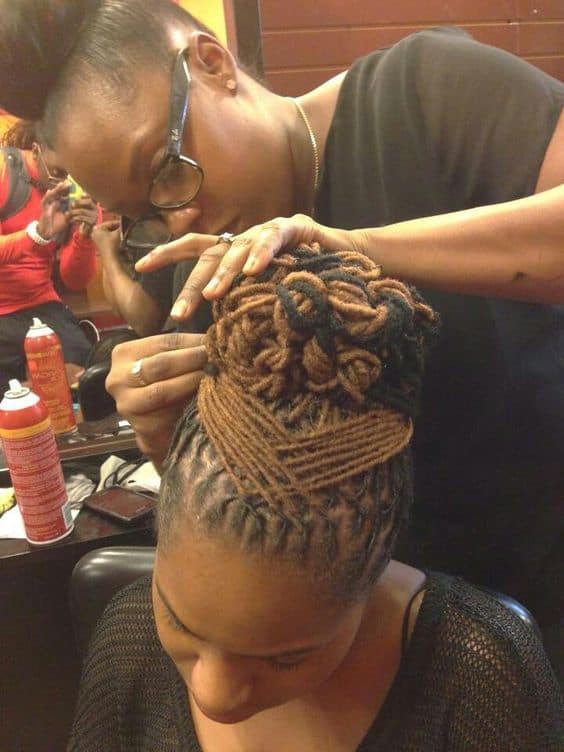 It is one of the prepossessing tamed high bun looks. It is ideal for long hair and suits well on square face shape too. The few thin dreadlocks crisscrossed and the remaining dreadlocks turned into a high bun. Combine the dreads with honey blondes dreadlocks for a stylish look.
23. Platinum Dreadlocks Hairstyles for Weddings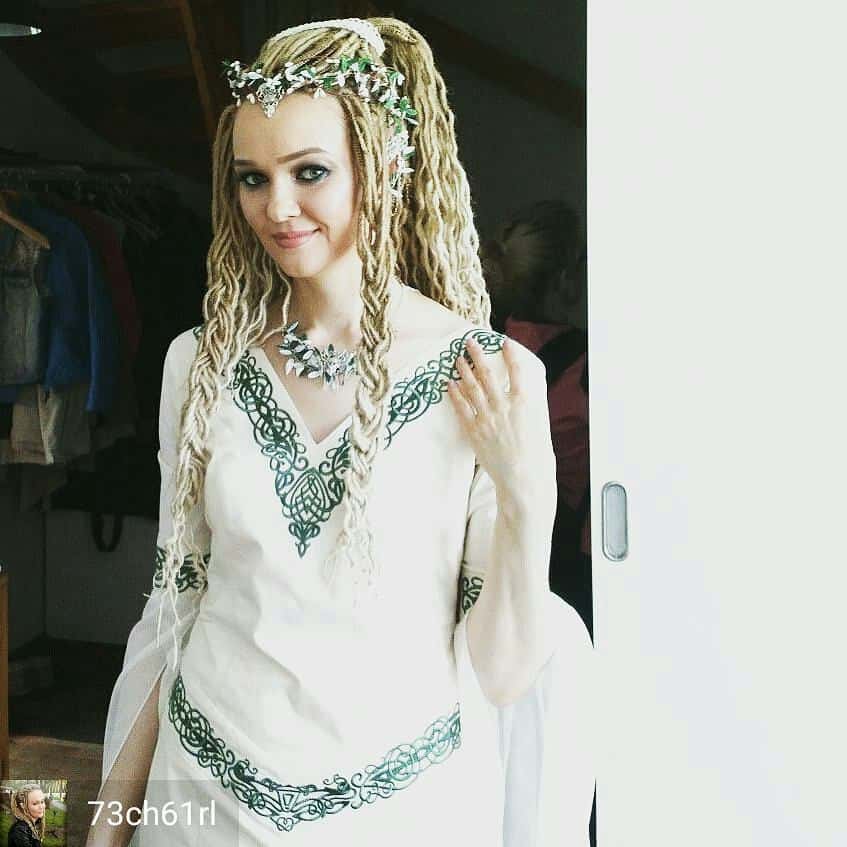 If you are a white woman and afraid to get a dreadlocks hairstyles for your wedding then, this given hairstyle is particularly for you as a proof that dreadlocks look equally charming on white women as they look on black women. It is ideal for long hair. It looks beautiful on an oval face shape. High ponytail with two side braids and an adorable headpiece make you look like a diva.
Conclusion
One of the famous hairstyles in the fashion world is the dreadlock style. Both men and women of all ages and of all skin tone like to try this hairstyle for a different and crazy look. We hope, this article will help you to find a suitable dreadlock inspired wedding hairstyle. Have fun with the new hairstyle!