Do you like dressing up as a fairy? If yes, you might be looking for fairy makeup ideas that look good with your costume. Fairies are not only a fantasy for young girls, but adults also like to dress up and wear makeup like them.
There are many different ways to do your makeup to create a fairy-like look. Here we are sharing 30 fairy makeup looks that you can get inspiration from.
How to Achieve Perfect Fairy Makeup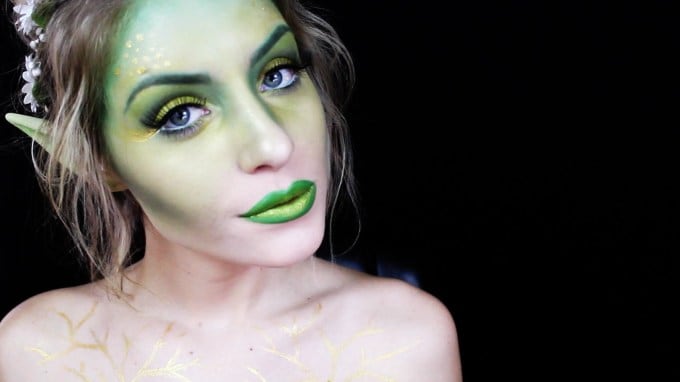 It is best to design the fairy look you want on a paper first, this way you can easily decide which colors complement the most hence saving up on your makeup.
Get creative; think of new and unique fantasy designs. You can also take inspiration from your surroundings or a favorite character from a book or a movie, let your imagination run wild and create magic.
Tools and Materials:
Experiment with a variety of materials from face paints and makeup pallets, to face pastels glitters, stones, sticker, sequins, and even lace!
Use stencils for a clearer pattern like crisscross mermaid skin stencil for a scaly mermaid pattern. Different shapes of flowers, stars, leaf etc.
A variety of brushes will be required from application brush to blending brushes.
A setting spray or a hair spray can also be used as an alternative to set makeup when done.
Eyelash adhesive can be used besides on fake eyelashes to stick decorative materials such as sequins and stones.
Hair accessories; flowers, tiara, glitter, stick on decorative accessories, temporary colored hair spray, even a pretty necklace can be used as a hair accessory.
Spooky Vampire Looks for Halloween
For The Face:
Start off with cleansing your face properly, pat dry and then apply a face primer.
Draw an outline of your design first. Use an eye shadow pencil for an outline. Start drawing with simple and easy designs such as flowers on sides of cheeks and face. You can use a stencil as well. Once you have drawn a satisfactory design start filling in.
Again, a stencil can be used to fill in the design using different shades of eyeshadows.
Use metallic eyeshades with a touch of glitter because glitter is magic!
Do not forget to use a silver or golden highlighter on cheekbones.
Apply a lipstick, fake lashes, and other face and hair accessories.
The good thing about fairy face makeup is that there are no set rules, just go with the flow and have fun.
You can let your hair loose with light curls or an updo with flowers in hair bun or a tiara or just sprinkle a bit of glitter on them but be care full not to get too taken away with glitter in hair because it might not be that fun to get it out of hair.
Once done with the makeup use a setting spray and voila! You have your very own princess fairy makeup look.
Best Fairy Makeup Ideas for Women
We have compiled 30 lists of beautiful fairy makeup look for you here.
Our Favourite Fairy Makeup Looks to Inspire
Check these 20 fairy makeup looks for women to get a princess look whenever you feel like it!
1. Clematis Fairy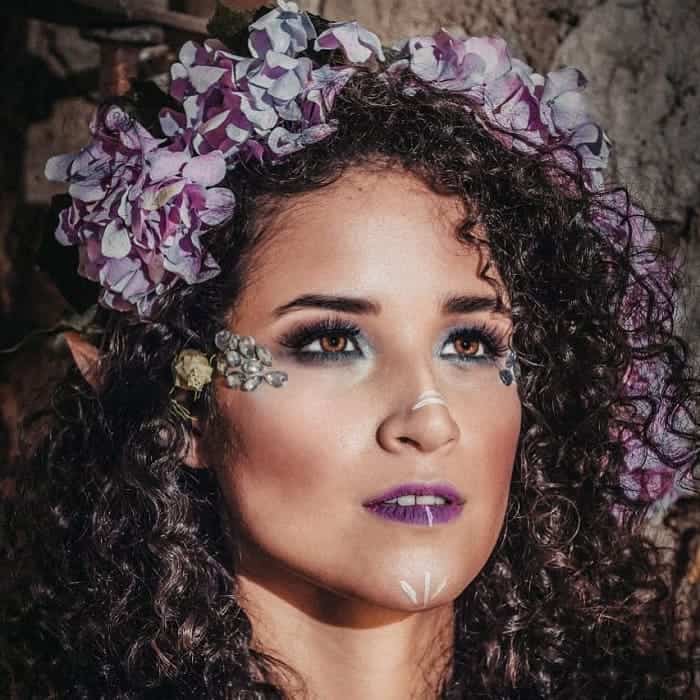 The clematis fairy look is a simple yet elegant makeup look. An ash black smoky eye with a white highlighter, on the inner corners and cheekbones, along with lavender lips gives a mysteriously serene look to this clematis fairy.
2. Luscious Lavender Fairy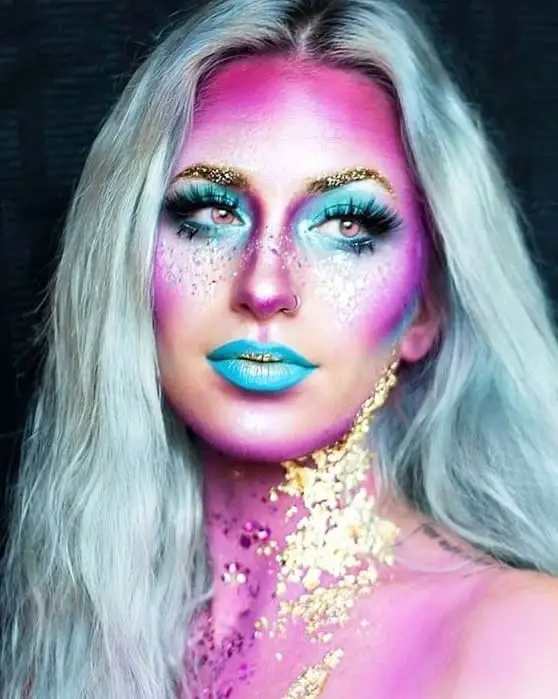 The lavender, indigo and blue contours along with light ice blue hair and a careless splatter of confetti below the chin create the perfect lavender fairy makeup look.
3. Frost Fairy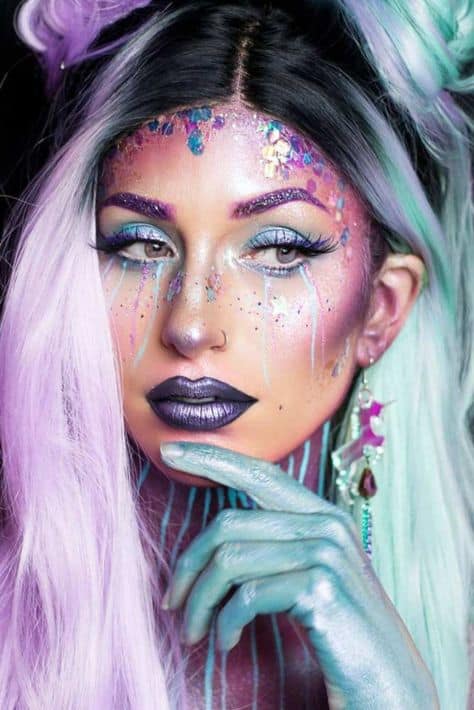 The cold frosty look is achieved by a beautiful blend of metallic blue and violet shades in hair and makeup. With a dash of confetti along the hairline and glitter on purple tinted eyebrows, get ready to attract attention with this cold yet beautiful fairy makeup look.
4. Golden Dust Fairy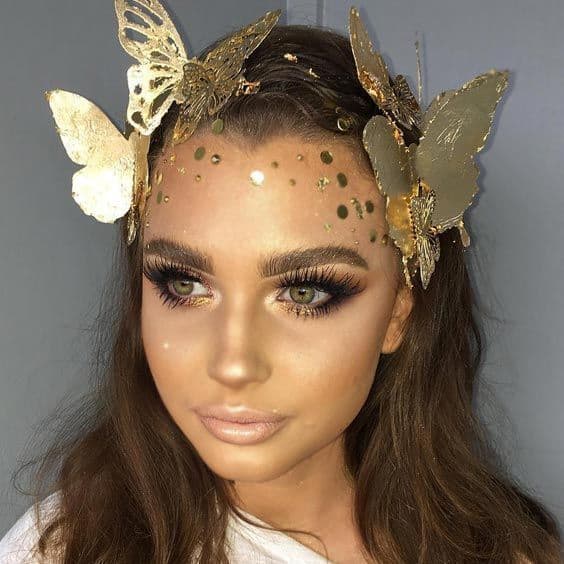 This look reminds us of summer and sunshine and everything warm and nice. Nude lips with smokey brown eyes and long thick eyelashes create a very intense yet warm look. Careful placement of golden butterflies and rhinestones along the forehead adds to the glory of this golden dust fairy makeup look.
5. Blue-Sky Fairy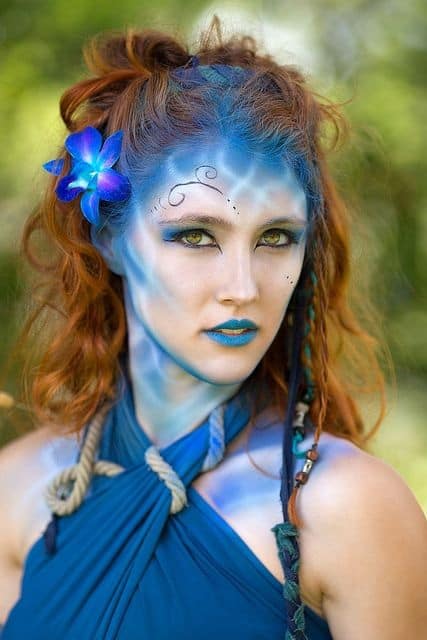 This breathtaking blue sky fairy makeup look is created by using electric blue and white eye shadow. Mark the white pattern with a white eye pencil before applying the blue color to the outer edges of the face. Blend well then highlight the marked lines once again with a white pencil or eye shadow.
6. Majestic Mermaid Fairy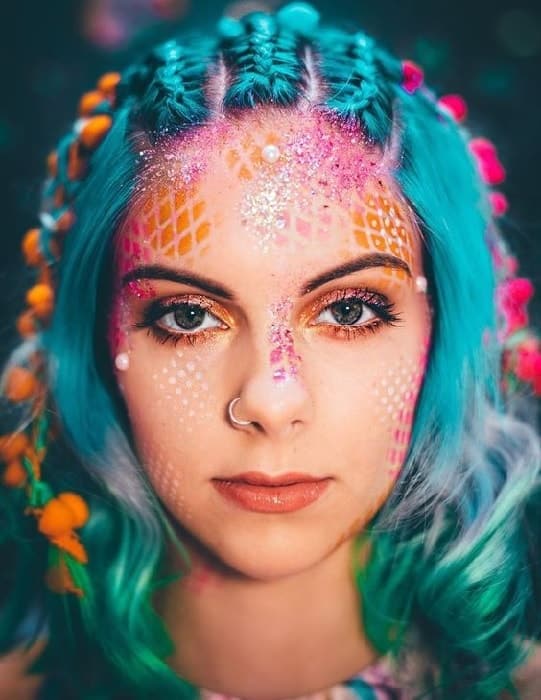 This rose gold eye makeup look is a beautiful combination of electric turquoise with orange, fuchsia, and violet along with a dash of glitter carefully brushed on the forehead. Tip; Use a fish scale stencil or net fabric for the scaly fish skin pattern.
7. Glamorous Unicorn Fairy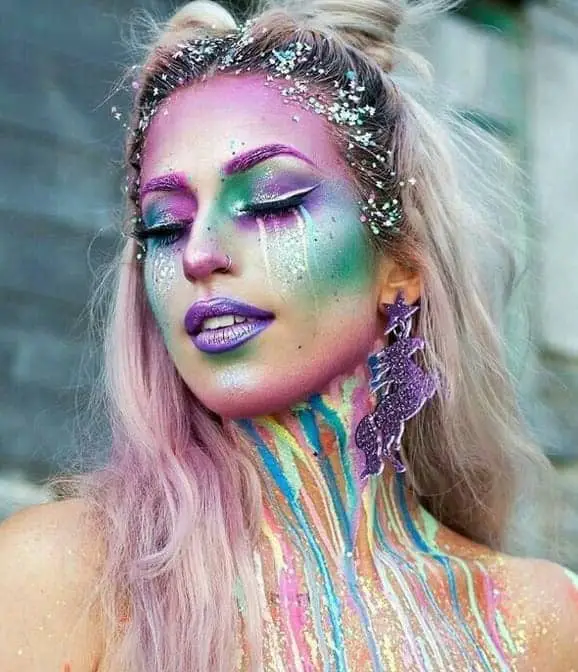 The glamorous unicorn fairy makeup idea is like a breeze of fresh air. Tip; use a dropper for a dripping color effect on neck
8. Cherry Blossom Fairy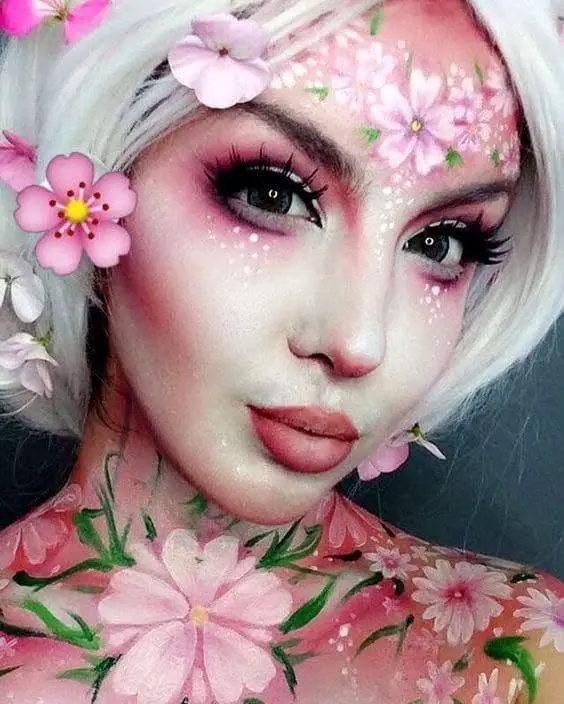 If you are a big fan of floral patterns then this cherry blossom fairy makeup look with pink eyeshadow is your go to look for the next costume party.
9. Woodland Fairy
Create this beautiful, soft woodland fairy makeup by using a white eye pencil on lower lids along with pearly white eye shadow on the inner corner of eyes, a soft pink blush on and a nude shade of lipstick. Just dab a bit of silver shimmer powder on your lips and don't forget the flower head wreath.
10. Groovy Garden Fairy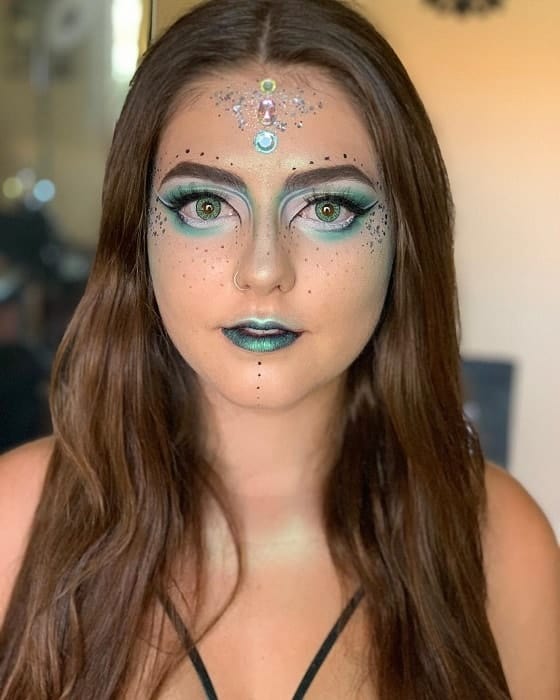 If you are a fan of turquoise, then get your blues out for this fabulous and groovy fairy look with teal eye makeup. Green hues would look equally visually pleasing with this hip fairy makeup look.
11. Royal Rose Fairy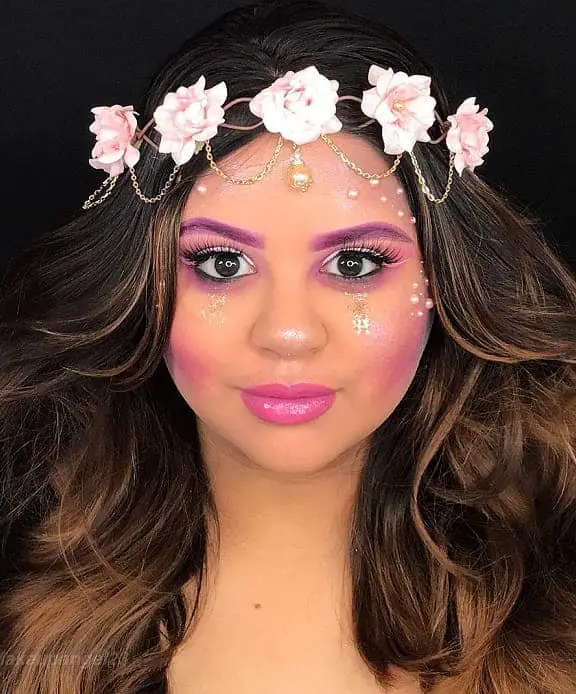 Perfectly contoured and blended at the same time, these Pink eyebrows, lips, and cheek beautifully complement the placement of rose head wreath with chains and sticker under one eye.
12. Flimsy Flower Fairy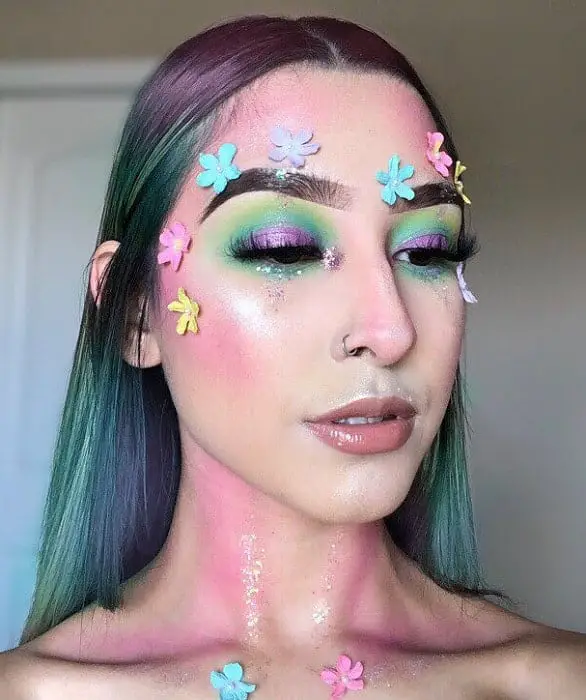 Layer upon a layer of vibrant colors perfectly stacked and blended at the same time plus a soft pink contour with silver glitter and flowers in complementing colors running along the eyebrows and cheekbone gives this fairy makeup a very flimsy, delicate look with purple and green eyeshadow.
13. Perky Pink Fairy
Pink lips with a strong pink contour on forehead and cheek, matte eyeshadow plus the careful placement of mirror rhinestones gives a very cheerful vibe to this perky pink fairy makeup.
14. Prismatic Princess Fairy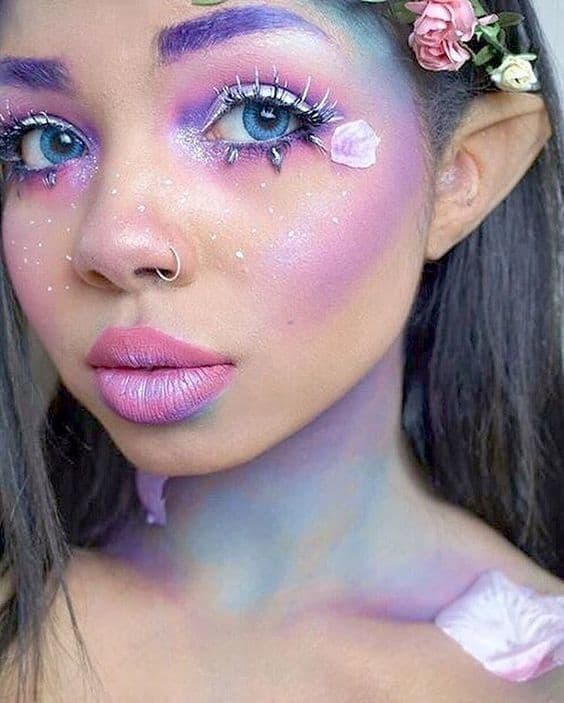 Grab your favorite hues of indigo and violet and create this prismatic princess fairy makeup look. The frosty eyelashes and splatter of white frost on face take this look to a whole new level of beauty.
15. Gleaming White Elf Fairy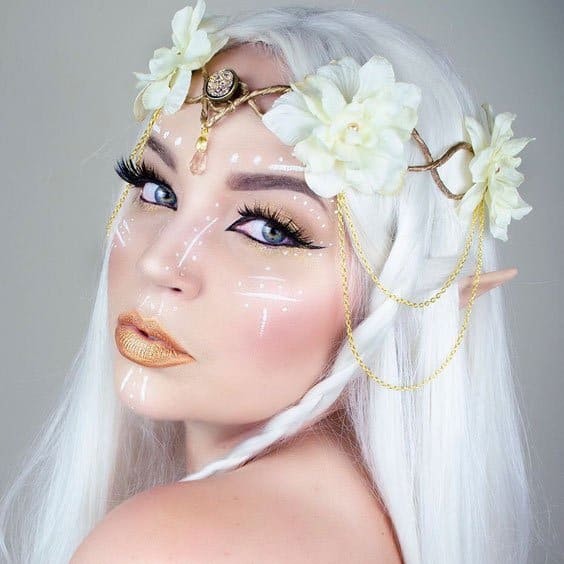 Gold lips, winged eyeliner and a silver highlighter with pearl white hair and the metallic wreath all ads up to this gleaming elf fairy makeup idea.
16. Violet Iris Fairy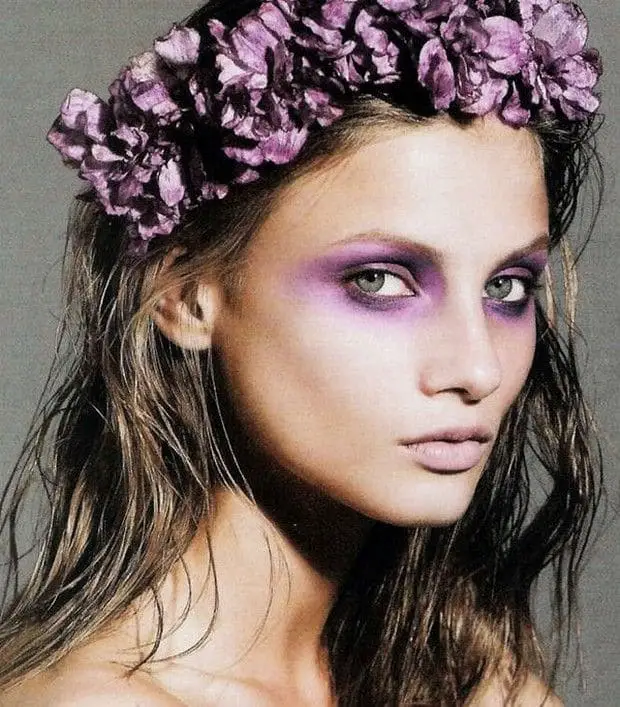 Who needs glitz and glamour when this violet smoky eye fairy makeup is enough to create depth and draw attention towards the eyes.
17. Igniting Indigo Fairy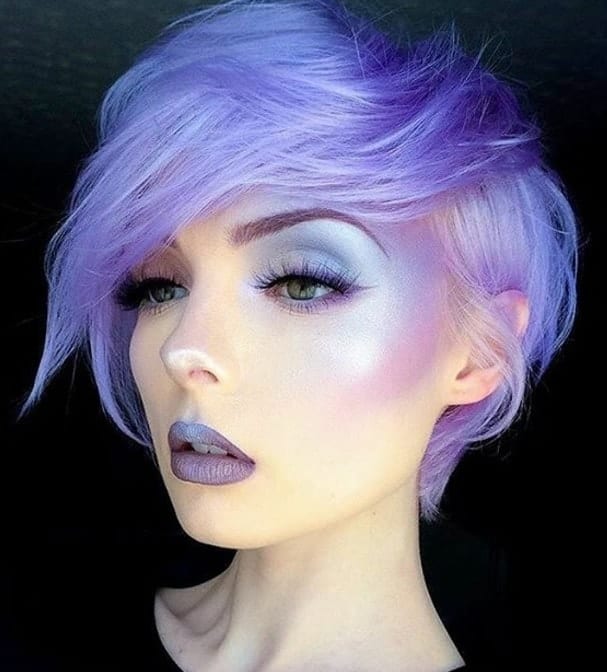 There is something extremely satisfying about this indigo fairy makeup idea. Maybe it's the gradual gradience of indigo to violet and silver with the same pattern of colors in hair. Use of purple or blue eyeliner gives an extra edge to this look.
18. Blue Moon Fairy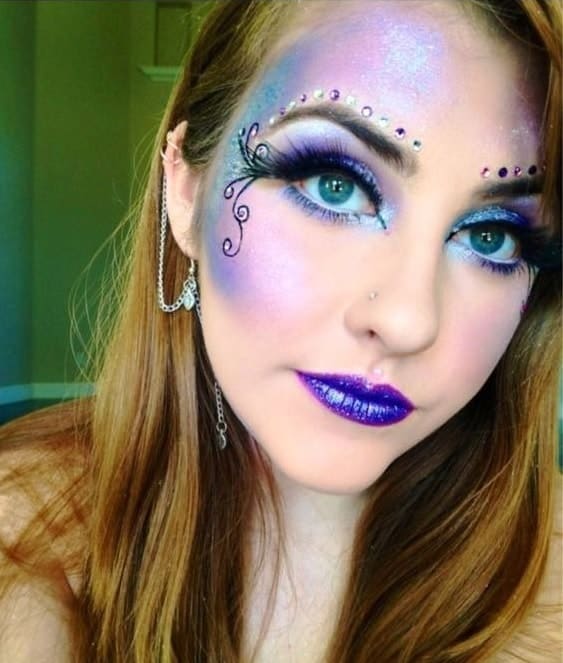 This one is a super easy, creative and colorful look. Blue lips outlined with indigo color like an iris flower and silver diamantes running along the eyebrows like stars in a sky add to the glamour of Blue moon fairy.
19. Cosmic Fairy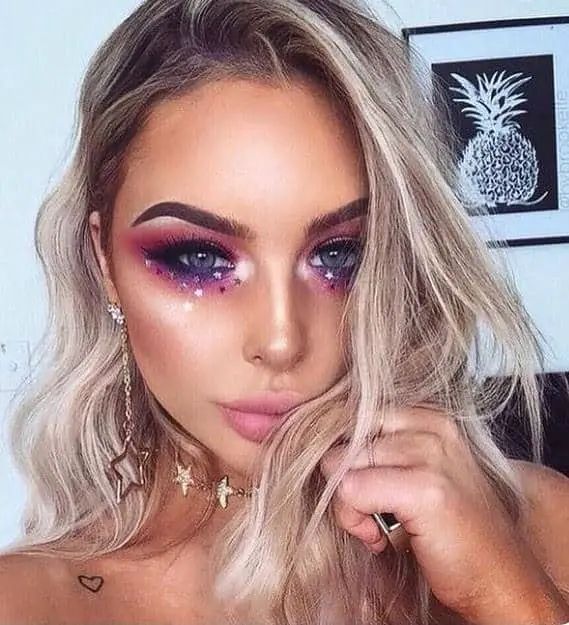 The universe enclosed in eyes of this statement cosmic fairy makeup look with blue eyes.
20. Stunning Sea Fairy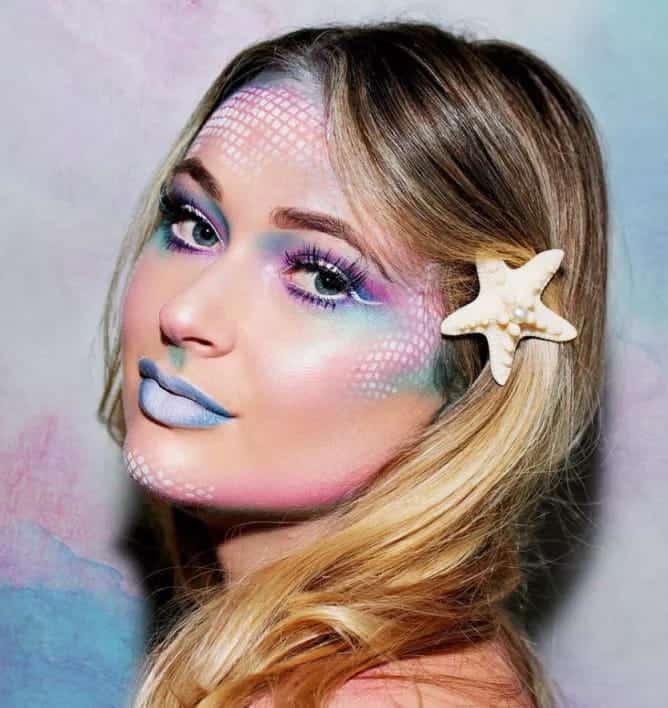 Metallic shades of blue and indigo are used in this fairy makeup with a textured effect of fish scale in white.
Easy and Simple Fairy Makeup Looks for Women
Try these fairly easy fairy makeup looks that are sure to impress the crowd around you. You don't have to be an expert makeup artist to try out these looks.
21. Twilight Fairy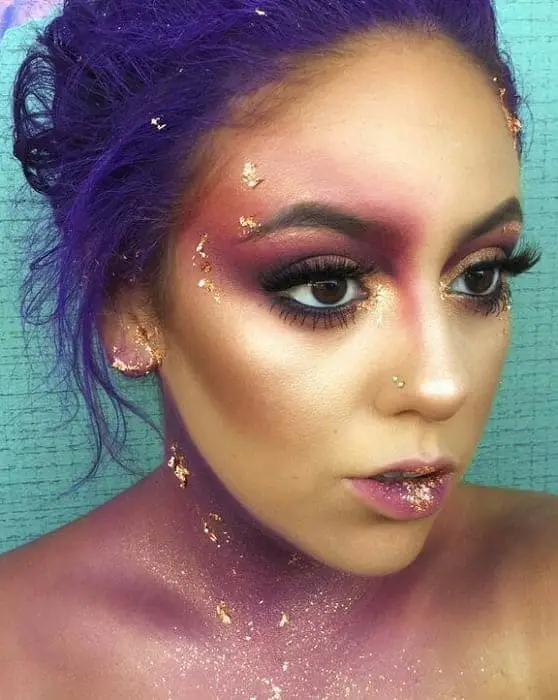 With a lot of makeup, in this art, the artist has used glitter to bring this glitter makeup look. After base and good contouring, the artist has used shimmery purple color to shade one side of the face and neck. Heavy mascara and eyeliner on the lower eyelid are also used in this fairy style makeup.
22. Majestic Mulberry Fairy
If you love flowers, try this fairy makeup. For this look, you do not need heavy makeup. Highlight your eyebrows and use heavy mascara. With a light shade of pink lip color, use a similar shade of blush.
23. Fragile Pink Fairy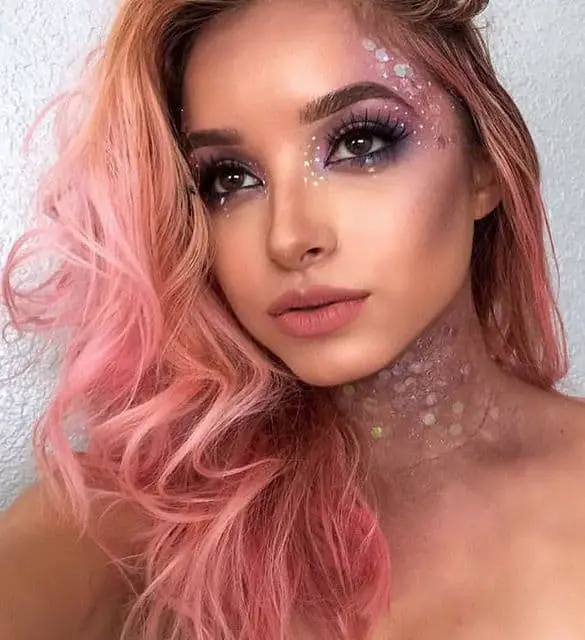 In this fairy look, the artist has used different techniques – contouring is the main thing. Use purple eyeshades on brown eyes to give a smoky look to your eyes. Use the same eyeshade on the lower eyelid. Instead of dark lip color, use a lighter matte shade.
24. Pretty Prismatic Fairy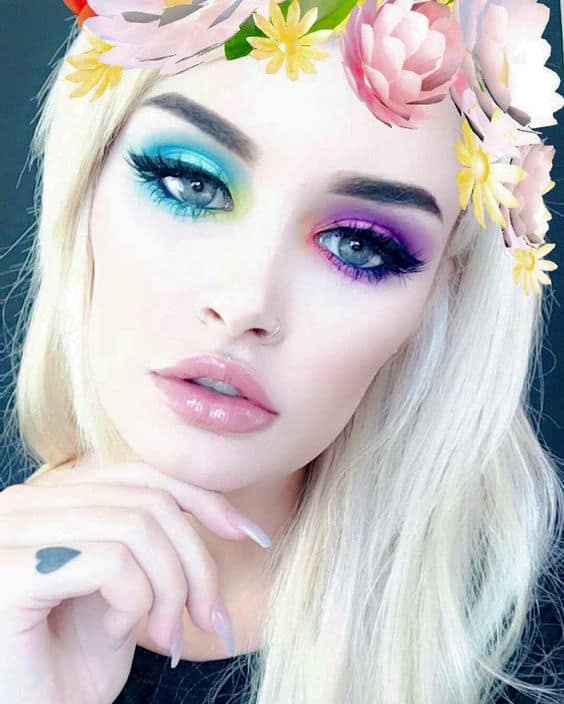 If you like colorful things, try out this unique makeup technique. It is a little different fairy makeup than usual. If you are using blue eyeshade on one side, instead of the same color, use purple on the other side. Use eyeshades on the lower eyelids as well. Wear heave mascara and thick eyeliner.
25. Warrior Fairy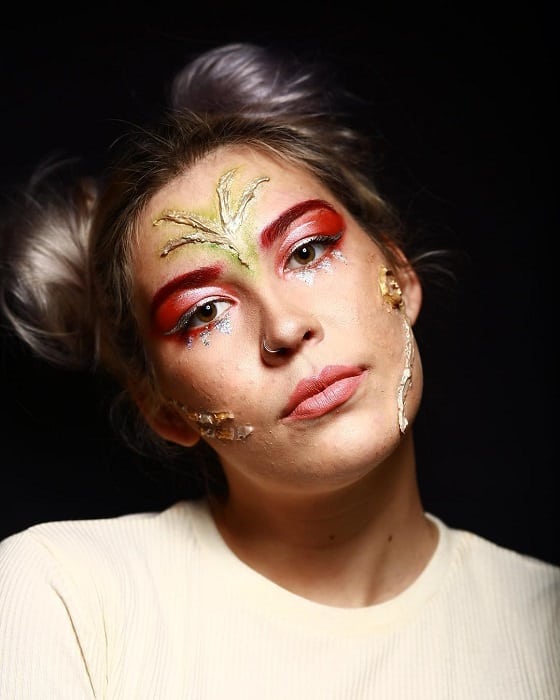 Fairies are not always with fancy makeups. You can be a warrior fairy as well. Use red eyeshade and expand this color up to the eyebrows. In fact, use the same color on your eyebrows as well. Don't match your lipstick with eyeshade; use a lighter shade.
Adorable Fairy Makeup Looks for Little Girls
Be it Halloween, a birthday party or a sleepover, little girls love being all dolled up with the perfect costume, accessories, and makeup. And being a princess fairy is their first go to look on any occasion. Scroll down for our pick on 5 kid friendly fairy makeup looks for little girls.
26. Luminous Fairy Mermaid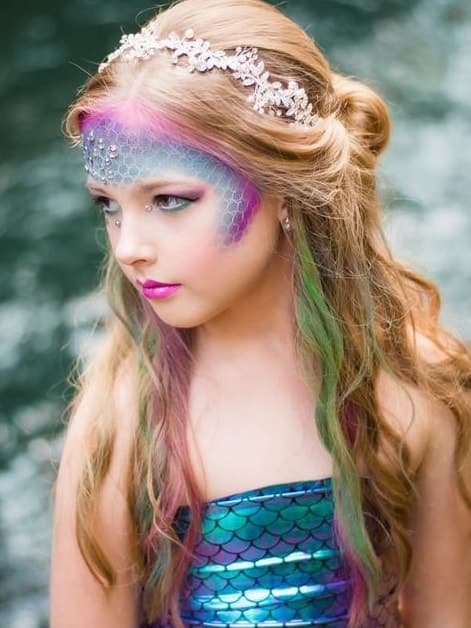 This beautiful mermaid fairy look is pretty much an all in one fairy makeup look with pretty cool hues in a metallic finish. Use pink lip color and blue eyeliner to highlight the lower eyelids. Wear a thin layer of black eyeliner on the upper eyelid.
27. Star Gazer Fairy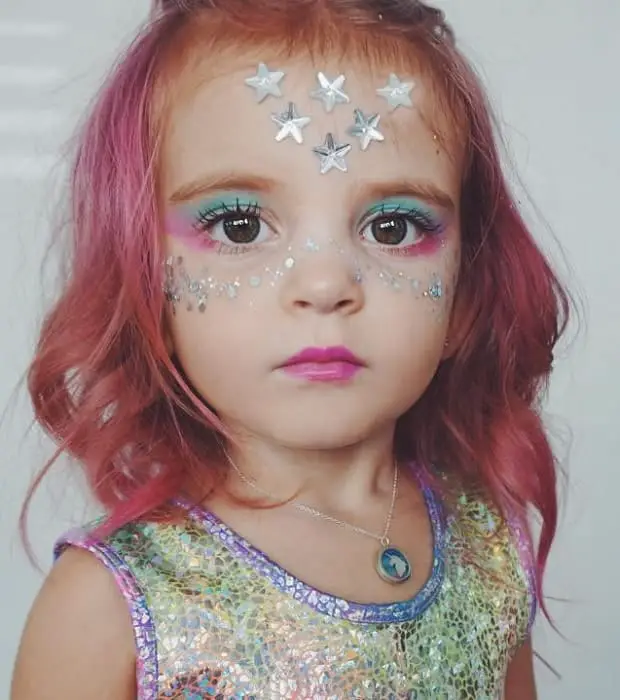 Little girls, fairies and stars seem to go together pretty well. With the combination of blue and pink colors, you can create the look of an innocent fairy. On the upper eyelids, use blue eyeshade, whereas, pink on the lower eyelids. Stick different sizes of stars on the forehead and below eyes on the cheeks.
Curly Hairstyles for Little Girls
28. Peace Fairy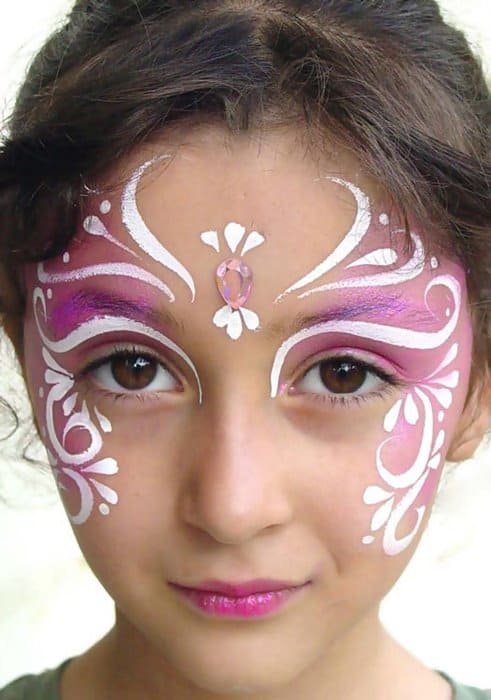 Get creative, drawing swirls with white face paint and violet eye shadow. Add some sparkle and sequins while you are at it, little girls love shiny! Use purplish pink color to make a base, and then using a white color draw the design over it.
29. Butterfly Fairy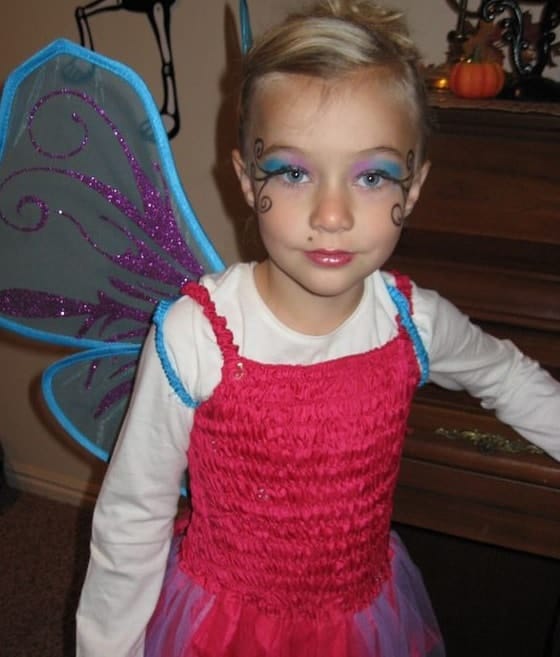 Who doesn't adore little girls with cute fairy makeup and wings on their backs? Kind of takes you back to your childhood memories of wanting to wear your fairy wings everywhere.
30. Mauve Bird Fairy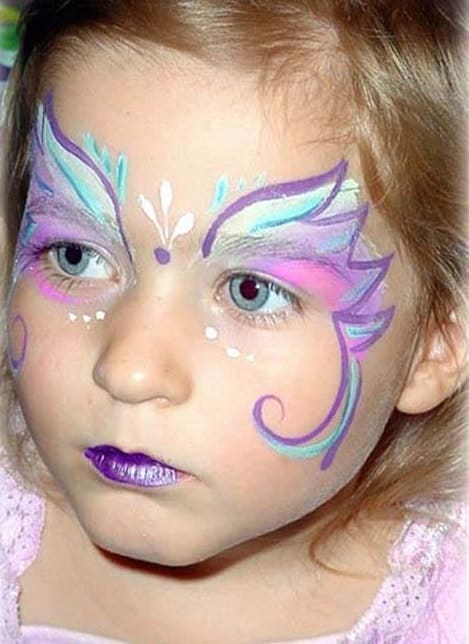 Create this astonishing fairy makeup by drawing an outline with mauve face pencil or paint and then fill in with pearly eyeshadows, you can get creative by adding a dash of glitters and stickers to the look. And don't forget the mauve lipstick to finish off the look.
With no set rules to follow, there are endless possibilities of creating fairy makeup looks. Let your imagination run wild and create magic with makeup. Although these looks are not suitable for daily use, they are a source of inspiration.