Glitter makeup is the go-to option when you have a super fun and lively events, such as parties, festivals, concerts, and more. This trend has become super popular and it's not going anywhere!
The only drawback is that glitter eye makeup can be tricky and there's a fine line between looking chic and looking like an eight-year-old little girl who had a lot of fun with her new unicorn makeup. (Not that there's anything wrong with that! It's just not the look we're going for.)
Best Glitter Makeup Ideas for Women
Today we bring you 30 different glitter makeup looks for you to be inspired and try your hand at it!
1. Cat Eye Glitter Makeup Look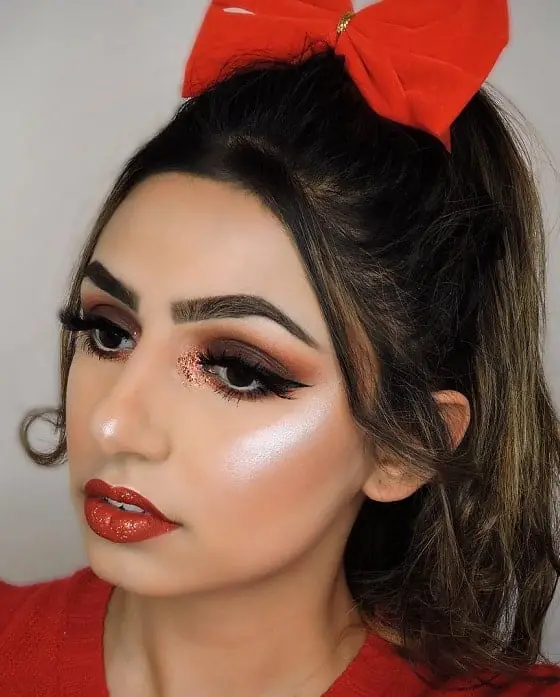 If you want to look stunning at that party or event, this bold cat eye glitter makeup will do the trick! As you can see here, the eyeliner is super bold, but the eyeshadow colors are kept sober so that the glitter can really stand out.
2. Grey Glitter Eye Makeup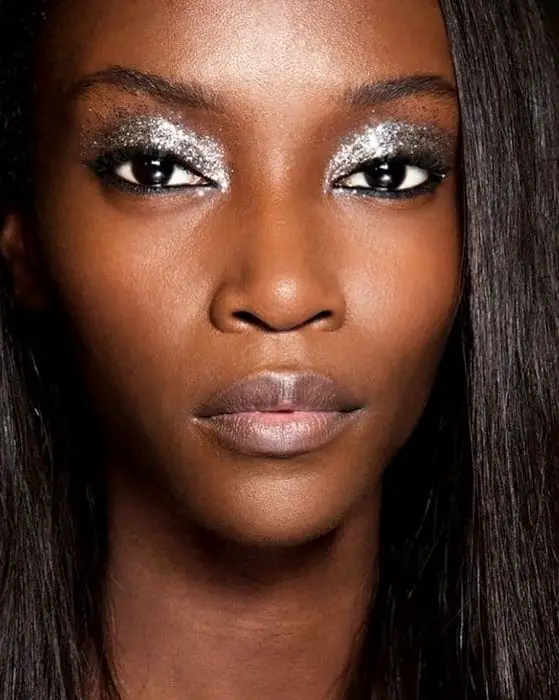 Grey makeup will make you look sultry and seductive, and the addition of glitter just makes it better. This incredible look will allow you to shine while still looking elegant and it will definitely bring the attention right to your eyes.
3. Teal & Silver Glitter Look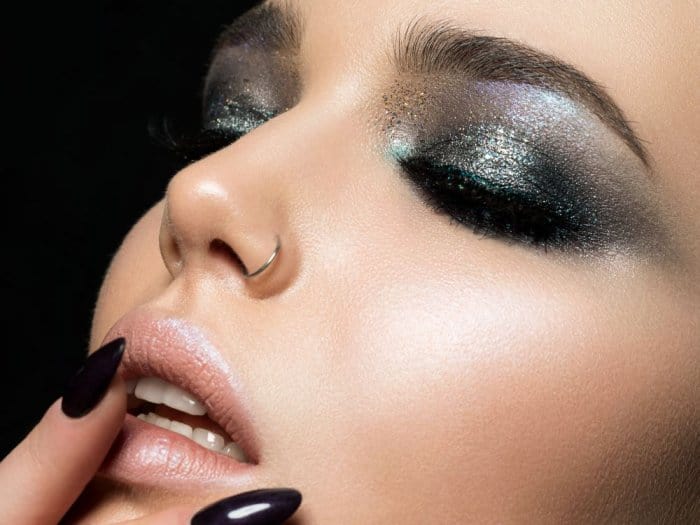 Teal eye makeup with glitter is incredible and if you love the color, you will love this look. Couple a metallic blue eyeshadow with silver glitter to accentuate your eyes and you'll look and feel amazing.
4. Brown & Silver Glitter Makeup Look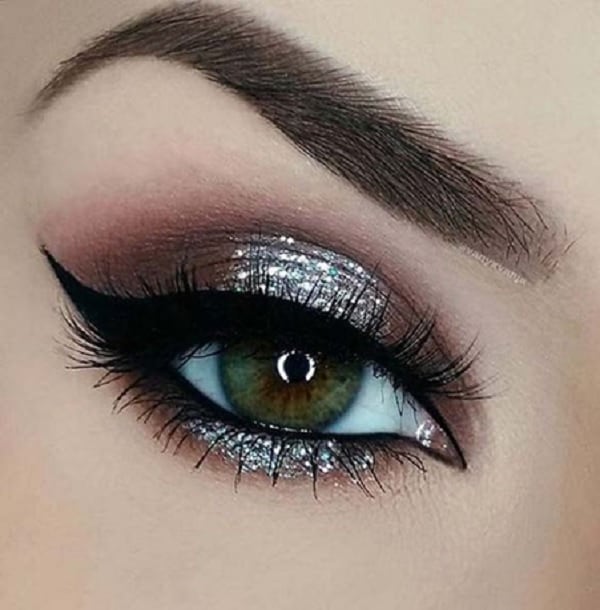 This cat eye combines brown eyeshadow with silver glitter makeup and it does it wonderfully! What's new here is that the glitter is strategically placed right at the center of the lid and it's also placed at the bottom of the eye. This brings focus right to your eyes and it allows you to use glitter without overdoing it!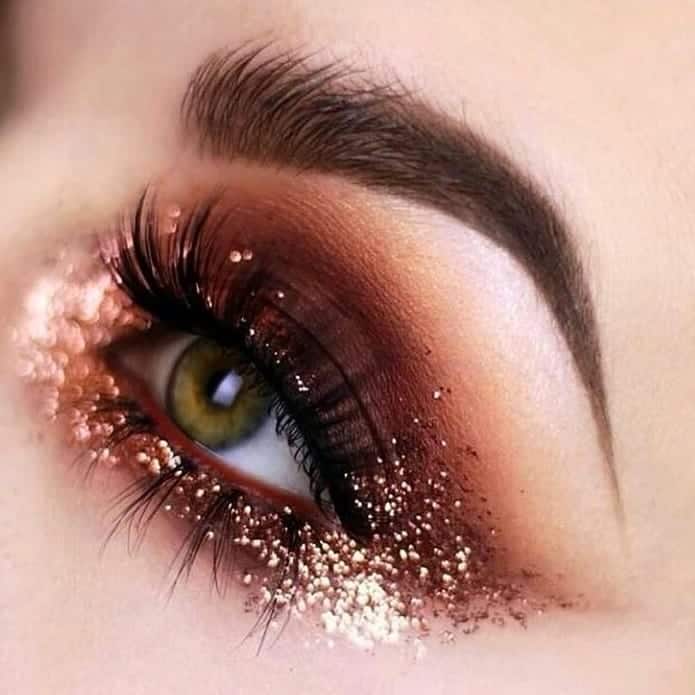 If what we've seen so far is too bright for you, then you'll love this look. This brown glitter eye makeup uses glitter very lightly and only to compliment the makeup, not to take it over. You can wear this for any occasion and you can pair it with a nude or a bright lip.
6. Purple Glitter Makeup Look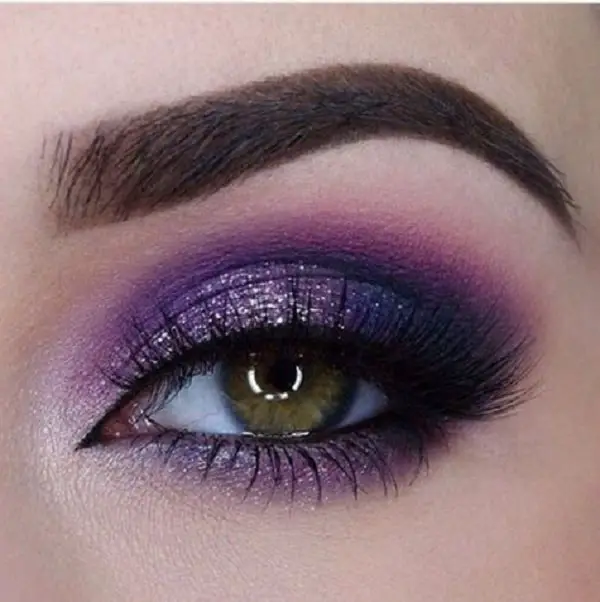 If you love purple, this is the right makeup for you. This could be fun for a festival, a concert or a party. As you can see, purple eyeshadow on brown eyes is the main focus here and glitter is used to bring a little brightness and detail.
7. Simple Gold Glitter Makeup Look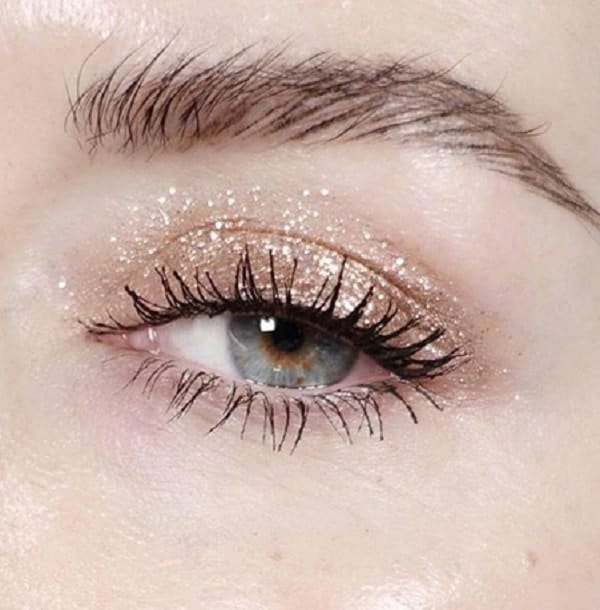 If you're a simple lady and you still want to embrace glitter, this will be the right option for you. All you need is a primer, a gold glitter eyeshadow (or any other color of your choice) and lots of mascara! By keeping it soft like this, you can get away with this glitter makeup look for brunch or for a date.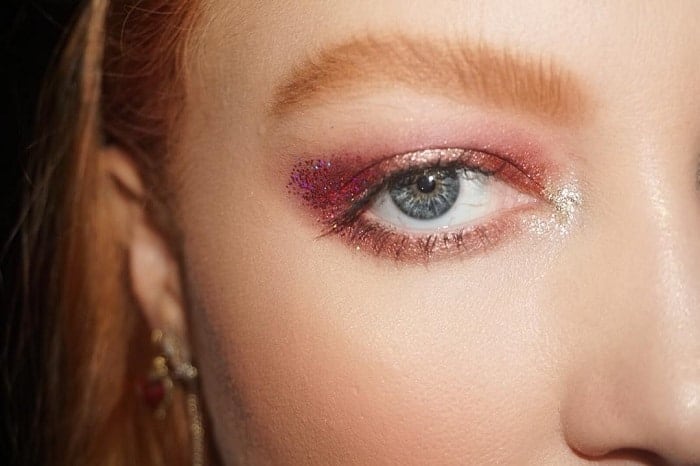 If wearing glitter alone is not your thing, you can pair it with a super soft smokey eye like this. This glitter eye makeup look is very subtle, but still very simple and super easy to pull off! You can wear this on a date, for brunch, or simply because you're feeling yourself.
9. Purple Sunset Glitter Makeup Look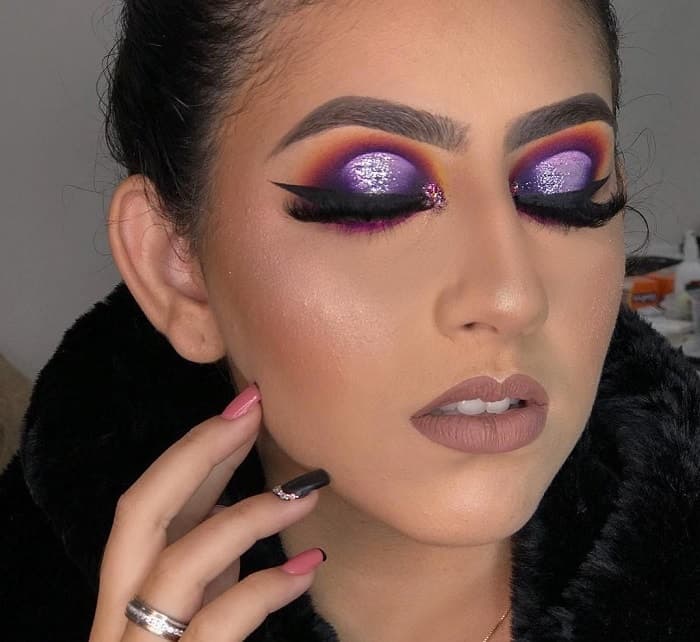 This simple and easy sunset glitter makeup look is gorgeous and by keeping the lighter colors right at the center of the lid and the inner corner, you create this seductive and interesting ombre eyeshadow look.
10. Pink Hues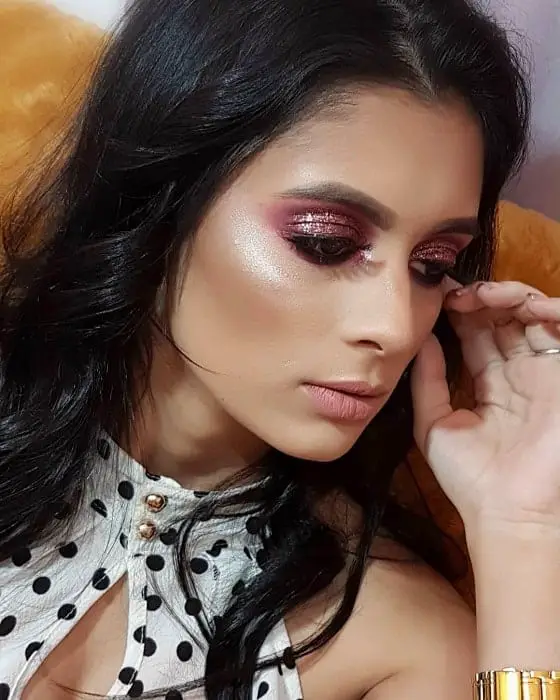 This pink eye makeup look is beautiful and it's very bright but without sacrificing elegance. As you can see, glitter is kept very light and metallic eyeshadow is placed right at the inner corner of the eye for that extra touch of light.
11. Retro Eyeliner Glitter Makeup Look
If you love retro makeup with glitter, then this is the right look for you. This look is very simple because the main focus is the bold eyeliner that goes right up to the lid and the glitter, which can be of the color of your choice, adds detail and brightness.
12. 60's Style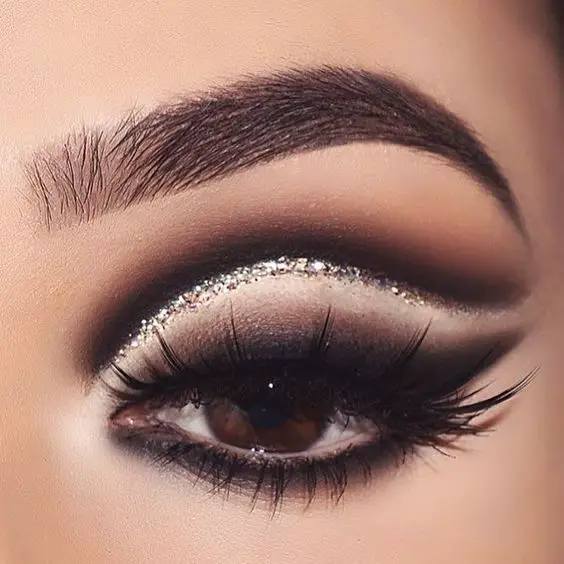 If you love retro looks, this 60's-eyeliner-inspired glitter makeup look is definitely something you should try. As you can see, the focus here is on the cat eye and on the eyeliner that follows the line of the lid. It also has a bit of a modern touch with that glitter eyeliner and it will make you stand out for all the right reasons.
13. Cotton Candy Eye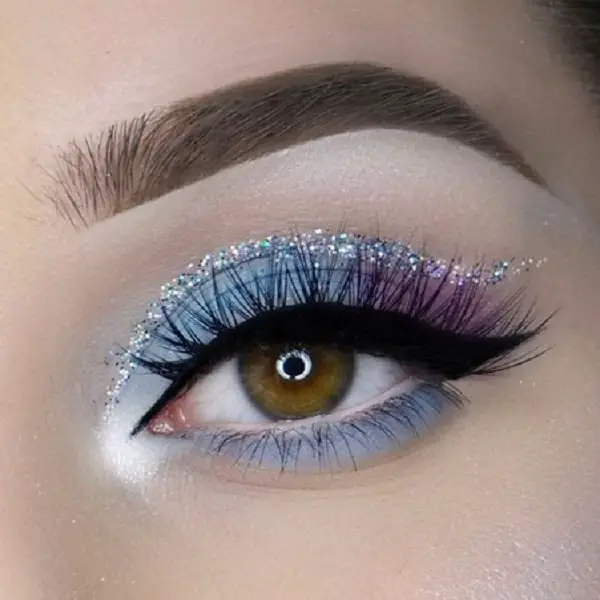 This cotton candy glitter eye makeup look will allow you to bring out your inner child while still looking great! The detail of the glitter eyeliner brings everything together and it adds more complexity to the look.
14. Purple Glitter Makeup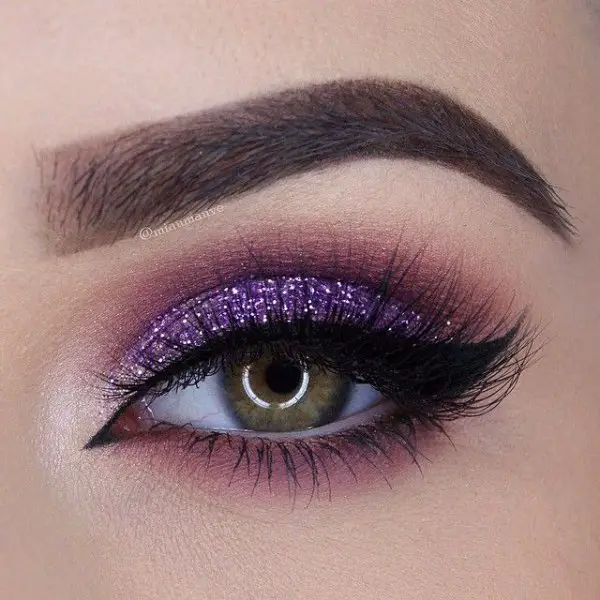 Purple glitter makeup is super popular, and if our previous option seemed too bold for you, then this look will be more to your liking. This makeup is very easy to put together and glitter is definitely the main focus here.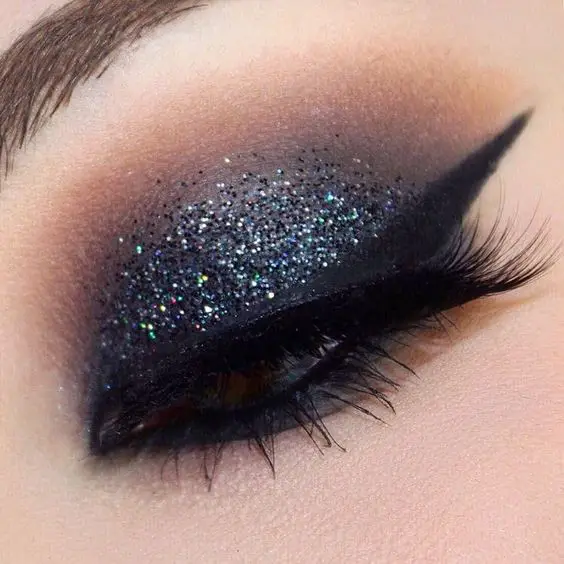 If you like to be bold and you embrace the darkness when it comes to glitter makeup, this look might be the right fit for you. Black glitter is incredible and this look is something you can put together very easily.
16. Unicorn Glitter Makeup Look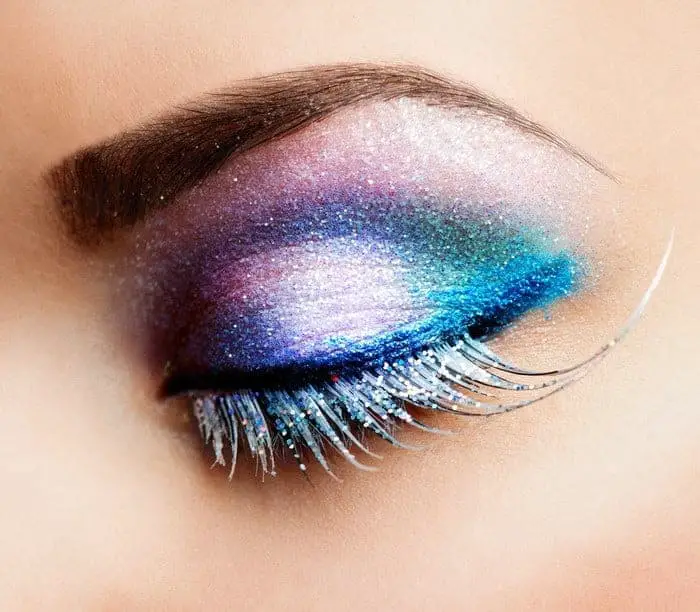 Who says the unicorn look is only for children? All you have to do is adjust it! If you liked the cotton candy look from earlier, you'll love this one as well! As you can see, the colors are placed differently and the glitter used for this look contains stars. This glittery eye makeup look is super fun and colorful, so you can wear it for many different occasions.
17. Shades of Purple
Here's another purple look, but the difference here is that the glitter is placed on the inner corner eyeliner. So the focus is the purple glitter makeup, but that small and bright detail on the corner brings the whole look together.
18. Subtle Baby Pink Glitter Eyes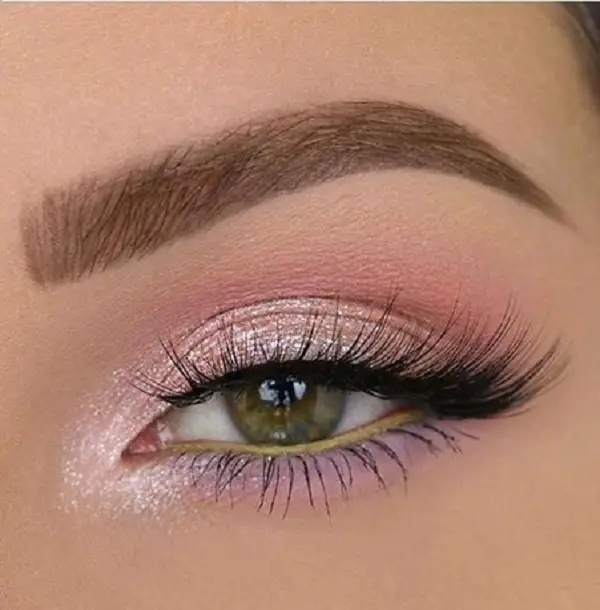 This baby pink glitter makeup look is super subtle and simple, so you can wear it for brunch, lunch, coffee dates, and more! It's easy to pull off and it doesn't make a huge fuzz, but it's still gorgeous.
19. Brown & Blue Shimmer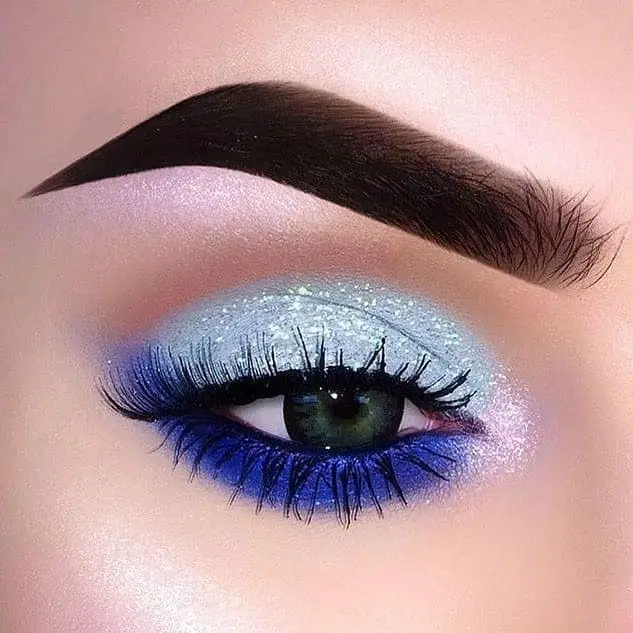 If you like baby blue, then you'll definitely love this combination of blue glitter and soft colors! As you can see, the brightness is always kept at the center of the eye and tucked in the inner corner as well.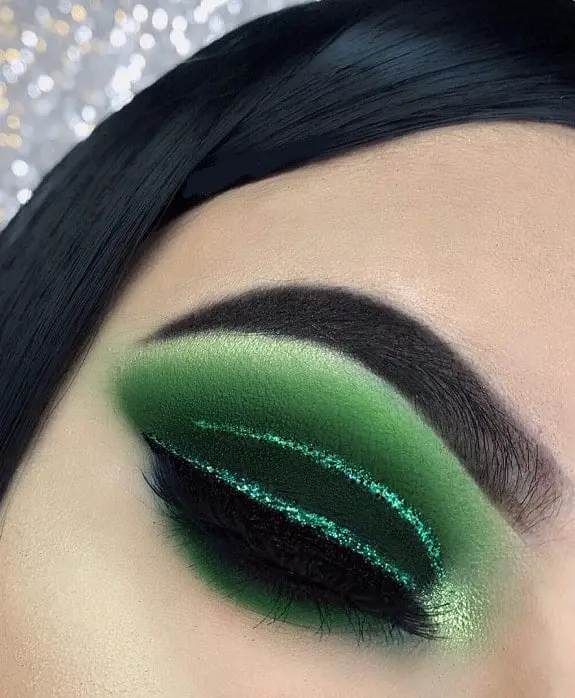 If you really like to keep it very simple, this cat eyeliner looks with small glitter details in the inner corner and the wing of the eyeliner is something you will love. As you can imagine, this is a very simple glitter makeup look to put together. All you need is black eyeliner, glitter eyeliner, and a matte eyeshadow.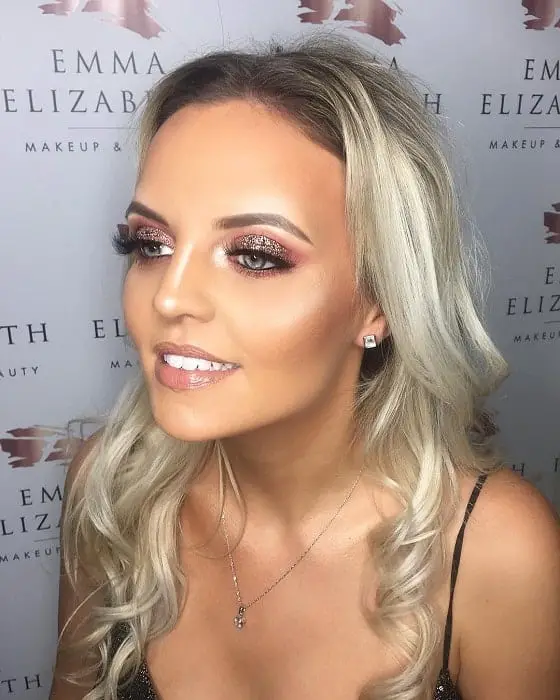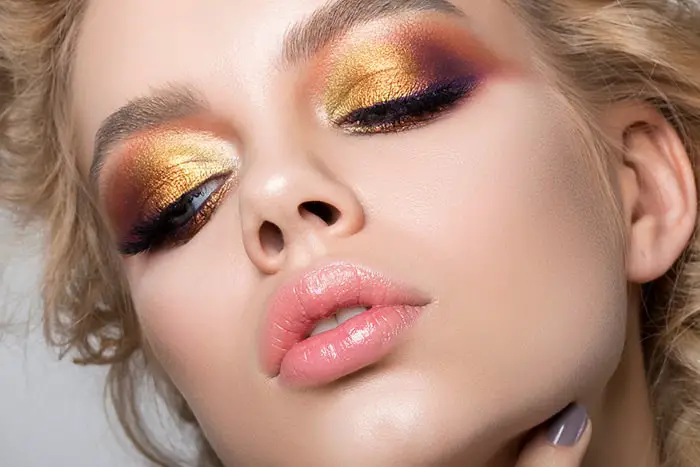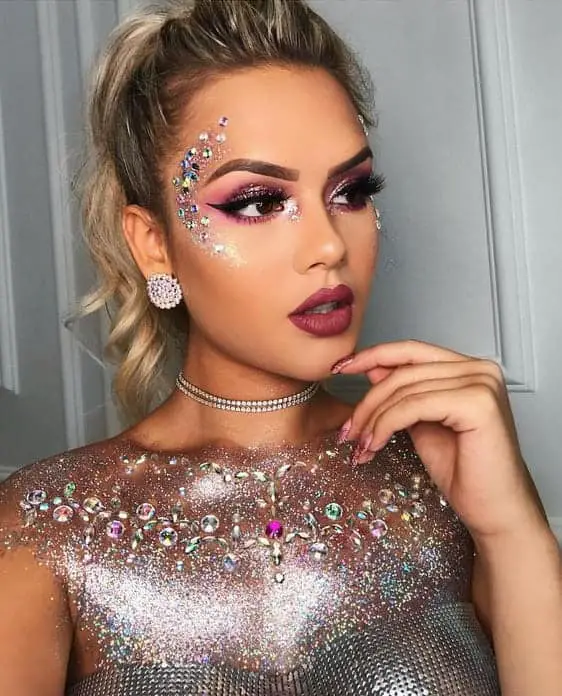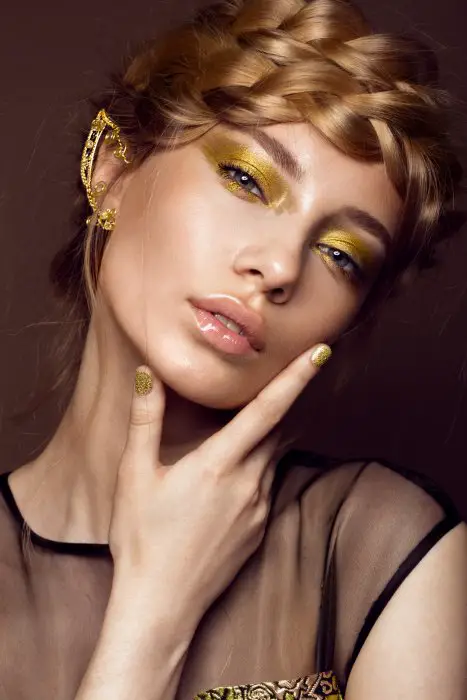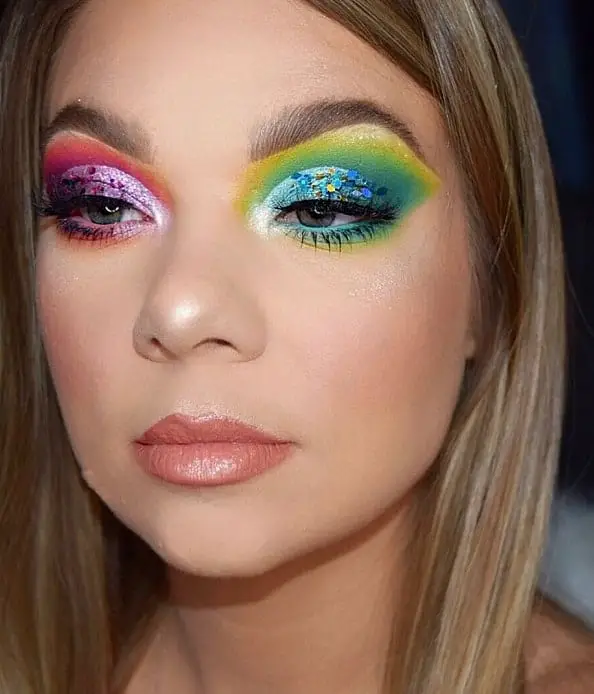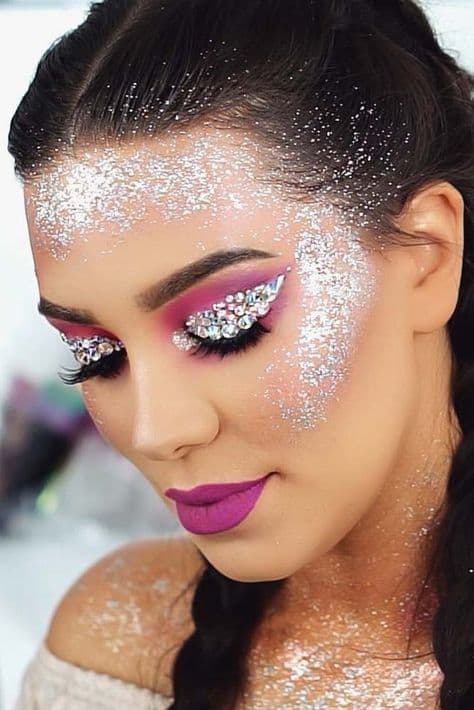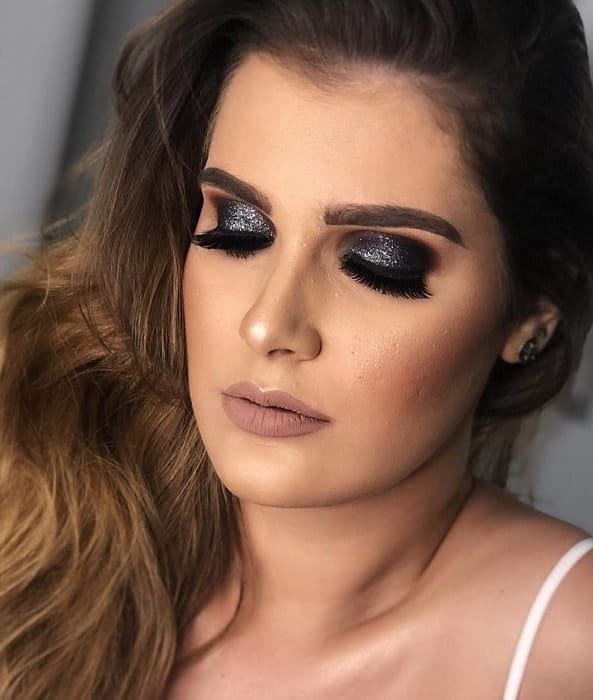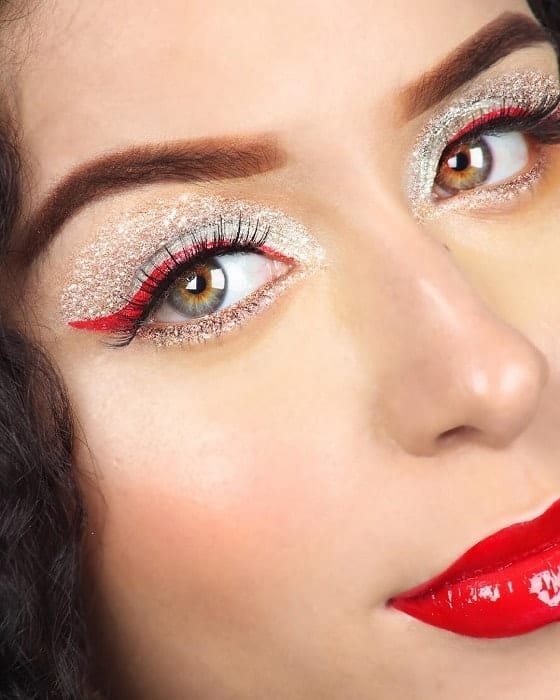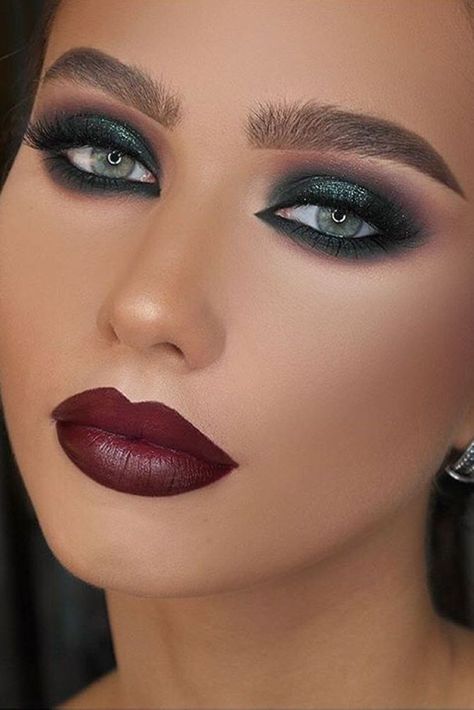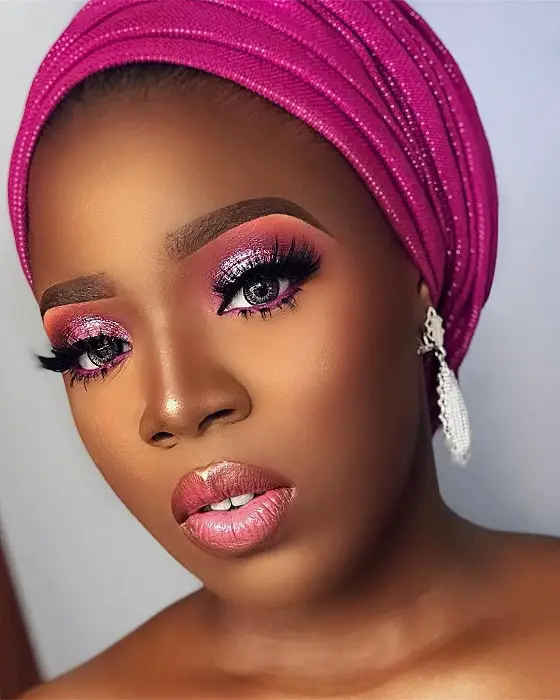 When it comes to glitter eye makeup, you don't need much to make your eyes pop and you can try many different things. You can play with colors, contrasts, eyeliner, and more so you can find what you're most comfortable with and what works for you.