You can create amazing grey leggings outfits that will give a breath of fresh air to your wardrobe. It's always hard to decide what you are going to wear and how to combine your clothes to make the perfect outfit. It can be really challenging to know how to spin just one specific item into several outfit ideas.
A must-have in your wardrobe is grey leggings since you can combine them to style the perfect look. If you have a pair, don't get stuck with the same boring outfit over and over again. Try something new!
Best Outfit Ideas to Pair with Grey Leggings
Down below you can find 15 grey leggings outfit ideas to give a twist to your wardrobe in 2023.
1. Sporty Outfit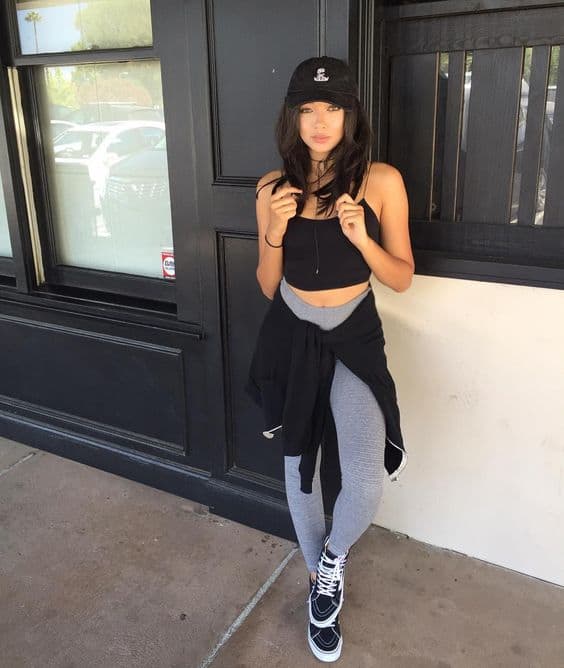 This outfit is the best option for you if you like to exercise. Grey leggings are your best ally if you're going to hit the gym because not only they are comfortable, but also they make your body look great.
You can use your leggings with a pair of sneakers and the top of your choice. If you want, you can also add different accessories; this will give a special touch to your look. Try simple accessories like a baseball cap or a sweater around your waist.
2. Grey Camo Leggings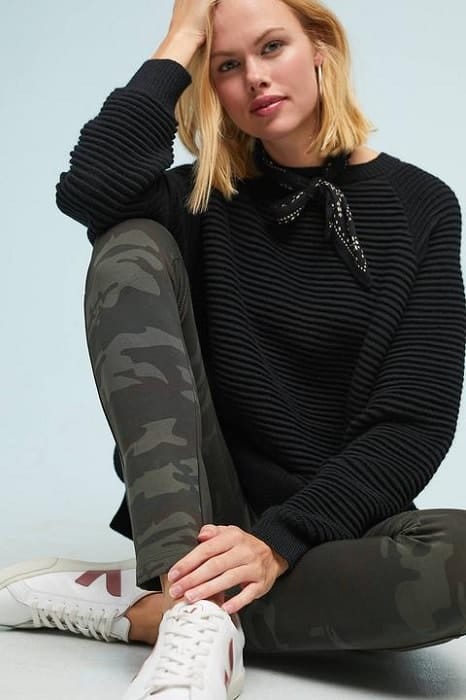 Your outfit with grey leggings doesn't always have to be the same. If you want to make a difference you can go for grey camo leggings. Patterns are a great way to transform an outfit and give them more uniqueness. This specific pattern is easier to combine with other clothes, perfect for beginners in the world of fashion.
3. Formal Outfit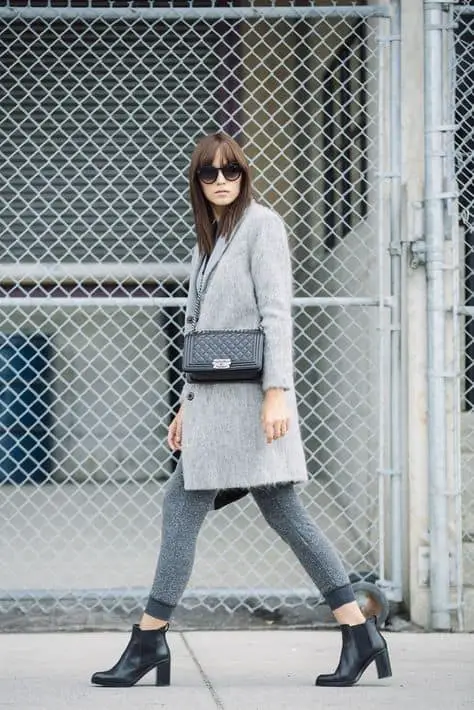 Leggings can also serve as a great option for formal attire. Dark grey gives an impression of formality and determination. Be careful with the elements you combine the leggings with though since they are already tight you will want to wear looser clothes to balance the outfit.
4. Night Out Outfit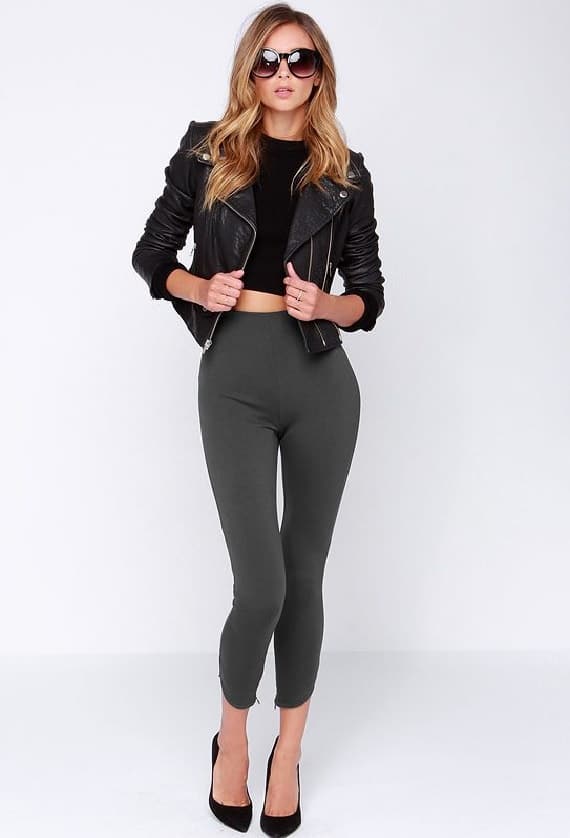 You can wear your grey leggings for a night out at the club; you just need to know how to get the right look. The basics are a pair of heels and a top of your preference. The black color is highly recommended as it's perfect for these outings.
They can be simple pieces, but the color makes them look elegant. Add some accessories like a jacket, a pair of glasses or a purse and you're ready.
5. Grey Leggings with A Pop of Color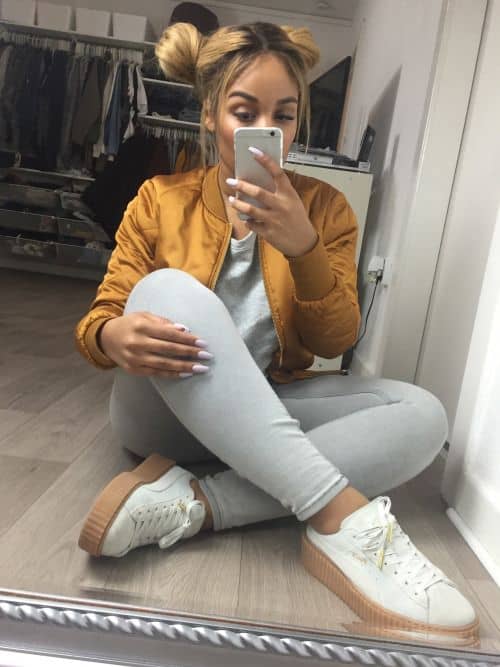 If you want to try grey leggings and you love colors this is a great option for you. You can wear different items of color that will bring light to your outfit and is a fun way to experiment with your clothes.
The grey is an easy shade to combine so you have a wide range of colors to try with it. You can add the pop of color with your top, your shoes, a jacket, a hat or a purse.
6. Shopping Outfit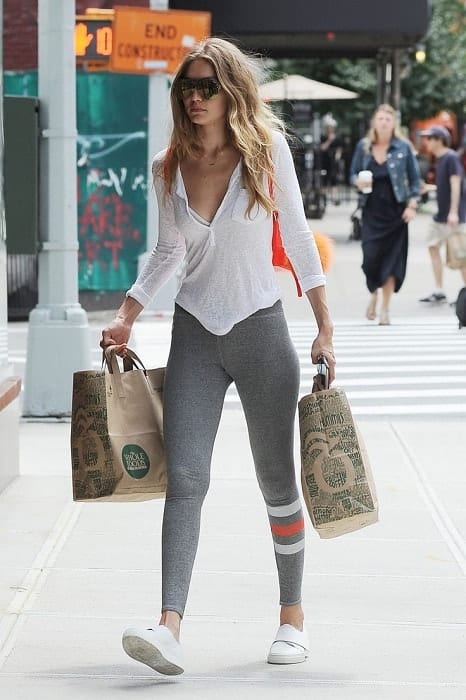 When you go shopping you want to wear something really comfortable without losing your style. The best alternative for this is a simple outfit. Mix your leggings with a loose shirt and comfy shoes to walk.
White is a great color as it is very fresh and makes you look flawless. Don't forget your purse with your money and a pair of sunglasses. With this outfit style with grey colored leggings, you can go on a shopping spree for hours and still look stylish.
7. Casual Outfit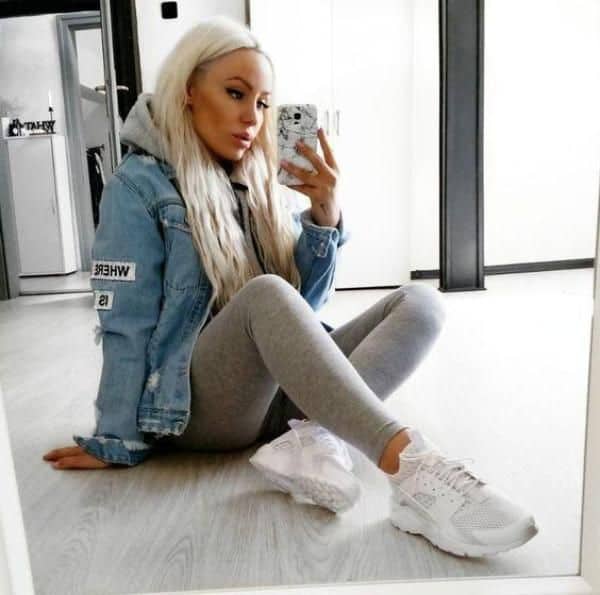 Look great without putting in too much effort with a simple grey leggings outfit that is not only comfortable but also fashionable. Combine your leggings with a pair of comfy sneakers, a top, and a jacket, and that's it!
You are ready to go everywhere with this minimal look. You can try jackets of different colors and fabrics, and the same goes for the shoes and top. Try elements that will give you the relax look you want.
8. Comfy Look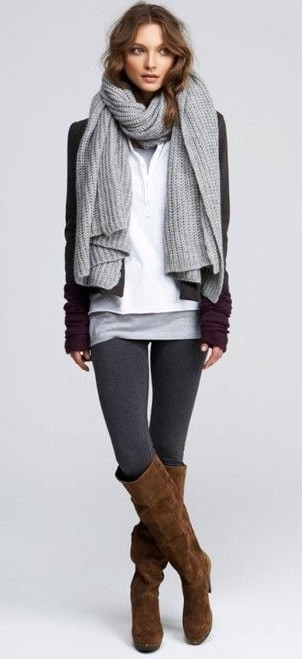 If you want to dress up without losing your comfort this is the best option for you. Wear an oversized shirt over your leggings and a pair of high boots. You can add different pieces to complete your looks, like a nice sweater, a scarf, a necklace or a purse. By accessorizing you will take your outfit to another level and it is a great option for colder weathers.
9. All Grey Outfit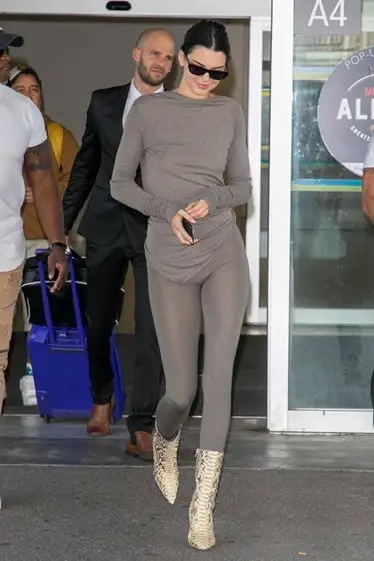 If you are not into combining different colors or you find it too difficult to do it right, then you can opt for this outfit. Try on a top of the same grey shade or the closest you can find. You can play with different textures or fabrics to avoid looking plain.
Use your shoes to add a fun twist to your outfit. They can be the center of the look and bring all the attention towards them. You will create an impact without too much effort.
10. Sporty Look with Heels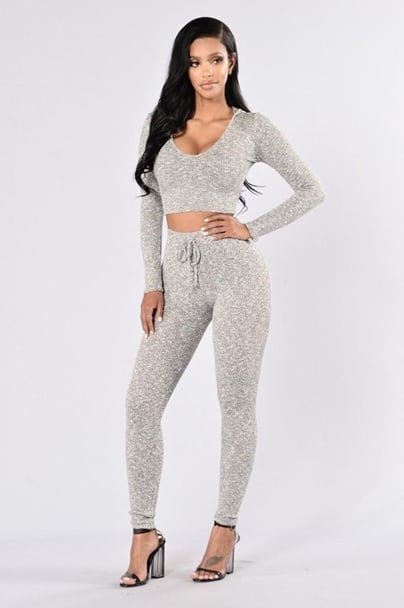 Many celebrities love this trend, but it's definitely not for everyone. However, if you like to mix different styles, then it is the one for you. To achieve this grey leggings outfit you need to put on really tight clothing, so make sure you are comfortable wearing this kind of clothes.
The final touch to achieve the look is a great pair of high heels. With this outfit, you can rock the best of both worlds: sporty and classy at the same time.
11. Different Shades of Grey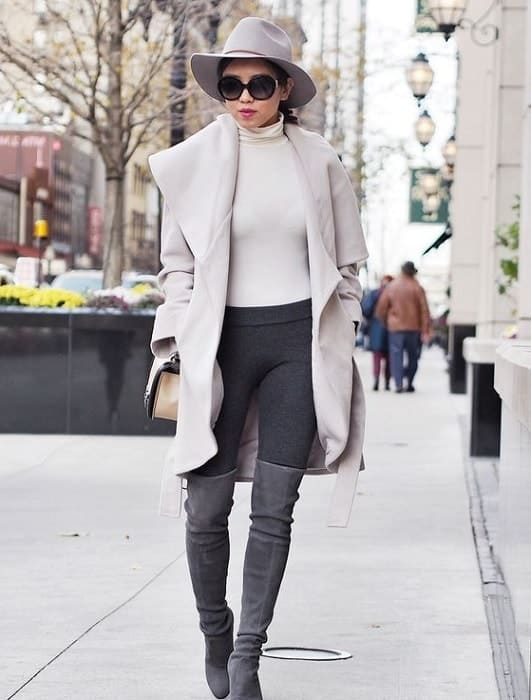 A fun way to play with grey is to wear different shades of this color. You can try matching various elements of different tones of grey. For this look, you go from light shades in the upper body to darker ones at the bottom. You can add different accessories to complete the look.
12. Dress with Grey Leggings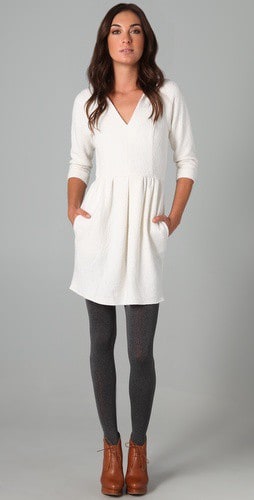 This is the perfect outfit if you want to wear dresses in cold weather. The leggings will maintain your legs warm while you wear your favorite dress. Be sure to use thick fabric dresses, but to give you extra warmth you can always throw in sweaters, jackets, and scarfs. Combine this grey leggings outfit with a pair of boots and be ready to rock your dress no matter the season.
13. Dark Colors Outfit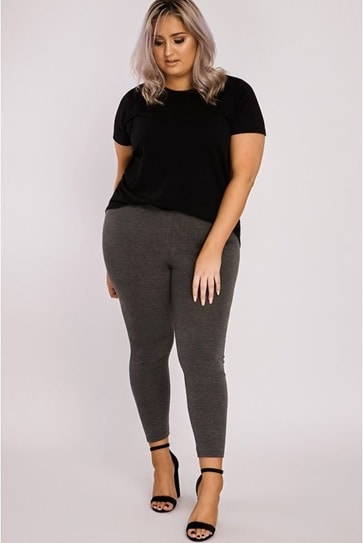 Dark colors make you look more elegant and are perfect to complete a sophisticated look. Wear your dark grey leggings with other dark items to create this outfit. Black is a perfect color choice but you can also wear darker shades of grey or of any color. A simple top and classic high heels will help you to achieve this grey leggings outfit.
14. Light Colors Outfit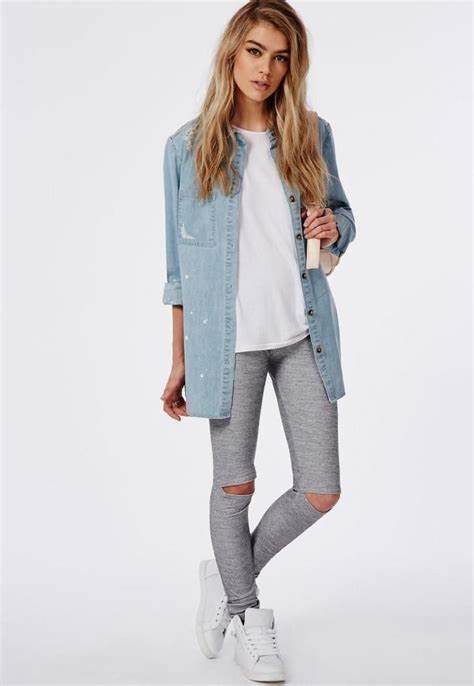 A pair of light grey leggings gives you the perfect relax carefree look. Combine them with other light colors to bring freshness to your outfit. Loose clothing will help you get the look right. Remember to wear comfortable items. This is a great outfit for college or just hanging out.
15. Grey Sequin Leggings Outfit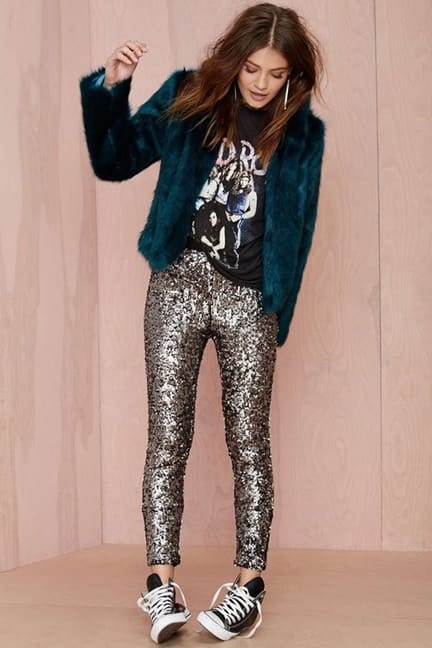 This grey legging outfit is for the adventurous women out there. These grey sequin leggings make a fun and playful look. Combine them with plain colors to avoid match-ups that can be too overwhelming. A pair of Chuck Taylor's and a t-shirt of your favorite band will give you a youthful appearance. The jacket completes the look with some real rockstar vibes.