Looking at this world you can see that in this world all the people are not the same they are different with each other according to his or her body, styles, figures and every aspect of life. Some people are too small, some are too long and some are in an average body.
Those people who are in average position may adopt any style of dressing, shoes, makeup, and hairstyles but those people who are not in average and having extra body or figure they cannot do this like an average person.
Some different styles of dressing and hairstyles are introduced for them which are suitable and in this article, we also talk about plus size women hairstyles for you; you can easily select one of them.
As you know we are already discussed plus size women clothing and plus size wedding dresses in previous articles and talk about plus size women and now in this article, we talk about different new and unique styles about plus size women hairstyles.
A good looking hair and good looking hairstyle are increasing your beauty as well as it enhances the attractiveness because your hair is representing you from back and also in front.
Hairstyles are mostly used in wedding function and other functions like a celebrity, anniversaries, birthday and any religious festival in which every men and woman wants to look beautiful especially women and a young girl do many things to looking beautiful in which hairstyles are common.
There are many training centers and beauty polar in which hairstyles are applied and learned to other young girls who are interested in which and also interested in plus size hairstyle designs.
One of the important points is that about plus size women they should avoid heavy straight bangs because they create a horizontal line and decrease your beauty and spoil your face look. Some of the beautiful and new plus size hairstyles are given in this article.
1. Shoulder Length Haircuts for Plus Size Women
The shoulder length layered haircut with a side part adds a mesmerizing factor in plus size women's personality. The hair styled in a rounder shape makes the facial features to look a little bit sharper. The blonde hair looks fresh and youthful.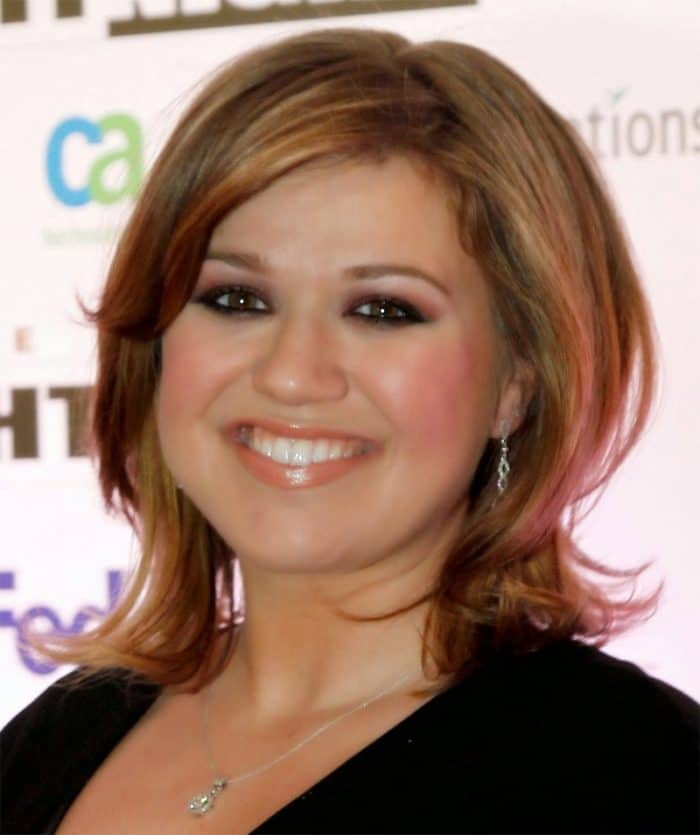 2. Curly Short Hairstyles for Plus Size Women
The brownish color curly bob haircut with straight front bangs makes the face of plus size women to look thinner. The chin-length haircut is ideal to achieve a perfect curly bob.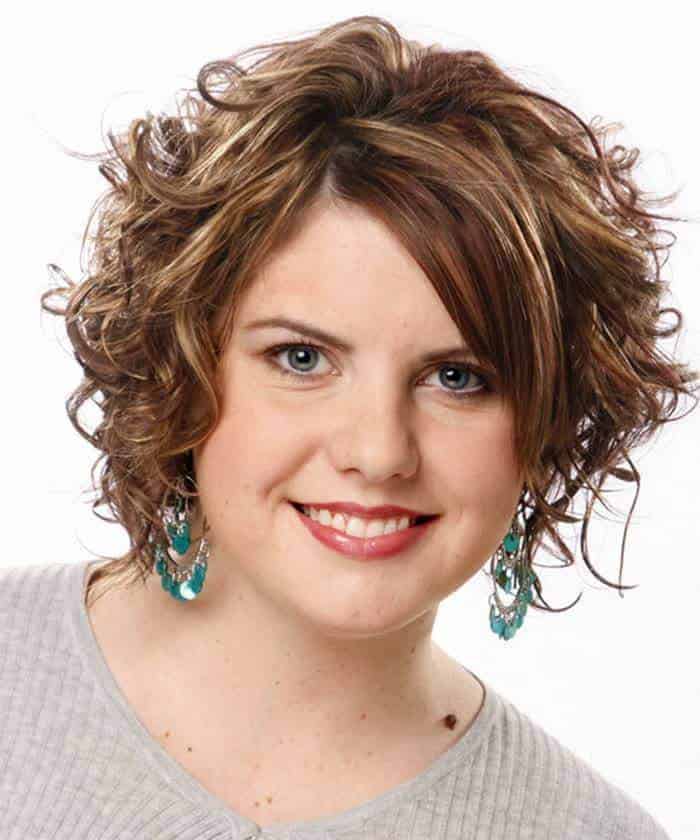 3. Plus Size Hairstyles for Double Chin
The prominence of a chubby face with a double chin can overcome by a stylish pixie cut. The angular side bangs with honey blonde and edgy long sideburns make the wider or round face to look slim.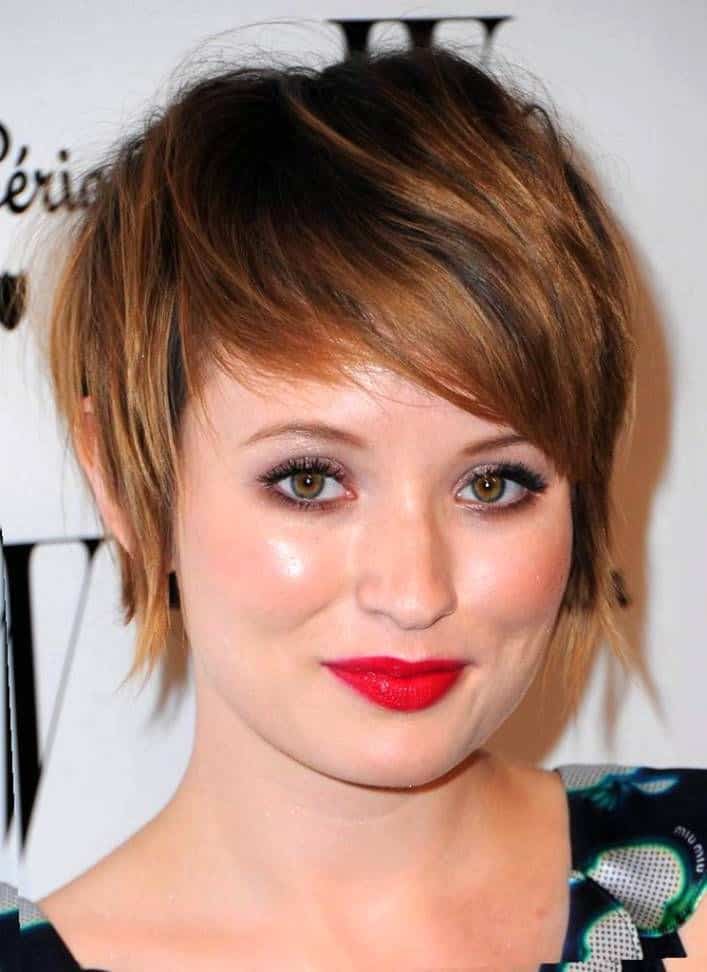 4. Layered Bob Short Haircuts for Plus Size Faces
Layered bob short haircut takes the attention from the chubby face of plus size women. It looks equally flawless on a round face shape as it looks on women with another face shape. The honey blonde balayage adds an alluring factor.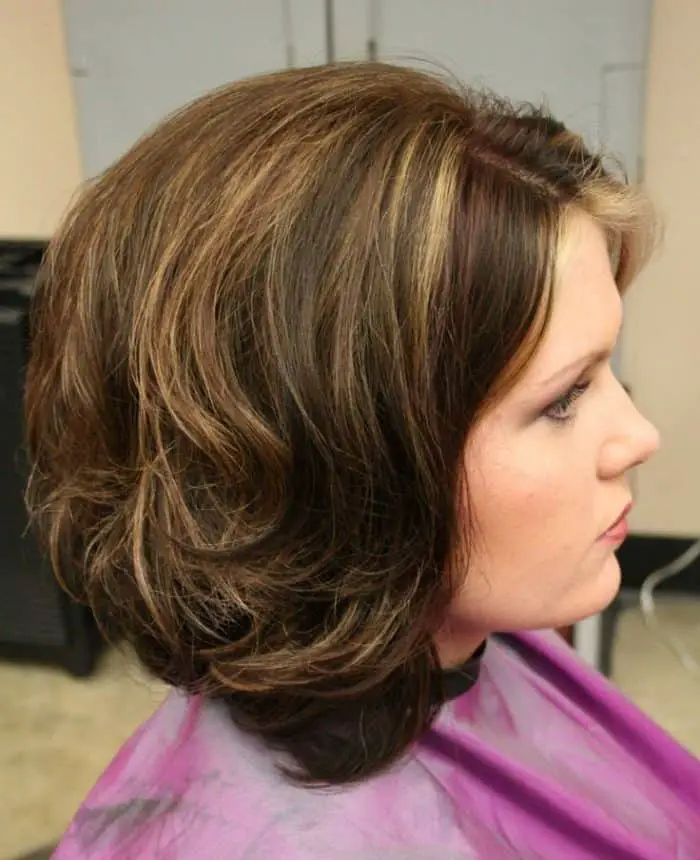 5. Awesome Plus Size Hairstyles for Fine Hair
A bob haircut with side bans is an ideal hairstyle for plus size women. The sleek straight bob cut with platinum blonde hair is enough to steal the heart of guys.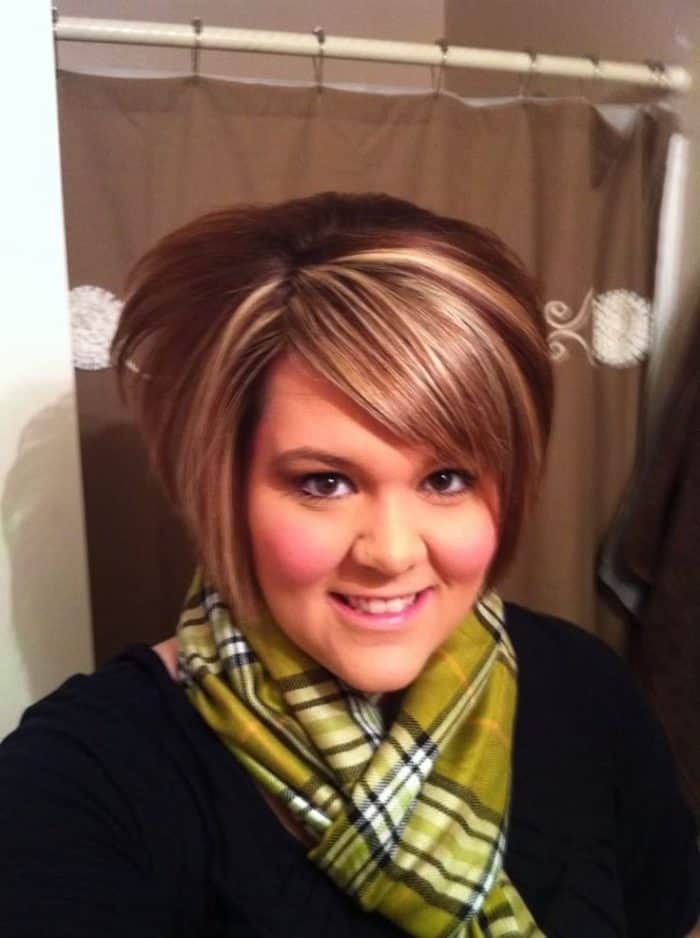 6. Amazing Short Plus Size Women Hairstyles
If you are a plus size woman and hate to spend time on styling your hair then, this hairstyle is for you. The short haircut resembles a shaggy cut a little bit.  The top of the head is blonde with honey shade and the front messy bangs give a stylish appearance.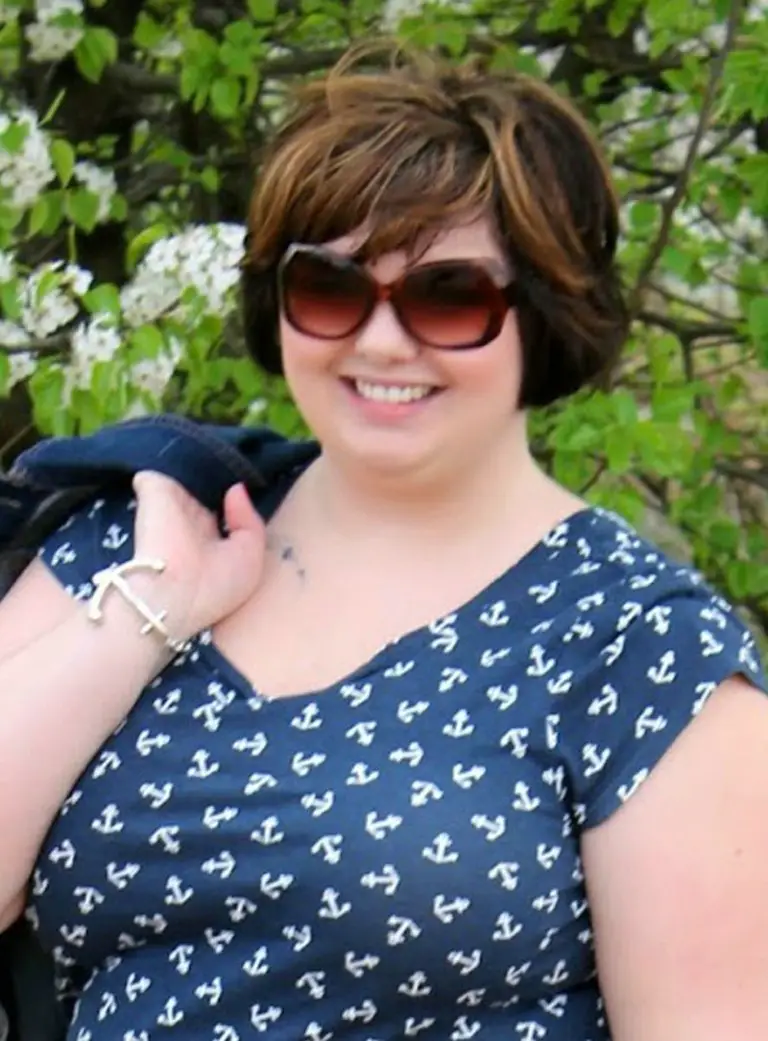 7. Super Plus Size Women Hairstyles for Party
Pixie-bob with a layered haircut is a winning look that plus size women can wear for a party. The hairstyle looks so appealing that there exist no in women's heart to blonde her hair.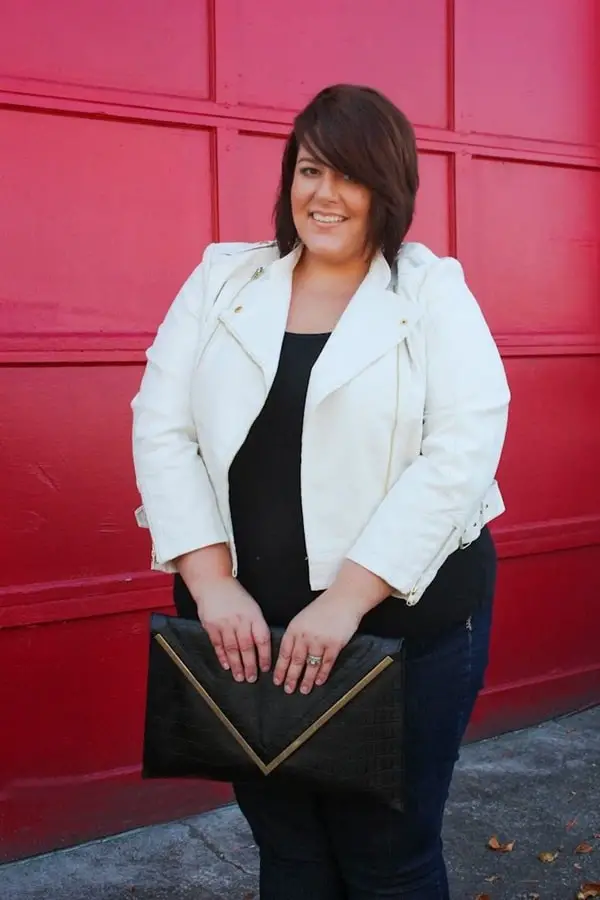 8. Shoulder Length Hairstyles for Plus Size Women
One of the most loved plus size women hairstyles with hefty size properties is mid-length hair. Shoulder length hair doesn't make any unflattering issues your face and even makes it look more slender by giving your face more length and surrounding it better.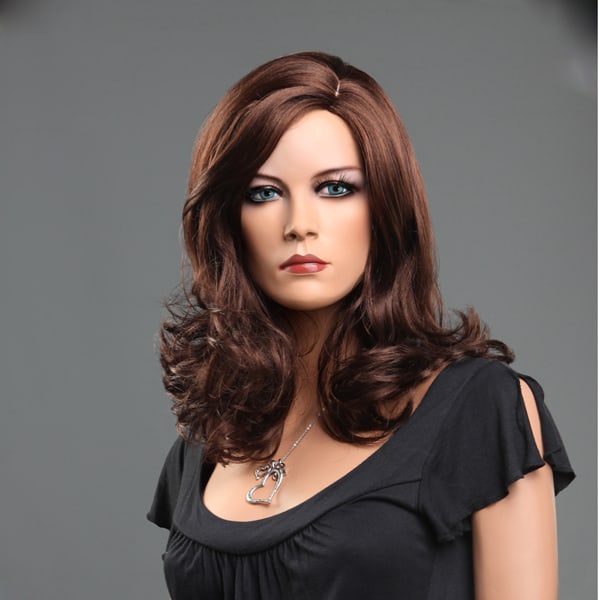 9. Plus Size Curly Bob Haircuts for Girls
Curly bob haircut is ideal for those plus size women who have thin hair. Curls give a textured appearance to thin hair as well as make the face of women to look less chubby.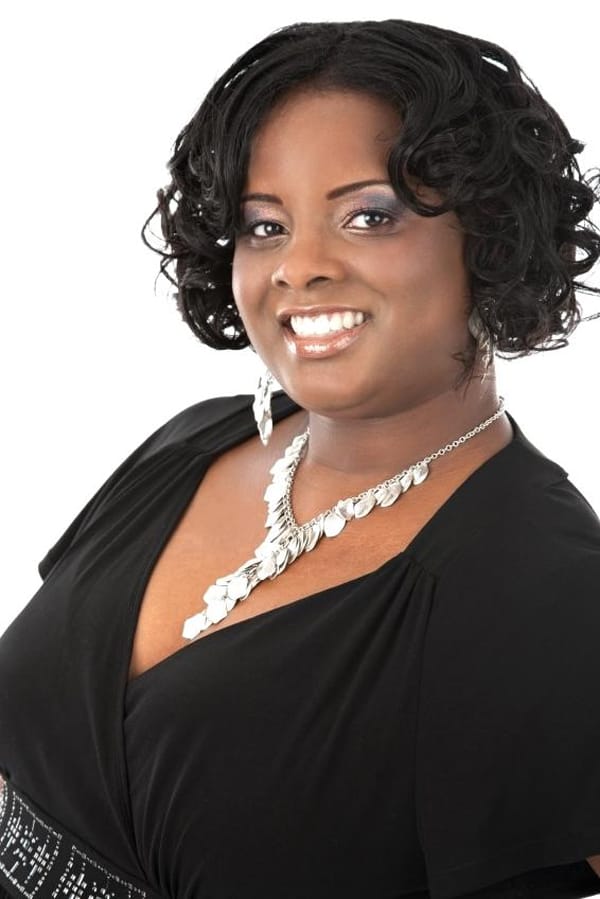 10. Cool Plus Size Over 40 Women's Hairstyles
It is an elegant hairstyle for plus size over 40 women. The shoulder length honey blonde straight hair with a side part itself looks so appealing that it does not need anything else. The given blonde shade is ideal for an undertoned skin.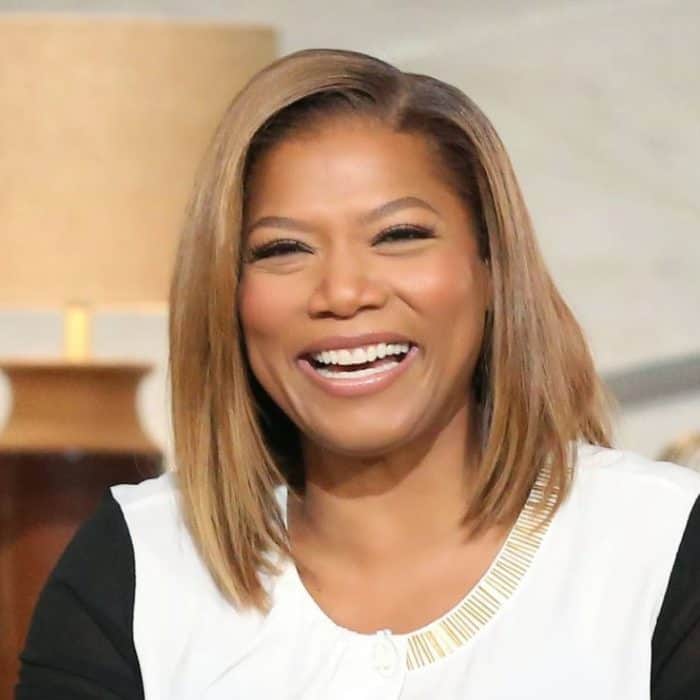 11. Cute Plus Size A-Line Bob Hairstyles
Bobs are the new thing in Hollywood and the new thing for us non-stars, as well. Yet, when it really comes down to getting one of these well-known sways, attempt to stray far from plain-old-limit weaves. Rather, dependably go for an embellishing Asymmetrical bob that will stretch your face and not abbreviate it. An A-line bob is flawless for hefty size ladies, as well as for everybody! This cut is quite truly simple for you to deal with and it scarcely requires any morning push to style.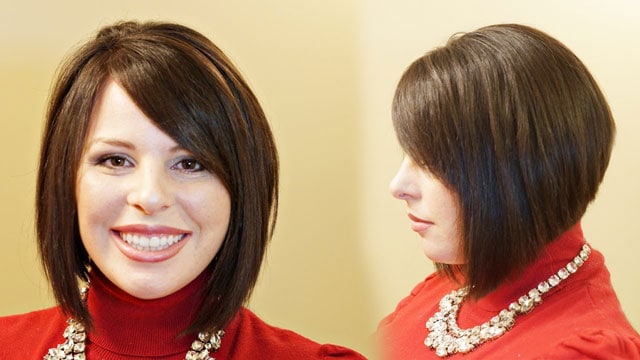 12. Superb Long Hairstyle for Plus Size Women
Long wavy hair, because of their asymmetrical texture provides a fringe benefit to plus size women. The brown color on textured layers makes a woman look stunner.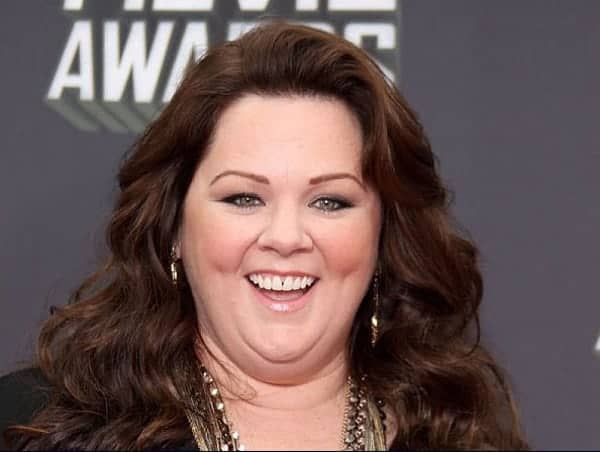 13. Plus Size Women Pixie Haircuts for Valentines Day
Getting a pixie cut is truly not a prescribed style for plus size ladies. Be that as it may, hello, nobody can choose what you like best. In this way, in the event that you do choose to go short-short or get a pixie, guarantee you are layering it in the back to bring consideration upwards.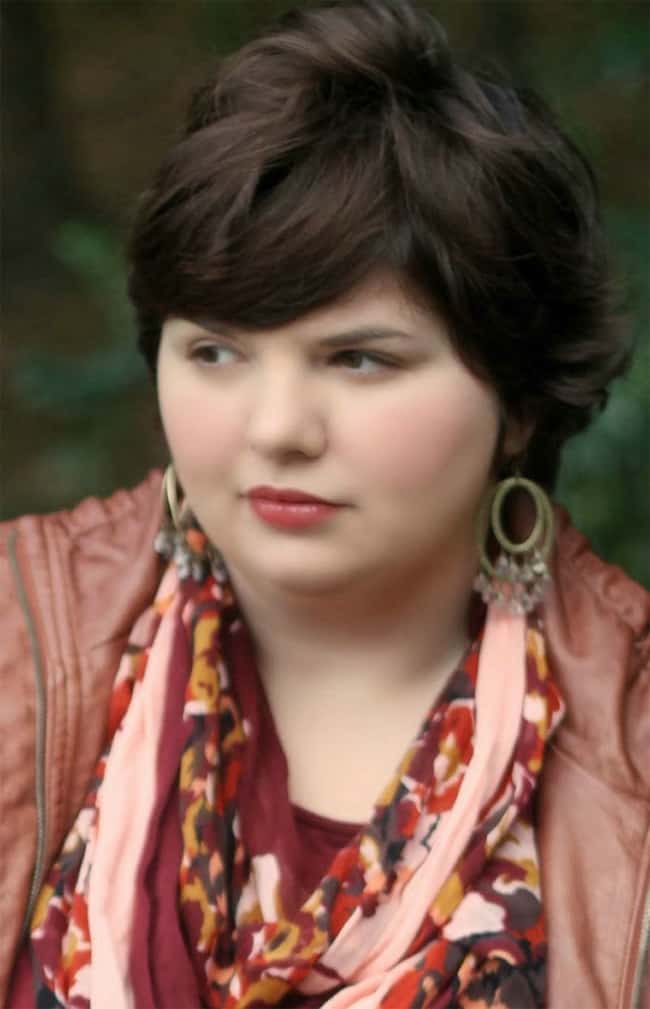 14. Long Wavy Plus Size Hairstyles for Women
Wavy hair is ideal for larger size ladies! Why? All things considered, this plus size women hairstyles will make a deception and obviously mollify a bigger face. It will disperse, prolong and help add consideration getting volume to anybody's look. If you weren't honored with normally wavy hair, you can simply get yourself down to your most loved salon and get a perm to repair your hair immediately.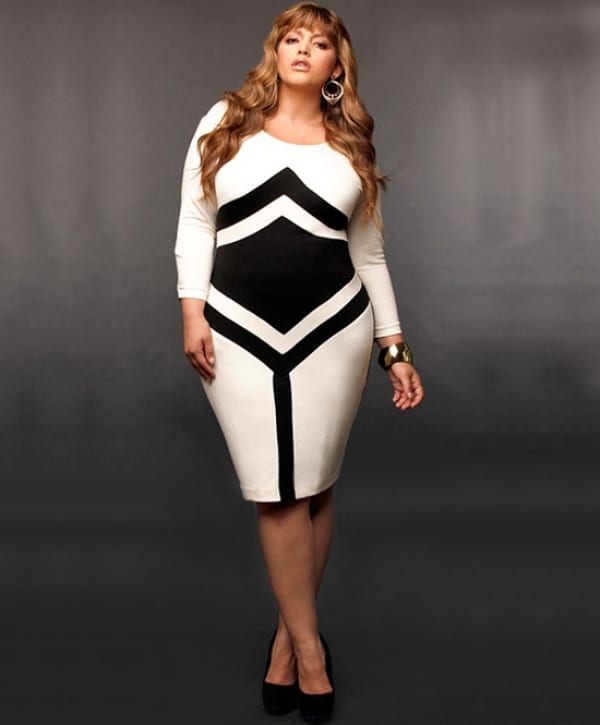 15. Plus Size Hairstyles With Bangs for Women
It is the cutest hairstyle that enhances the chic appearance of plus size women. It is ideal for an oblong or oval face shape. If you have straight hair then, it is a plus point.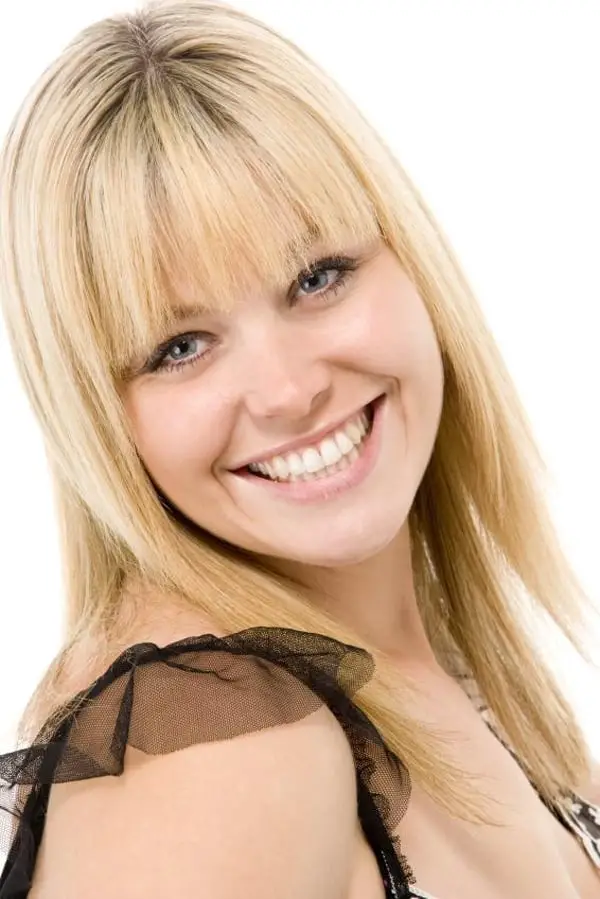 16. Blonde Wavy Hairstyle
Shoulder length platinum blonde hair with side parting is a smart choice for plus size women. The black roots with blonde hair look very fascinating with black funky shades.

17. Stylish Bun for Plus Size Women
Front blunt bangs with a top loose bun hairstyle look ravishing on plus size women. Front bangs make the face width less prominent. To achieve this graceful look, you don't need to wear an edgy outfit, as it looks incredible on a peach color top with denim pent and a choker in the neck.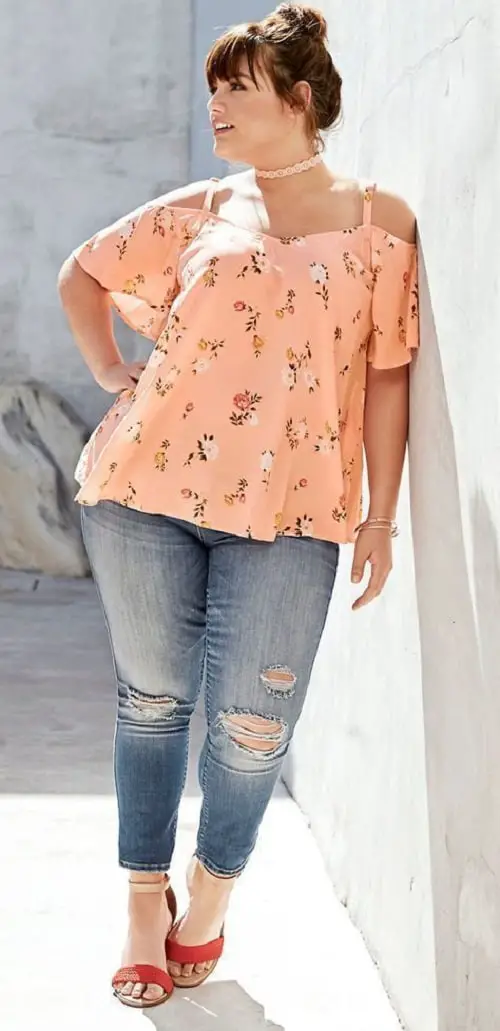 18. Half Up Bun Hairstyle
Want a unique look for an event or a party? or get bored with straight dull hair? No worries! The half up bun is an enchanting hairstyle for plus size women that you can wear with an edgy outfit. It is ideal for an oval face shape.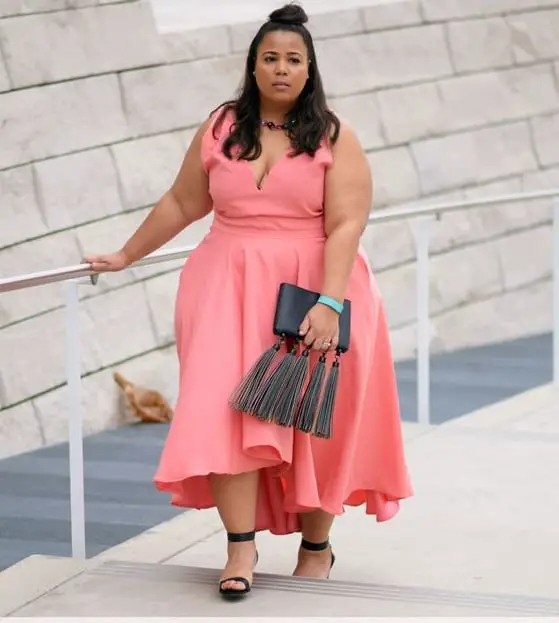 19. Buzz Cut Hairstyle for Plus Size Women
Love edgy outfits? But worried about the hairstyle to carry on your plus size then, the buzz cut hairstyle is surely for you. Buzzcut with long earrings and denim jacket gives a striking look to plus size women. It is ideal for oblong and oval face shape.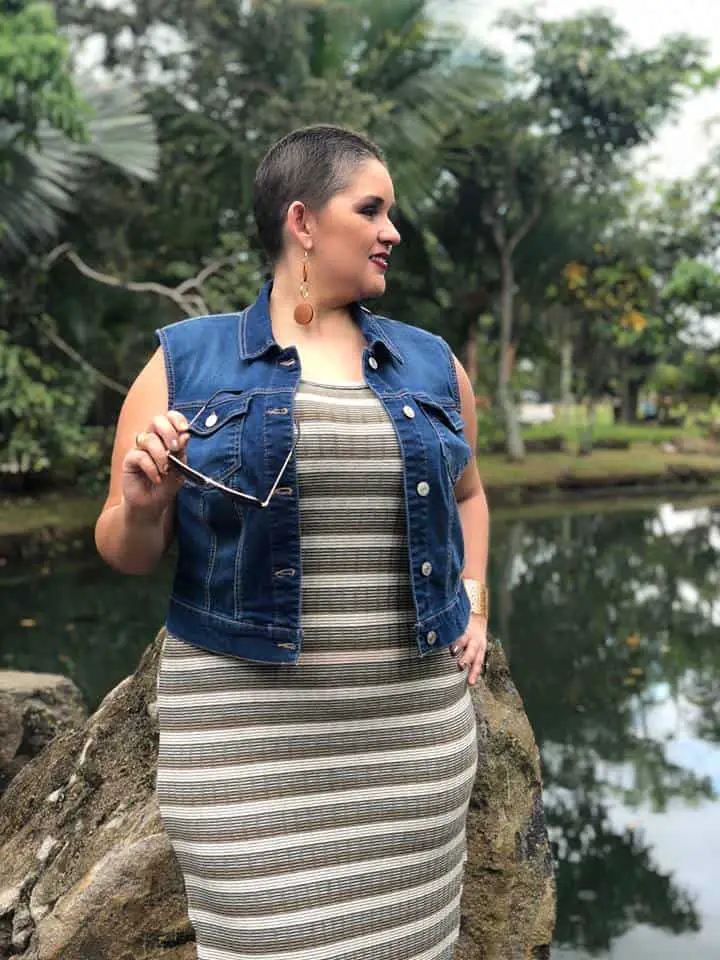 20. Medium Razor Cut Hairstyle
Shoulder length razor cut with blunt bangs hairstyle looks adorable on plus size women. It looks perfect on thick hair. The wavy razor cut and bangs make the face to look slimmer.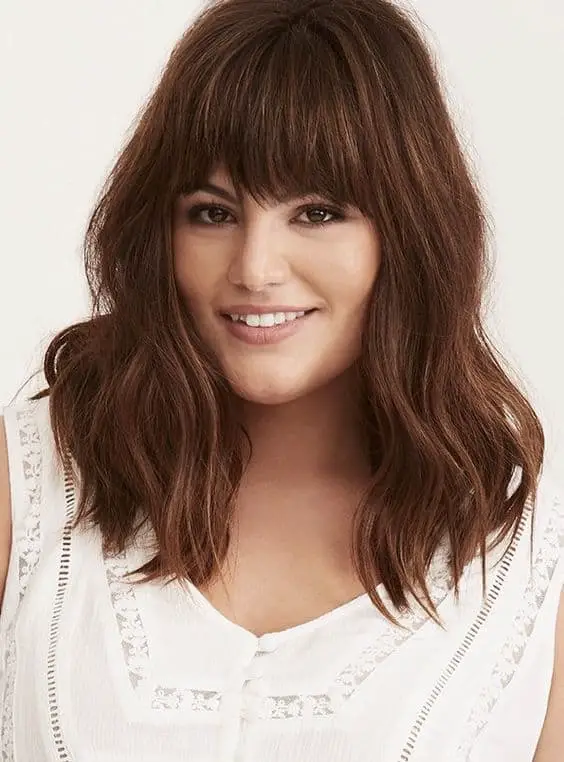 21. Silver Blonde Choppy Hairstyle
If you are not a big fan of longer hair then, the given hairstyle is for you. You can rock with a choppy haircut. Blonde your hairs with silver shade for an enchanting look. The choppy hairs are slicked back for a refined appearance.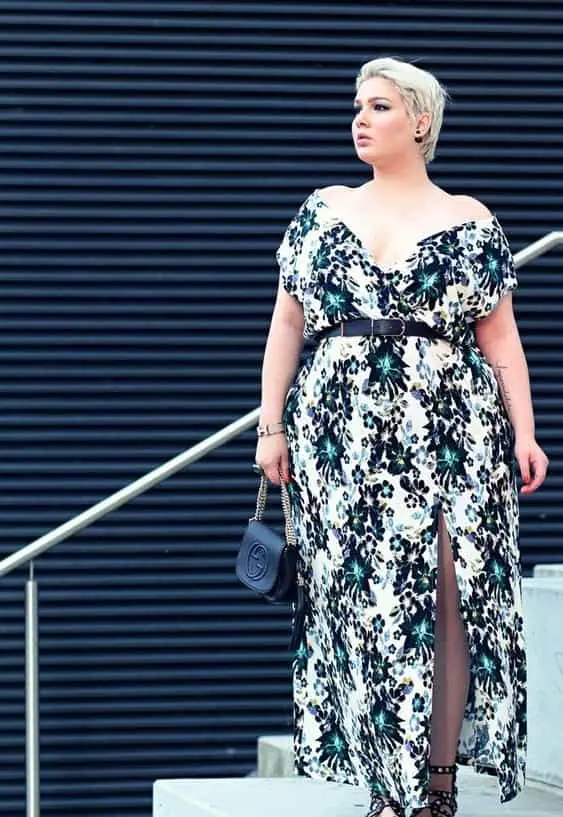 22. Dread Bun Hairstyle for Plus Size Women
If you are an afro woman with a plus size then, the given top dreaded bun hairstyle is especially for you because of your thick hair texture. It is a perfect look for an event or wedding ceremonies. It is ideal for an oval face shape.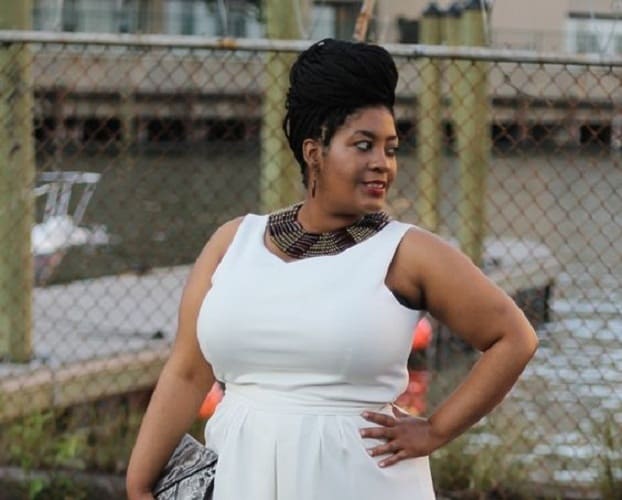 23. Funky Braided Hairstyle
if you are a plus size woman, it does not mean that you cannot look cool or a chic.  The two braids with a center part make your personality admirable and inspirational.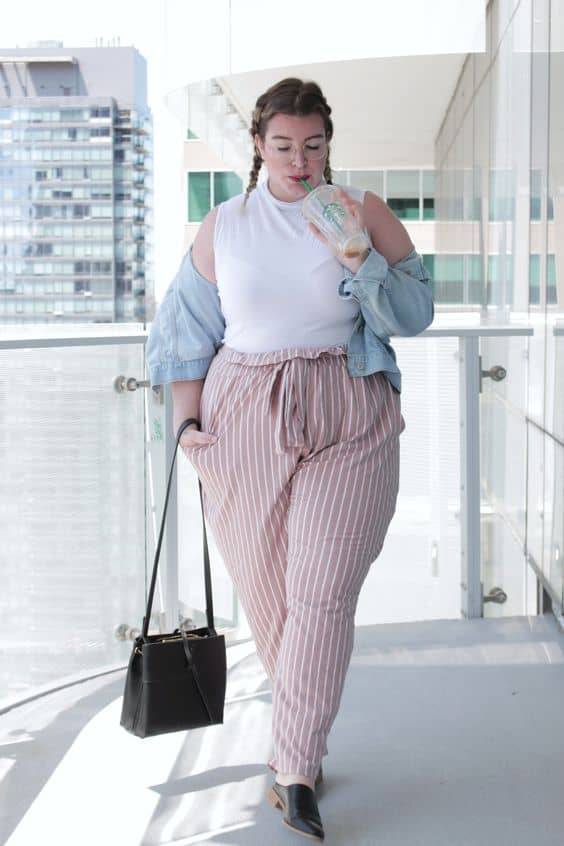 24. Stylish Cornrows for Plus Size Women
Here is another stylish and appealing hairstyle for plus size women. The several cornrows on the side of the head look beautiful on an edgy floral outfit. The given example looks so enjoyable.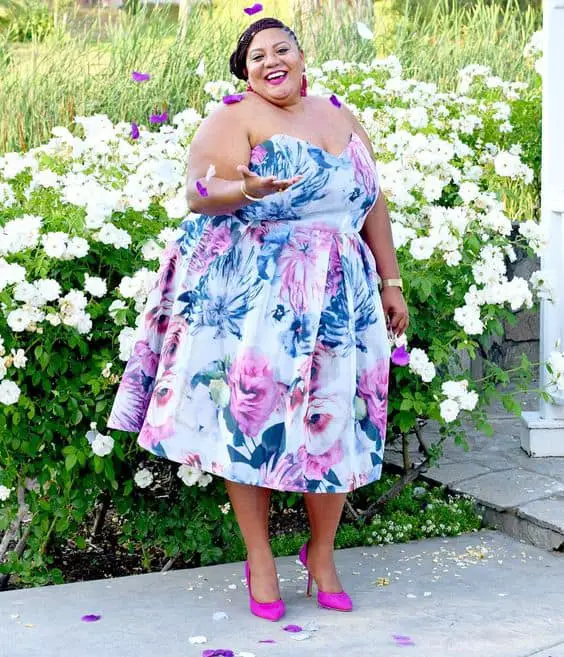 25. Sleek Ponytail Hairstyle
It is an ideal Valentine look of plus size women. The edgy red top with a sleek gorgeous ponytail, beautiful earrings, and hand tattoos is enough to mesmerize your boyfriend. This avatar will take the attention of people from your plus size.  Sleek ponytail hairstyle is ideal for plus size women with an oval face shape.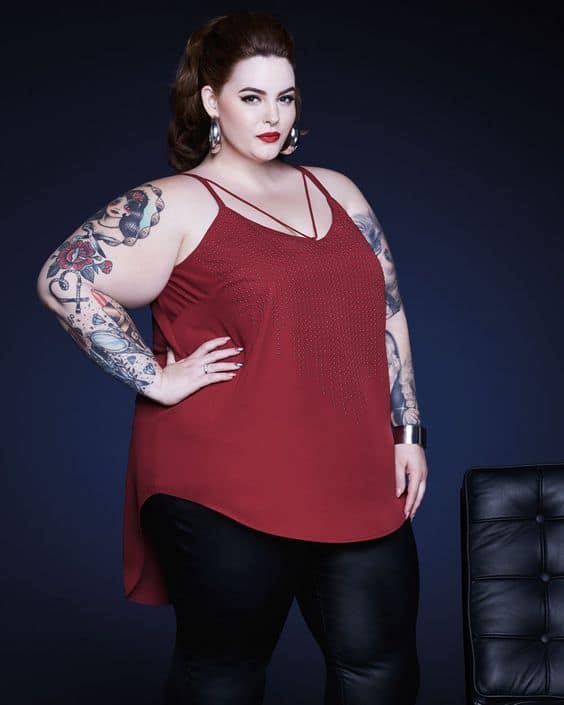 26. Elegant Blonde hairdo for plus size women
The elegant blonde hairdo is a delightful hairstyle for plus size women.  The loose stylish hairdo with side hair lobs makes your facial features to look a little bit sharper. It is the best hairstyle to wear at the wedding.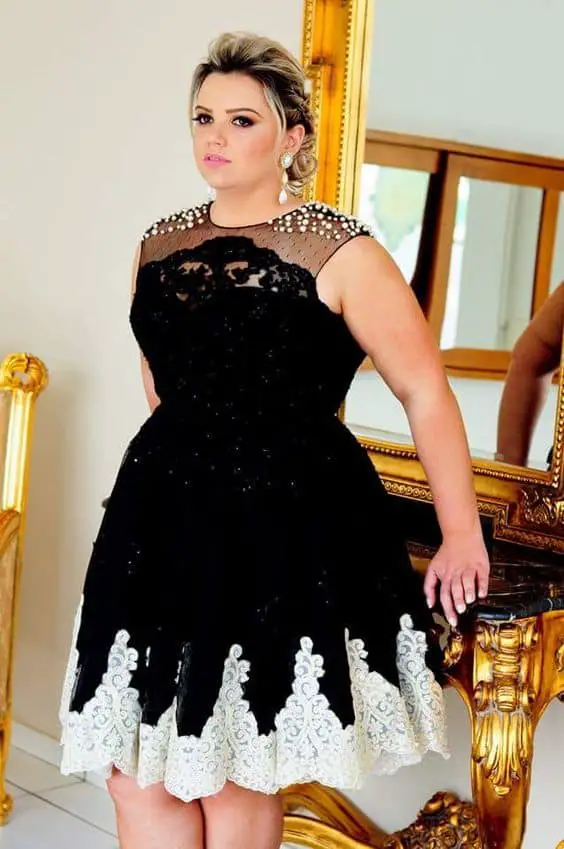 27. Center parted Ponytail Hairstyle
Center parted ponytail looks very classy on plus size women. It is ideal for an oblong face shape.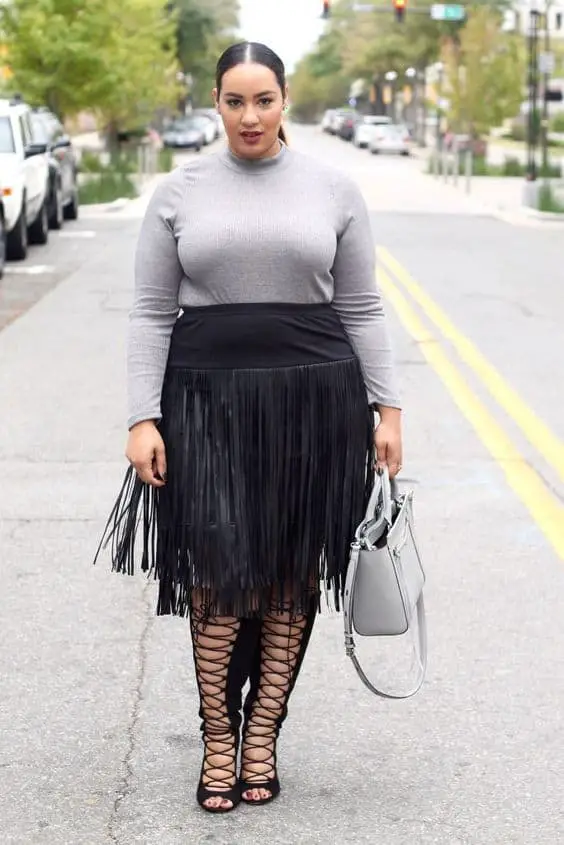 28. Short Bob Stylish Hairstyle
Silver blonde short bob cut with black hair locks and vibrant purple front bangs are enough to steal the hearts of people.  The asymmetrical layers make the width of faceless prominent.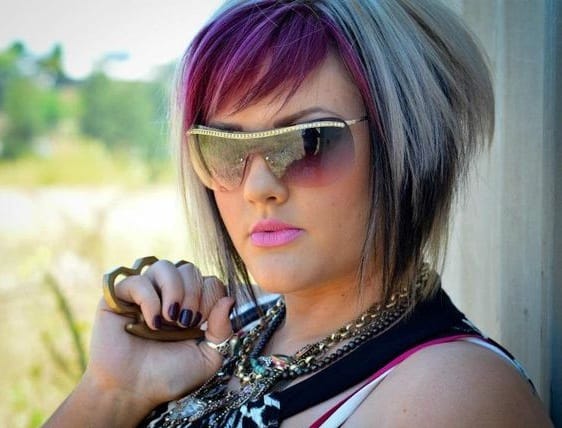 29. Charming Side Ponytail Hairstyle
Want to mesmerize people with your look? What are you waiting for? Try this super stylish side ponytail for a unique look that will take the attention of people from your plus size. The reddish-brown hair adds more charm to the given hairstyle.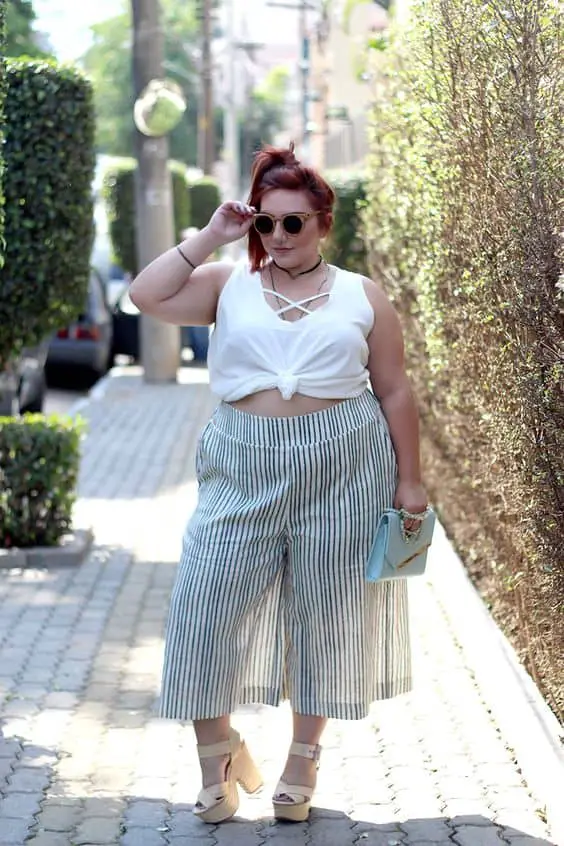 30. Short Hair with Topknot Hairstyle
Short hair with a topknot hairstyle is for those plus size women who get bored from bob cut and want a bewitching change in their personality. The brownish blonde hair adds a finishing touch in the look.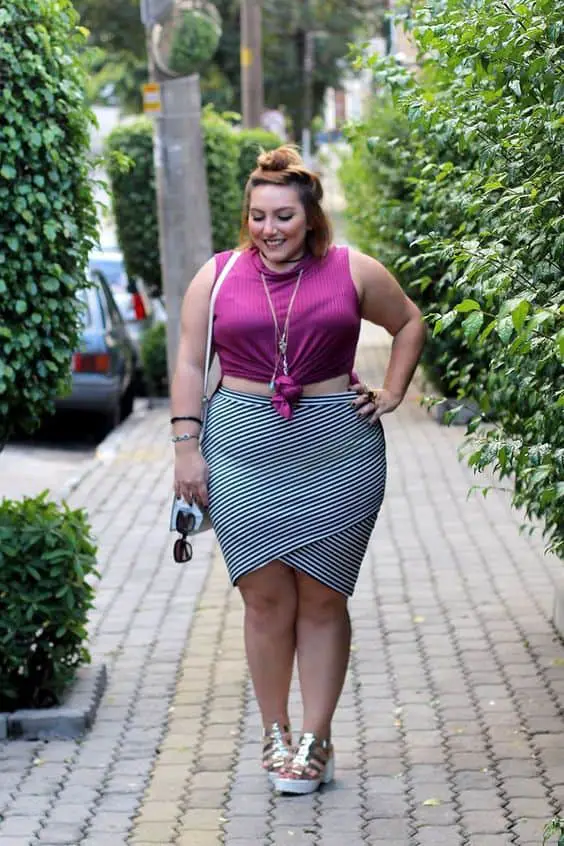 Conclusion
These aforementioned hairstyles are compiled only to inspire the thoughts of plus size women. If you are a plus size women and depressed about your looks and hairstyling ideas then, these aforementioned hairstyles with several outfit's suggestions will surely make you feel happy and motivated.