Every other day girls opt out a simple ponytail to give them a classy disheveled and ready to go look and bangs always complement it well. Weave provides the benefit of changing your hairstyles without a new haircut.
Weave ponytail with bangs hairstyles is ideal for all the women to give them a sleek and simple look with lesser effort. Bangs bring an edge to any hairstyle, but they look great particularly as part of a weave hairstyle with a ponytail.
Among the huge variety of ponytails, we have shortlisted 23 best weave ponytail hairstyles with bangs for your everyday look.
Elegant Weave Ponytail Hairstyles with Bangs
Weave hairstyles with bangs look classy and it can look stunning if you add the ponytail to it. A casual weave ponytail with bangs is easy, doesn't take much time to style once you get the hang of it and most importantly, it gives you a chic style with less effort.
This hairstyle can be worn in every occasion from a red carpet event to everyday look it dazzles up every occasion. Just choose from these hairstyles to what version of this weave ponytail hairstyles with bangs you want in the morning and then let it dangle throughout the day.
1. Half Pony with Parted Bangs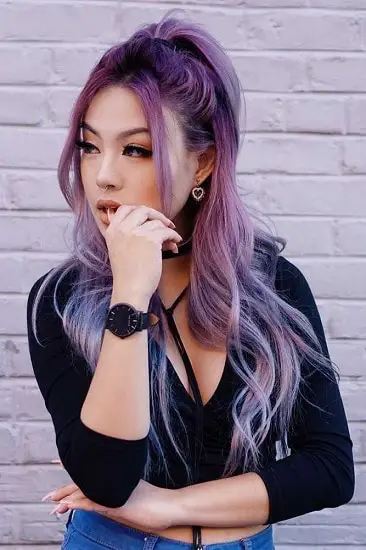 The girl looks super chic in this half pony with parted bangs. Divide the bangs into two sections through middle hairline. Side swept your bangs and then makes a half ponytail by grabbing the upper hair portion. Purple top with silver blonde tips makes the weave ponytail hairstyle more striking.
2. Messy Pony with Long Bangs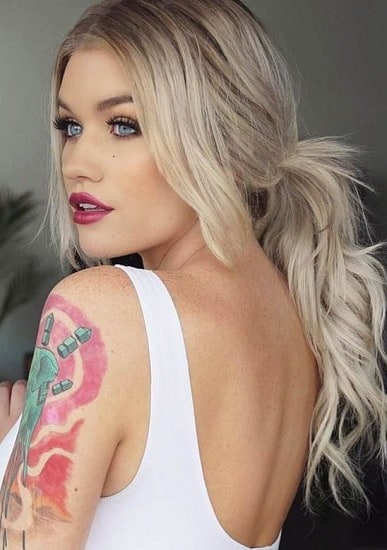 A breathtaking hairstyle that always wins to steal the heart of guys. Platinum blonde messy ponytail with loose side bangs and bold makeup looks awesome on an edgy dress. Adapt this look anywhere anytime for prepossessing personality.
3. Ponytail with Heavy Bangs
Weave ponytail with heavy bangs brings out the doll hidden in the girls. The style looks pretty cute with the bow band on the top back of the head. You do not need to apply any satin product for a silkier look because it looks incredible with a slightly wavy ponytail.
4. Ponytail and Band with Bangs
Weave ponytail with curled ends and side-swept bangs looks fabulous with a bandana. Blonde your hair, leave side-swept bangs at the front, make a high ponytail, wear a bandana and you are ready to rock even without any fancy dress or makeup.
5. Ponytail with Side Bangs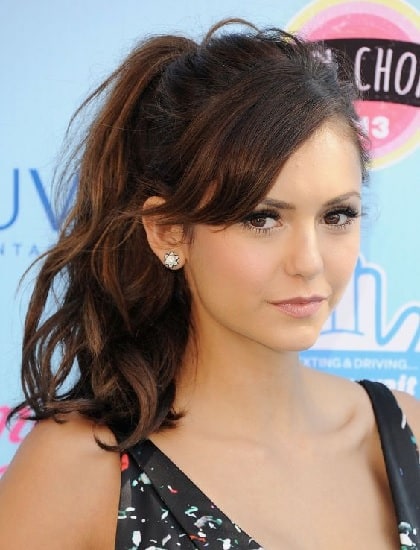 It is simple yet remarkably stylish hairstyle. If you have no time for refreshing your hairstyle just go with weave ponytail along with side bangs. You will surely love it.
6. Braided side ponytail and Bangs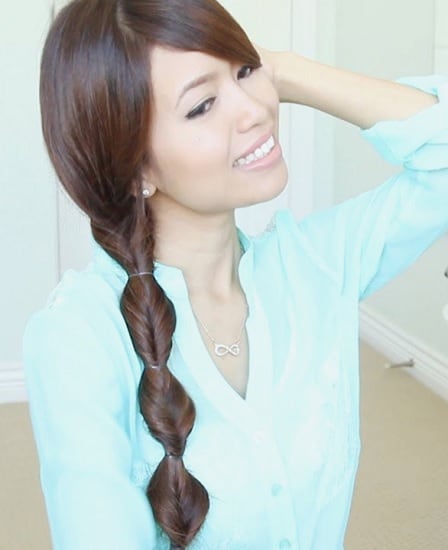 The spectacular side weave ponytail with bangs is a perfect choice for working women, as it is easy to maintain and looks very professional. Make a side-swept braid and divide the braid into several sections by wearing elastic hairbands.
7. Long Weave Ponytail with Bangs
Long weave ponytail with bangs looks super classy and phenomenal on women. Front blunt bangs with side swept ponytail complete the woman's look with just an edgy dress and earrings. Look how sophisticatedly this woman is carrying the whole avatar.
8. French Braid and Ponytail with Bangs
The gorgeous hairstyle enhances the beauty of women further. Loosely made French braid with a ponytail and side-swept bangs make you feel like a princess.
9. Platinum Fishtail Ponytail with Bangs
Look at this marvelous hairstyle featuring fishtail with the ponytail and bangs. Silver blonde hair gives the whole hairstyle a majestic look. Make a fishtail braid at one side of the head and loosely tie all hair into a ponytail. Cover the hairband with the few hair strands for a neat professional look.
10. Braided Updo with Ponytail and Bangs
If it's your wedding or you are going to a prom, the braided updo with ponytail and bangs is a perfect choice to wear for these events. Add more charm to a French braid with a single twisted braid. It looks awesome on straight hair.
11. Weave Ponytail with Balayage Bangs
Short weave ponytail with balayage straight bangs brings the enchanting appearance out of you.
12. Crimped Ponytail Weave with Bangs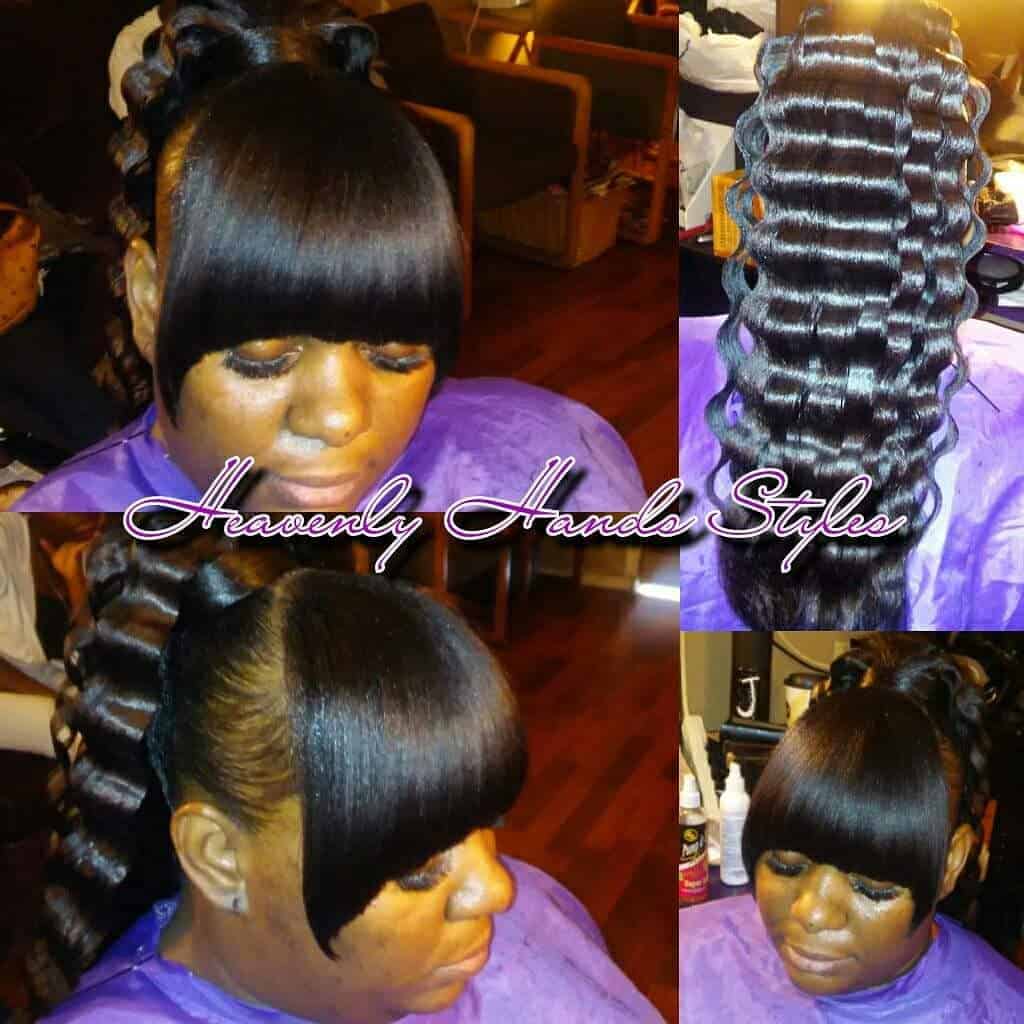 As crimped hair becoming popular in this arena so, we thought to inspire you with a twist in crimped hairstyle .i.e. crimped weave ponytail with bangs. Sleek Chinese bangs with crimped ponytail give a new definition to a simple hairstyle.
13. Rolled Bangs with a Ponytail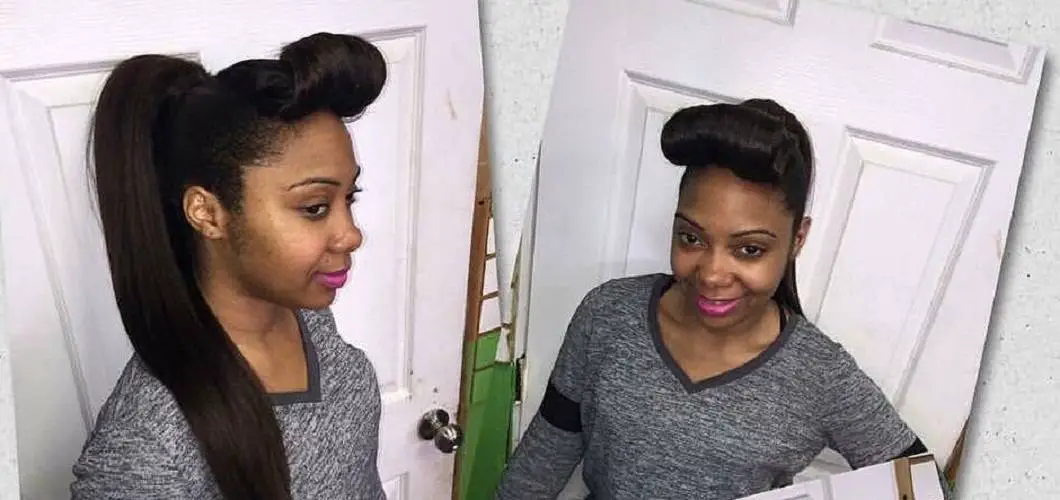 It is an inspiring transition from simple dull ponytail to an attractive thick ponytail with rolled bangs. Use a curler in order to get the bangs rolled up then use hairspray to hold the bangs. Side swept the long weave ponytail for a prominent look.
14. Mermaid Ponytail with Bangs
What an alluring weave ponytail hairstyle with bangs. It is referred to as mermaid ponytail because of its dazzling color combination .i.e. vibrant green, purple and blue color. These colors are also known as aqua colors. Make your look more fascinating by applying adorable blue eyeliner.
15. Feathered Bangs with a Ponytail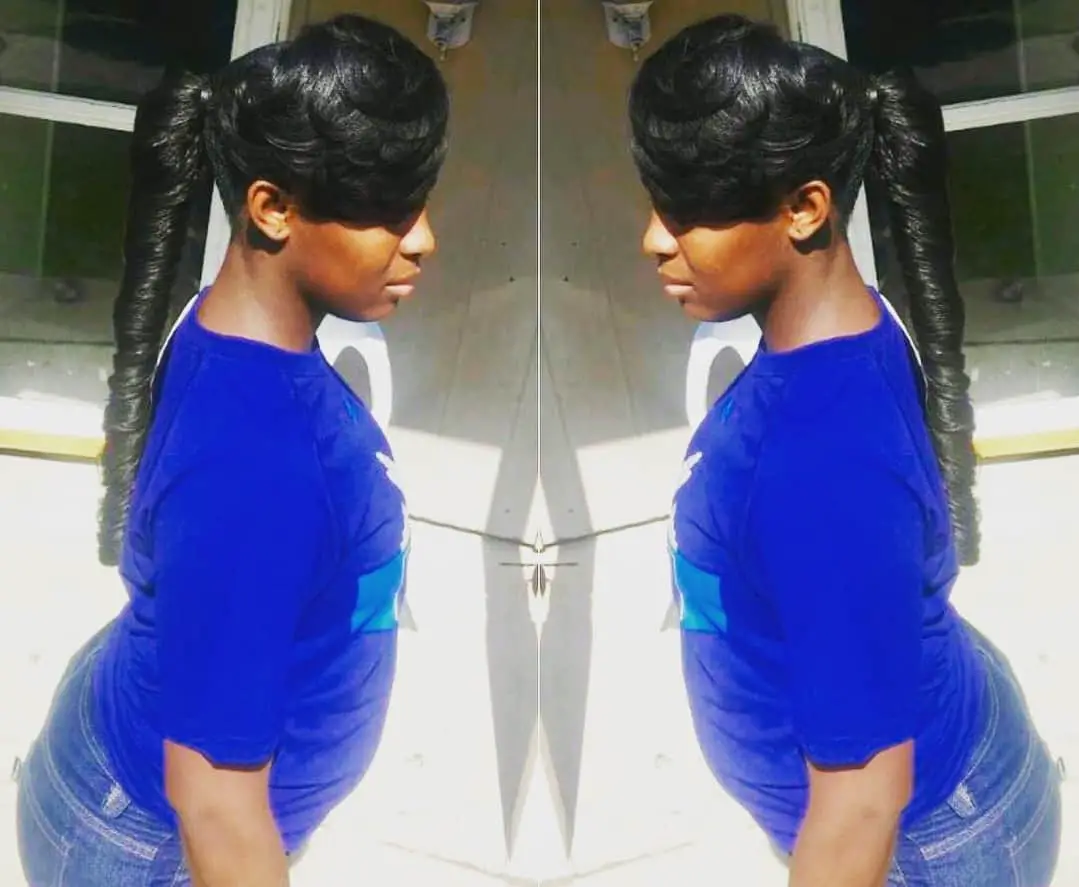 Looking for something unique and unusual? Then why wouldn't you try these feathered bangs with weave ponytail hairstyle? The feathered bangs look so awe-inspiring that the swirling ponytail becomes nearly invisible.
16. Lace Braid Weave Ponytail with Bangs

Lace braid weave ponytail with bangs is no doubt a delightful hairstyle to carry for prom, weddings, or other festivals. The details of lace braid look so fine that no one can deny its alluring appearance. It looks equally adorable on black as well as blonde hair. If you are a brunette, then it is a plus point as lace braid weave ponytail gives more grace to your hair.
17. Dutch Braid Ponytail with Bangs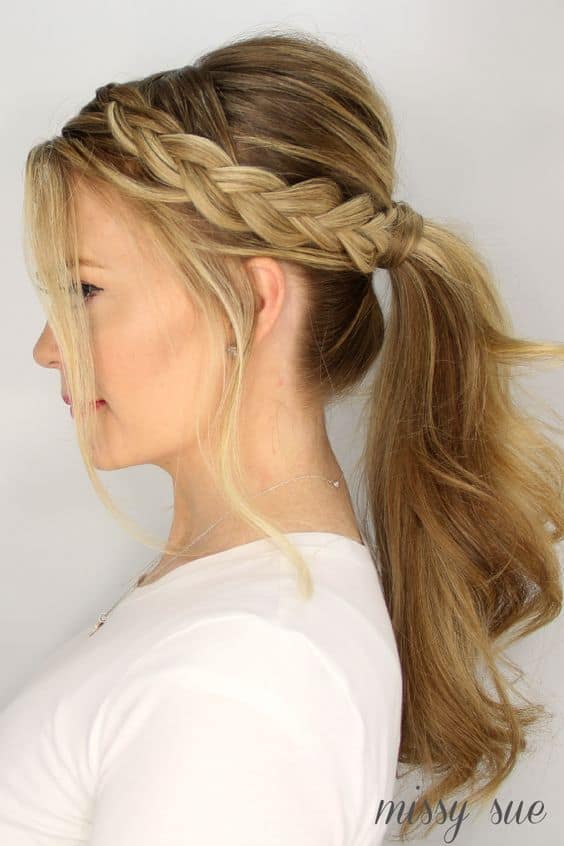 To achieve this hairstyle, first, make a Dutch braid at one side of the head while leaving the bangs at front of your face. Create an updo at the central area of the head and tie all hair into a ponytail. Cover the hairband with the few strands of hair. The whole hairstyle looks adorable with slightly wavy hair.
18. Curly Ponytail with Bangs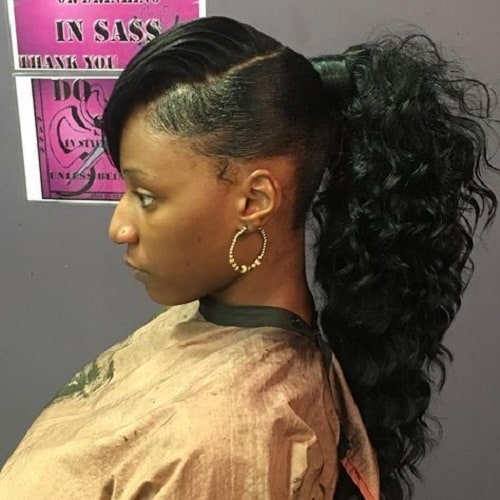 If you want to have a naturally curly hair look, try out the amazing curly weave ponytail with bangs that are swept on the side. It is an astounding combo of neat sleek top and a messy curly ponytail that further covered with hair strands.
19. Ponytail for Christmas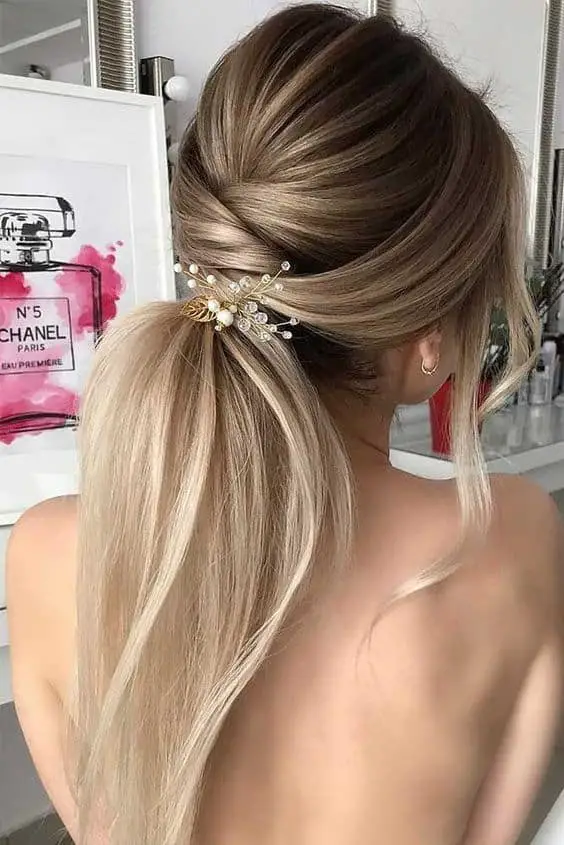 An ultra-elegant hairstyle that is an appealing choice to wear for the Christmas festival. It is simple but full of elegance. Cross both sides of hair strands and conjoin these at the back of the head while making a slightly high updo. Wear an adorable hairpiece at the conjoining area to beautify your looks more.
20. Sleek ponytail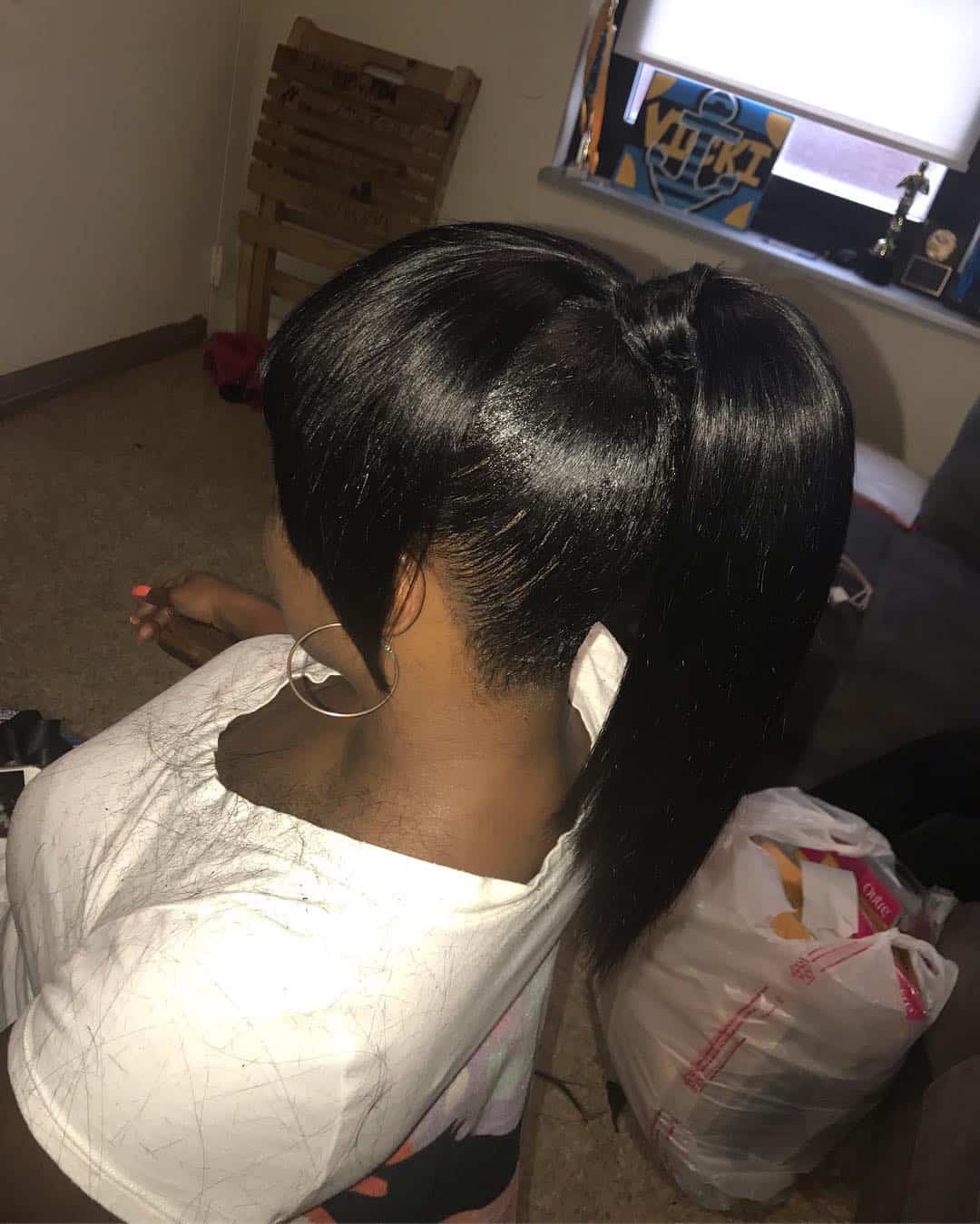 Want a polished look for yourself? Try sleek weave ponytail with bangs that looks itself so aesthetic that it does not need any hair dye or balayage incorporation, blunt bangs are enough to play the game.
21. Small Ponytail with Bangs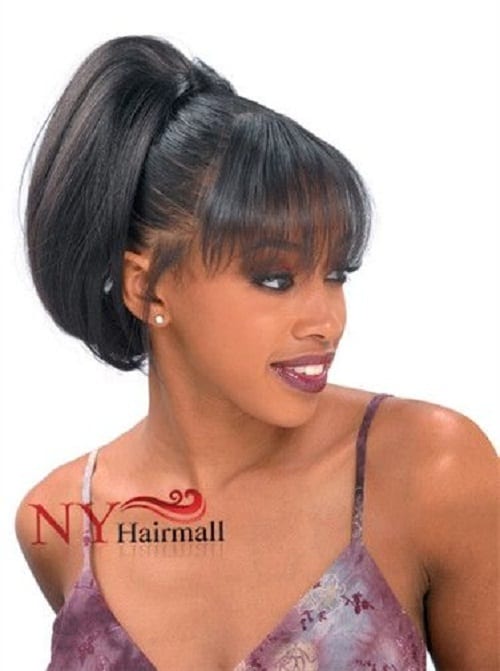 Are you not a big fan of long hair? Not a big deal! Try the short weave ponytail hairstyles with bangs that are enough to become the Centre of attention among your fellows.
22. Ponytail with an Updo
Wooh! Look at this beauty. Middle parted side bangs with an updo and weave ponytail makes a glamorous combination. Tease your hair roughly and tie them into a high ponytail. Use hairspray to hold the hairstyle into its place.
23. Side Bangs with Side Braid Ponytail
Weave ponytails with bangs change the overall appearance of the afro girls. Make this sophisticated hairstyle by side sweeping the straight bangs and creating a single askew braid at one side of the head. Now tie the hair into a high ponytail.
The ponytail is a classic hairstyle and with bangs, it gives your face more angles and helps to create a really strong feature. Weave gives you options to make your ponytail with bangs more versatile. Pick one to start with and don't bother ending up with one style, because there is always room for more. Happy Hairstyling!