Makeup for blue eyes is such a versatile art that you can practice with a whole range of shades. For all the ladies that need help in the makeup department and want extra ideas, we have 25 amazing looks to offer. You will find ideas for all possible occasions, so dive in and pick the one that works for you best.
Amazing Blue Eyes Makeup Ideas for Ladies
We've compiled 25 best makeup variations to wear on blue eyes and flaunt them!
1. Brown Vibes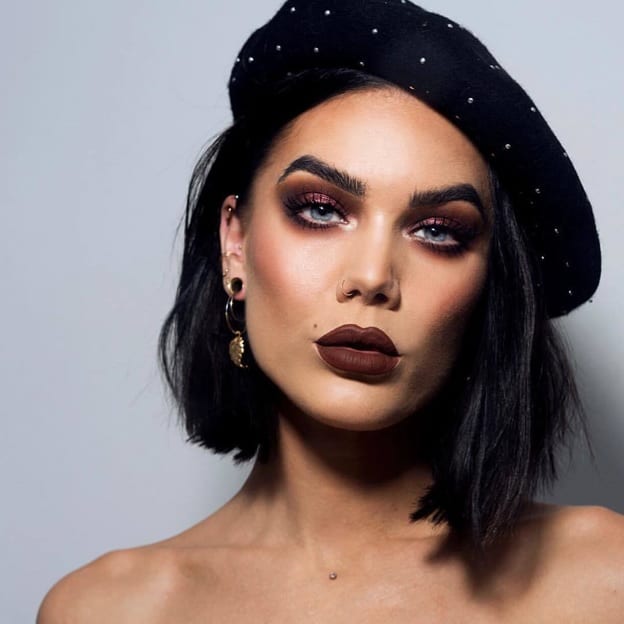 Brown is such a complimentary shade for blue eye color. Often ladies are scared to experiment with such dark tones, especially on the lids. The truth is that you don't need too much expertise to achieve the ideal smokey brown eye. You can include a brown pout if you want to go all the way in. All of these deep chocolate hues will really get the best out of your blue eyes.
Purple Eyeshadow Ideas for Brown Eyes
2. Bold Eyeliner
Nothing beats a good cay eye! The bold eyeliner look works for all eye colors but really highlights blue eyes. If you ever have a doubt on which makeup look you should pull off, this one will get you through any occasion. Keep everything else very minimalist and add a healthy glow to the lids, skin, and lips. This is officially the coolest, most glamorous makeup ideas for blue eyes.
3. Rose Gold
The stunning hue everyone's obsessed with can now become a part of your makeup look. If you've already tried rose gold hair, nails, jewelry, it's officially time to add an eyeshadow palette in the same luxury tones. Mix it with some dark tones and highlight the inner corner of the eye for the ultimate look. Everyone will be in love with your makeup for blue eyes!
4. Simple and Elegant Makeup for Blue Eyes
Yes, those two things go very well together. You can still achieve a very natural look and have that glam factor in only several steps. The three key parts are a fierce red lip, daring lashes, and a feline flick. Make sure that you either use a white pencil in the waterline or no pencil at all to make the eyes pop.
5. Burnt Orange Makeup for Blue Eyes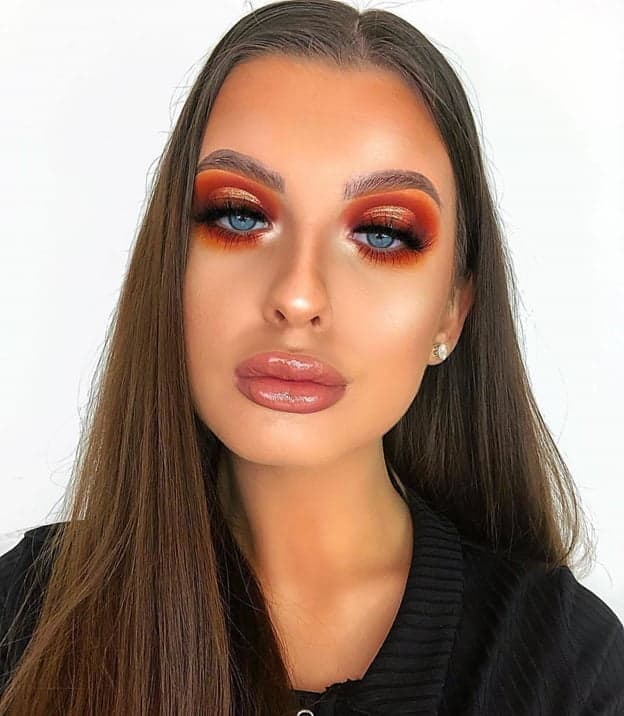 Make your gorgeous blue eyes pop with a hint of orange. Since the holiday season is coming up, a great idea is to add some gold shimmer to the mix as well. This is a very flattering shade for this eye color, and you can easily match it with a glossy lip.
6. Statement Red Lip
Red lips are always here to elevate that sparkle in your makeup with blue eyes. You can opt for almost any shade on the eyes. This example shows you that just a tiny bit of golden glitter can take your makeup game to a whole new level. The glowing simple look is one of the coolest ways to stand out this Christmas.
7. Blue Eyeliner
When you want to get creative and play with some cool shades, you can always grab a colorful eyeliner. It will really freshen up the makeup for blue eyes and give you a unique look. That's what we all want, isn't it? Since you'll be rocking a very eye-catching feline flick, the rest can be simple and down to earth.
8. Forest Green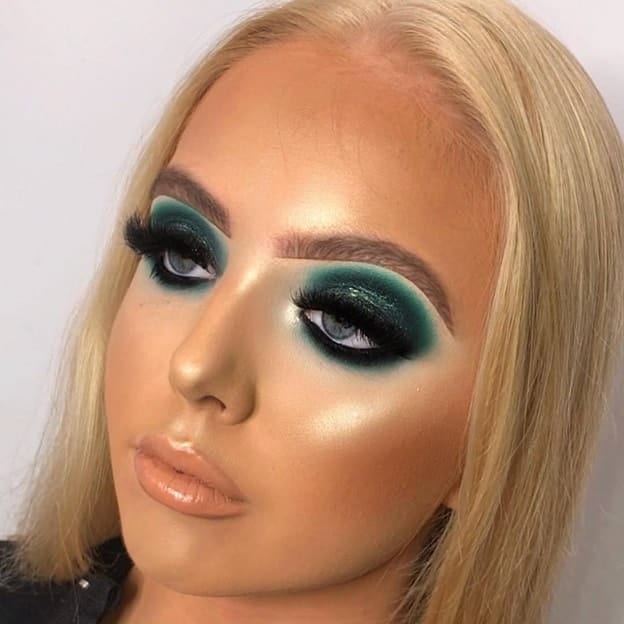 Green and blue is the ideal match. If you thought that the green hues won't flatter your blue eyes, you had it wrong. This stunning look is here to prove you wrong. The gorgeous dark forest green smokey eye is upgraded with some extra glitter, which gives the makeup a more glamorous and joyful touch.
Blonde Hairstyles for Dark Skin Toned Women
9. Burgundy Queen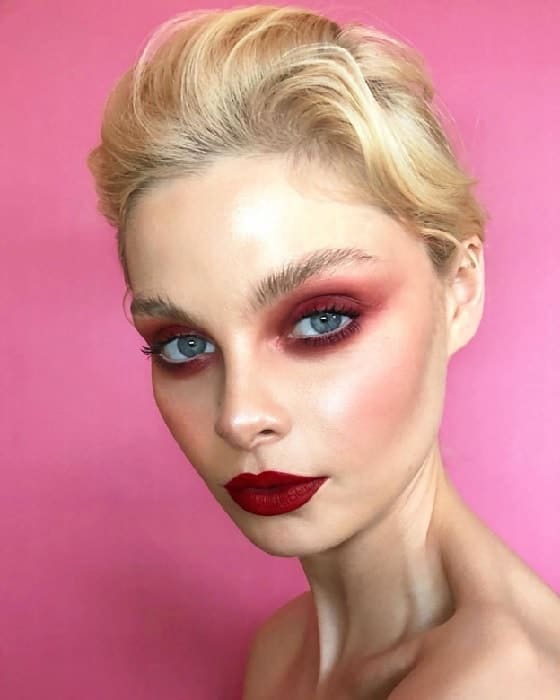 It's an already proven rule that red and burgundy are the hottest shades to pair with blue eye color. Thanks to this beautiful example, you can really add them to every single part of your face. Just be careful not to overdo it. This eye makeup idea for blue eyes would be great for a special occasion and a monochrome outfit.
10. Pink Shine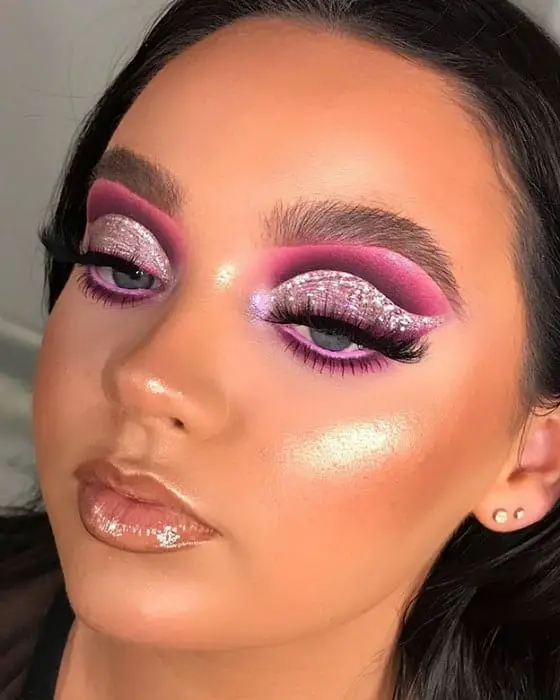 Blue eyes can flaunt literally any eyeshadow color you can think of. Ladies start painting all over your lids with pink tones even if you've never done that before. It's such a fresh look to opt for. If you are a lover of glitzy things, pack the look with some surreal shimmer.
11. It's All about Purple
Purple is one of the most beautiful eyeshadows to use on green and blue eyes. There are simply too many ways to make that work, but we are currently obsessed with this multi-dimensional effect.
The more different shades you use, the more interesting your blue eyes makeup will turn out at the end. It's best if you highlight the inner corner of the eyes with a very bright and shimmery hue.
12. Rainbow Lids
Get a full range of colors on the lids to properly celebrate the holiday season. Cut the crease to make all of the shades stand out even more. When you have the time and patience try out this look and you'll see that it's one of the most complimentary for blue eye colors.
The rest can be simple, with a nude lip. The highlighter is one of the must-use products these days, so don't think twice before using it in all of your looks.
13. Neon Cat Eye
Neon is everywhere! Celebrities' most favorite shades can now be a part of your clothing, hair, nail, and makeup. If you have doubts about whether these bold tones are meant for you, you can always start with a neon cat eye and work your way up from there. It doesn't have to be as daring as this one on the picture, but it will sure be flattering for blue eyes.
14. Soft Glitter Makeup for Blue Eyes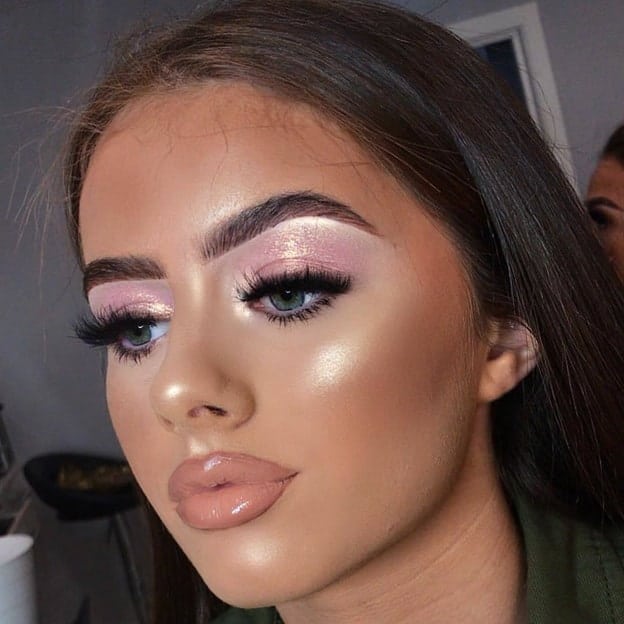 Less is more! That's one of the rules you can follow if you are blessed with blue eyes. Just a dab of soft glitter on the eyes will make you look like a million dollars. The eye color is so gorgeous by itself, so it doesn't require too much work. By finding a cute hue such as this one, you will be ready in only five minutes and still be the queen of the party.
15. Ink Blue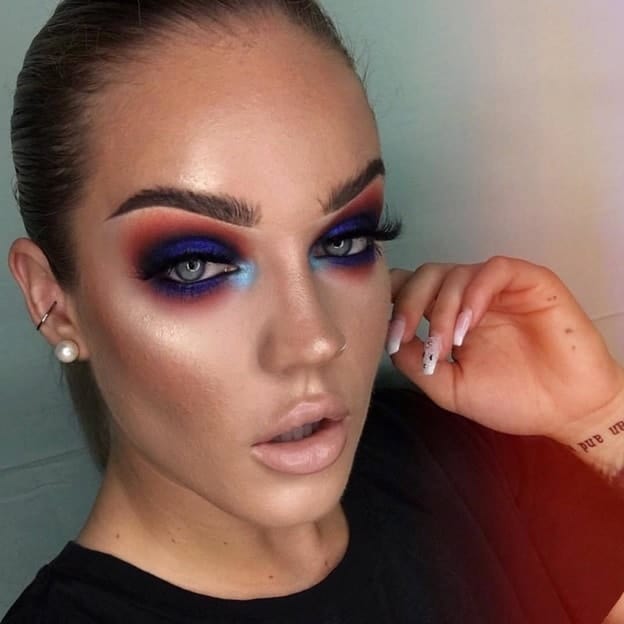 Ink blue is one of those pretty dark tones you can mix with a whole range of other shades. Take this trendy combo into consideration next time you want to bring life to your blue eyes. Always add hints of light shade when you're using dark hues like ink blue because you don't want it to be too dull.
16. Smokey Eyes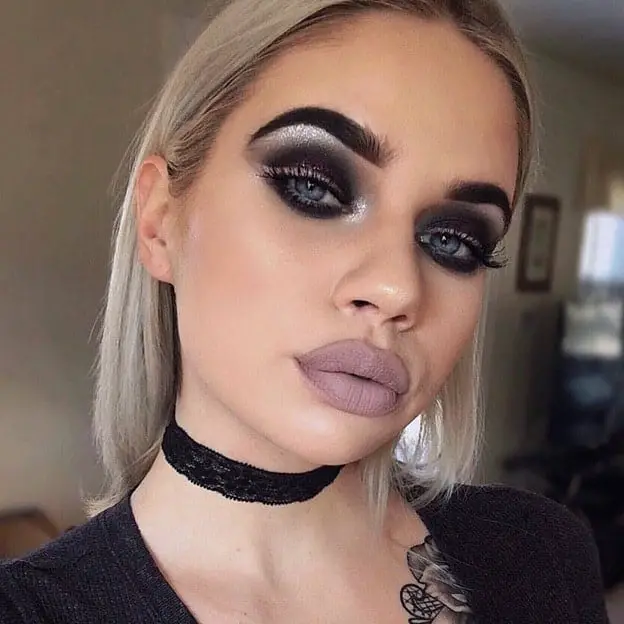 Nothing comes close to the classic smokey eyes! The recognizable black and grey combo can really elevate your New Year's Eve makeup on blue eyes. If you want to get creative, glitter is the way to go.
This beautiful blogger opted for a fearless nude eyeliner to tone down the edgy lids. She also added a nude lip, which perfectly complements her appearance.
17. Red on Red
A flaming red on the eyes and on the lips can be such a stunning addition to blue eye color! When you see the final look, you'll know that you want to give this idea a try. It adds that special, daring, strong-girl vibes that literally any woman can go for.
Elegant Red Carpet Hairstyle Ideas
18. Shimmery Nude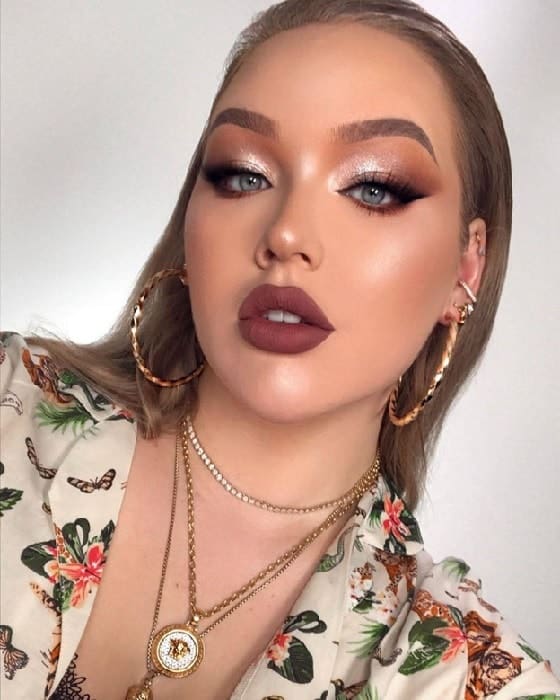 A subtle nude makeup look is the safest option for blue eye color. If you are a makeup beginner, you might want to try this look first. There is no way that it will go wrong. Actually, it will be so flattering, that you'll want to copy it many times again.
19. Blue on Blue
It can be hard to do blue on blue, for sure! But if you follow examples like this you will find it much easier. It features a cut crease with a very cool gold highlight, which is the standout moment in this makeup on blue eyes. The deep brown pout is so on point.
20. Multicolored Makeup for Blue Eyes
There's no need to decide on a single shade. You can dive in and use all of the ones you like in the makeup palette. Your blue eyes will definitely pop thanks to the multicolored vibe.
21. Colorful Mascara
Black is such a dull choice sometimes! Get creative and start using a colorful mascara once in a while. It can be green, black, pink or even a glittery one.
22. Glitter Eyeliner
It's not next level artistry, although it might look like it. You can recreate this makeup style for blue eyes in only 15 minutes. All you need is some chunky glitter and glitter glue. This eye color will be amazing with a number of different hues.
23. Pretty Emerald
If you are scared of the bold, vibrant greens, you can always try a subtle emerald tone. It is rich, fabulous and perfect for a number of occasions. When it comes to lipstick, nude is, of course, one of the options on the table. If you are getting ready for a wedding or an event, try red!
24. Bronze Goddess
Bronze makeup looks are all over Instagram these days. Starting with sultry bronze eyes, lips, and even bronzed cheeks! It's both festive and elegant, so why not glow like a queen. The best thing is that any lady out there can recreate it. Blue eyes makeup can benefit so much from bronze hues.
25. Yellow Is So Chic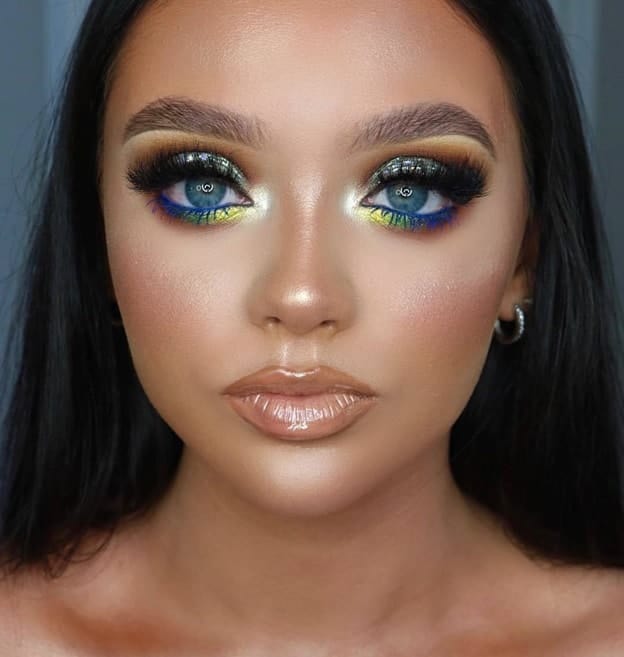 This is a very daring color combo, but a stunning one. The fact that someone can use two different colors of mascara and make that work, it's so much fun! You don't have to be boring with your makeup choices.
Instead, go for some unlikely choices that will be a huge score such as this one. Include some chic yellow eyeshadow in your makeup for blue eyes.