Gold eye makeup for brown eyes is one of the best-suited makeup looks for women. Don't think for a moment that brown eyes are ordinary, even if the standards set by society have been saying otherwise for a long time. Eyes of brown color have such a soft yet deep richness that you just can't help but be entranced by the intensity they hold in them.
Earthy, metallic, and natural shades favor brown eyes the most when it comes to makeup. Gold is one of those gorgeous colors that match the brown eye color beautifully. There are a vast number of creative eye makeup ideas that will flatter your brown eyes in a perfectly amazing way. Here are some of the most artistic and smart gold eye makeup looks that will perfectly partner those rich brown eyes.
Amazing Gold Eye Makeup Ideas for Brown Eyes
We have compiled 6 of the beautiful ideas of gold eye makeup for brown eyes for women to flaunt their natural eye color.
1. Classic Glitter Gold Eye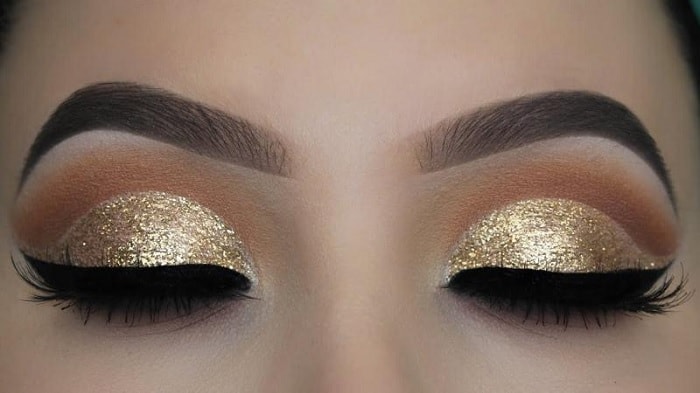 With the classic gold glitter eye look on brown eyes, you'll reach all levels of glam you're aiming for.
Ideal for: Perfect for a cocktail party or prom.
How to: Start with a matte gold cut crease and top it with gold glitter eyeshadow.
2. Gold Smokey Eye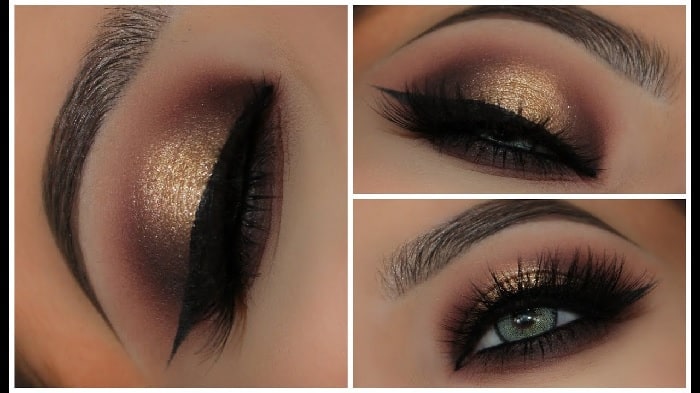 If you wish to combine badass with the diva, this is the gold eye makeup you should go for your brown eyes.
Ideal for: Great idea for a nighttime wedding or prom.
How to: The method is like your usual smokey eye, just swap the main application of black with gold.
3. Gold and Green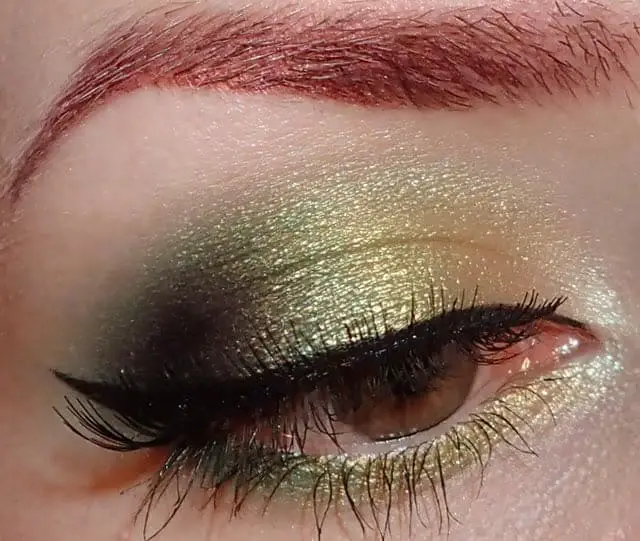 Achieve a bright and festive look with a gold and green combination.
Ideal for: Glamorously be a part of the celebrations at a Christmas party with Christmas night out outfits with this brown eye and greenish gold eye makeup look.
How to: Start with green in the corner of your eyes and then work it into a golden transition.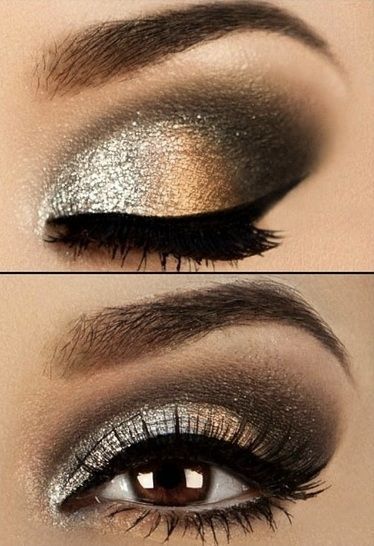 Use this bold transition for a strong and absolutely gorgeous, statement-making gold eye makeup for brown eyes.
Ideal for: A soft black and gold eye look will be ideal for a formal business party or a school dance.
How to: From the corner of your eye, create a gorgeous journey from black to gold.
5. Silver and Gold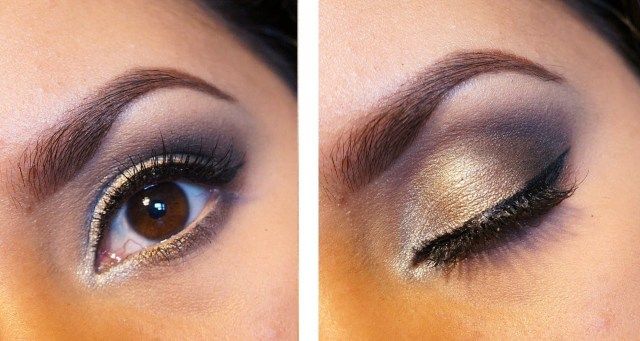 For absolute glam, a silver and gold look will work best. A glamorous gold eye look for women with brown eyes.
Ideal for: The best idea for prom night.
How to: Start with silver, then add shades of golden with flawless blending, with a little brown in the end.
Gorgeous Purple Eyeshadows for Brown Eyes
6. White and Gold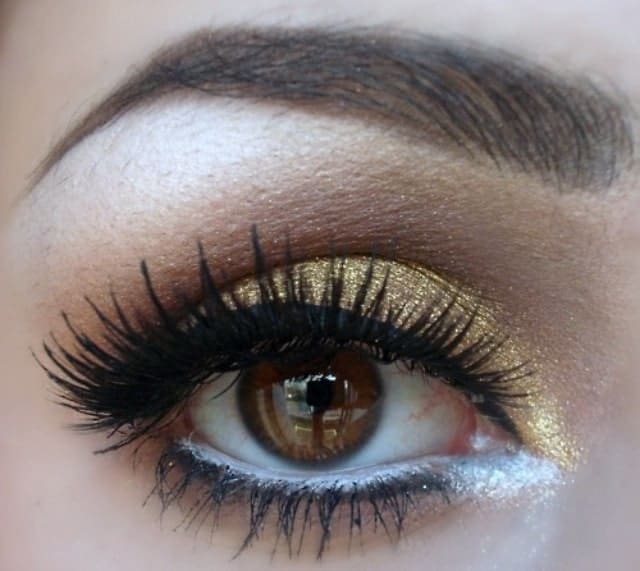 This combination would make an angelic, dainty brown eye makeup look with gold eye shadow.
Ideal for: This would be amazing for a light, daytime wedding.
How to: Top your lids with bomb gold makeup, then decorate the lower lash line with some glittery white.
Brown eyes are best complemented by natural, metallic, and earthy shades. Gold is the most popularly loved colors that brown eyed beauties use to enhance their eyes with artistic makeup techniques.
It is all over the social media how much people love to infuse gold in their eye makeup. So here is a list of beautiful gold eye makeup for brown eyes. With this guide by your side, you'll nail gold eye makeup for brown eyes.