Makeup for redheads can be trickier. We want our shoes to match our dress, we make up to complement our eye color, and while the majority of us are able to find the perfect match, others might not. Blondes tend to look good in shades of gold. While on the other hand brunettes easily pull of coppery color metallic.
However, if you happen to be a redhead, it makes it 10 times tougher to find the right make up to complement those sassy sirens of our fellow redheads. As a redhead or having auburn tresses, it is extremely essential to search for makeup shades and tones that are flattening.
Best Makeup Looks for Redheads
In order to look fun and fabulous without overly doing yourself in the makeup department, you need to be aware of what makeup idea would suit your fiery looks. This article will enlighten you with 20 makeup ideas for redheads that make you rock any look.
1. Cheerier' the Better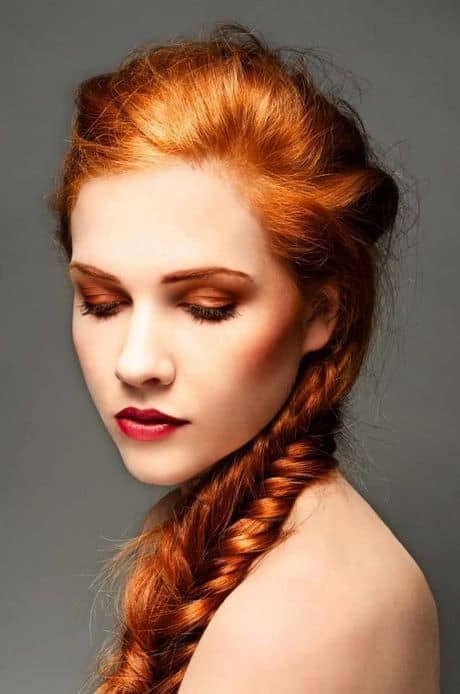 You can just not go wrong with wearing a cherry lipstick. And if you are a redhead the darker the lipstick the better as it is going to complement those fiery tresses of yours. Moreover, this makeup idea for redheads will best suit your complexion.
2. Choose Lip Color Wisely
If you have a pink undertone to your skin, it is recommended to pick a blue-based red lipstick. While on the other hand, if you have yellow undertones. Congratulations! You can go all red on your lips, picking any shade whatsoever.
3. Bold Cat Eyeliner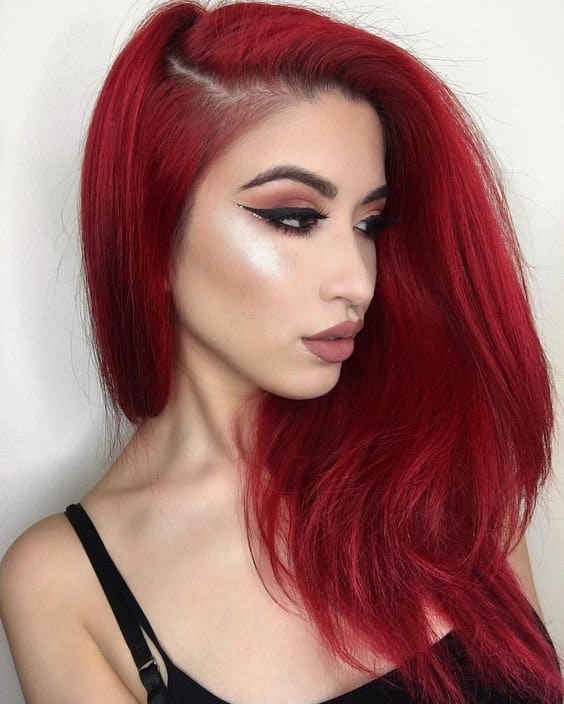 Most girls try to look fabulous in bold color liners. But if you are a redhead, you don't even have to try. You know why? This is because red heads can easily pull off green and blue eyeliners as the daring colors and those crimson hair are a match made in heaven. This is one of the sassiest makeup looks for redheads.
4. Bold Eyeshades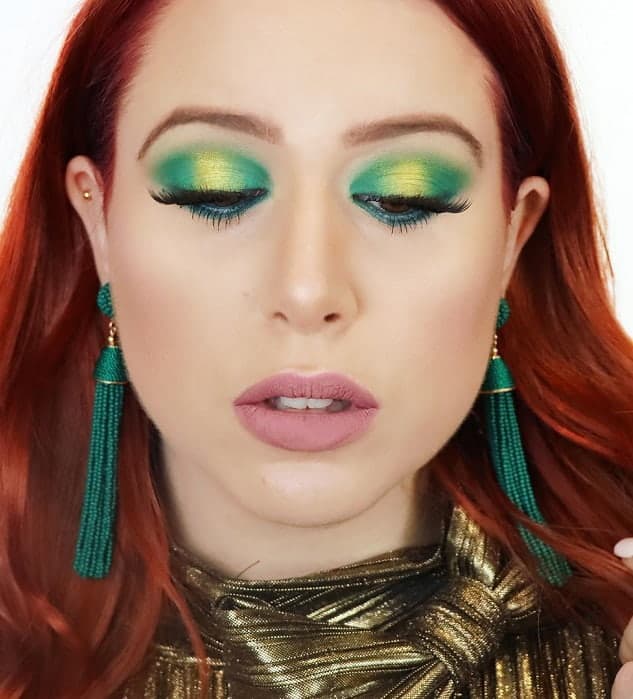 Applying bold green color eyeshadows immediately brings that magic into your face that it allows you to look dazzling and makes your eyes pop out. Also, using these bold colors under eyes can allow you to rock any makeup for redheads.
5. Peach-ify' The Eyes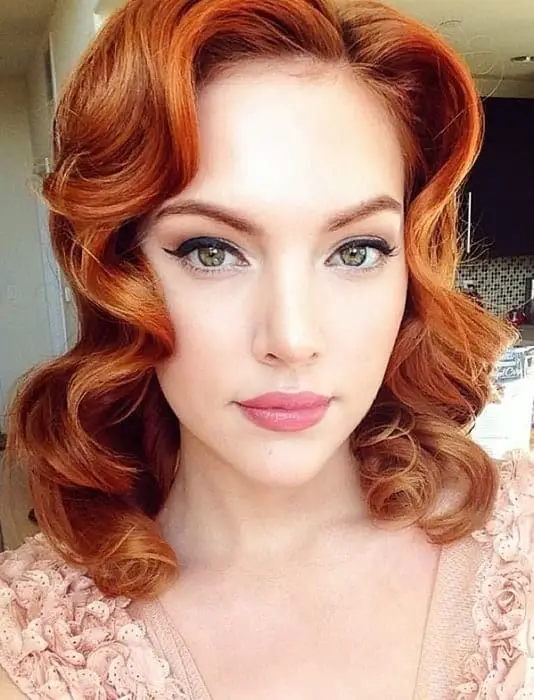 There are numerous eye shades to experiment from in order to find that perfect shade that would suit your fiery hair. However, this makeup idea for redheads includes using a peach shade for the eyes. In order to have the ideal look, you might want to pick lighter shades to give yourself a more natural appearance and with those fiery curls, the lighter shade of peach would do the trick.
6. Bronze with Wisdom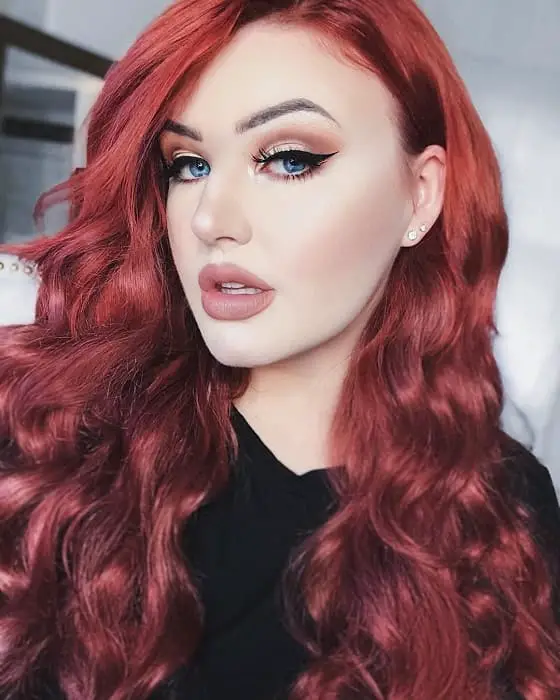 Red hair and fair skin; a combination that calls out to the redheads to apply bronzer with wisdom. This bronze makeup look for redheads urges the ladies to avoid choosing a bronzer with golden tones as they are known to go 'muddy' on your skin. A red head's skin is better suited to bronzers with peach or pink tones that would add radiance and complement your fairness.
7. Coloured 'Mascara' is a Win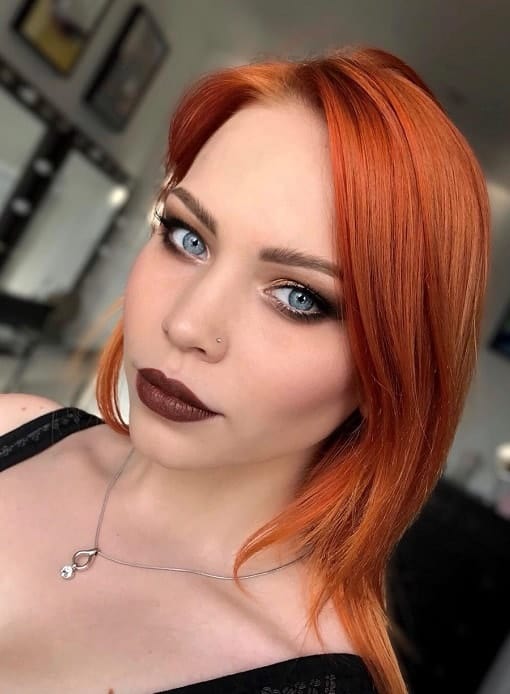 What a redhead needs to know is that having colored lashes can do you no harm. Applying blur or burgundy mascara on those long lashes would add the much-needed contrast with your crimson tresses. Do not be afraid to go all out on the colored mascara as it is definitely a winning look for redheads.
8. Say Yes to the Highlighter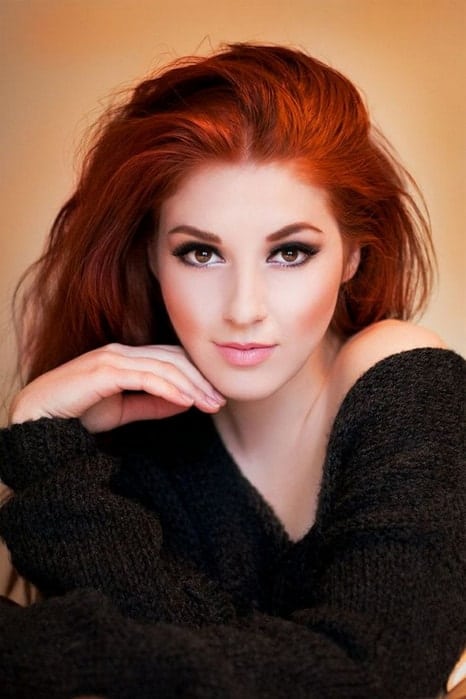 As a redhead, you can go all out on highlighting those cheekbones. You can use a powder highlighter to slightly tab those high points of your cheekbones or you can also use a liquid highlighter to get that shimmer on your cheekbones. Thus, do not hesitate to emphasize your cheekbones with this black and gold eye makeup for redheads.
9. Red Rosie Cheeks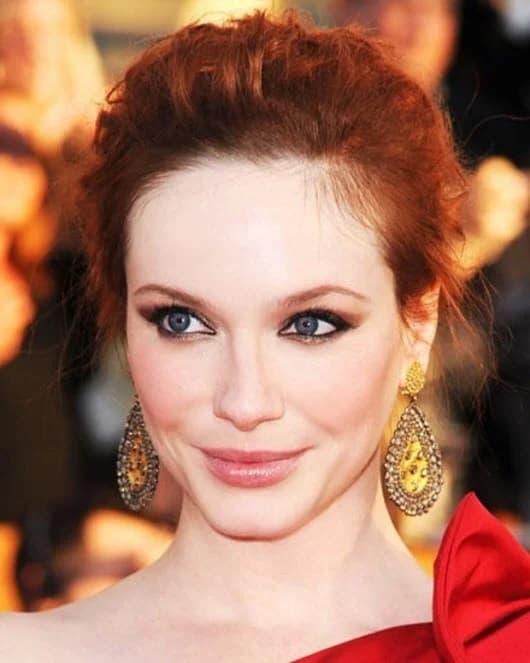 If you have zero time to do a full makeover in the morning then not to worry. Grab your blush and brush it on the apples of your cheeks to your temple just to add that color onto your skin without having to do much. Apply lipstick and you are ready!
10. Get it Right with Brows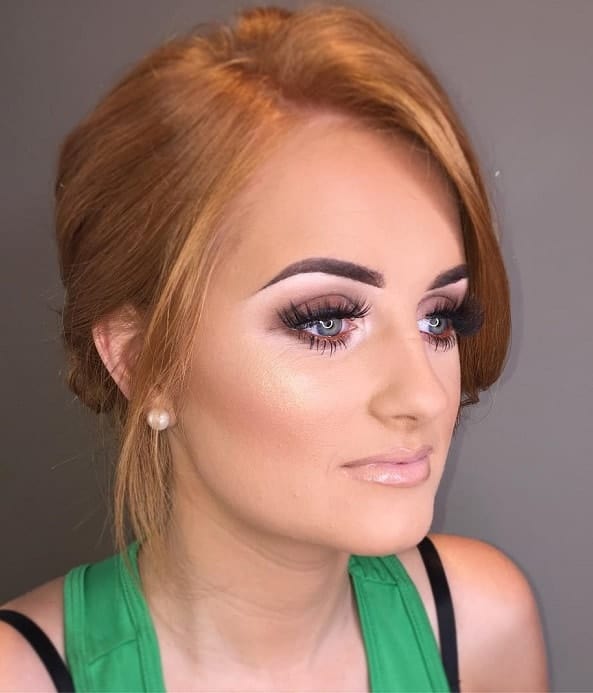 Applying makeup to the eyebrows may be the toughest when you have hair as bright as a fire truck. However, it is not impossible. You just need the right blend of blonde and brunette shades in order to achieve the shade that would go with your crimson hair. Remember o go light in the beginning while you being shading your eyebrows. However, getting darker as you reach the tails. A soft redheads makeup look with a green dress.
11. A Redheads Go-to Foundation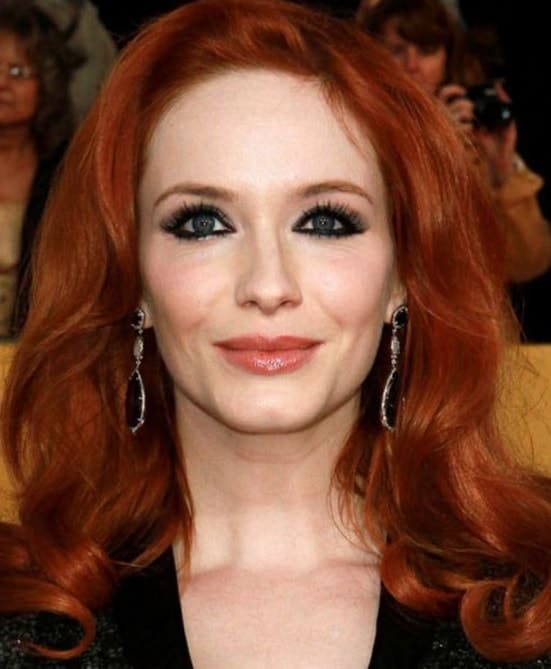 If you have crimson hair and fair skin, you would want to keep the usage of the foundation to a minimum. Why? This is because applying more foundation would not allow your natural fairness and freckles to break through and shine. Therefore, using a BB cream or a lightweight foundation is recommended for redheads to appear natural. Its all about making your freckles pop!
12. Taupe Shades for the Eyes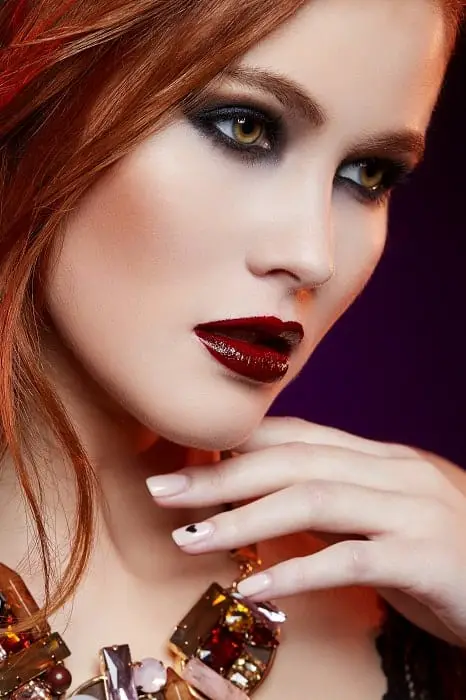 Taupe is a shade that is a combination of dark brown and grey. So, if you have copper hair, you might want to pick shades of brown or taupe with a combination of bronze highlight that would automatically highlight your eyes and complement your hair. This makeup for redhead girls s may work wonders.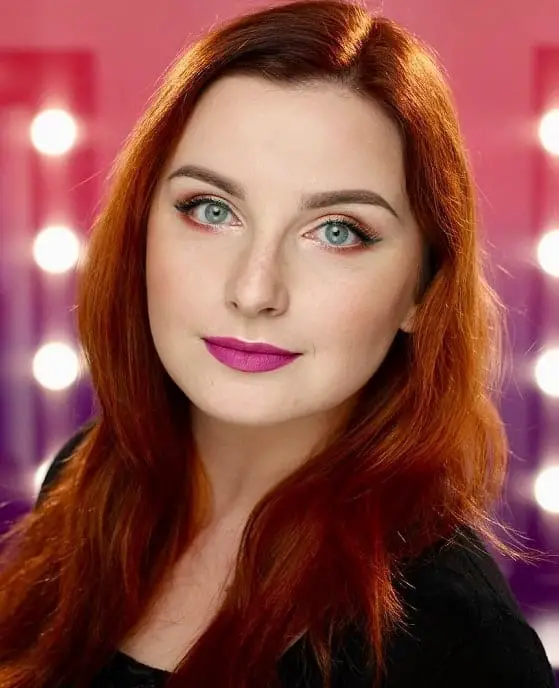 All those redheads who thought they could no pull off a pink lipstick. Let me tell you that you can pull it off without even trying. You might think that the pink color may conflict with dark your copper hair color. Well, for that you can use a crimson color lip liner with a pink shade of lipstick to really make your lips stand out.
14. Bold Blue Eyes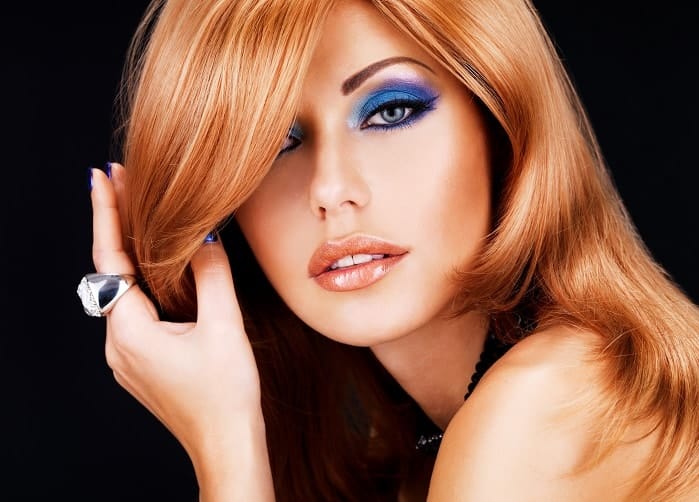 With red hair, you can experiment with different eyeshades. If you are getting ready for an evening party, blue eye makeup for girls with red hair can give you a bold and beautiful look.
15. Red Lips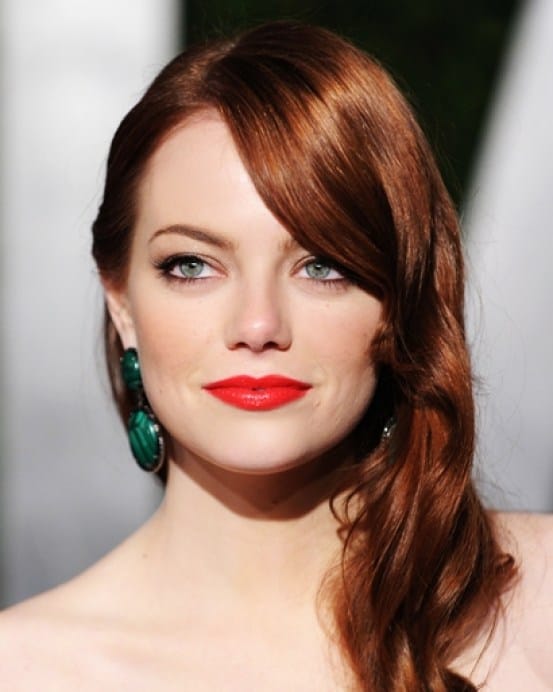 No matter what, red lips have their own charm. Apply this lip color and enjoy all the attention in the evening with this classy makeup look with red hair.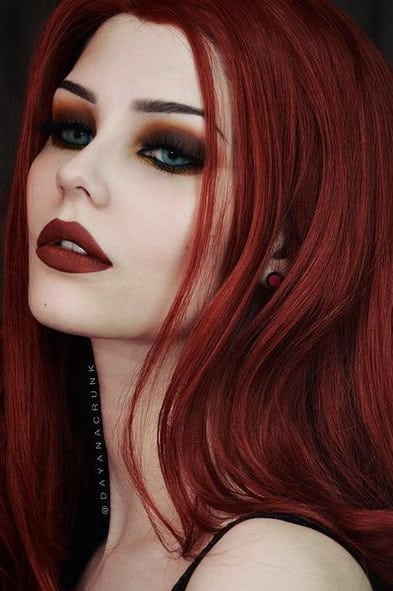 Smokey eyes are a big hit for all types of dresses and hair. Spend a little more time with your eyes, and they will become charmed of the evening. Trendy makeup look for red haired girls.
17. Bold Lips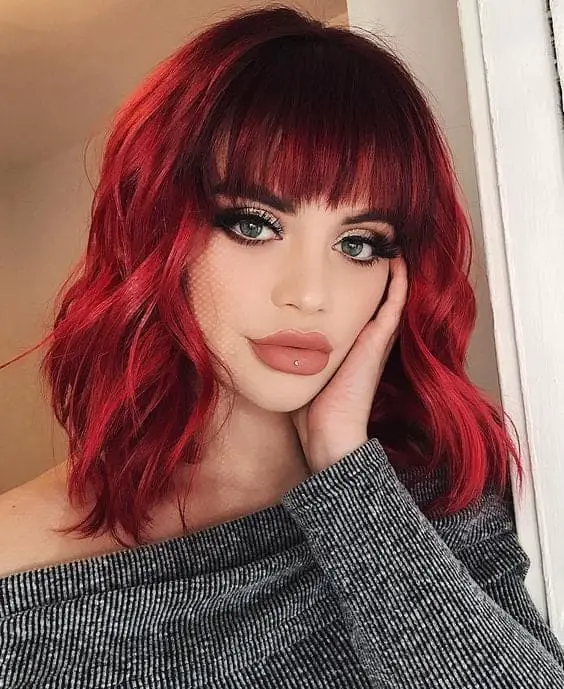 Bold lips all time favorite for everyone. You can enjoy bold makeup with your redhead and all dress colors. Keep your eyeshades light with a thick layer of mascara.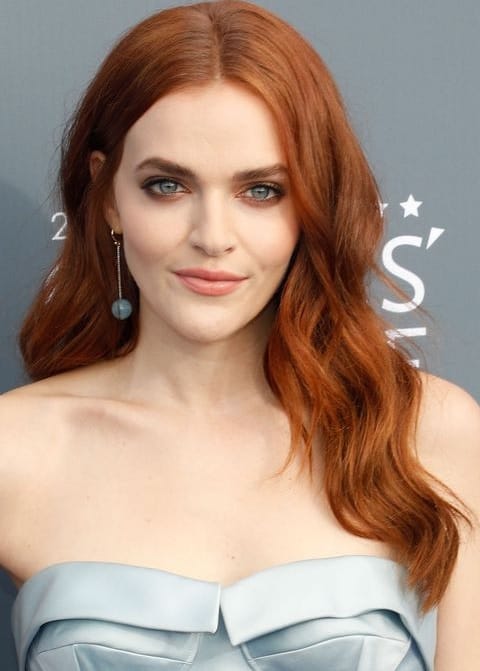 Do you know, you can look stunning with very light or almost zero eye-makeup and only lipstick? If you haven't applied this technique, give it a try now and see how beautiful you look with this makeup for redheads.
19. Natural Look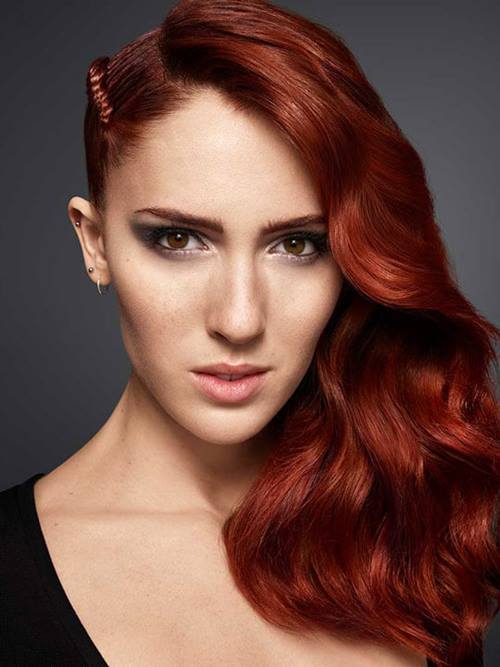 Give yourself a natural look with natural makeup and contouring – a perfect makeover for redheads. The gold eye makeup on brown eyes brightens the face tone.
20. Dark Lips and Cateyes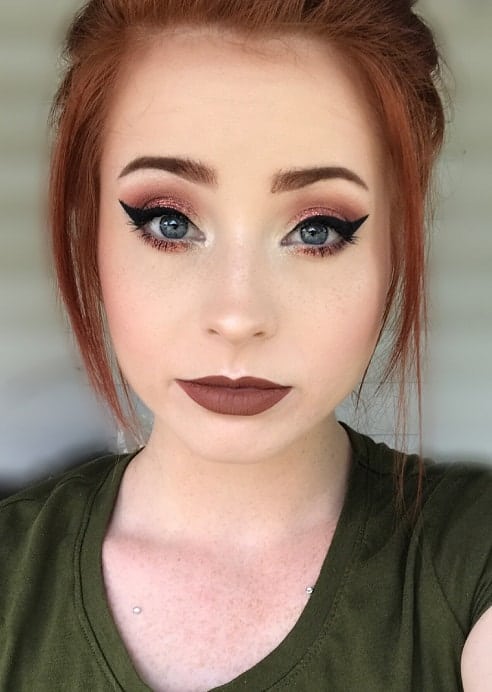 Bold and long eyeliner gives you a stunning look. Combine the makeup for redheads with dark lip color and see the magic.
All these makeup hacks and ideas for redheads will definitely allow you to look fresh, radiant and of course fabulous. It is extremely essential to be well informed about what would suit us and complement our hair as well as skin tones.
Once we know that, we can easily experiment and rock any look whatsoever. Remember to forget all the dos and don'ts that you have read about redheads over the years. Those fiery hairs can pull off any look that you want.
Therefore, apart from these makeup ideas, believe in yourself, appreciate your own beauty and accept yourself as you are and you will find yourself absolutely stunning in whatever makeup for redheads you choose to put on or even nothing at all.