The fact that it is winter doesn't mean that you have to forget about pedicure designs and feet that are well taken care of. To remind you to pamper yourself year-round, we decided to round up some very innovative nail art to make a part of your pedi.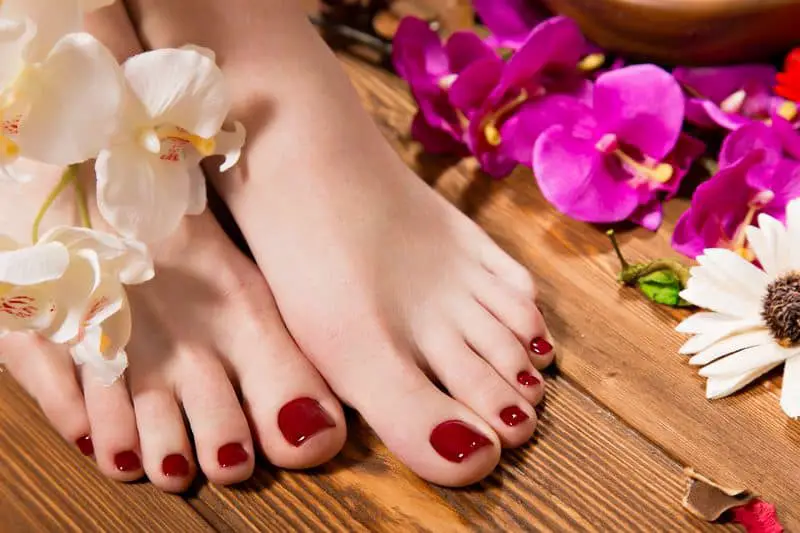 The holidays are almost here, so why not book an appointment in the beauty salon? Maybe you'll decide to wear sandals at the Christmas party, that's why you definitely need to have a great pedicure.
Trendy Pedicure Designs to Try
Here you'll find simple and glamorous pedicure design ideas, meant for ladies of different ages. Save your favorites and better start thinking about which one you'll do first.
1. Upgraded French Pedicure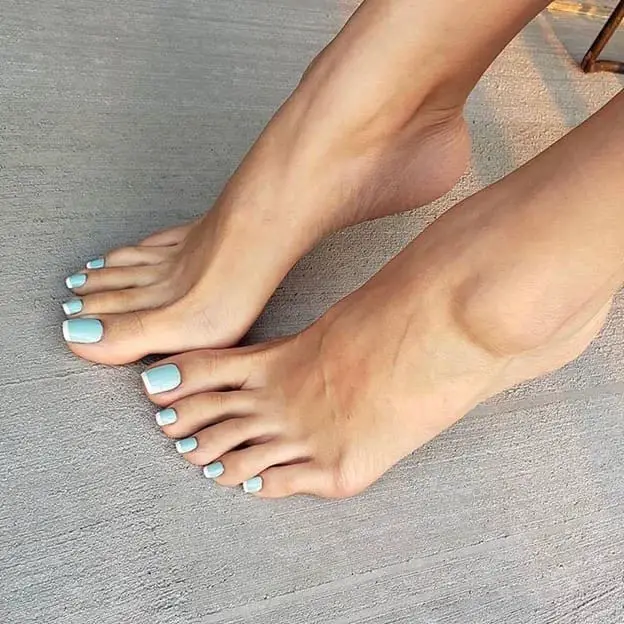 You don't need a classy French pedicure design when you can upgrade it with a different color. Instead of the negative space design, choose a cute hue such as this baby blue one. It will look unique and different from everyone else. If you decide to wear sandals for Christmas, this is one of the chicest pedicure styles you can try.
2. Dark Sky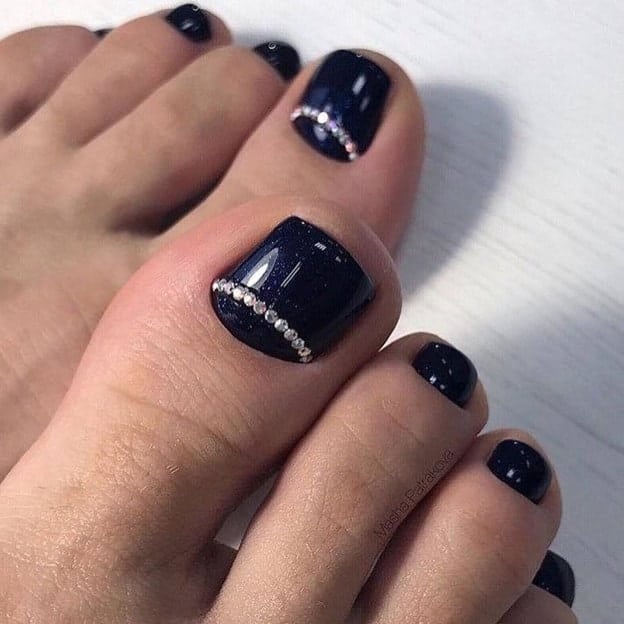 A dark shimmery pedicure is what you need to step up your beauty game this winter. The mysterious nail polish color is literally the best one for cold days. If you are huge on details, you should add a few crystals to the mix.
It looks both simple and elegant at the same time. Because it has such a subtle shimmer, that makes it very easy to wear without worrying that it's too much.
3. Pastels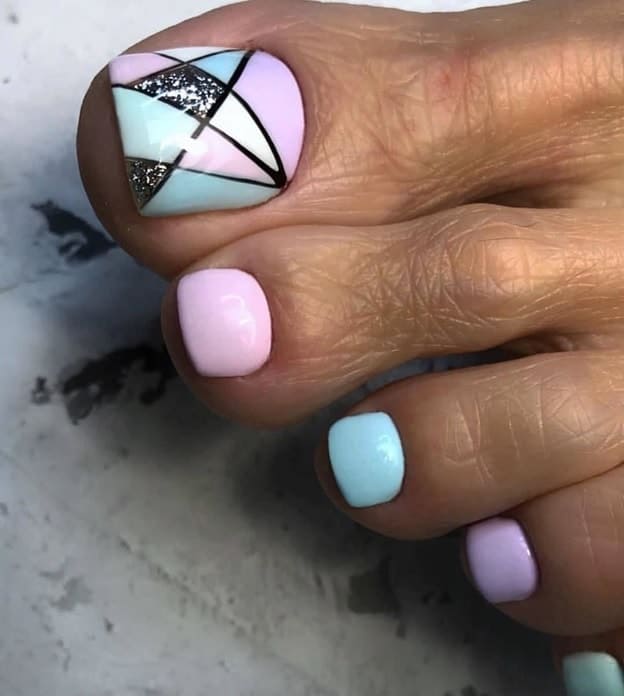 Nothing is as cute as pastel shades. There is quite a lot to choose from. Pink and purple for the girly-girls, blue and green for the sporty ones. Yellow and peach are so flattering as well. But, if by any chance you can't choose a single one, you can mix them easily.
One of the biggest nail trends of the season is geometric art, so you can add it to one of your nails. Those glitter details make the pedicure styles even more interesting.
4. Pretty Winter Pedicure Designs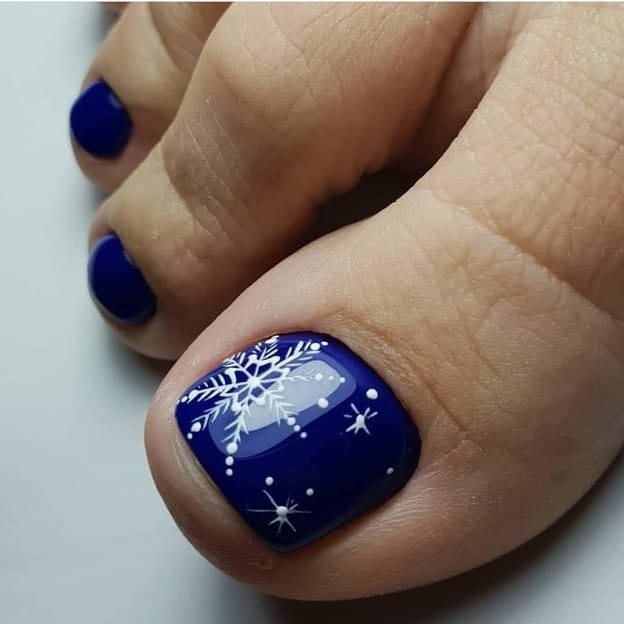 Snowflakes can now officially become a part of your pedicure nail designs. The blue nail polish color reminds very much of a night sky. Together with the cute snowflakes, it's like recreating a winter wonderland.
This will last you through the cold days and you can change it just in time for spring. Another great idea is to experiment with different colors if you are not a big fan of these two.
5. Cool Glitter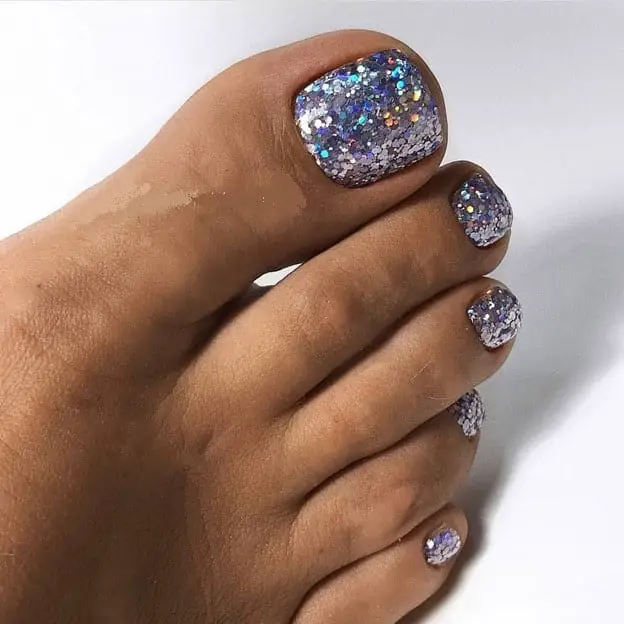 All-glittery pedicure designs are eye-catching and appropriate for any season. You can choose the shade and the size of the glitter. That's quite a statement nail art, so make sure that you flaunt it with some sandals. Just the right nail design for Christmas and New Year's Eve!
6. Foil Pedicure Designs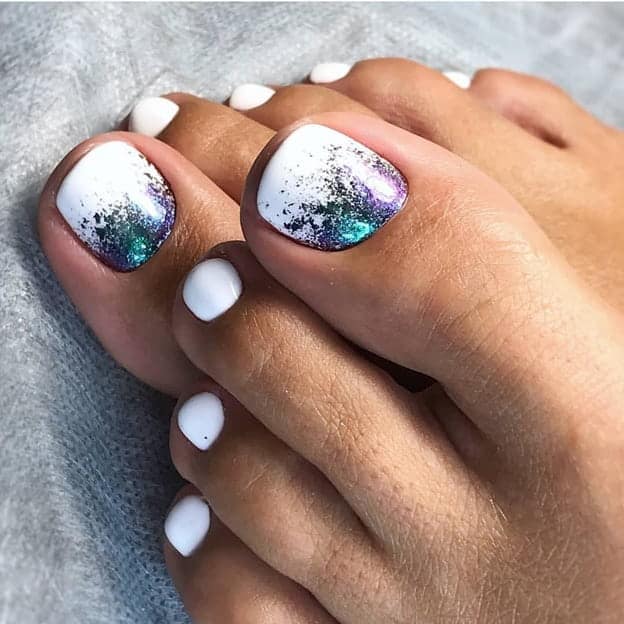 Another huge trend in the nail department you can try on the toes. First of all, white is very flattering for darker skin tones. So if you want to make your pedi designs stand out, this is probably the color you want to choose. The chrome foil detail is the perfect addition to a simple white pedicure.
7. Coral Matte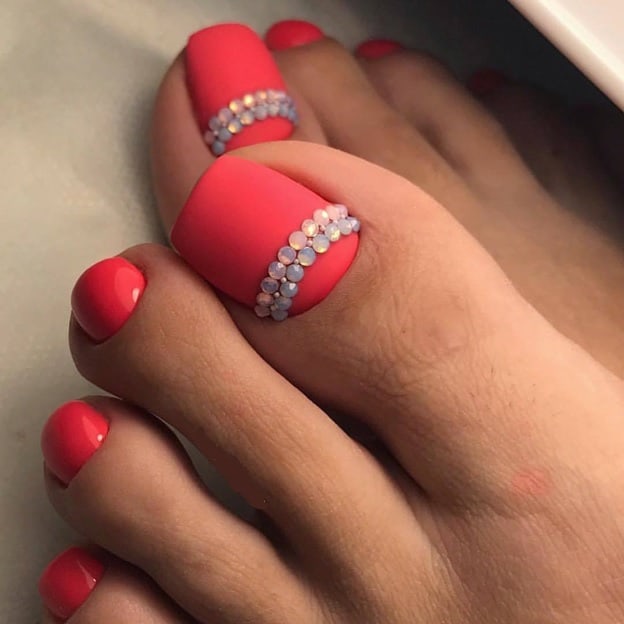 Matte nails are so much fun! You can opt for everything matte or mix them with a shiny finish. You can play with this eye-catching coral shade year-round. Unlike with manicures, the pedicure can go with literally any shade even during winter. You won't be flashing your toes too much, so all that matters is that you are happy with your choice.
8. Gorgeous Purple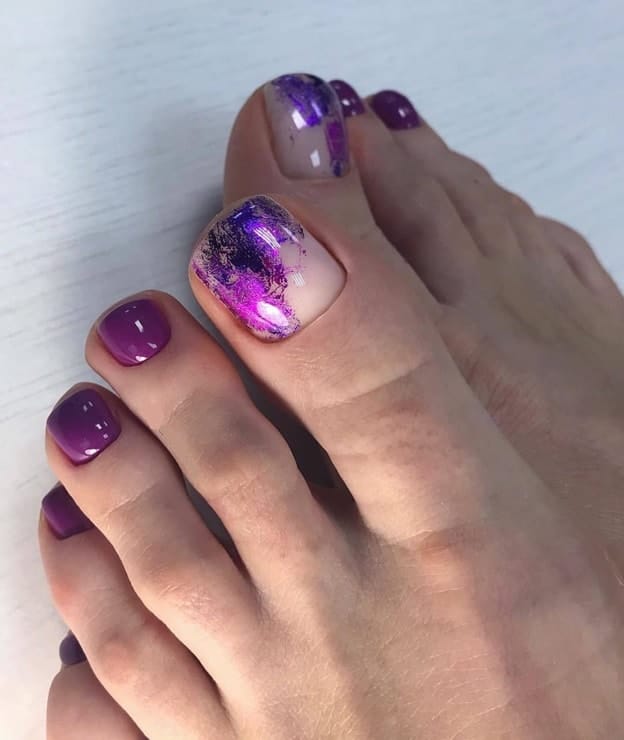 If you are a lover of purple, you will be instantly obsessed with this art. It's so simple but also glamorous in a way. You don't have to add shimmery details on every single nail. One should be just enough. Plus, we love the fact that there's negative space included, as another huge nail trend for 2023.
9. All Black with A Hint of Glitter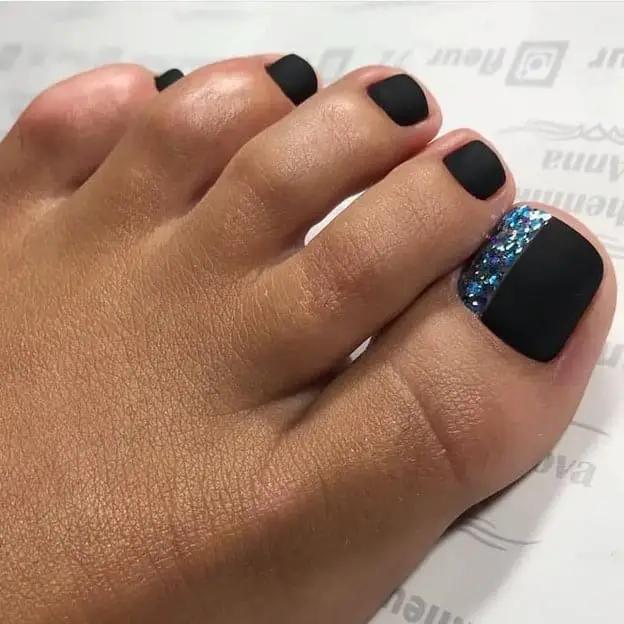 Black always looks so good when done in matte. To break off the monotony in the look, you can add some glitter. It is a very basic, but chic pedicure. This one is meant for colder days when your outfits become darker as well. So even if you've never tried black pedicure designs before, we're pretty sure you'll love this one.
10. Red Is Always A Good Idea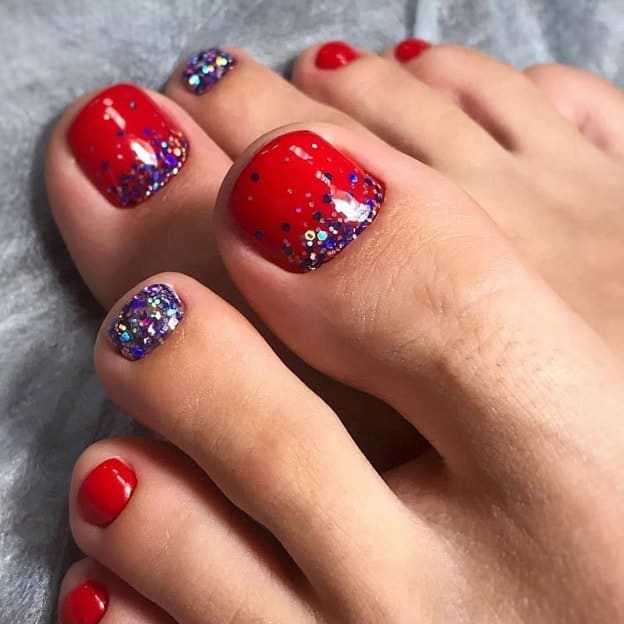 Sultry red is so much fun! What's even better, it can be so complimentary for the festive season. Aside from getting a red manicure, you can go for a chic red pedicure. There's only one week until Christmas, so hurry up and schedule an appointment in the salon. If you are tired of the basic red, you can elevate it with some shimmery details.
11. French Pedicure Designs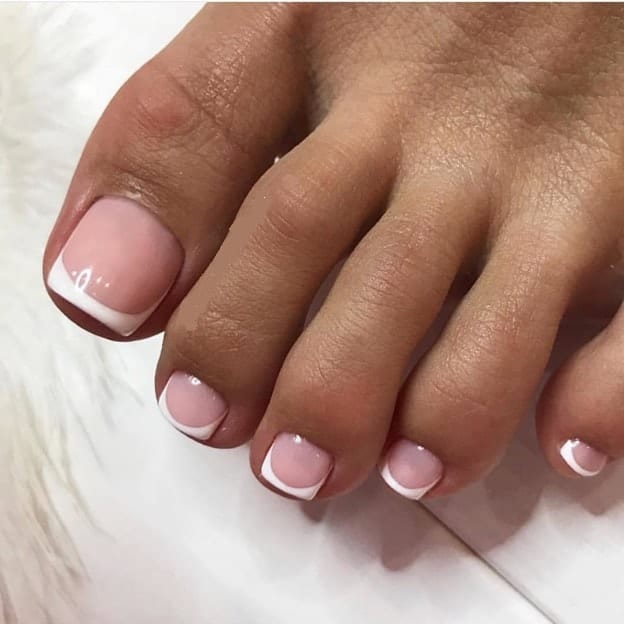 The classic French nail art is always a great choice. Your nails will look on point every time you flaunt them. This is a very neat pedicure design meant for ladies of all ages. The good thing is that it never gets old, so you'll definitely be on trend.
12. Half-Moon Pedicure Designs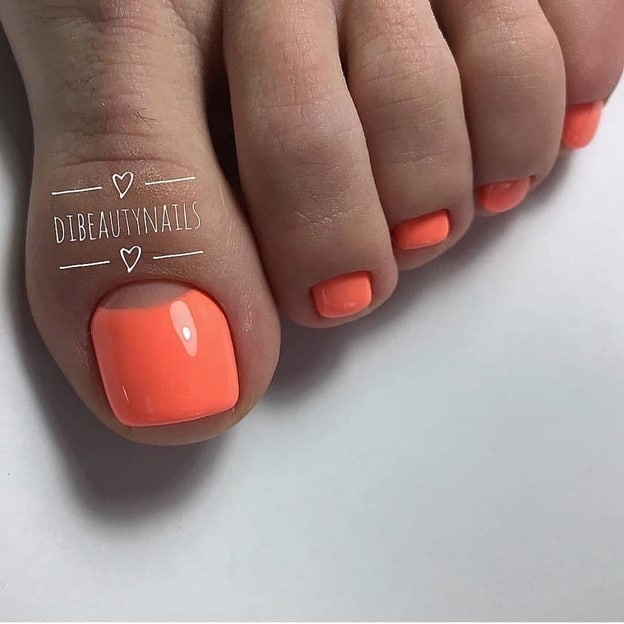 That popular half-moon manicure that you love so much, can now be a part of your toes as well. The negative space in the top will for sure add that chic vibe to the pedicure.
You're the one who'll be choosing the color, although this gorgeous coral is definitely a fashion score. Pantone just announced that living coral will be the most popular shade for 2023, so why not give it a try.
13. Embellished Pedicure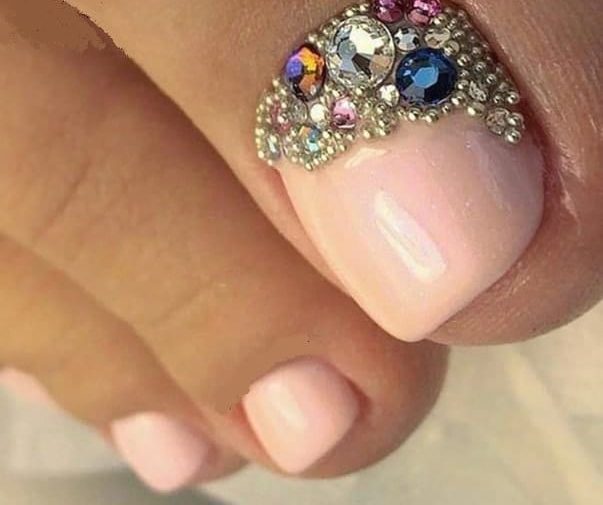 You can decorate your pedicure nail designs with so many stones and crystals, and still make it look fashionable. The only thing you have to be careful is not to exaggerate. It can be a toe or two, but no more. This soft nude nail polish is the perfect match for embellishment since it's a very toned down shade.
14. Cute Fruits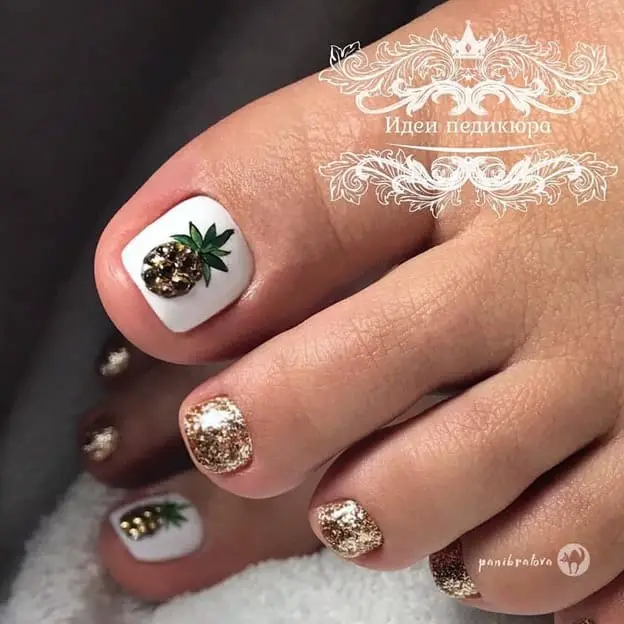 Fruits on manicures and pedicures will never get old. When you want to escape the boring pattern and get designs for a pedicure that really stand out, you want to copy this one. It features loads of glitter, but it's still very cute to look at. If you are not a huge fan of sparkle, you can only copy the pineapple and keep the rest of the pedicure simple.
15. Neon Pedicure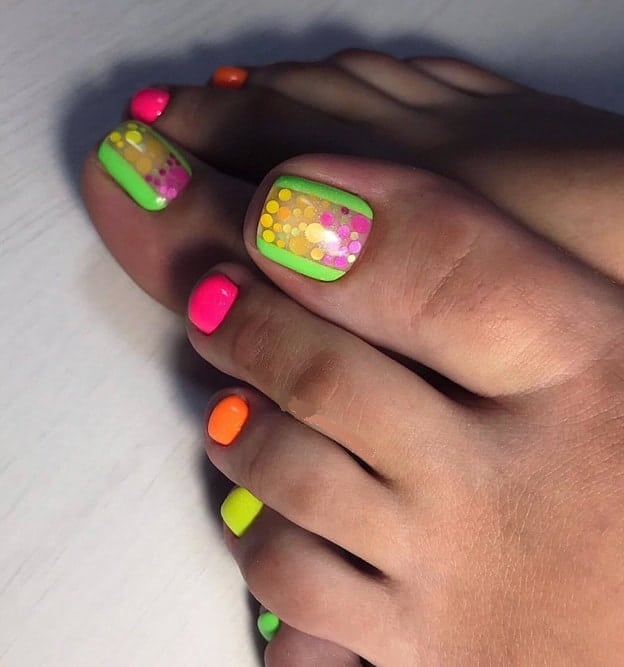 When you feel bold and want to try something new, neon colors should be your range of choice. These cool shades are meant for all ladies who are not afraid to experiment. In this pedicure style, you can find quite the full range and it still looks super-cute. They will be really flattering once you get that sun-kissed tan.
16. Ombre Pedicure Designs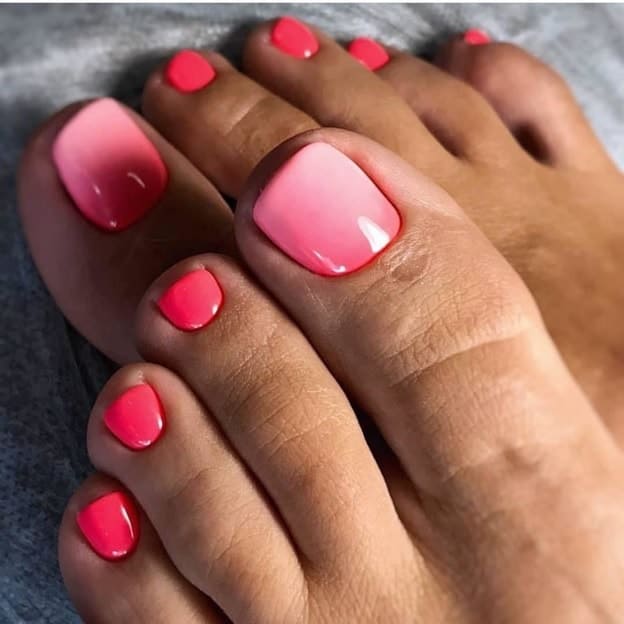 Ombre is still a trend! Make your feet happy with a beautiful pedi with an ombre pattern. You can add it to a single toe, or all of them. Another amazing thing is that this design can be done in so many different colors.
The pink color above is very girly and pretty, but that doesn't mean it's the only one. Blue, green, orange, navy, yellow, are just a part of the other hues you can play with.
17. Nude Pedicure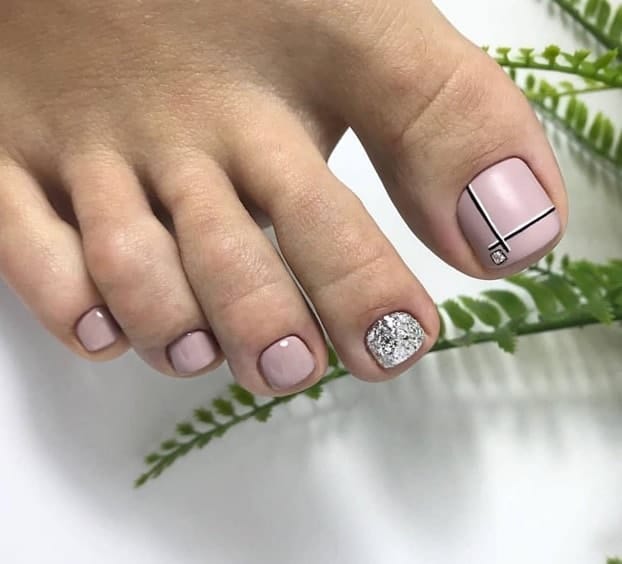 If none of those colorful pedicures are to your liking, a simple nude hue should do the job. Nudes are a part of those universal shades for all seasons, ages, styles and preferences. If you still want to make things a bit more interesting, you can include some shimmery details or a matte finish to a part of the nails.
18. Upgraded Black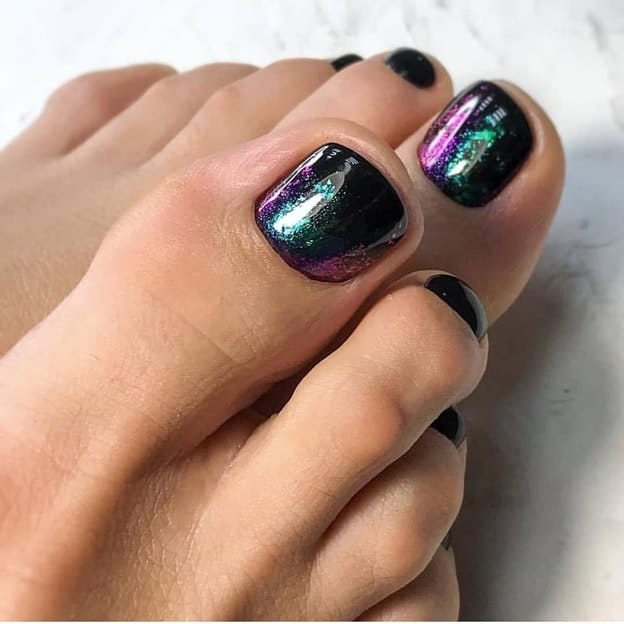 Every black pedicure can be upgraded in so many ways. When you love this color, but you want to mix things up, these holographic details can do wonders for your toes. It's a very subtle shimmer that is just the ideal match with the dark black hue.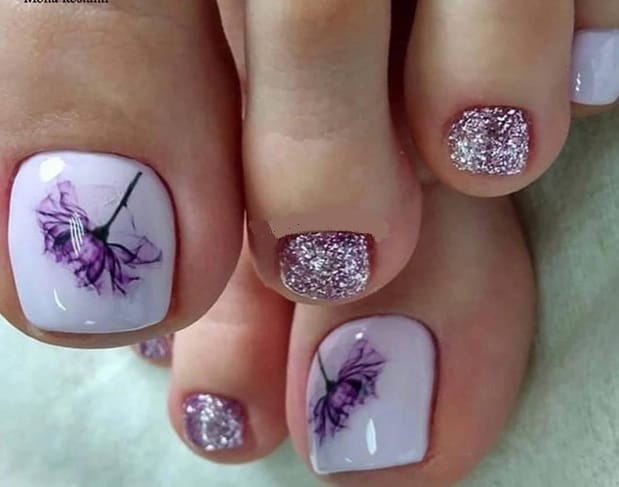 Get your cute toes elevated with blooming flowers. A soft lavender shade is perfect to mix with floral art. To really make it festive, you already know what to use. Glitter is the answer to all of the basic pedicure designs who need a little festive boost.
20. Christmas Pedicure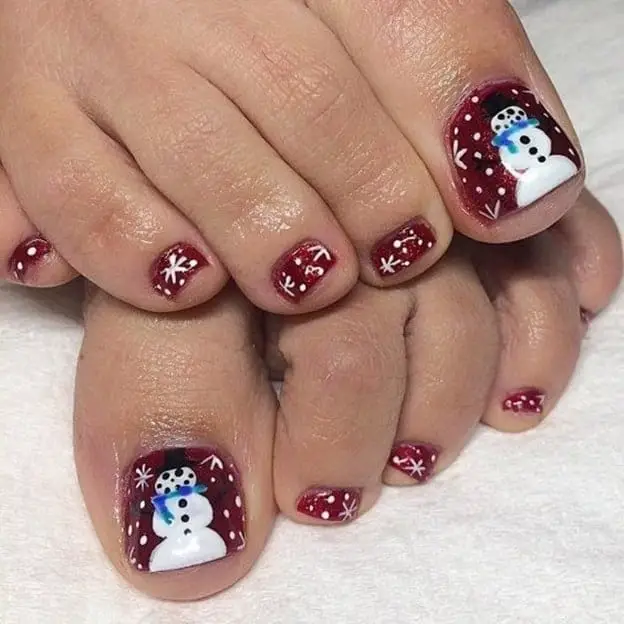 Join the festive spirit with a holiday-inspired pedi. Yes, you can recreate it at home, all you need is some free time. It features all the jolly elements of Christmas, and you'll be the one with the coolest pedicure in the house.
That night you definitely want to show your toes off in the proper footwear. If you are really artsy, feel free to add some Christmas trees and decorations as a part of the design.
21. Black, White & Red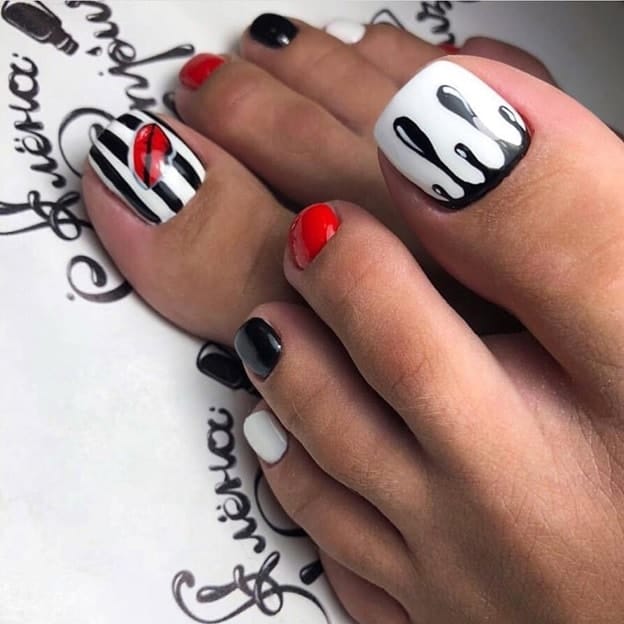 Are you ready for your pedicure nail designs to get really creative? Well, there is no doubt that this one will do the job. You can do it at home if you have the patience, or schedule an appointment at the salon. Either way, you'll be the only one rocking it for sure. Summer might be the best time to copy this art since everyone will be able to see it.