One of the recent trends in the field of makeup for brown eyes would be purple eyeshadows. The best method of using an eyeshadow would be to apply light colors on the lids of the eyes and a darker shade to the crease. One of the most unconventional, yet good looking eyeshadow color would be purple.
Purple Eyeshadows for Women with Brown Eyes
You can see women flaunting their makeup with this shade, making a bold statement by standing out in a crowd. Here are a few styles and tips you could use while deciding to get those purple eyeshadows for brown eyes.
1. Thunder Purple Eyeshadow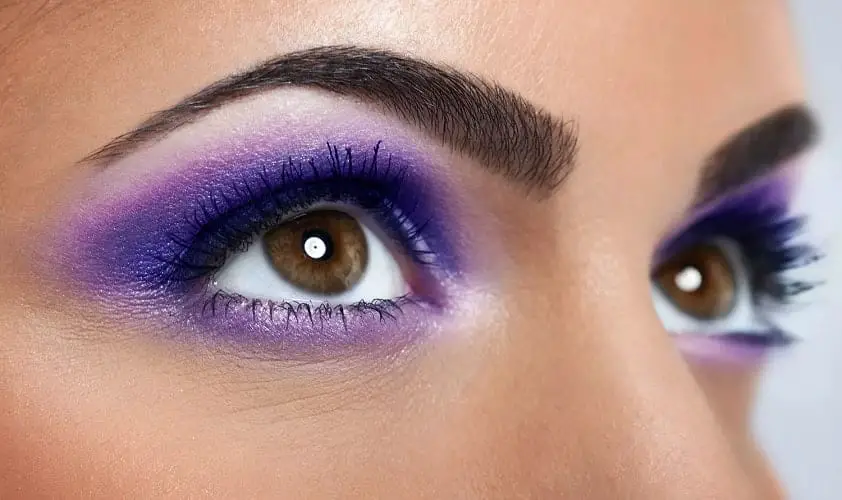 The purple outline filled in with a dark blue/indigo shade gives a very vibrant and out of the box look. It intensifies the beauty of your eyes by multiple folds.
IIdeal for: This color would be ideal for women with long, curling eyelashes, sharp eyebrows and brown or hazel pupils.
How to Style: When combined with some foundation and dark eyeliner, you are guaranteed to make a style statement among the people around you.
2. Smokey Purple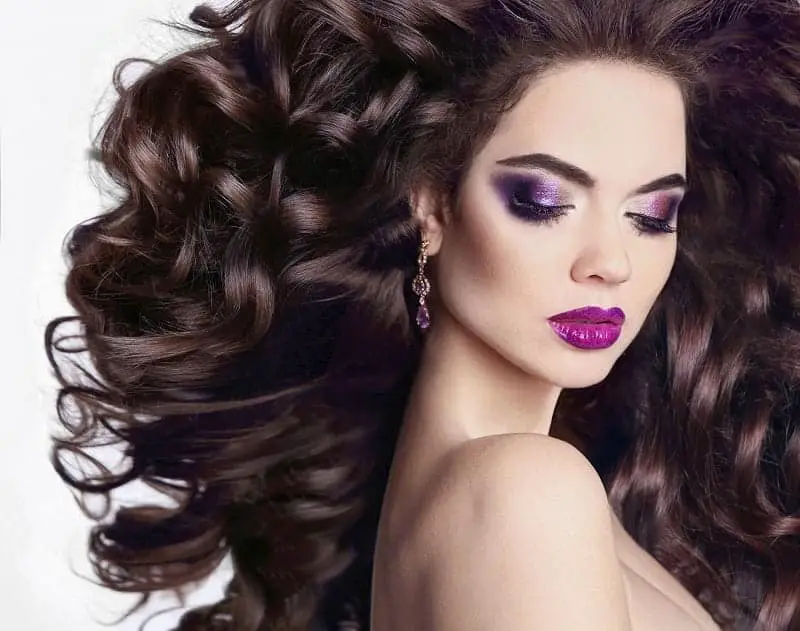 In this purple eyeshadow for brown eyes style, the eyeshadow is applied to the eyes in a way that it looks smudged, giving it a kind of a smoky effect.
IIdeal for: people with sharp eyebrows and a partially triangular/rectangular face and will go very well with women with dark brown or black eyes.
How to Style: When combined with a lighter shade, this style speaks volumes for you, making sure people know about your presence.
3. Purple Tint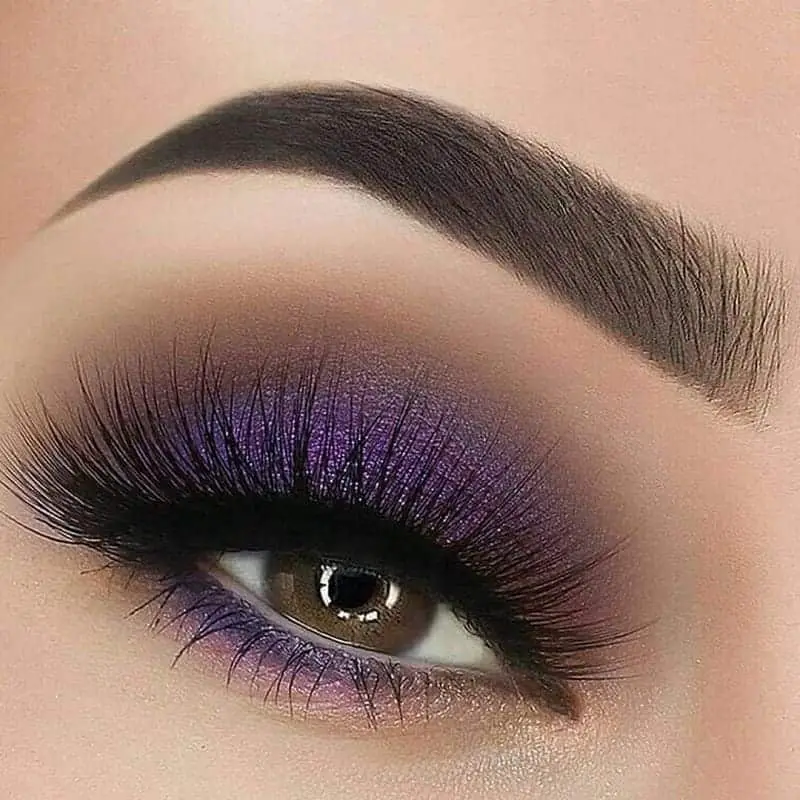 This style is just a small shade of purple with some glitter on your eyelids.
IIdeal for: Ideal for women with long eyebrows, this style is well suited to women with greenish brown or hazel colored eyes.
How to Style: The vibrant purple color and the usage of glitter make it a very noticeable combination and enhance your personality to a major extent.
4. Three Shades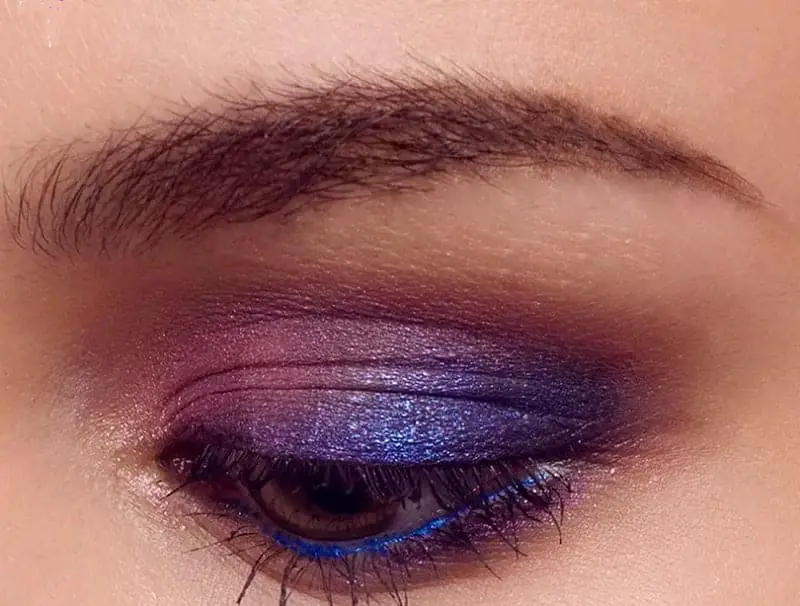 This style of purple eyeshadow for brown eyes is a mixture of more than one color. With a sparkle of glitter, the eyeshadow is just a perfect fit for any party.
IIdeal for: people with smaller eyebrows and eyelashes, the Three Shades will help you reach places once you decide to own it.
How to Style: With a tint of light pink going on getting darker towards the end gives a very satisfactory look. It will enhance the person's beauty by certain folds
5. Purple and Gold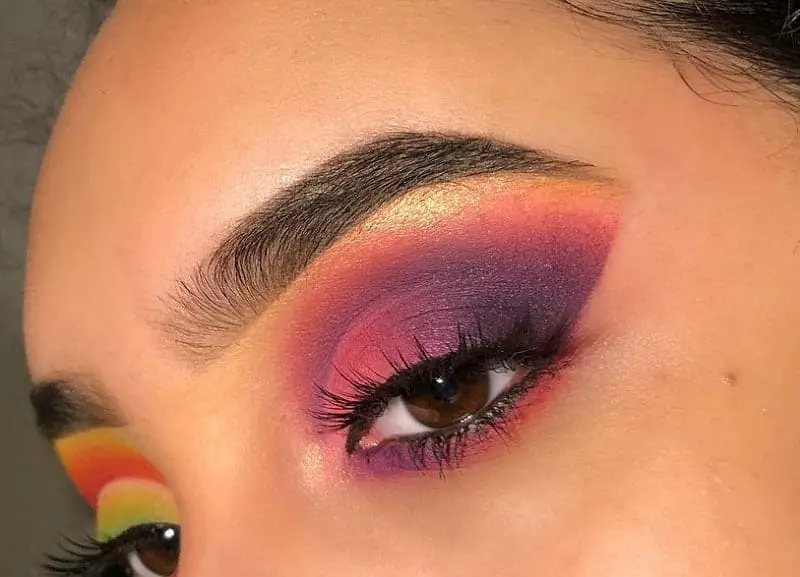 In this style, the region below the eyebrows is covered with a small layer of gold, and the rest of the area is a mixture of purple, pink and indigo giving it a very lively color.
IIdeal for: People with thick eyelashes and sharp eyebrows, this shade of eyeshadow should manage to compliment your brown pupils perfectly.
How to Style: Gold, mixed with the other three colors is a very uncommon yet beautiful combination. It will help you stand out in a crowd, gathering attention towards yourself and intensify the beauty of your eyes.
6. Dusky Purple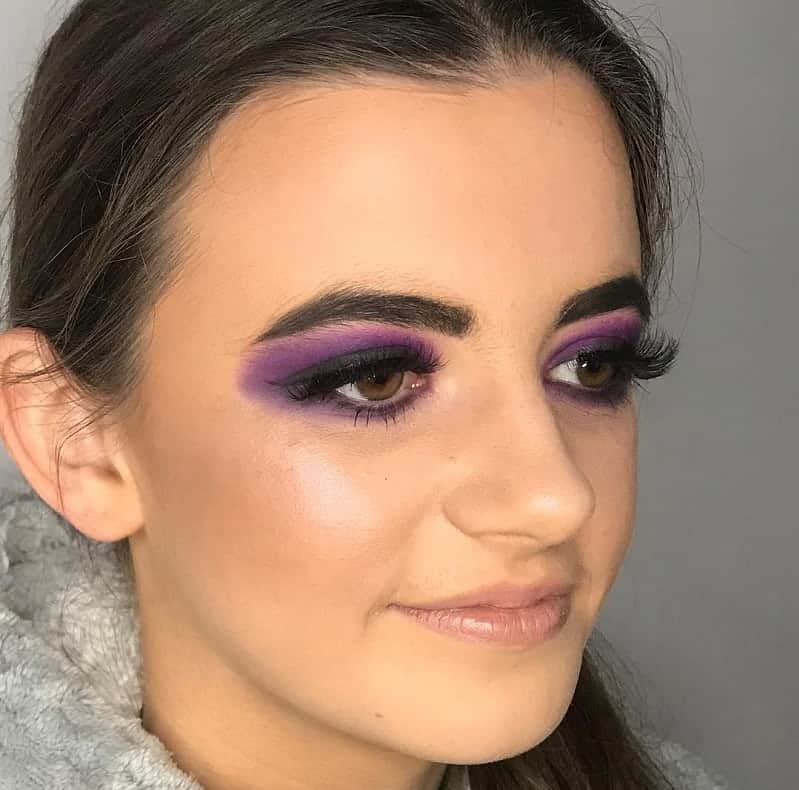 Just like the color of the dusk, this shade of dark purple eyeshadow for brown eyes will make you look as appealing as the dusk.
IIdeal for: This shade of eyeshadow will look great with shaped eyebrows and curled eyelashes.
How to Style: Accompanied with thick eyeliner and smudged towards the edges, the shade will give you a defined look.
7. Purple Sunset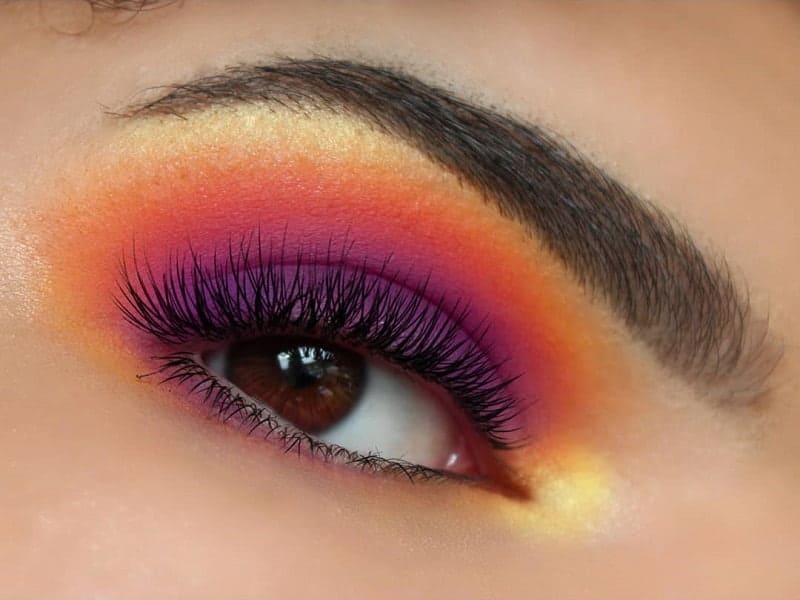 This shade imitates the various colors of the sky during sunset. Right from bright yellow to orange to purple, the shades of the eyeshadow spread around your eyes make you look prettier than the dusk.
IIdeal for: For those of you with almond-shaped eyes, the shade will just go perfectly.
How to Style: A well-trimmed eyebrow and curled eyelashes should perfectly compliment your decision for this shade. It would enhance the beauty of your brown or hazel colored pupils.
8. Indi-purple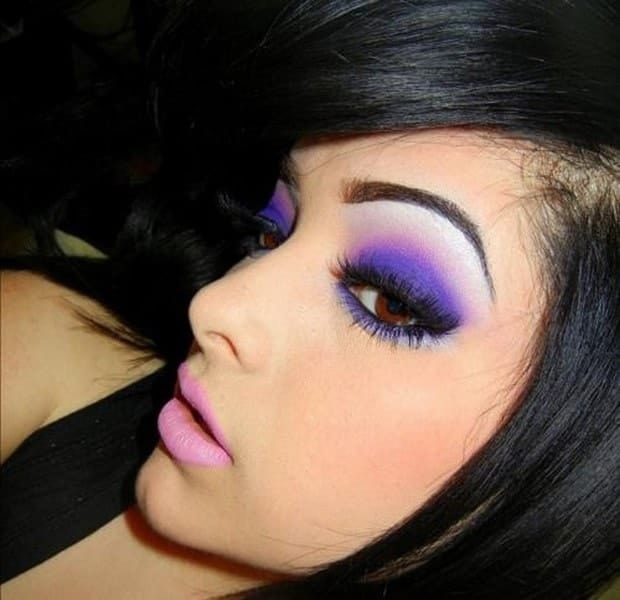 A combination of Indigo and Purple spread evenly across the eyes, this shade of eyeshadow is a perfect party look.
IIdeal for: People who intend to put on curled eyelashes, hazel pupils and a pink or naked color lipstick, the shade should perfectly compliment this style.
How to Style: It doesn't contrast too much with the face and manages to dwell in with the lighting of the night, making it look perfect in the situation.
9. Purple Swan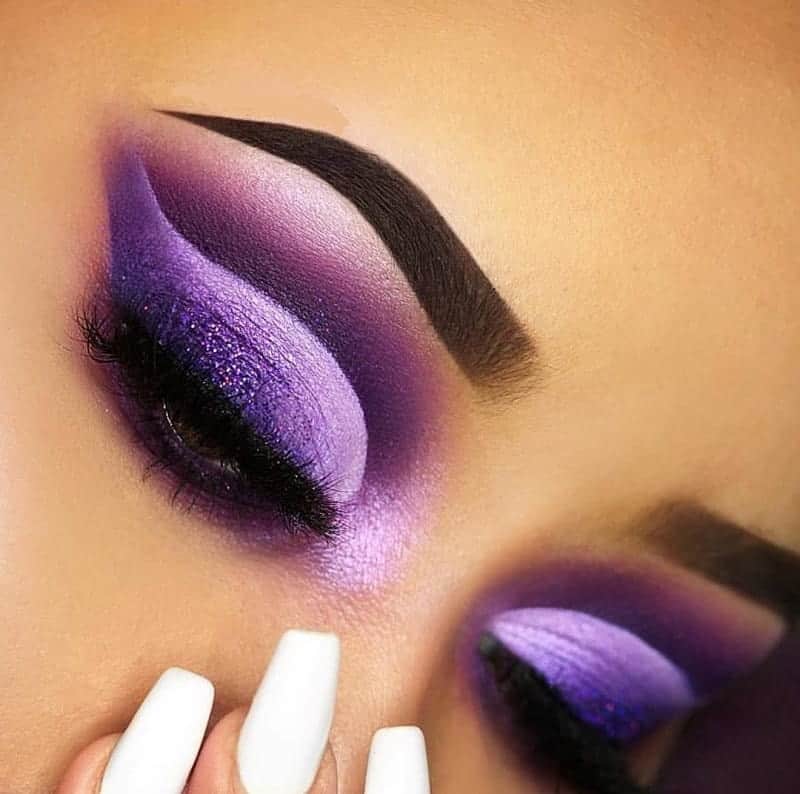 This purple eyeshadow on brown eyes creates a bold fashion statement.
IIdeal for: While it seems like its overdone, this style would be an ideal choice in various situations like a wedding reception or a formal get together.
How to Style: The eyeshadow is spread across your eyelids and edges in the shape of swans, with different shades of purple panning from the bottom to the top. Make sure your eyelashes are curled, and there's enough eyeliner around your eyes. This shade will also be a very good compliment to a gown or a dress of the same color.
10. Purple Glitter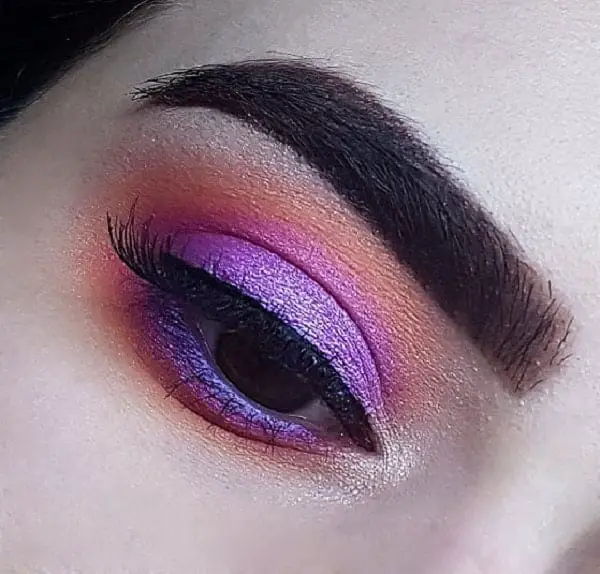 This purple shade of eyeshadow is a very lively and shiny shade which tends to attract attention automatically.
IIdeal for: This shade combination is ideal for those having round brown eyes and a defined eyebrow.
How to Style: Another unconventional eyeshadow, the Purple glitter style is a simple yet stylish eyeshadow that manages to speak volumes by itself. The eyeshadow has a mixture of purple and indigo on the eyelids along with a small proportion of orange or golden at the edges.
11. Smudge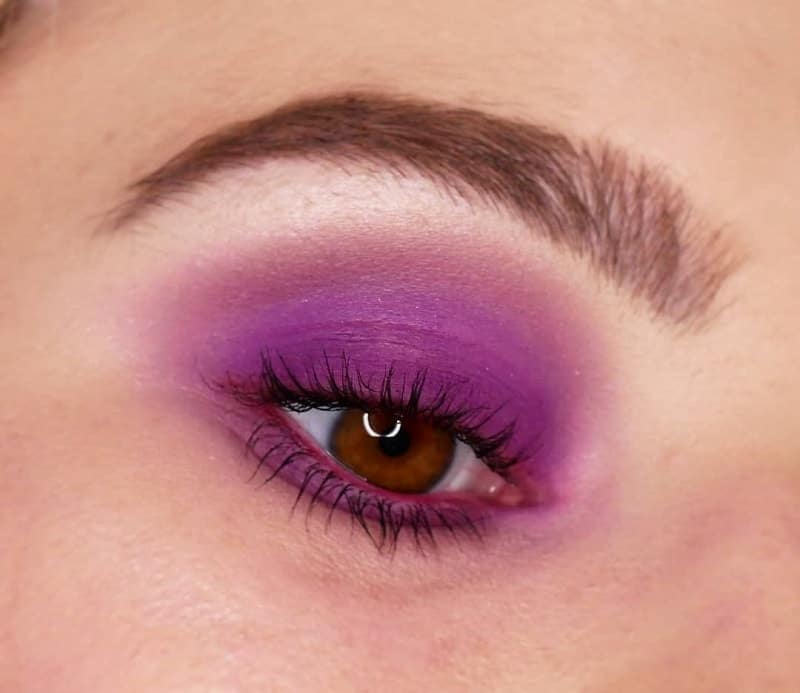 This style of purple eyeshadow is a very basic style which does not require a lot of work and attention to detail.
IIdeal for: This shade is ideal for people who have small eyes and have a well-defined gap between eyelids and eyebrows.
How to Style: This style has one shade of purple evenly spread across the eyelids and edges and will manage to compliment your brown/hazel eyes. All you have to do is take a round brush, dust it with little purple eyeshadow and evenly apply them around your eyes and voila, you're good to go.
12. Evergreen Purple Shade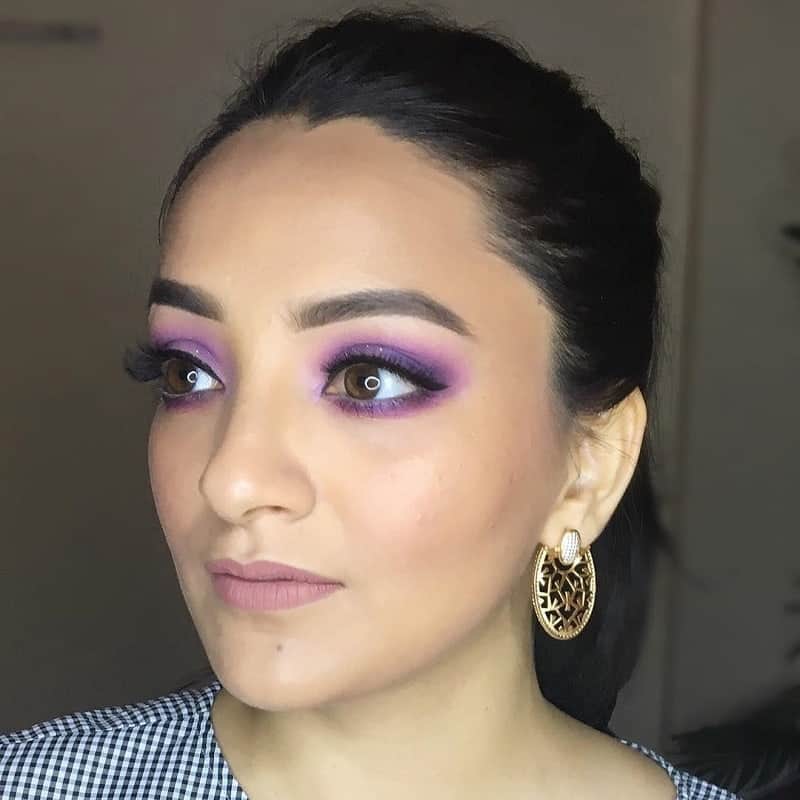 With a little attention to detail and skills, you can easily pull off this style anywhere.
IIdeal for: Perfect for thick eyebrows and dense eyelashes.
How to Style: This purple eyeshadow for brown eyes style is a brilliant choice for a social gathering and can be intensified when combined with some eyeliner.