It's uncanny how vampire makeup looks never get old. They are in season during Halloween and if you need to attend a scary costume party. The only thing you need to worry about is which vampire makeup look to wear. There are several of them to choose from, but rest assured you can never go wrong with any.
Terrific Vampire Makeup Ideas
If you are out of vampire makeup ideas to rock come Halloween or a costume party, then worry no more. Here are 71 vampire makeup ideas to choose from or get your inspiration going.
1. Countess Look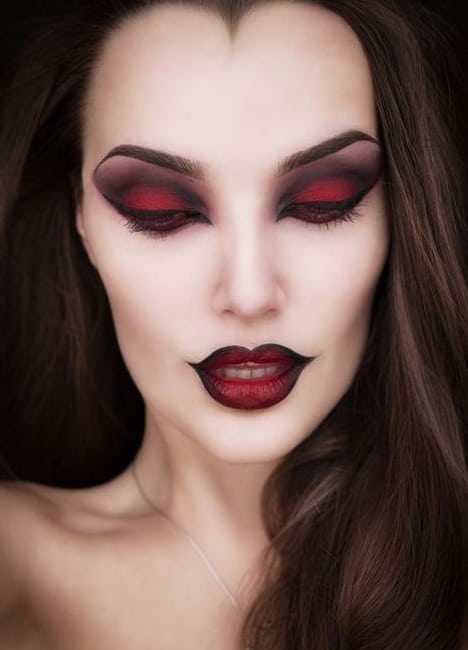 It's easy to see how this look sings vampire royalty. The Countess look consists of a vampire-inspired smokey eye and ombre lips that match. Whip out your eyeshadow palette and create this bold regal look. If you already have pale skin, this will suit perfectly. If not, it's nothing some light makeup colors won't fix.
2. Bloodfest look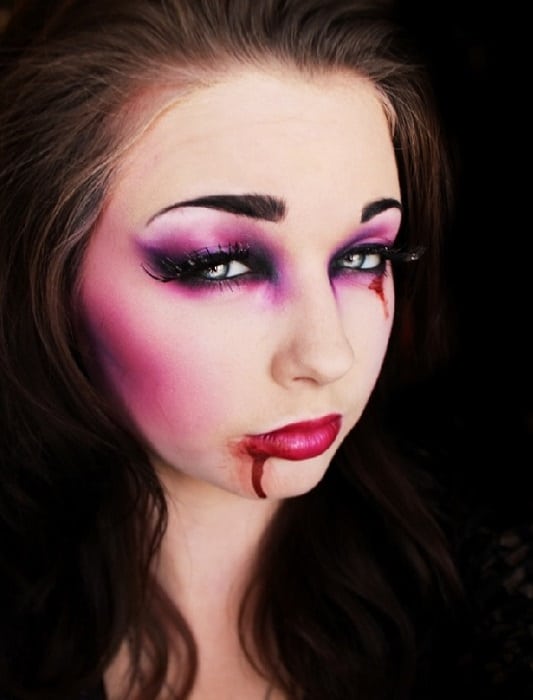 Look the part with a drop of red color from the lips and a smudge on the eyes. Don't forget the dramatic pink eye makeup and false eyelashes to make your face pop. This vampire makeup look is easy to pull off with your regular makeup kit. Wear dark clothing of any kind.
3. Dracula Princess Look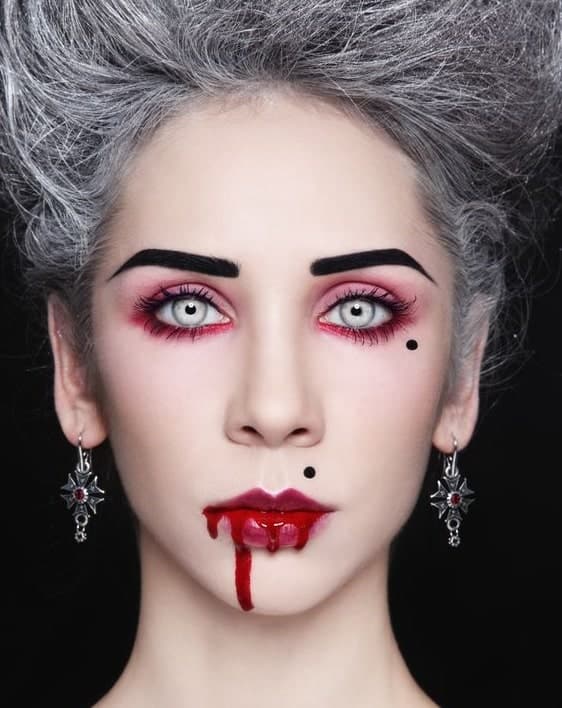 Certainly, this should give anyone the chills and make you the highlight of Halloween. The Dracula princess look is simple but artistic. Start with extremely dark but precise eyebrows, natural eyes, and lips with a pop of color and the dark, perfect circles.
You would also need contacts. The best part of this look is the blood dripping lips. The right jewelry is important as well. Wear a ball gown or a white dress to finish it off.
4. Insatiable Vamp Look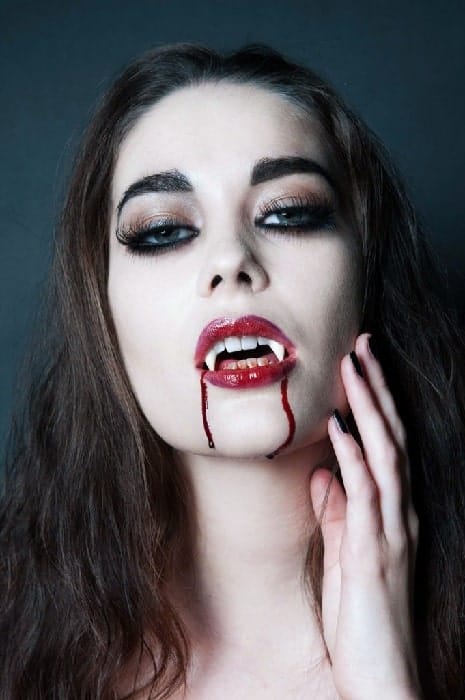 Think of a lawless vampire roaming the streets. The good thing about this vampire makeup is that it's easy to achieve and complement with casual wear. There's not much focus on the eyes, apart from the dark eyeliner and winged eyelashes.
Draw dark eyebrows and use a light color for the lips. Don't forget the fangs and dripping red color. Wear casual clothing from dark jeans and top to a dress.
5. Tempest Look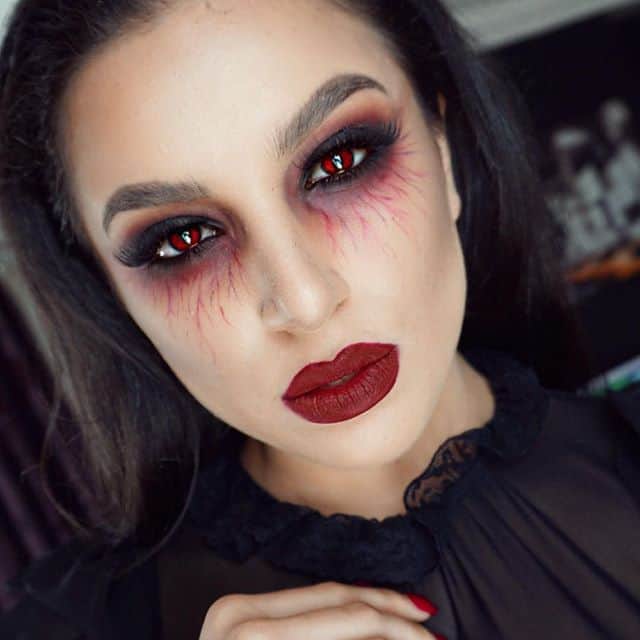 The eyes here are everything. To achieve this you must obtain the right contacts from a collection of Halloween contact lenses. Take your time with the eyes, those veined lines are another essential part of this vampire makeup look. The lips should be dark and dramatic as well. Complement your good work with a black top or dress.
6. Mother Vamp Look
If you are searching for iconic vampire makeup ideas, this look is top of the list. Hardly anyone can beat this on Halloween. The trick is to get it right.
Obtain black sclera contact lenses to give you the extreme transformation. If you are not a redhead, you should get a wig. Your outfit won't be regular either. An Egyptian dress would work out fine.
7. Eerie Vamp Look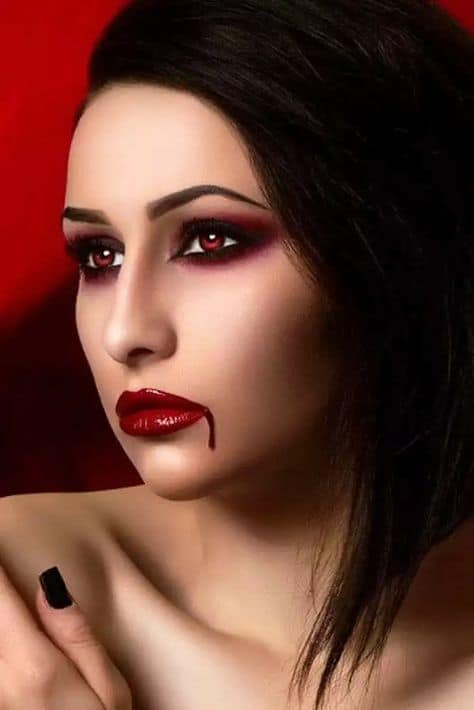 This vampire look is subtle but effective. You can pull it off with smokey eyes, contact lenses, and red glossy lips. Of course, you need dark hair and dark clothing to match.
8. The Bloodlust Look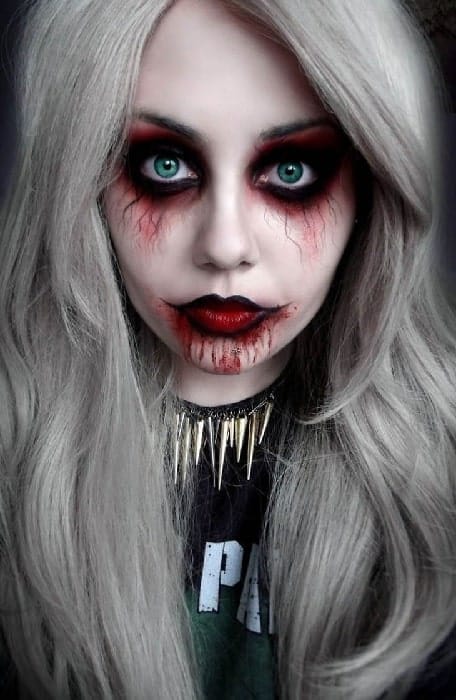 If you already have a dramatic personality, this will be a walk in the park. This vampire makeup look is all rage. Don't hold back on the red colors for the eyes and lips.
You also need this striking shade of gray hair to complete the look. Wear casual clothing like a top and jeans. If you have an outfit with a vampire or zombie theme, that would be great too.
9. Widow Vamp Look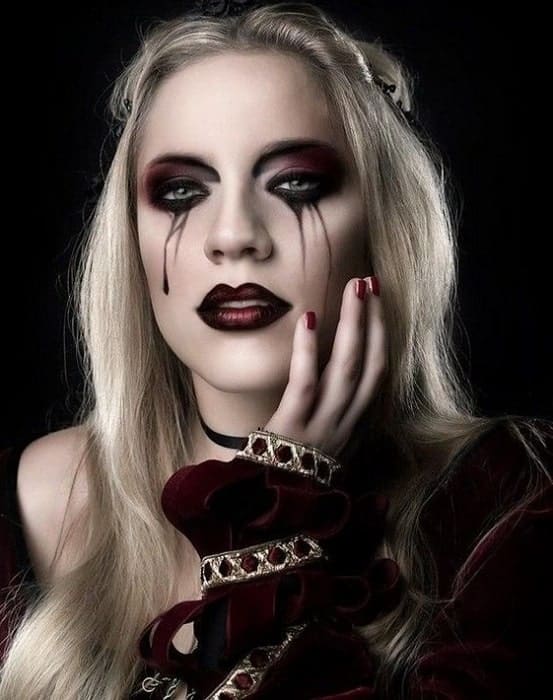 This is another royal vampire look that can be achieved with a darker shade of red. The makeup is as important to this look as the outfit. Make sure that your dress is a close or matching color to the makeup. Don't neglect the runny mascara on the eyes.
10. Fledgling Look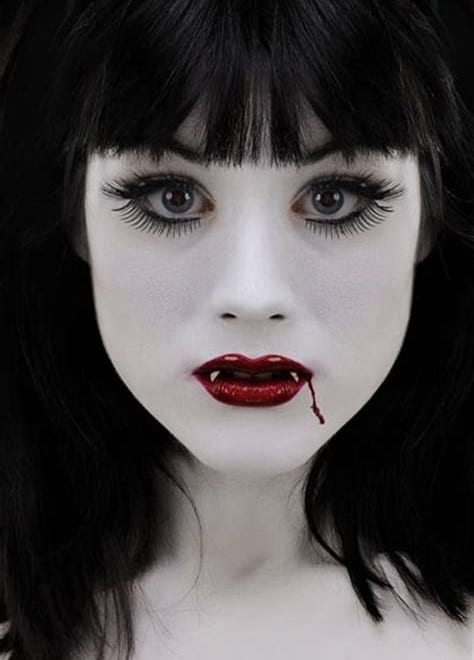 A fledgling is a newly-embraced vampire. This vampire makeup idea can be achieved with false eyelashes, fangs, and red, glossy lipstick. Remember to work on the pale skin look and dark hair. A creepy evening gown is perfect to wear this look.
11. Chilly Vamp Look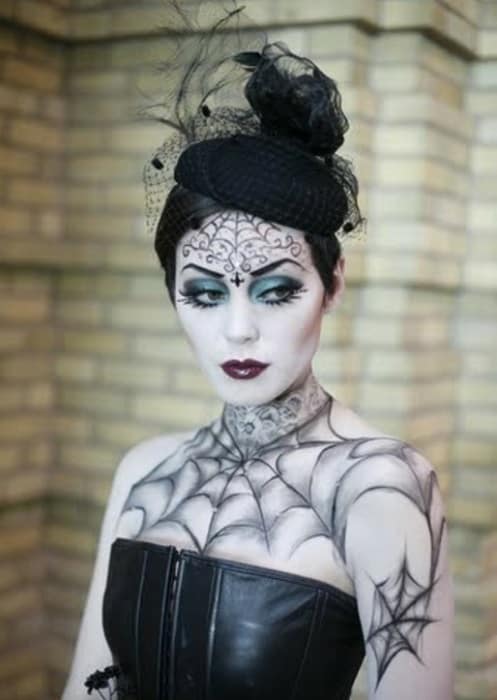 Remember, when you wear this look, to act calm and collected. Match it with a dark corset or a strapless dress. If you can't handle the webbed neck and arms on your own, enlist a friend's help to draw them.
12. Witch Vamp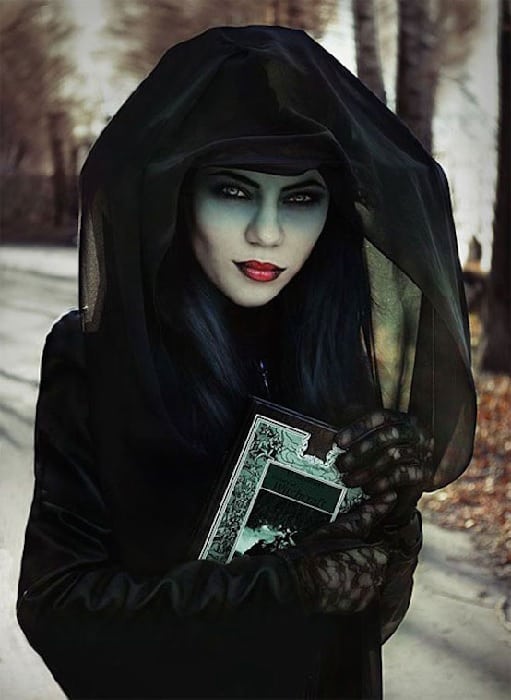 If you love vampire makeup looks then, chances are you are also a fan of several vampire movies. Some series like The Originals show what a vampire and witch combo looks like. This vampire makeup look connects witchcraft to being a vampire.
If you must wear this look, be prepared to follow through to the last detail. All you need is the smokey eyes, ombre lips, long-sleeved black dress, veil, gloves, and a witchcraft book- yes, make sure the words are spelled out boldly.
13. Gothic Vamp Makeup Look
You need to be as dramatic as possible. This look requires some dominating jewelry and contact lenses. The makeup should be quick and easy when you have the other items. Your clothing should be Gothic style.
14. Dauntless Vamp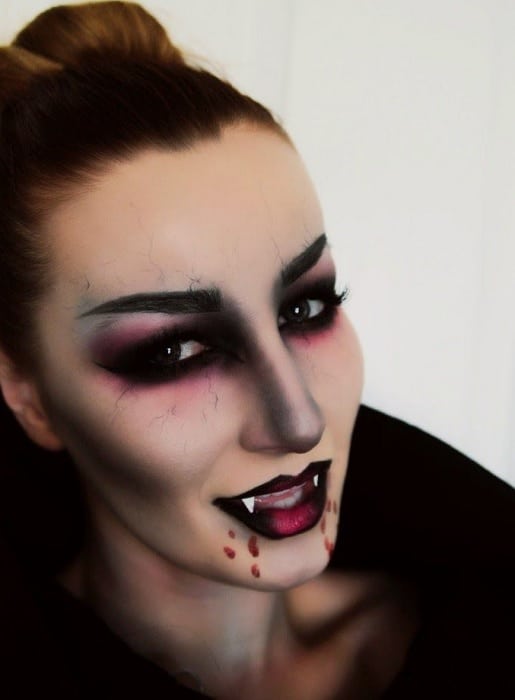 Halloween is fun despite the scary faces everywhere. You can opt for the confident vamp makeup look. There's no need to wear a solemn face with this look, you can smile through it all.
Black colors of makeup are vital for the dauntless vamp look. The pink hue adds a touch of light color to brighten the face. No jewelry is needed, which might be a relief, but a black cape or dress is essential.
15. City Vamp Look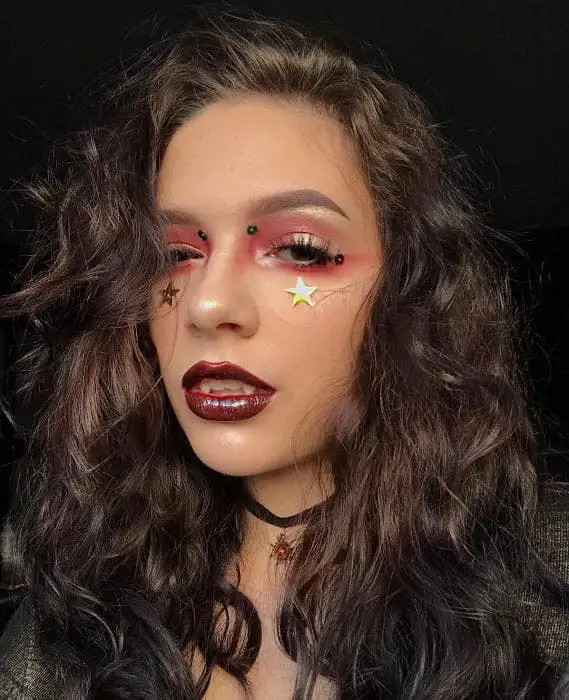 The City vamp look is less of the traditional vampire look and more of a modern, sensual one. Feel free to dress in a fashionable dress or dark top and jeans. For this vampire makeup, you need some accessories such as the shiny stars to stick on your face and the fangs to define it.
16. Bloodthirsty Vamp Look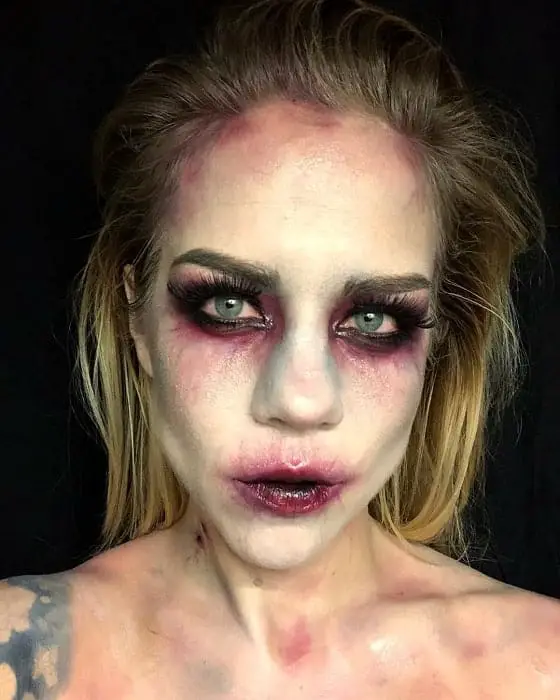 Are you going all out for a super scary vampire and zombie look? Then, this is your best bet. It might take some good makeup skills to obtain this look, but it is worth the hard work. The bloodthirsty vamp look should be complemented with drab clothing. Don't forget the two bite marks on the neck that tell a story of their own.
17. Chic Vampire Look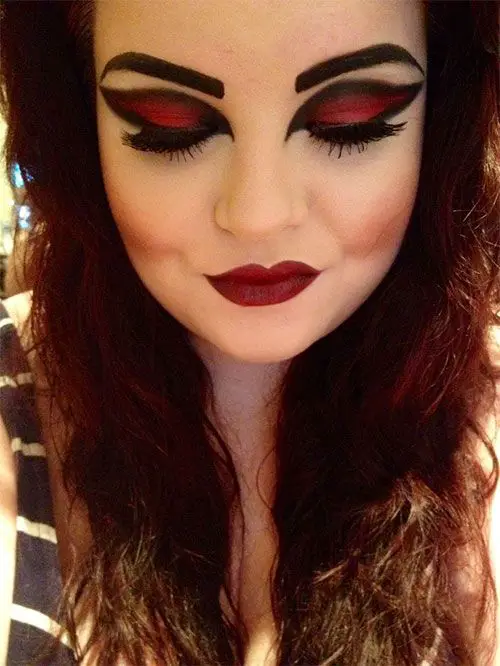 With this vampire makeup, you can show off how hot you would look if you were a real vampire. Spend some time with a mirror and your eyebrow palette- precision is key. You can finish off with just red lipstick and no fangs. Complete the chic vampire look with colorful, casual clothing.
18. Eccentric Vampire Look
Move away from the norm and look like a happy chappy vampire with fangs. Wearing a vampire look for Halloween or other occasions can be exciting with the right makeup. There's not much work on the eyebrows but the eyes would need some shimmer and a touch of dark color.
A Halloween contact lens is required here. Your clothing could be a spaghetti strap dress to expose your shoulders and show off the cute bat drawings close to your neck.
19. Classy Vampire
Yes, you can rock the classy vamp look and flaunt yourself as a dangerous but beautiful heir to vampire wealth. This vampire makeup is quite like your regular glitter makeup for an event. The defining parts of this look are the lips colored in red and black clothing.
20. Adventurous Cousin Vamp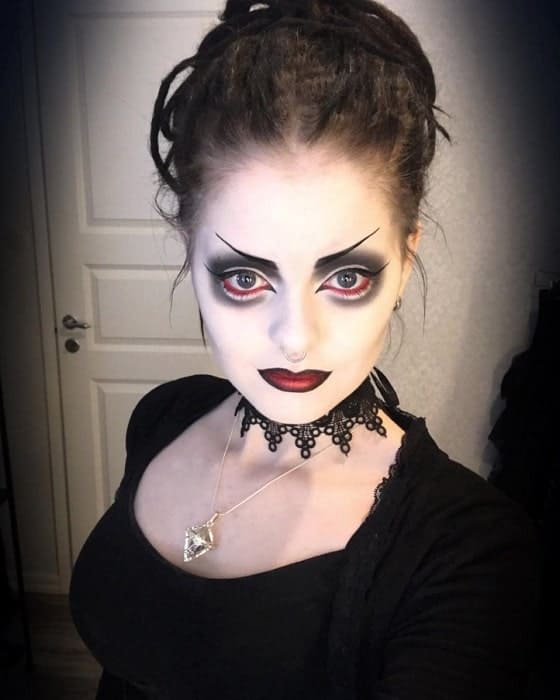 If you have a best friend or cousin that is so extra, you can get the inspiration from them to achieve this look. Everything about this vampire makeup is dramatic. Winged eyebrows, winged eyeliner, extra smokey eyes, and ombre lips. Finish off with a shiny pendant necklace and black clothes. With this makeup, black jeans and top can blend in perfectly.
21. Cheeky and Bold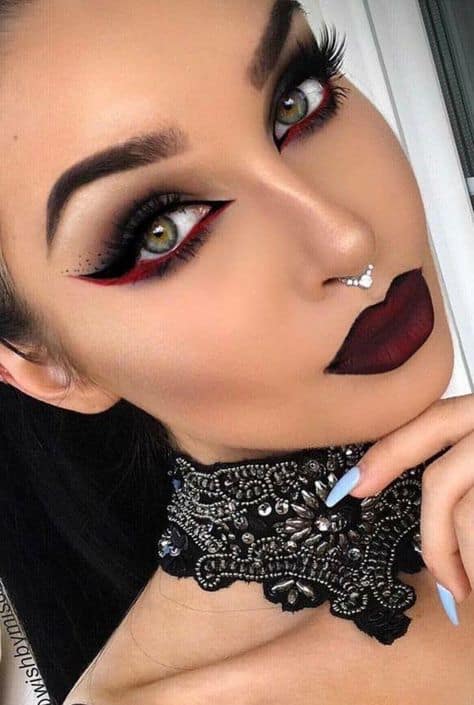 You must wear this look with an attitude and a classy, fashionable black or purple dress. The cheeky vamp look requires almost perfect eyes with bold eyeliner, eyeshadow, and false lashes. The lips are a creative blend of dark colors.
22.  An Evil Witch
This look is somewhere between a powerful vampire and a no-nonsense witch. The eyes are completely covered in black color and the pale lips carry only a smudge of color. Use striking contact lenses to make the eyes pop and give the eyebrows a slight touch. The dress for this vampire makeup idea is everything. Wear a low-cut gown of black, purple, red, or royal blue color and push the hair backward.
23. Stylish Vampire Queen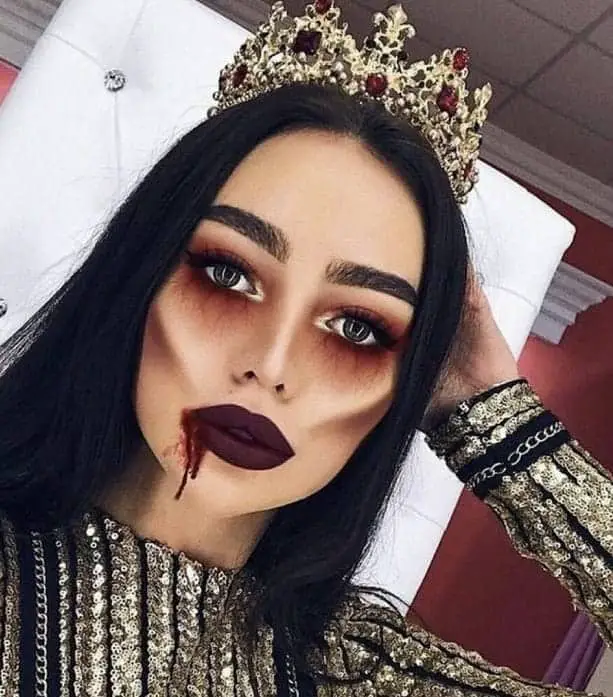 Get your crown and be the queen of Dracula's empire on Halloween. The highlights of this vamp makeup look are the veined eyes and strong cheekbones. Use your regular makeup kit to get this done and be sure to complement with a shiny dress and glittering crown.
24. Historic Look
Do you love music? Do you have a guitar, violin, or musical instrument you can take with you to finish this look? This vampire makeup plays with bright colors for the face, fangs, black clothing, and historic jewelry. You can do without a wig and let your hair flow freely to complete this vampire look.
25. Undead Vampire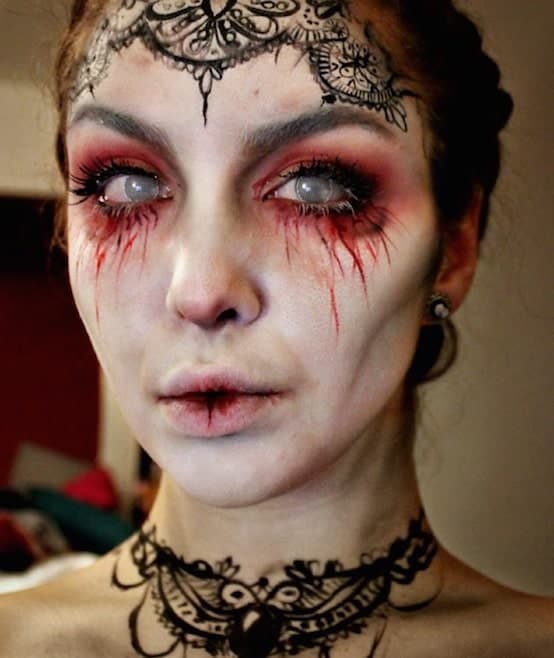 This look borders between a zombie and a vampire. The bloodstained eyes and pale lips with a hint of red color are vital to this makeup. Drab, light-colored clothing would suit best.
26.  Dark Moon Vamp Look
A simplistic but vampire inspired makeup to light up your Halloween. The striking contact lenses are the first step to achieving the complete look. Create a bold smokey eye and lips covered with red or dark colors. The moon on the forehead is necessary as well to finish off this vampire makeup.
27. Cult Vamp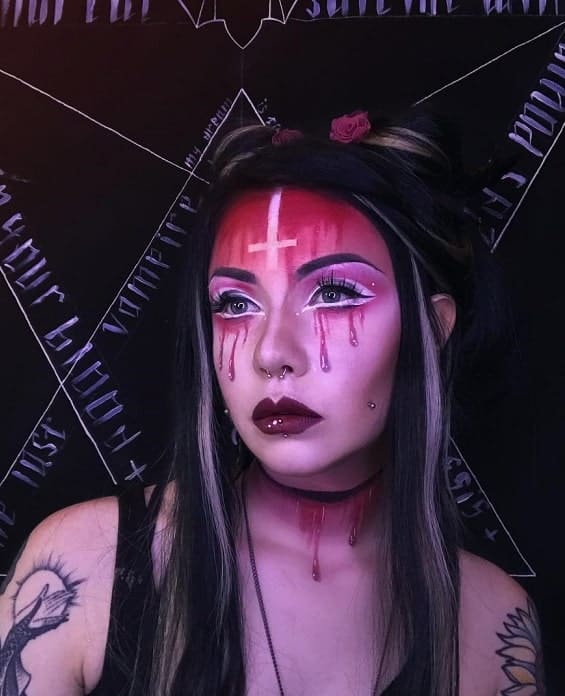 This look is iconic and deserves to be worn to an equally great Halloween party. It requires some dedication and creativity. Go all out on the eyes, forehead, and neck to pull off this vampire makeup. Don't forget the streak of white on the hair too. Your costume should be black pants and a sleeveless top.
28. Enchanting Vampire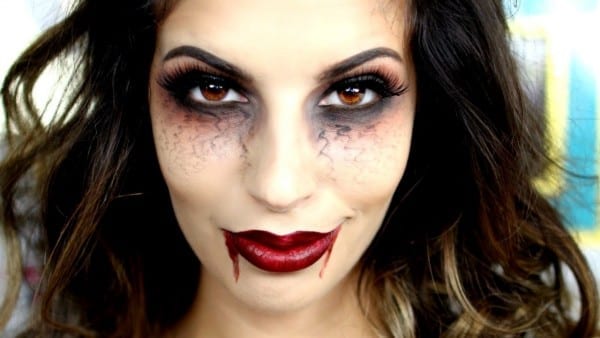 The vampire makeup here is quite easy to create. You need regular black smokey eyes, red lips, the smudge of color by the sides to represent blood stained lips, and wavy lines with a dark eye pencil below the eyes.
29.  Hellsing Vampire
If you are looking to stand out and be the queen of the night, this vampire makeup idea is all you need. Start early, so you don't miss the party. Obtain a white sclera contact lenses for complete eye transformation.
The big black cross on the eyes is the most enchanting part of this look. The lips can go with a dull color, use matte for dry look. Wear a full dress that covers the entire body to the neck.
30. Rock Vampire Look
A rock music fan would have a full day with this vampire look. Get black trousers, boots, gloves, and top. You can opt for red color too. Use a simple winged eyeliner for the eyes and mimic fangs on the lower lip.
31. Enchanted Bride Vamp Look
Wear a black evening gown, subtle makeup, and fangs. The lips should be a dark dominating color such as red or black. The eyes don't need much except the regular smokey eyes and well-defined eyebrows. You do not need jewelry but a captivating, large ring will sit perfectly with this vampire makeup look.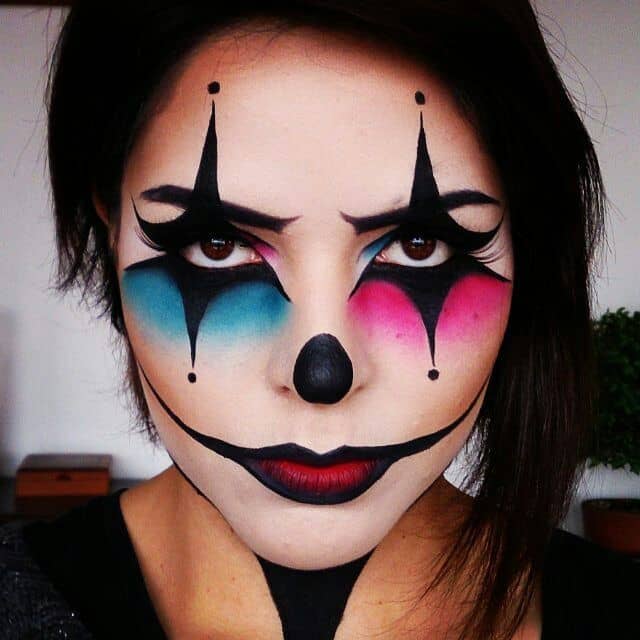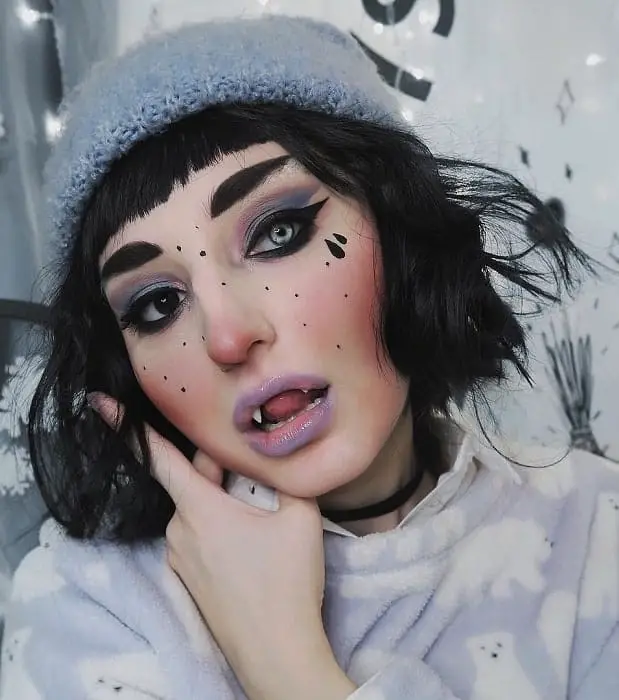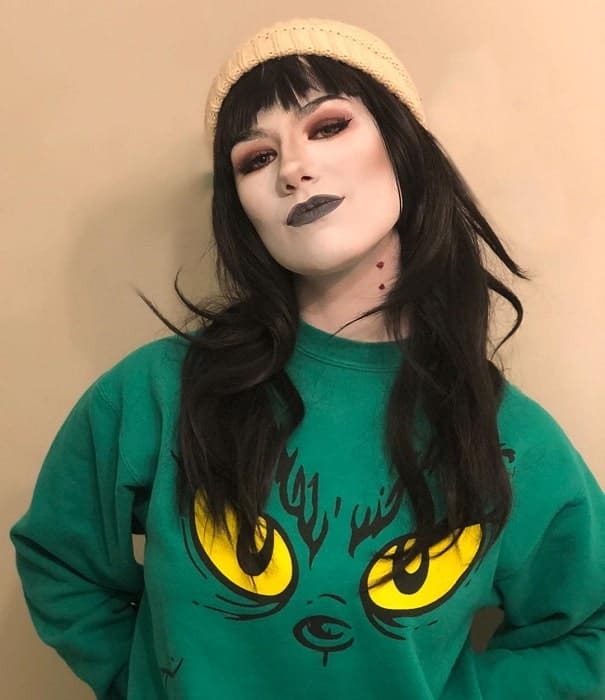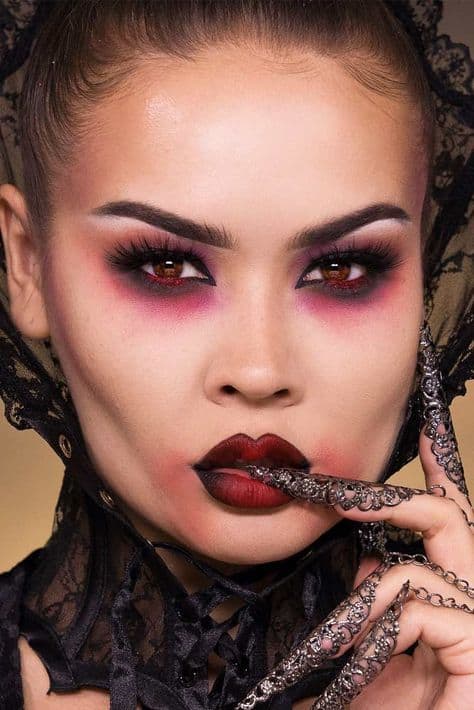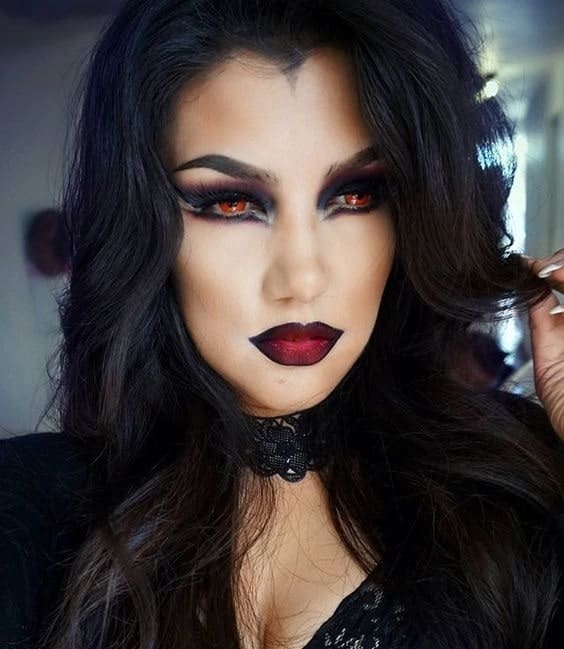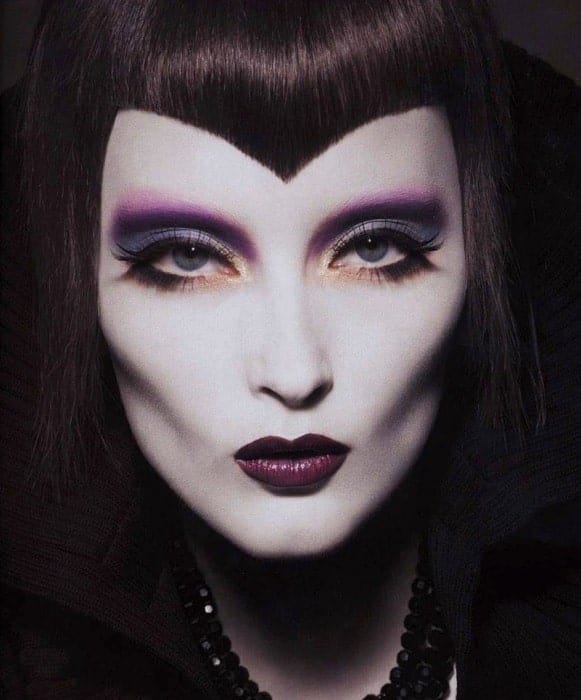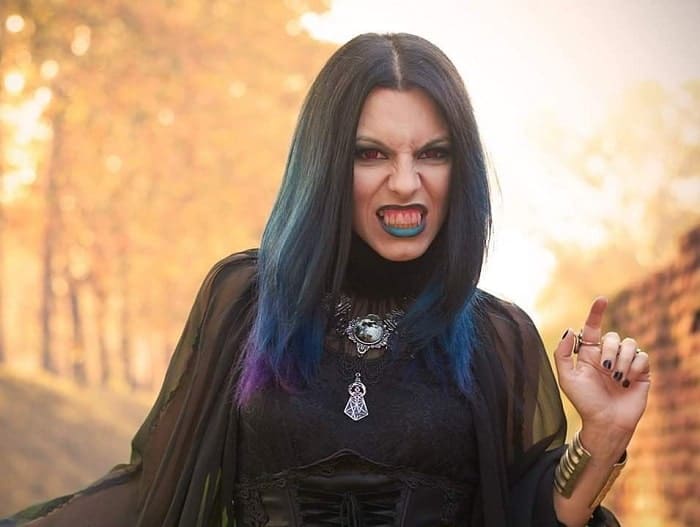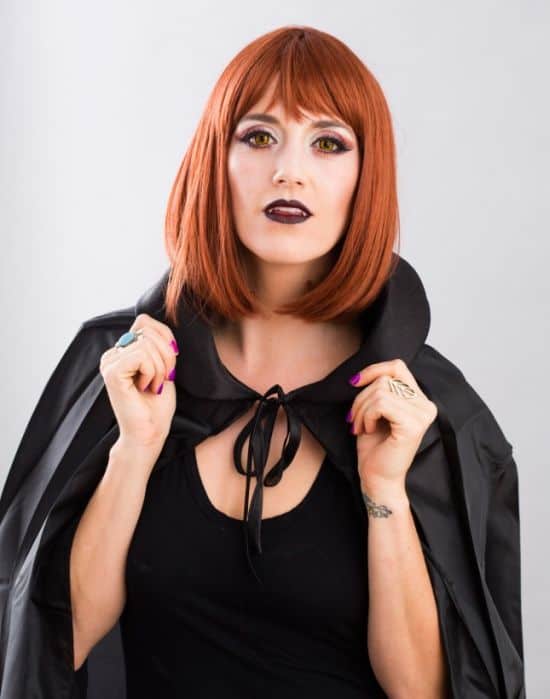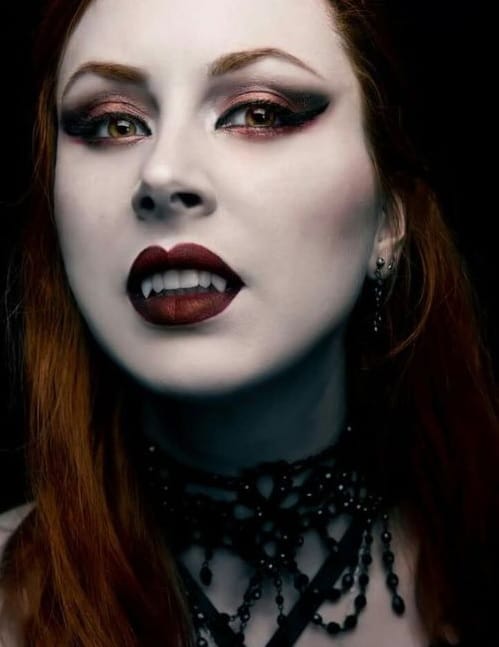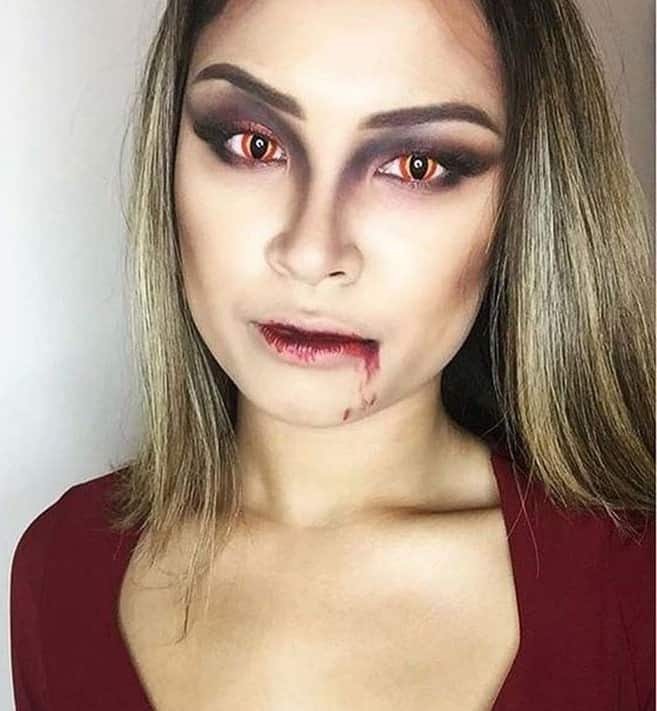 Each of these looks can be done with the right makeup tools and clothes to complement them. Pick any of your choice and work towards being the life of the next Halloween party.