Eye makeup for dark brown eyes can be a tricky affair when you think of it. The surprising fact is that more than 90% of the world population has dark colored eyes. Eyes speak volumes about a person; hence, eye features are enhanced with makeup and care.
Attractive Eye Makeup for Dark Brown Eyes
While different colored eyes seem to be trendy and edgy; it's the dark eyes that hold depth and warmth. With the right skin and eye makeup for dark brown eyes, you are sure to get complimented enumerable times. Here is a compilation of 10 makeup looks for gorgeous dark brown eyes.
1. Smokey Effect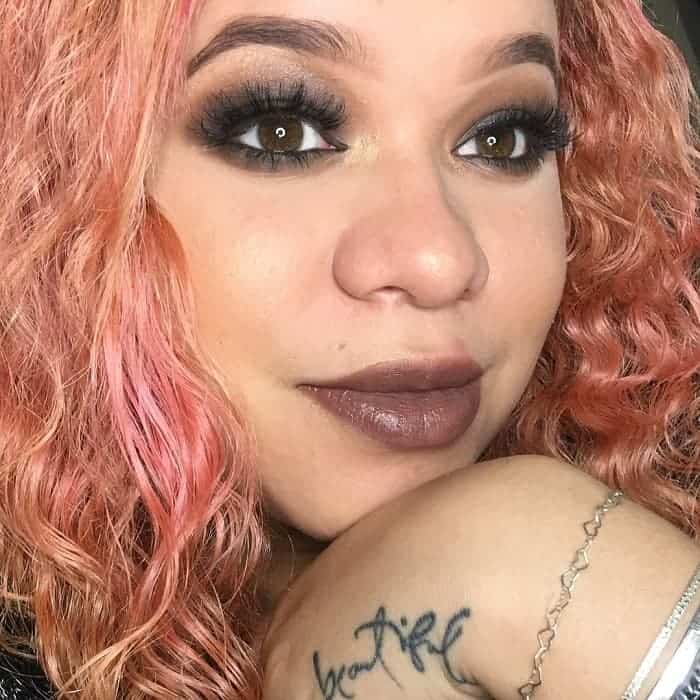 Smokey eyes have always been a popular choice of makeup for dark brown eyes.
Ideal for: This look is perfect for a beige complexion and more defined eyes. If you have adequate eyelid space and big eyes, the smoke effect looks terrific and enhances the dark color of your eyes.
How to style: When you get this bold eye look, make sure you pick a lighter shade of lipstick so that the colors don't clash. Nude shades of lipstick and bold eyes go together beautifully. Use some fake lashes and apply mascara for an even more defined eye look.
2. Perfect Blend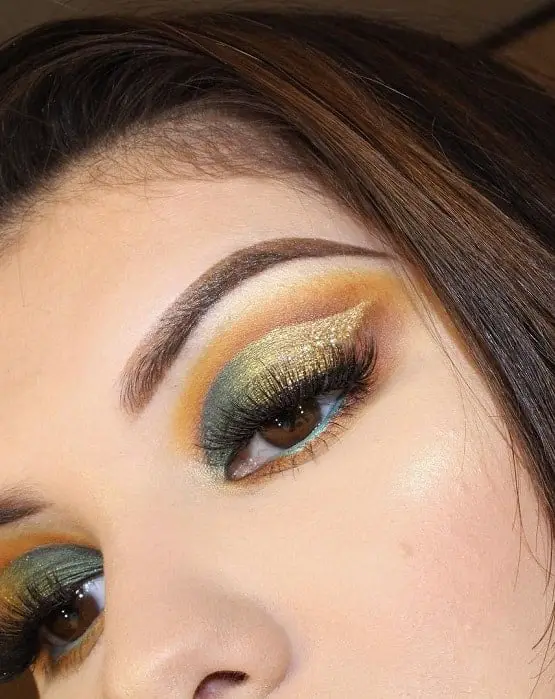 Since dark eyes look like pools of honey in the sunlight, using shades of brown and yellow for eye makeup, brings out the natural beauty of dark brown eyes very well.
Ideal for: For almond shaped eyes, this makeup works well. Well defined eyebrows, a lighter skin tone, dark colored hair compliment this look.
How to style: Since light eye makeup shades are being used, choose a bold lip color. Wear summery clothes, and pin back your hair. Make sure you use a good mascara to lengthen your lashes.
3. Unconventional Eyes
Are you one of them who like experimenting with eye makeup for dark brown eyes?
Ideal for: Ladies with prominent cheekbones and an oval face with dark eyes; this pink eye makeup look is for you.
How to style: Choose lipsticks based on pink palette shades. A glossy lip and highlighter used graciously would perfectly finish the look.
4. Bold and Glossy Lips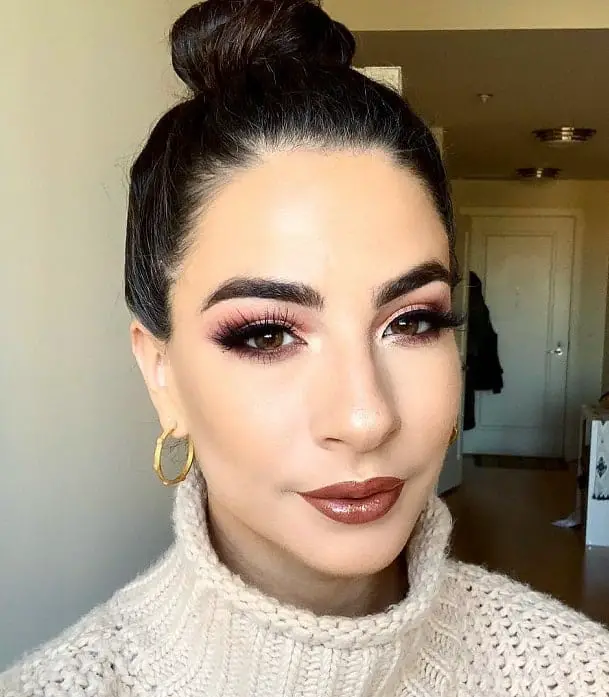 A bold colored lip to compliment your dark brown eyes is a makeup trick that never goes out of style
Ideal for: A sleek and oval face with well-defined lips can pull off this rose gold eye makeup look.
How to style: Choose voluminous fake lashes, dark glossy lips, and some vintage gold jewelry to put together the entire look.
5. Bedazzled in Gold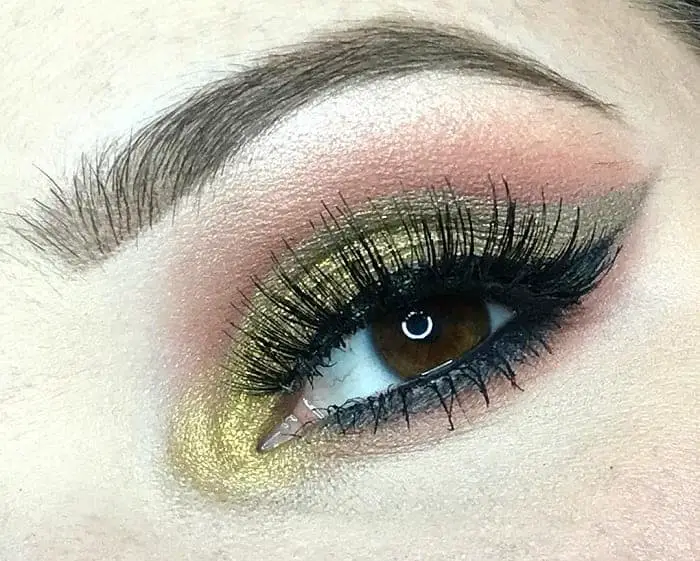 One of the simplest yet gorgeous eye makeup for dark brown eyes is just painting your almond eyes with gold sparkles.
Ideal for: Women with long and deep dark colored eyes, looking for a dressy look can go for this makeup.
How to style: A bold red or maroon lip will compliment with a golden shade. Black kohl to define your eye-shape and minimal mascara to keep the look simple yet dressy.
6. The Galaxy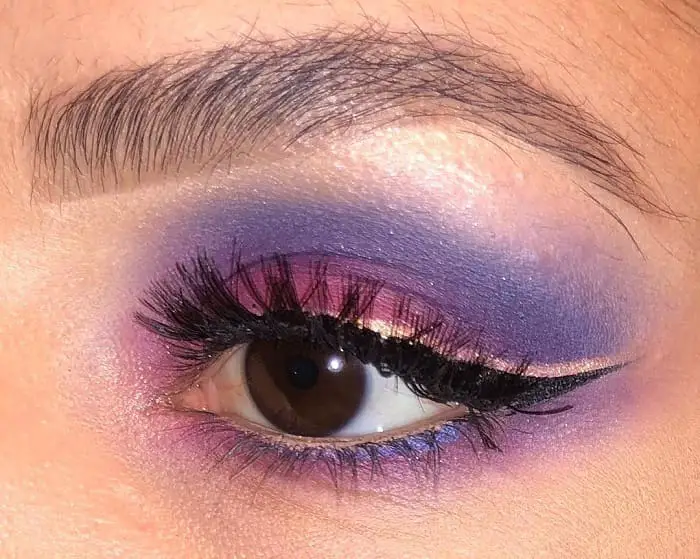 Step out of your comfort zone and play with contrasting colors for eye makeup of dark brown eyes.
Ideal for: Small eyes can be shown off with the splash of color.
How to style: Don't go over binding with the mascara and lip color. Create a wing with your liquid or gel eyeliner. Some pink blush and highlighter would complete the look.
Suitable Makeup Ideas for Women with Small Eyes
7. Peacock Eyes
Peacocks are often credited for the exquisite colors they carry. This is a daring and unconventional makeup looks for dark brown eyes.
Ideal for: Ladies with an oval face and light-colored hair and a broad forehead can achieve this look with blue eyeliner and purple and coral eyeshadows.
How to style: Since your eyes are the main attraction, keep all the other elements of your makeup subtle. A nude lip, parted hair, minimal blush and highlighter
8. Shimmery Eyes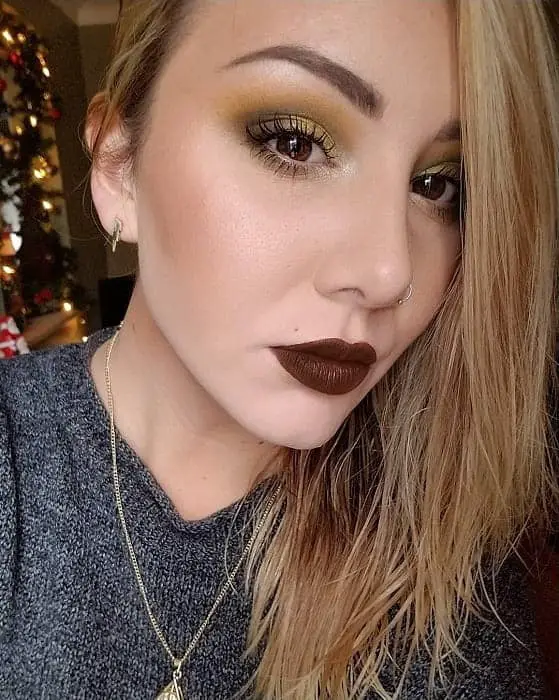 Gold and maroon are one of the best makeup combinations you can think of for dark eyes.
Ideal for: Defined cheekbones, light-colored hair, plump lips, and a light-colored complexion.
How to style: Match your brown eyes with a dark lip. Add some glittery shimmer to the look with golden eyeshadow, highlighter, and bronzer.
9. Ocean Blue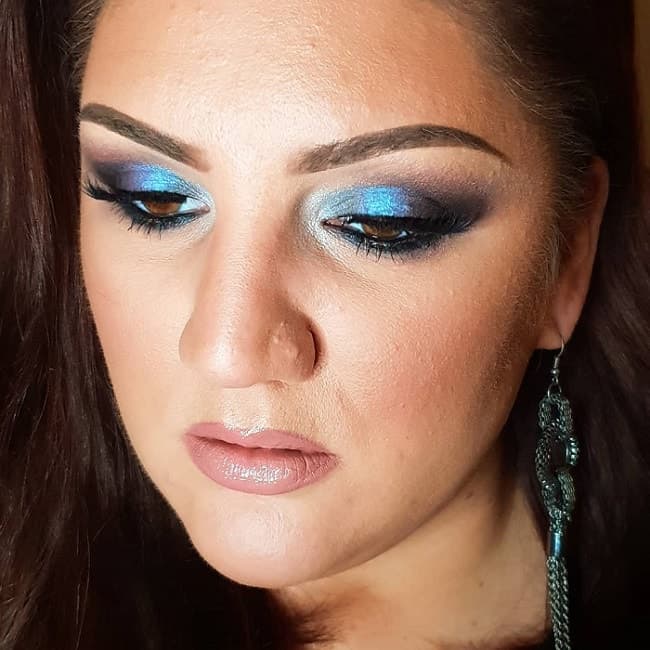 Electric blue eye makeup for dark brown eyes is certain to make heads turn in a crowd.
Ideal for: Round face, small lips, big and dramatic eyes.
How to style: For the dramatic effect, use various shades of bright blue. Complete the look with pink cheeks and a glossy pink lip.
10. Less is More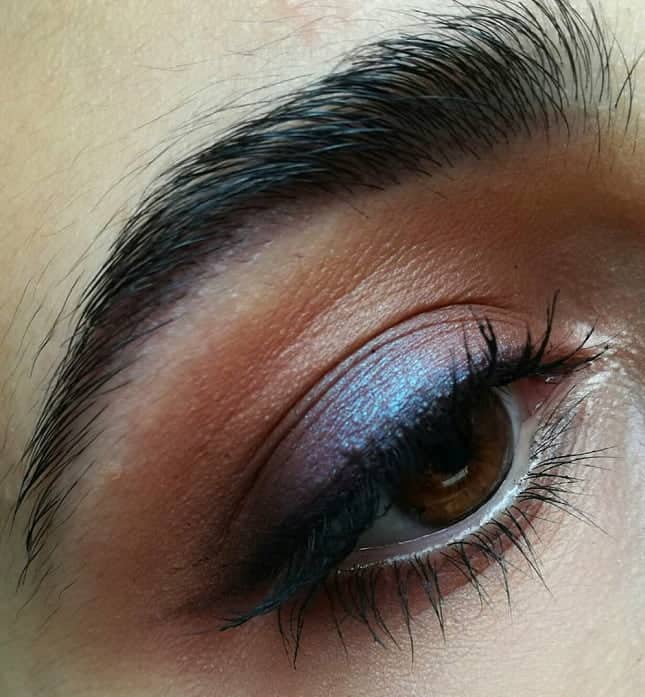 Dark eyes are dramatic enough; it can be enhanced with minimal eye makeup for dark brown eyes.
Ideal for: This look is ideal for a casual day and works well as an everyday makeup look.
How to style: No eyeliner, no blush. Varying upon the occasion, you can opt for nude or bold lips.
Choose any of the above-mentioned eye makeup for dark brown eyes and make heads turn.