Eyeshadows are a girl's best friend, and the newest trend is the ombre eyeshadow look. In fact, it is the best and most fun part of the makeup process. It's the most difficult step, but it's also the one that is the most worth it in the end. A good eyeshadow can make or break your entire look.
Best Ombre Eyeshadow Looks
Ombre eyeshadow has been around for quite some time now. Ombre eye makeup looks are festive and stunning. It's a balanced blend of shades and colors. An ombre eyeshadow works best for a night out, parties, events, weddings and more! Check out the best ombre eye looks you can opt for:
 1.  Everyday Ombre Eyeshadow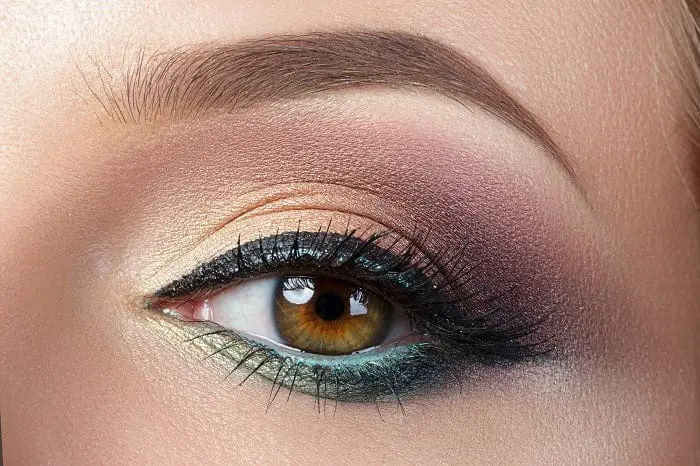 This subtle ombre rose gold eye makeup look is exactly what you need if you're just starting out or are not a fan of bold colors.
Ideal for- This look is perfectly ideal and luckily even very easy to use on a regular basis. It's a very neutral look that doesn't need much and works for itself.
How to style- The beauty of this look is its causality because of which it's also very easy to style it. If you're wearing pale colors or whites, then our every ombre eye makeup look is the one for you.
 2.  Bold Glittery Ombre Eyeshadow
By far a very sweet ombre eyeshadow look that girls with a perky style can easily pull off. The inner corners of the eye have a lighter shade than the outer corners which have a darker shade on them.
Ideal for- This look with teal eye makeup is ideal for occasions like dates, receptions or wherever you want your eyes to be the sole focus.
How to style- The best way to accentuate this look, even more, is by wearing oranges, yellow or white. Yellow is mostly for when you're feeling brave.
 3. Fun n' Festive look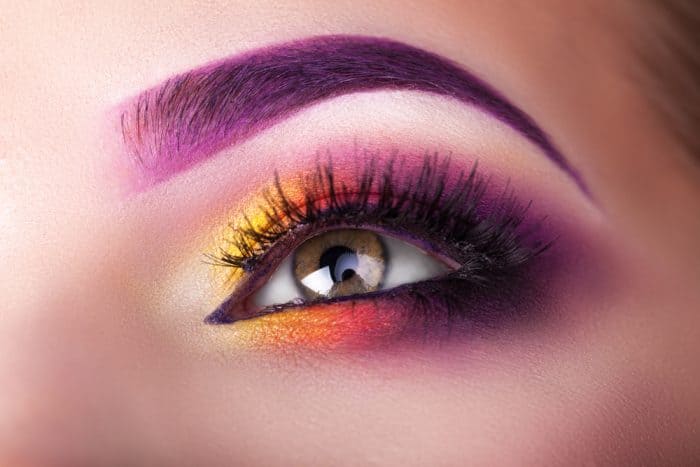 This ombre eyeshadow look is clearly a work of art. The yellows, pinks, reds, and purples have been blended to perfection.
Ideal for – This purple eye look is ideal for brown eyes and anything that involves sun and fun. Going to Disney land? A parade? A concert or a festival? Then this look is for you!
How to style – Styling the festive ombre is not as hard as it seems. As different and unique this look is we suggest you do the same with clothes.
 4. Ocean Waves
Easily one of the most popular looks on the list, this silvery blue ombre eyeshadow look is amazing and actually very easy to pull off too.
Ideal for – This look is ideal for a night out with friends or partying and clubbing.
How to style – Your Party night ombre look has the chances of looking the best with your favorite little black dress. So go and rock it!
5. Copper Coral Ombre Look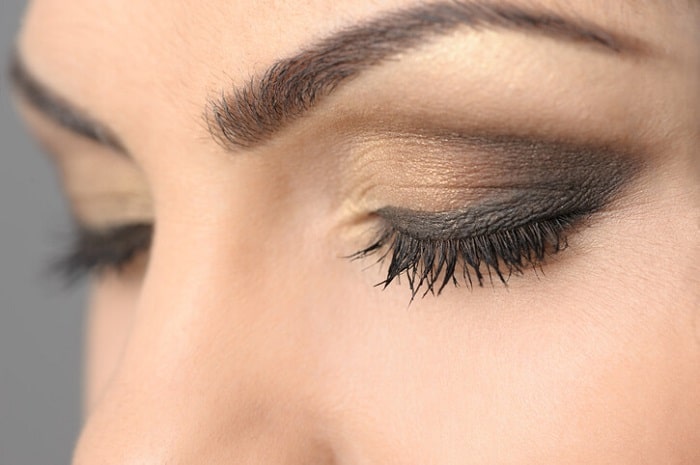 This lovely color has The benefiting of complementing a lot of other colors and shades. We absolutely love the metallic tones of this look. It keeps it neutral but also calls your eyes to attention.
Ideal for – This bronze makeup look is more of an evening look. This look is perfect for a daytime wedding or reception event.
How to style – To style this ombre eye look all you need are complimentary colors like reds, golds, whites, and peaches. It's also a perfect bridesmaids look.
 6. Springtime Vibes
The pink tones and shades in this look are absolute perfection. It's a fun summer or springtime look which has caught our eye and attention big time.
Ideal for – This springtime ombre look is a classic choice for daytime wear. If you're heading out to brunch with your girlfriends, give this look a try.
How to style – Since the ombre eyeshadow itself looks so fresh and reminds us of spring pretty blouses and skirts are the way to go with.
 7. Jack Frost look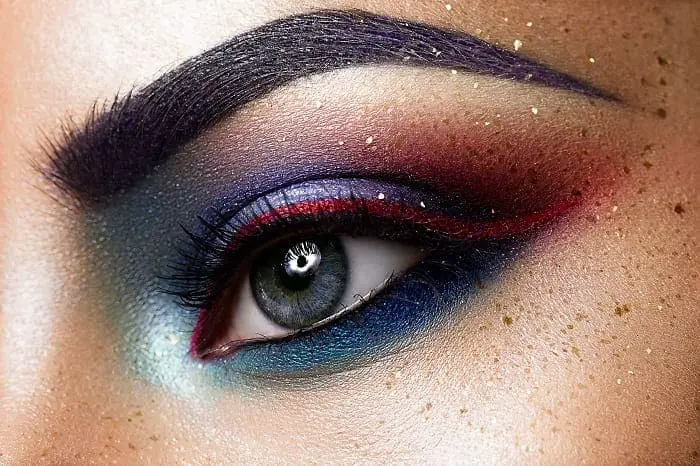 This beautiful eyeshadow ombre looks like it's inspired from a scene of a starry night on snowy mountains. A mesmerizing and easy to achieve look we urge you to try it out for yourself too!
Ideal for – This look is best suited for the night. Parties, clubs and other nighttime events are the places that you can try this style out at.
How to style – A bold blue eye makeup like this deserves bold styling when it comes to clothing. Gowns, little black dresses, mini skirts, and shorts are all perfect to go with a look that's so out there.
 8. Dusky Rush Look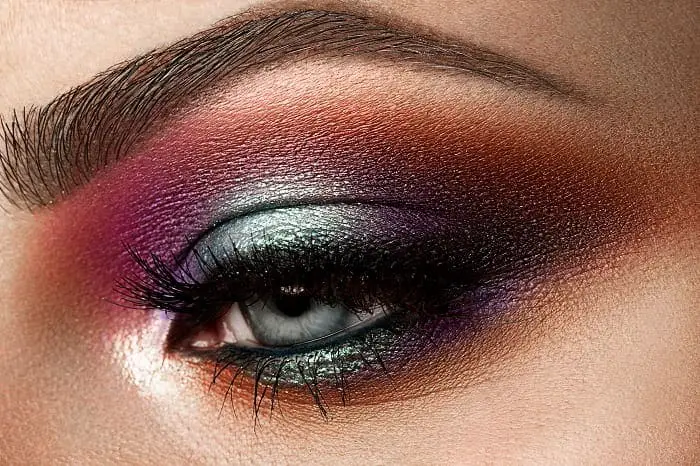 Easily the style you want on your best friends birthday party the dusky rush look is every girl's favorite. The three-tone ombre eyeshadow is super easily achievable and leaves the wearer with stunning results.
Ideal for – This look is ideal for everything and everyone!
How to style –  Metallic themed eyeshadow will look great on a lot of colors. Reds, Blues, and Blacks are your best friend if you're opting for this look.
 9. Blue Mermaid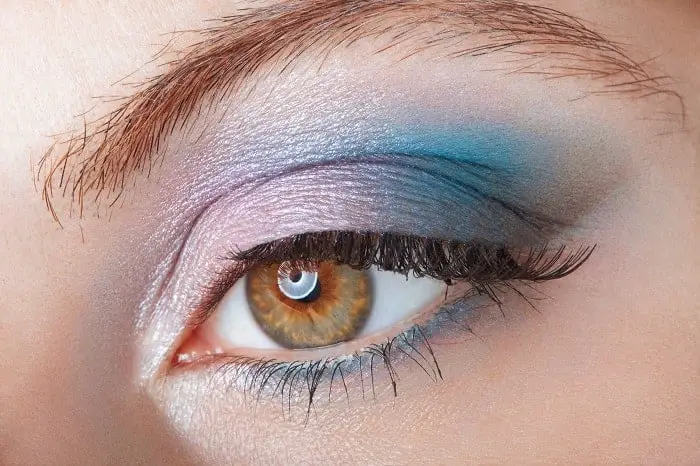 For anyone feeling brave and artsy, check out this look and give it a try too. This blue mermaid eyeshadow style has easily become one of our top favorites.
Ideal for – This look is perfect for those days that you want to try something new and bold. You don't necessarily need an occasion for blue ombre eyeshadow.
How to style –  Nude lipstick and pastel colors should be your go-to when styling this eyeshadow look as a whole.
 10. Insta Baddie look
When it comes to this look, we think that we've only ever seen it online on the faces of beauty gurus. But trying this easy ombre eye makeup out on your own is a must.
Ideal for – Since this look is so out there and in the face it's the best eyeshadow style for concerts and music festivals.
How to style – Style this look with the coolest clothes you have in your wardrobe. Crop tops and jeans can look wonderful for casual wear.
These were few of the most popular ombre eyeshadow looks in the makeup industry. Try them on yourself today and stay in fashion!