Since we're already stepping into winter, it's time to think of some fashionable 50 degree weather outfits. Once the days get cold it becomes harder to look on trend, while also being comfortable in what you wear. No matter the fashion choice you'll make, one thing is important.
Stay warm! There are so many to pull of the latest trends while it's only 50 degrees outside. Layering will definitely be your best friend. Use all the possible layers of clothing you can, and have fun while you mix and match. The essentials such as cozy sweaters, turtlenecks, puffer jackets will still be your friends on this 50 degree weather.
Chic Women's 50 Degree Outfits for Winter
Confused about what to wear when its 5o degrees outside? No worries, we have the trendiest compilation of 50 degree weather outfits for women that you can wear and rock in winter.
1. Grey Basics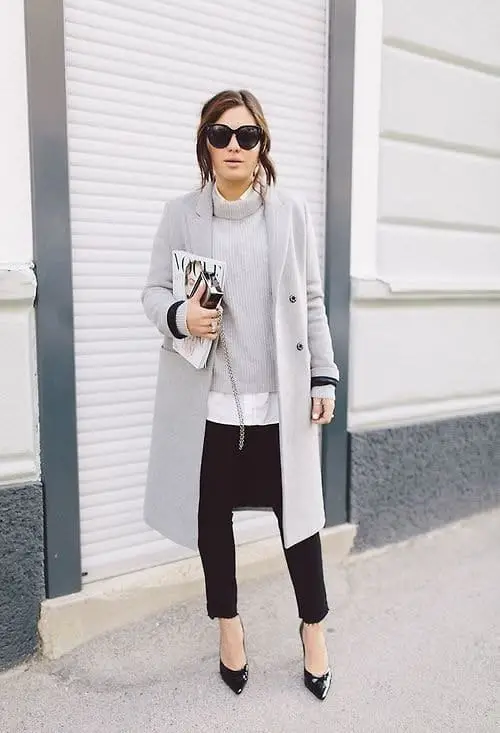 This is one of the simplest, coolest 50 degree weather outfits you can ever put together. It is ideal for working women, who always want to look on trend. Grey is such a flattering color. Grab your favorite coat, sweater, and you're ready to go.
Since there is no lady who doesn't own a pair of black jeans and high heels, you won't have a problem of completely copying the total look. You can even switch it from day to night just by taking off the sweater.
2. Pretty in Black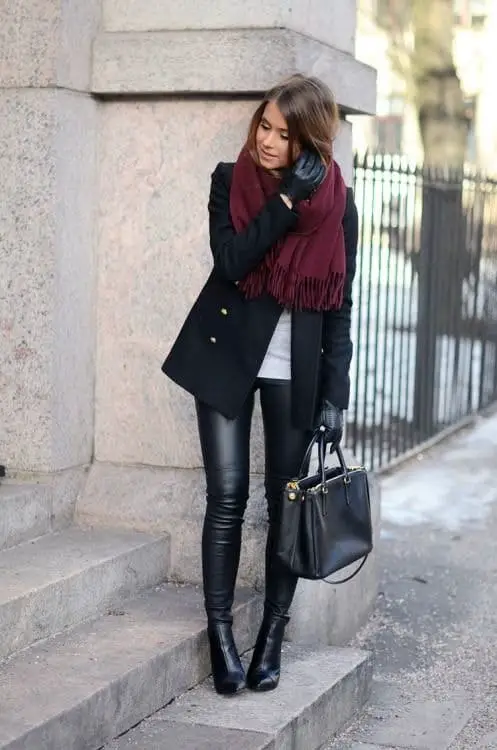 Black is the best color for cold weather. No matter where you're going, an all-black ensemble will do the job. A black winter coat is a staple in the closets of popular bloggers. It is such a versatile item you can literally wear with everything.
When you also include black pants, boots, and bag, you get a winning combo. To break the pattern, you can finish off with a sweater and accessories in a different color. What a great way to stand out.
3. Velvet Vibes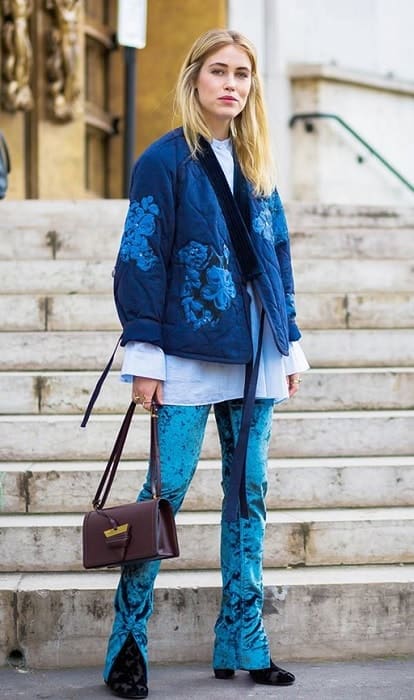 The warmest, coziest material is here to make you stylish again. This is a day-to-night fabric outfit, which will ideally fit into 50 degree weather. It can be a pair of chic pants like on the picture, or a gorgeous dress.
The best thing is that velvet comes in the most beautiful colors ever. It looks so rich and glamorous. If you are attending a special event for the holiday season, you should definitely find a sultry velvet dress.
4. Power Suit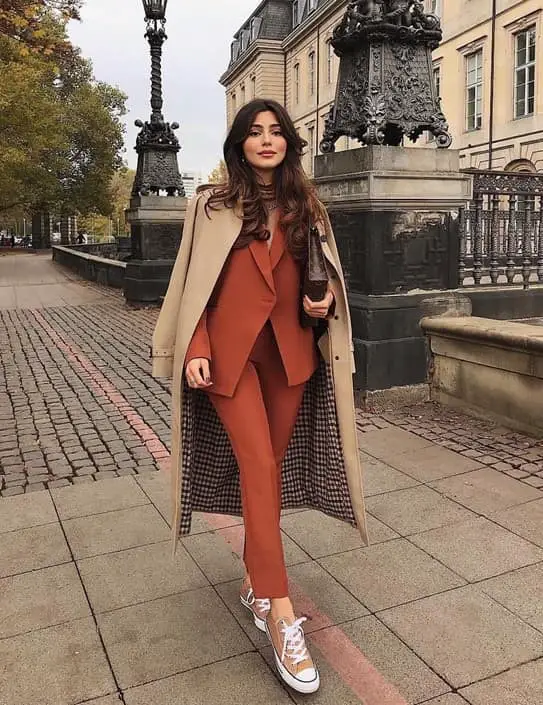 This season women's suits are making a comeback. Find yourself a matching set in some winter-appropriate color and you'll be the trendiest one around. One of the cutest things about suits is that you can layer as much as you like. They look absolutely amazing with shirts, turtlenecks, even a thin sweater.
If you are still cold, this can be one of those outfits for 50 degree weather that also includes a trench or a winter coat on top. When it comes to footwear, feel free to experiment with sneakers, ankle boots or heels.
5. Cozy Puffer
When the cold days arrive, you have to own at least one cozy puffer. This warm piece of clothing will be your item of choice for everyday wear. It is so versatile that you can literally match it with so many things.
The basic combo of jeans and sweatshirt will be the most laid-back 50 degree weather outfit you've ever worn. When you want to upgrade the look, add a pair of plaid pants or a cute mini skirt. Don't forget to accessorize with a fun beanie or scarf. You'll be warm and fashionable, all at the same time.
6. Cute Mini Skirt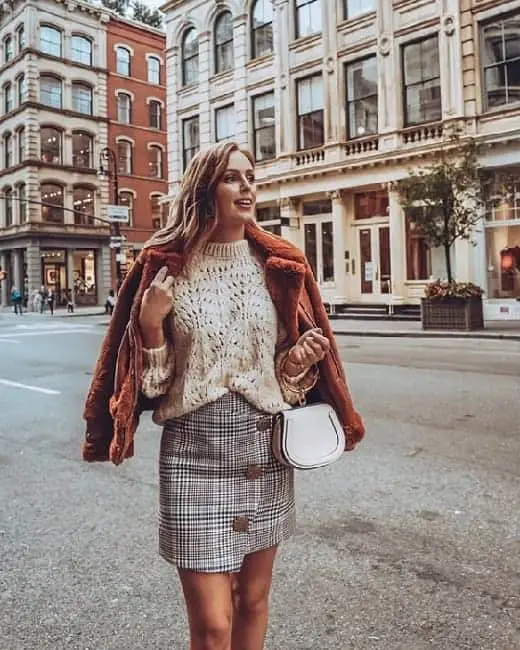 Although it's cold outside, you can still rock your cute mini skirt. Sometimes you'll just want to be all dressed up. Those are the days when you should flaunt that gorgeous skirt, but make sure to layer up in the top. You don't want to end up being super-cold.
These plaid skirts look chic with a chunky knitted sweater and booties. To feel even warmer, include a trendy teddy coat or a faux shearling jacket. There are so many ways to follow the latest trends even if it is 50 degrees outside.
7. Trendy Professional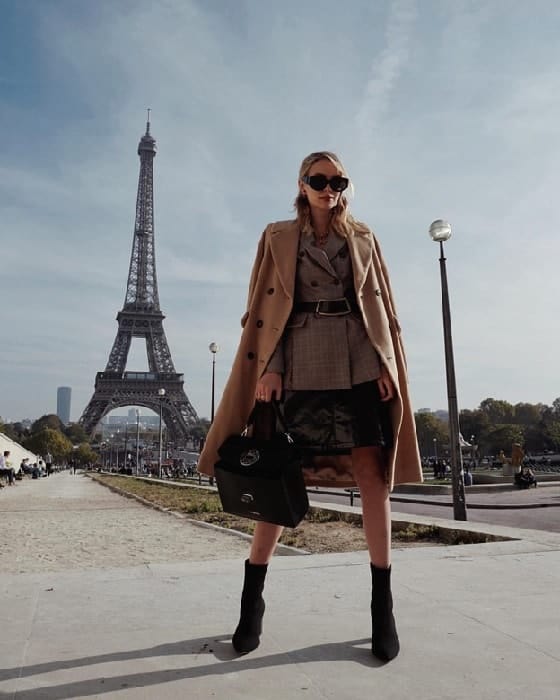 Working a nine-to-five job can be so exhausting that you might find it hard to always look flawless. But thanks to this trendy outfit above you will transform into a blogger. Your professional attire can now be elevated with only several easy tips.
Those attires to wear on 50 degree weather that you see on social media can be pulled off in real life too. All you need is some extra imagination. Let's start with the simple skirt. It is a black basic one, literally, every lady owns.
Rock it with a plaid blazer on top. The most important things in the picture are, of course, the accessories. Huge waist belts are very much trending this winter. Finish off with a camel coat and ankle boots.
8. Denim on Denim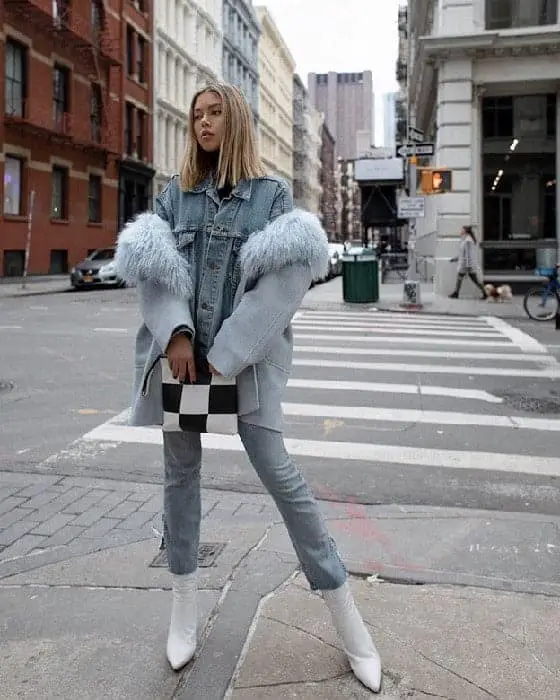 You can flaunt denim all year long. The fact that its winter shouldn't stop you from putting on those jeans and denim jacket. So many bloggers are loving the latest trend. Multiple jean pieces in a single look can be so fashionable.
You get so much space to experiment with other colors. This fabric works well with any other shade you can think of. It doesn't matter if it's black, white, red, green, or blue. That Canadian tuxedo is all you need this cold winter.
9. Plaid Coat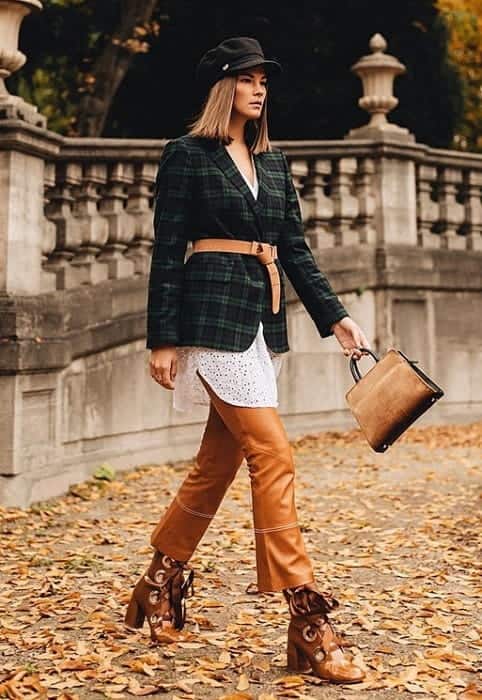 Check coats and blazers have been the most popular outerwear trend for two seasons in a row. That means it's officially time for you to get one as well. These chic coats will take all of your outfits for 50 degree weather to a whole new level in this winter.
That means that you can flaunt a plaid top with pants, jeans, skirts, and dresses. If you want to be 100% on trend, get that belt and add it to the waist.
10. Cowboy Boots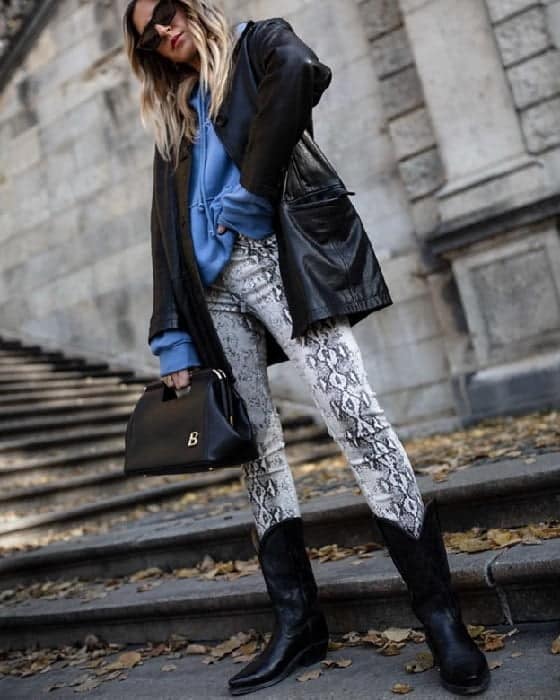 Cowboy boots are one of the biggest footwear trends for fall and winter. These designs are making a throwback, and you have to own them. Start off with a basic black pair that will compliment all your outfits. For all the ladies with a unique sense of fashion, they can definitely choose a more vibrant design.
Snakeskin print is another thing you should have your eyes on this season. The whole color combo of this look is very interesting and so cool to look at. That's another style lesson to help you out. Black and white doesn't have to be boring. As long as you add tiny hints of other colors, the final ensemble will be perfect.
11. Red Is In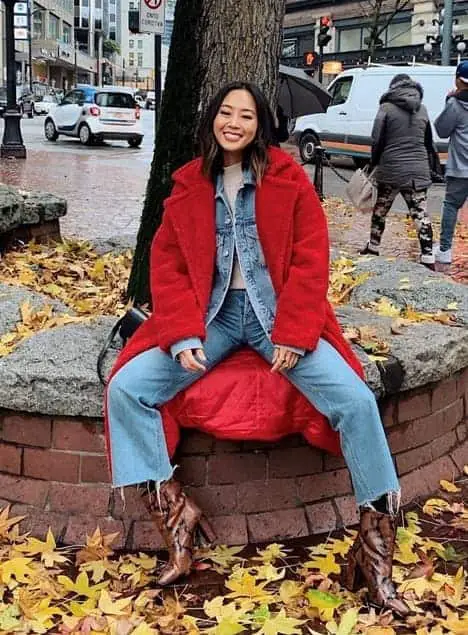 When you need a vibrant shade to help you stand out, you should turn to red. This fabulous color is so appropriate as a part of your 50 degree outfits in winter. It might be cold, but that should not get into your way of flaunting daring style choices.
Fashion is all about experimenting. No one likes dull and already-seen outfits. This one embodies three huge trends. Double denim, animal print, and red are all the tips you need to achieve that fashionista status.
12. Pastel Colors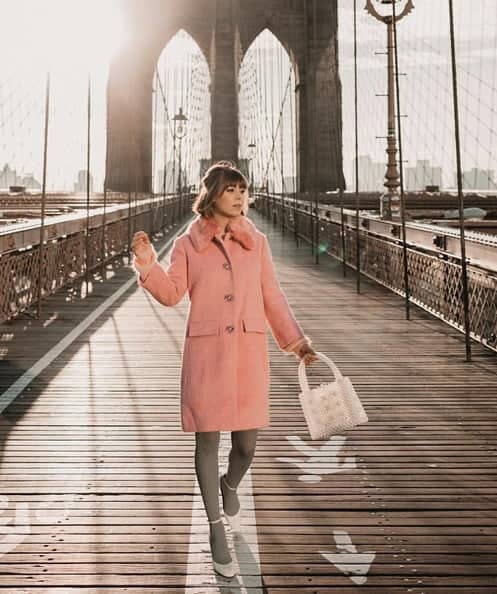 These cute shades are not reserved only for summer. On the contrary, this winter goes for everything in pastel. Clothes, eyeshadows, accessories, lipstick and so much more. Baby pink, blue, mint green, bright yellow are just a part of the shades to play with.
They are so easy to flaunt, especially with denim. Even when it's 50 degrees out, pastel hues will turn you into a huge fashionista.
13. Ripped Jeans
Ripped jeans are fabulous year-long. You simply can't pass on them when they look so chic. Bloggers are here to prove that you should don these denim pieces even during winter months. Those teddy coats we mentioned before seem to be a perfect match with distressed denim.
If you are still not sure, go ahead and try the combo at home. When you add combat boots, the cold weather attire will be complete. It is comfy, eye-catching and very fashionable.
14. Chunky Sweaters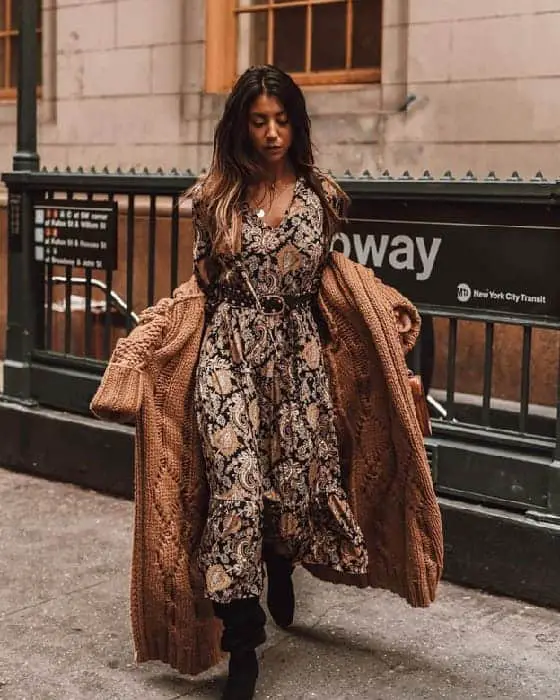 Nothing comes close to chunky sweaters for cold weather. This is the time of the year when you can flaunt a sweater with so many things. The first and basic way is jeans and sweater combo. Upgrade it with puffer jackets, warm coats, boots, sneakers, and so much more.
As you can see it's a versatile way to be on trend. The second one is much fancier and includes dresses, skirts, and shirts. If you love girly choices, then this outfit is the one for you. The oversized sweater sure is a highlight in the ensemble.
15. Shiny Metallics
Metallic shades always remind of winter. Gold, silver, rose gold are all very rich and glamorous. But with the right idea in mind, you can rock them however you want.
This fashionista toned down the gold shine by wearing all of the other things in a black color. Her outfit is very simple but can serve as a going out idea. All you need to do is switch to a different top and you're ready to go.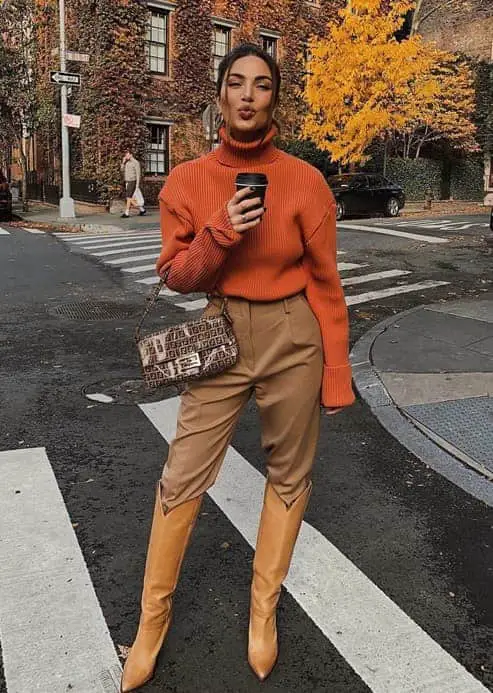 All year, every year. Yes, turtlenecks are always popular. This season, add some warmly knitted turtlenecks to wear when it's 50 degrees. Opt for black or nude for neutral looks, or choose bold orange, green, red, blue when you want to stand out.
This look is somewhere in between, which is actually the thing that makes it so good. As you can see cowboy boots are once again in the spotlight.
17. All-White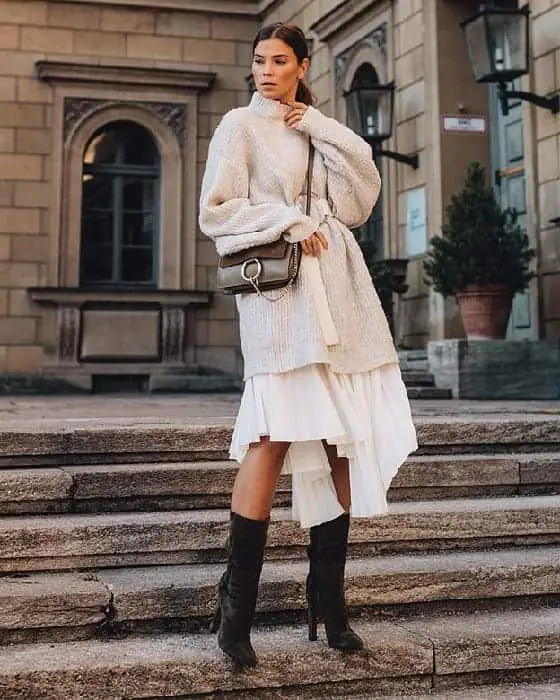 Who says you can't wear white after Labor Day? Don't be shy and feel free to flaunt all of your bright pieces in spite of the fact that it's only 50 degrees outside. All you have to do is add some darker shades to make everything more winter-appropriate.
18. Athleisure
Athleisure is still in. No matter if you are a fan of sporty pieces or not, it's time to find a way to rock the athleisure trend. This means wearing laid-back clothes mixed with some more elegant pieces. There are so many awesome examples online on how to do it.
This one is a very daring choice that not many ladies would decide to wear. It includes both sporty and glam vibes, all in the same ensemble. You will definitely need cool track pants and a pair of chunky sneakers. When it comes to the coat, it doesn't have to be a fur one.
Experiment with whatever you have at home. Bomber jackets, denim, warm winter coats, teddy coats and more. As long as you're mixing and matching, the athleisure outfit will be on point.
19. Corduroy Vibes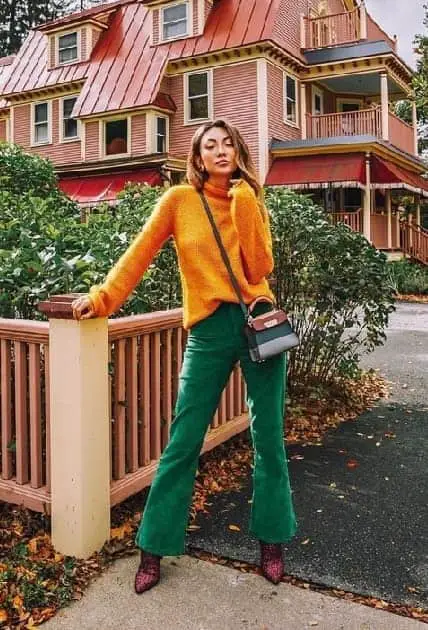 Corduroy is one of the coolest fabrics for autumn and winter this season. Include a piece or two in your clothes for 50 degree weather, to get that Insta-worthy shot. It can be a pair of bell pants, blazer, suit, skirt or a dress. Literally, anything will work.
The range of colors is so wide, that you can literally go for any shade. The recognizable fall spectrum of brown, burnt orange, camel, is always the best way to go. If you are one of the bolder gals, you can always opt for more vibrant hues such as this green one, pastel tones, yellow and more.
20. Teddy Coats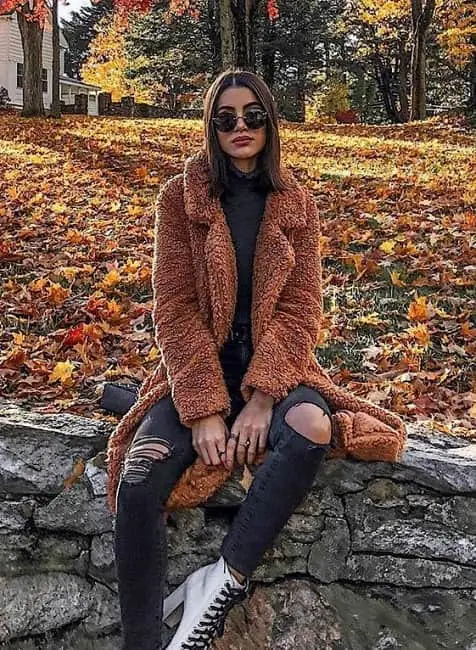 If you've still haven't bought a coat for this season, we have an idea. Those oversized warm coats you see on Instagram will be a perfect choice. They are very affordable, but also super-cozy. The biggest advantage is that you can rock the teddy coats with almost anything. When you need an idea for 50 degree weather outfits, start with this one above. Ripped jeans might be a risky option, but they look so fierce.
What's even better is that the teddy coat will compliment both your day and night ensembles. If you need office attire, it will look so bold over our suit. When you're going out with friends, the teddy coat can also be stylish with high heels.
So which outfit ideas for 50 degree weather are you going to incorporate in your winter look this season?