If you love the glamour of old Hollywood, then you should try some 1940s hairstyles to look as elegant as those big movie stars. Nowadays, we find a lot of inspiration in vintage fashion to add into our own style. There are plenty of old trends that are making a comeback and you can follow them too.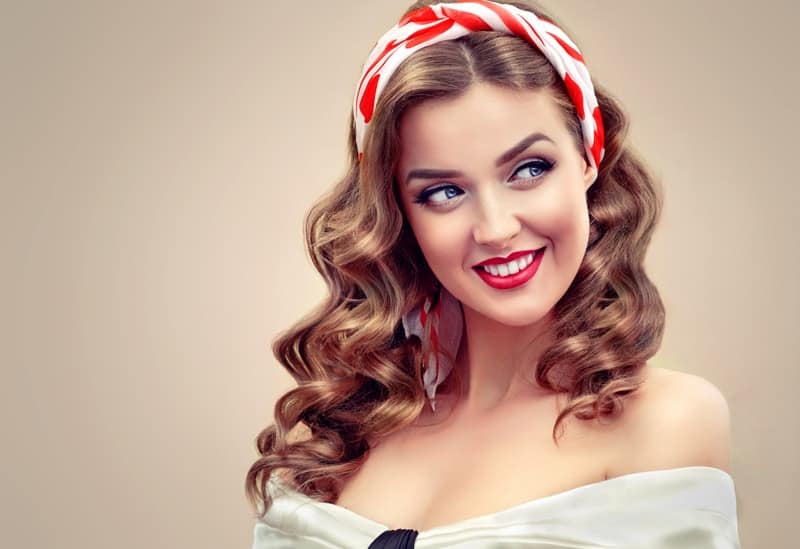 A simple and fun way to try these trends is with hairstyles. If you want to try some classic and sophisticated styles, then you should go for the ones of the 1940s. Currently, this period is the inspiration for some very beautiful pip-up looks.
Popular 1940's Hairstyles for Women
If you are curious about these styles, down below you will find 20 iconic 1940s hairstyles for women. Let's take a look!
1. Victory Roll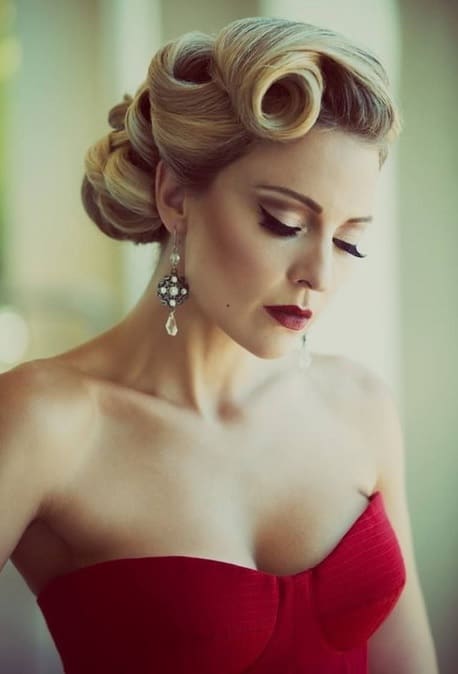 Closely associated with the pin-up style this 1940s women's hairstyle will make you look super classy. This style consists of a roll located on top of your head. It can go to the direction of your preference. You can try the victory roll with classic hairstyles or try a more updated look. The greatest thing about this style is that you can wear it in more than one way.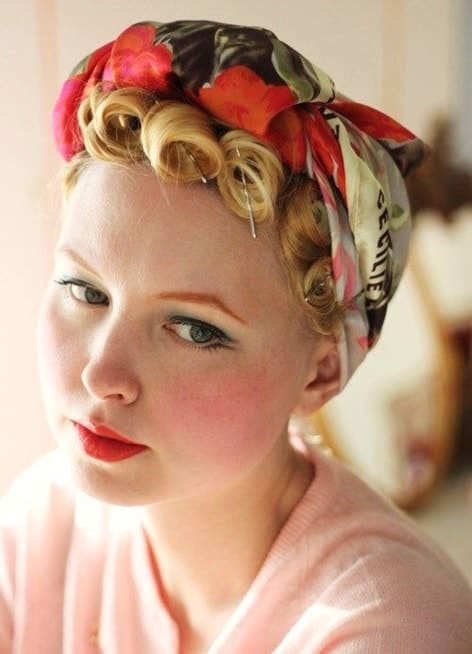 Another accessory that was very important for the 1940s hairstyles for women was the headscarf. This was one the many hairstyles working women could use. This look is vastly associated with Rosie the Riveter, a symbol designed to represent women who worked in factories during the WWII and currently a symbol for feminism.
The headscarf worn was commonly colorful, covered all the hair and it was tied in a ribbon on top of the head. The front part of the hair could be decorated with victory curls or other small details.
3. Double Victory Roll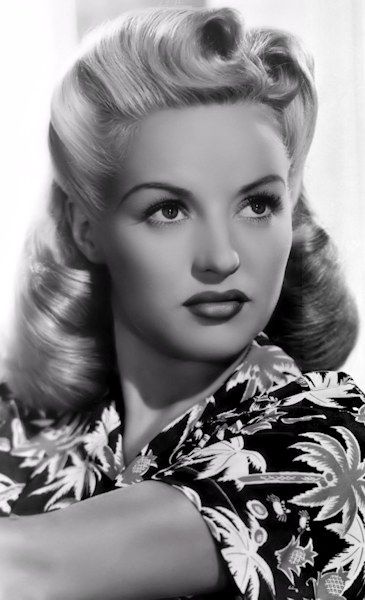 After discovering what victory rolls are, did you fall in love with them? Then, don't worry there is more for you. Victory rolls were such an iconic look that there was more than one way to use them. Double victory rolls were highly popular too.
This hairstyle helps to frame your face. To achieve this look, you need to use several techniques and products that will guarantee that everything stays in place. You can locate your victory rolls in different places.
4. Full Rolled Bottom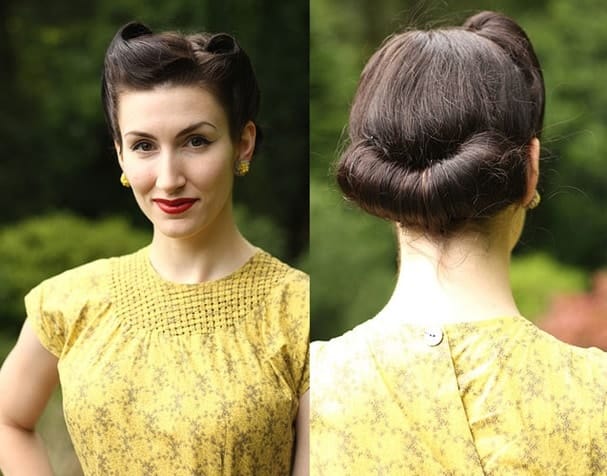 This 1940s hairstyle is one of the many ways to use your hair up. It basically consists on a rolling the bottom of your hair and style it on a roll, that's it! You can style the top part of your hair in several manners.
If you want to go for a subtler look then you can leave your hair smooth and straight on the top but if you want a more dramatic look you can add some victory rolls or an omelet fold.
5. Hair Snood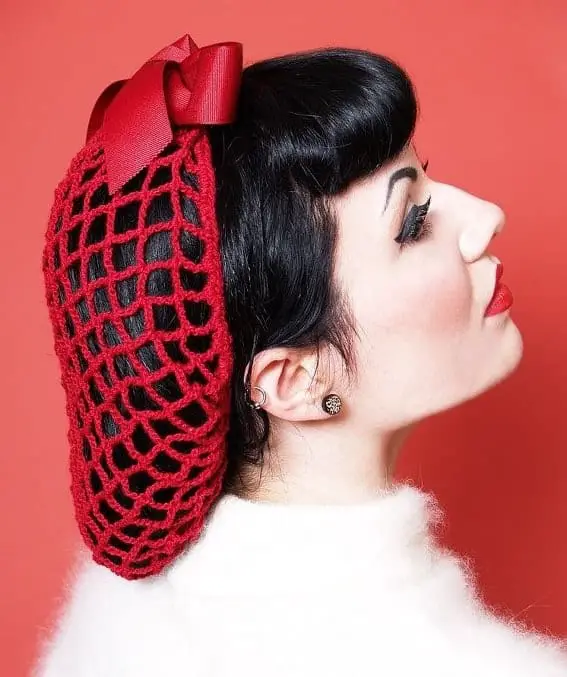 Many women's1940s hairdos used different accessories to keep hair in place, since during this period women were an important part of the workforce, particularly in factories where they had to avoid accidents with their hair. This hairstyle is perfect to embody the strong hard-working women of old.
To get this look use a knit or crocheted snood on your head to cover all your hair and pin it so it doesn't fall. You can style the front part of your hair with some victory rolls to make it extra special.
5. Voluminous Bob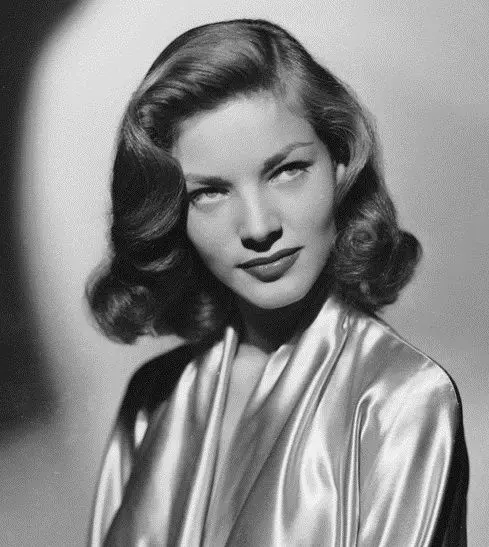 Short hair was also very fashionable in this period. Many Hollywood actresses wore different short haircuts. One of the most used short hairstyles was the bob. The 1940s version of the bob was really voluminous and was combined with the classic curls.
To achieve this style, you only had to create some pinned curls in your hair and then brush them using your fingers. By doing this you would soften the curls but preserve the volume. The final step was to apply hair products to keep everything intact.
7. Updo with Bumper Bangs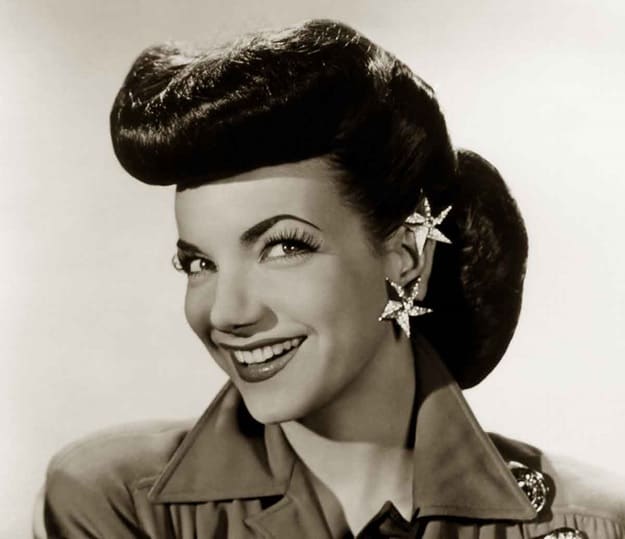 There were many different ways to create an updo. You could mix different elements from different hairstyles to be the most fashionable women. If you want to try 1940s hairstyles this is a great option. You can do a low knot on the lower part of your hair and wear some incredible fluffy bumper bangs on top.
Don't worry if your hair is thin or short you can wear extensions to get the volume necessary for this look. Always remember to use the right products to keep your hair big and avoid flat hairstyles.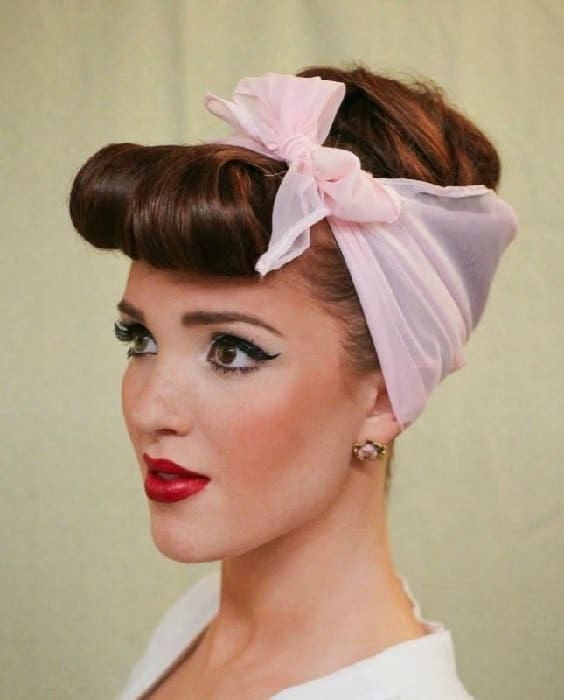 It was very common to use ribbons as part of hairstyles. Young women and little girls were the ones that worn them the most. The sock hop was normally of bright colors and sometimes could have colorful patterns.
It gave a fun twist to every hairstyle. It was normally tied around the head and tied on top of the head. You can try this hairstyle with a top knot and victory rolls in the front.
9. Side Part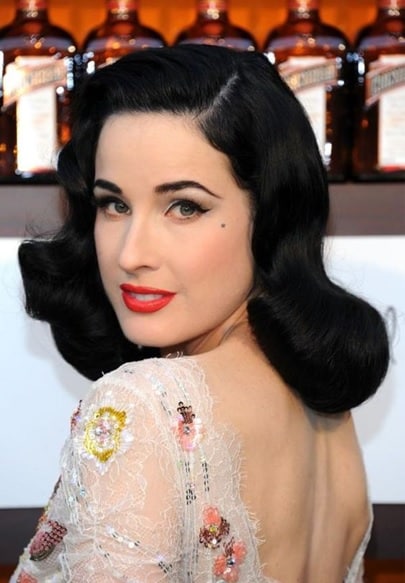 Another simple and beautiful hairstyle is the side part. You can try different lengths and use a side part because this was the essence of several 1940s hairstyles. This simple detail can help you to obtain the classic look you are searching for. In order to get the look, you should try the side part with some other 1940s elements.
10. Pageboy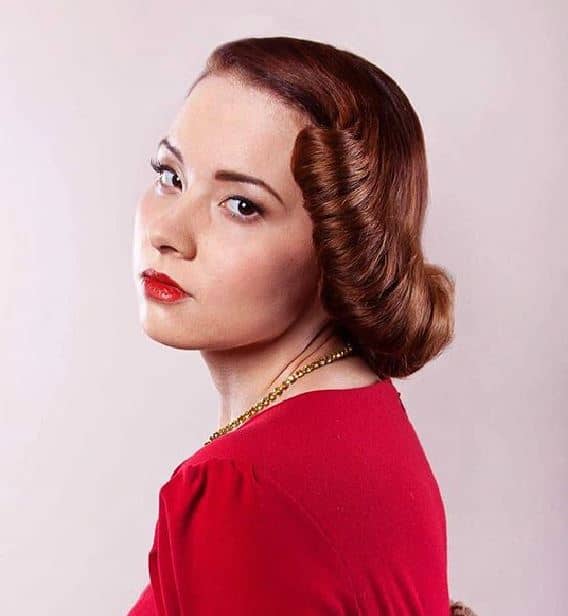 This is an older version of the 50s- and 60s-pageboy hairstyle for women. To get this look you should start with straight hair and then you have to tuck under the bottom part of your hair. The ideal length for this style is below the ears.
The fold had a lot of volumes and it was dramatic in comparison with the later versions of the same look. Sometimes it was worn with bangs.
11. Omelet Fold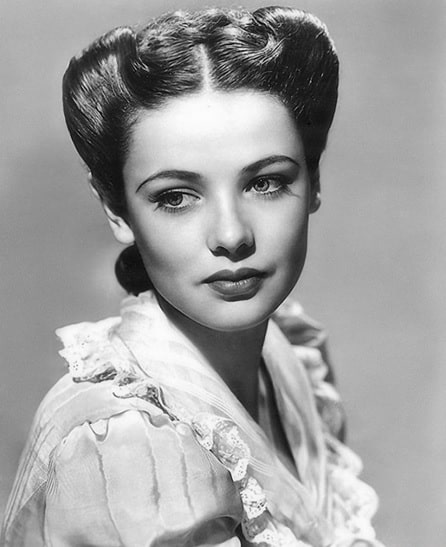 Another dramatic element of the hairstyles in the 40s was the omelet fold. This hairstyle looks similar to the victory rolls as they have the same concept. The difference is that the omelet fold is done upwards.
If you want to try the omelet fold you should part your hair in the middle, take a piece of hair in each side of your hair and roll them towards the center. After achieving the perfect form, you should immediately pin them and use different products to keep them in place.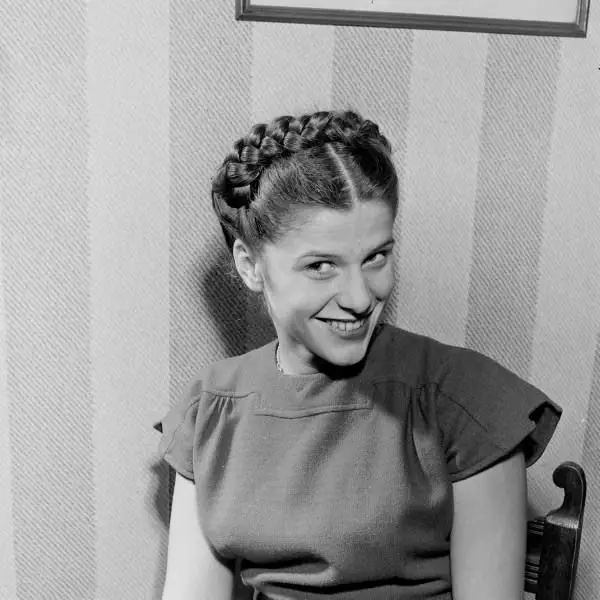 Braids were very popular with 1940s women. They were a must have and could be worn in different ways. They could be made from the women's own hair or they could use attached pieces of fake hair to pull off the hairstyle.
The braid crown was one of the most popular options. You can try it yourself by doing two braids and wrap them around your head and pin them to avoid movement.
13. Peek-a-boo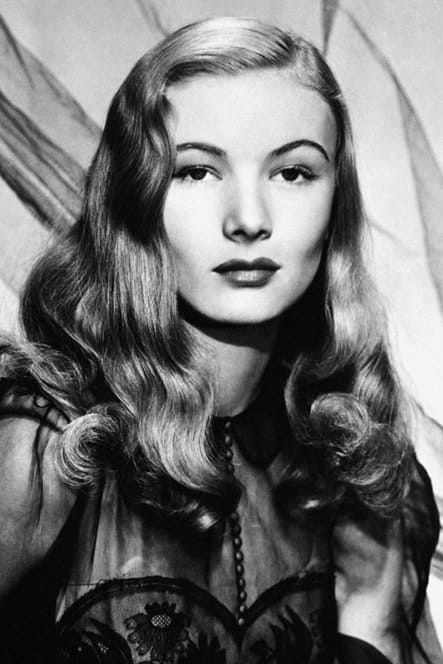 There is also a lot 1940s women hairstyles that don't require too much effort to accomplish. The peek-a-boo is a simple yet elegant style. This look only consists of long hair with loose waves. The peek-a-boo was inspired by the actress Veronica Lake.
You can evoke the glamour of this Hollywood beauty by trying this hairstyle. Be careful when you ask for this hairstyle as there is also a trend with the same name that consists of colorful highlights strategically used in small parts of your hair.
14. Updo with Fringe and Curls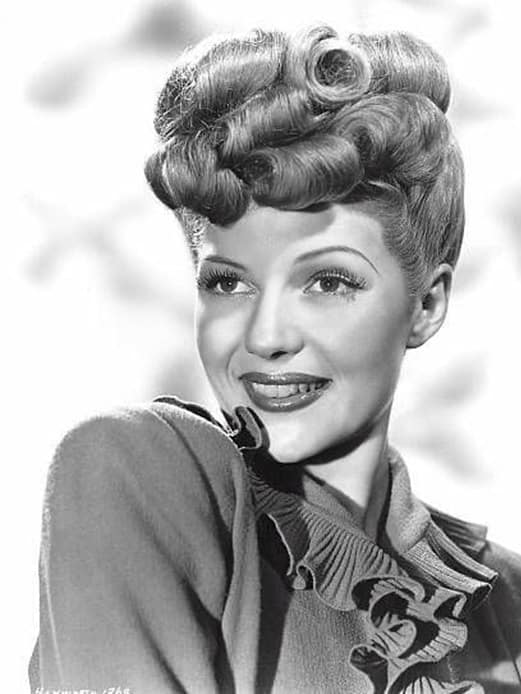 There are different types of updo, but they all follow the same concept which is arranging the hair upwards. The majority of these hairstyles for this period consisted of laborious looks.
This particular style is composed of different curls that create a mass which is slightly forward to the face. The fringe also takes the form of a curl and joins the rest of the mass. This updo is for women who like big and theatrical hairstyles with a lot of personalities.
15. Bumper Bangs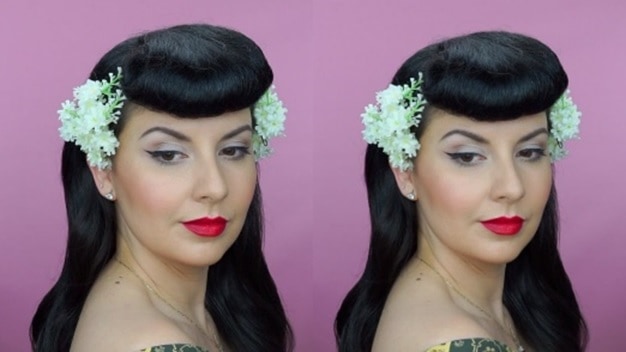 If you want to try a vintage look, bumper bangs are a popular option to try. The best thing about this hairstyle is that you don't need to cut your hair as Bumper bangs consist of bangs with weave.
One day you can have bangs and the next one not, and your hair doesn't pay the price. You can wear them with long hair, short hair, ponytails or any other style you can think of, these bangs look great with almost everything.
16. Pompadour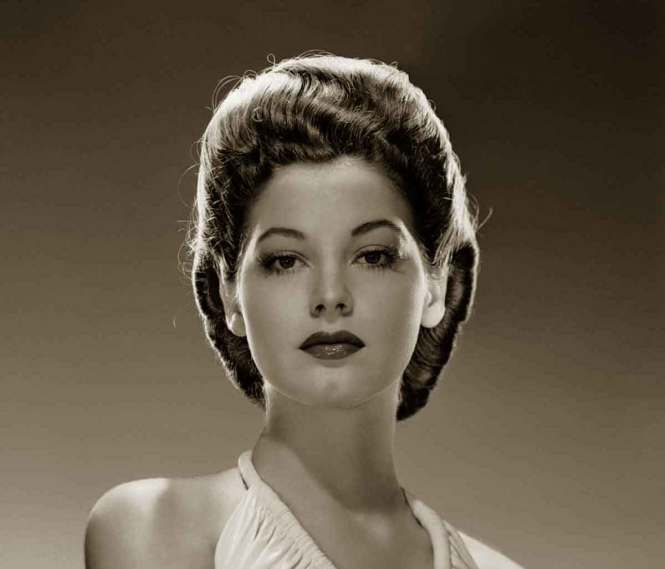 This tall hairstyle will put all the attention on you. Create a perfect pompadour by elongating your bangs and rolling them to the back of your head while doing this you have to try to create a bulk.
Use different products to set the volume of the hair. The highest the hair the better. This style was normally paired with waves on the bottom part of the hair.
17. Pin Curls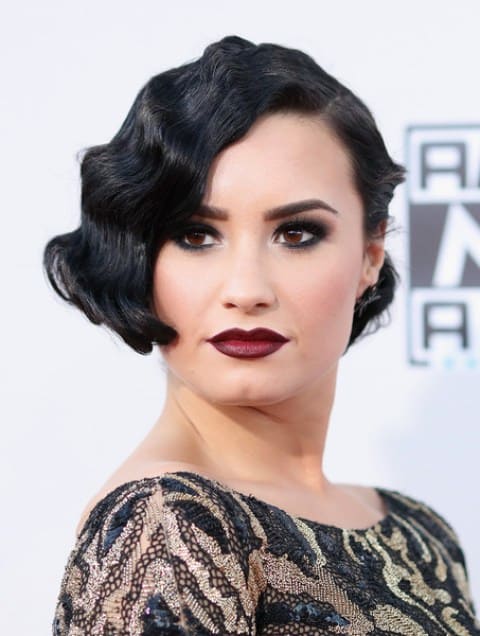 The basis of many 1940s hairstyles for women. Curls were a very important part in each 1940s look as voluminous hair was the trend. The hair should transmit movement and elegance. The pin curls were the trendiest fashion as it was easier for women to obtain them.
This look didn't require many products; instead, the technique only consisted of using pins and water to shape swamp hair and then wait until the hair dries. The last step only required to take off the pins and brush your hair.
18. Turbans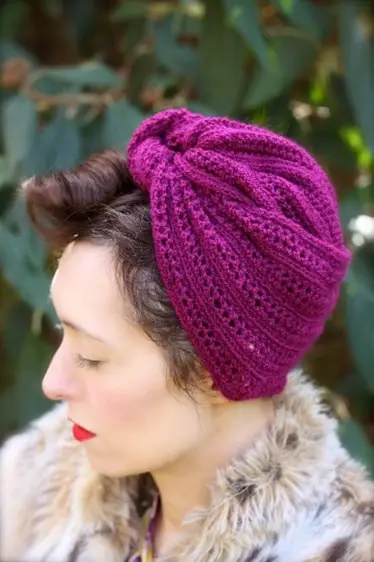 The turbans were also used to avoid accidents in factories, but women found ways to make this hairstyle to keep being elegant and practical at the same time. They were normally knitted or crocheted. The technique used to tie the turban was to cover all the hair and then tied it on top of the head.
You could tuck the ends of the turban or if you wanted more volume, you could roll them and then tucked them under the turban. If you want to try this technique you can add the always elegant curls.
19. The Updo with Small Curls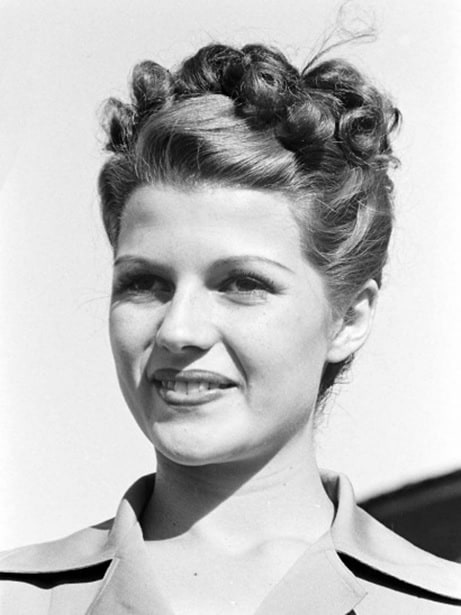 This updo version is still very elegant and has a lot of different elements creating a dynamic hairstyle. It is a simpler variation in comparison with other similar looks. This is the perfect updo for women with shorter hair.
All your hair is going to be on top of your hair and you will curl the ends of your hair. Remember to give volume to the front part as it was an important component in every hairstyle. To keep the volume, you can use mousse and hairspray.
20. Barrel Curls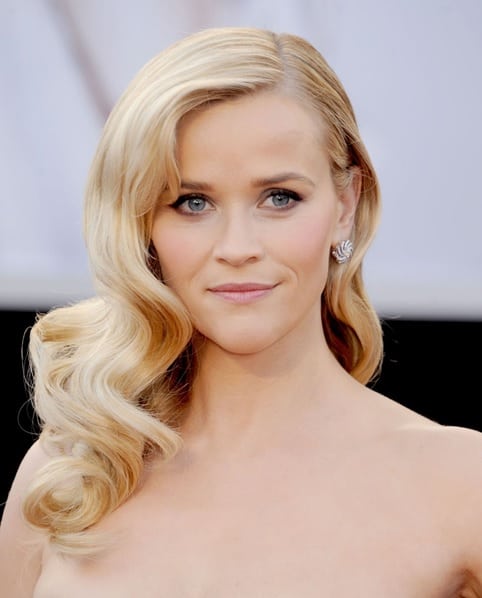 A beautiful, glamorous and sexy trend. The barrel curls are defined curls that have a cylindrical shape making them big and bouncy. With barrel curls, you can get that Hollywood style.
To create these curls you need a big barrel tong which you are going to use to curl your hair. Start curling your hair a few inches from the top. When you have your curls done, all you need is to softly comb your hair and you are ready with your classic 1940s hairstyle!