70s hairstyles are finally making a comeback! Great news ladies, you can now have your hair higher than ever, thanks to the latest trends. If you were born way past that decade, you will still recognize most of these fabulous hairdos. The end result-you'll want to copy each and every single one!
Gorgeous 70s Hairstyles for Modern Ladies
Following are the most stunning 70s hairstyles that were and are popular among women.
1. Voluminous Half-Up with Curtain Fringe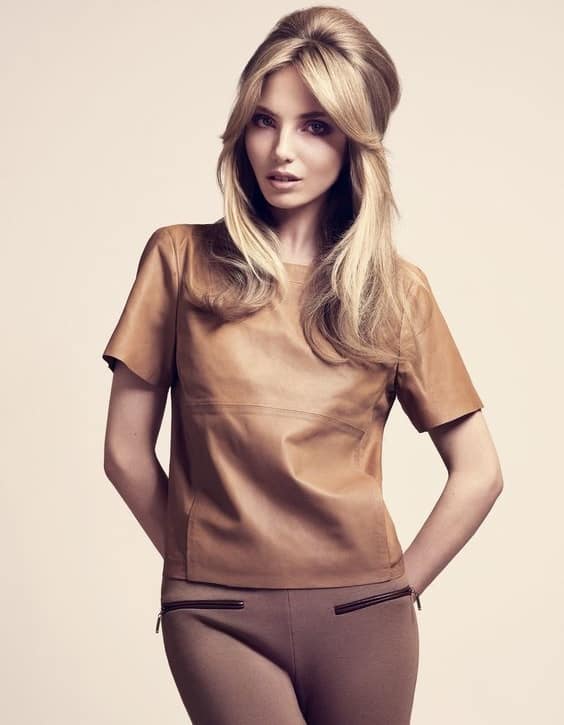 The 70s  hairstyles were all about volume. You will be needing loads of hairspray when you want to recreate one of the most popular hairstyles of that time. If you are already rocking curtain fringe, for the next big event put your hair in a half-updo.
Ideal for: The voluminous half-up is definitely not an everyday mane, so save it for special occasions.
How to Style: Backcomb the top part of the hair for a huge volume. Use a pretty hair accessory to put it in an half-up. You can first blow-dry it with a large round brush so that it looks very natural.
2. Finger Waves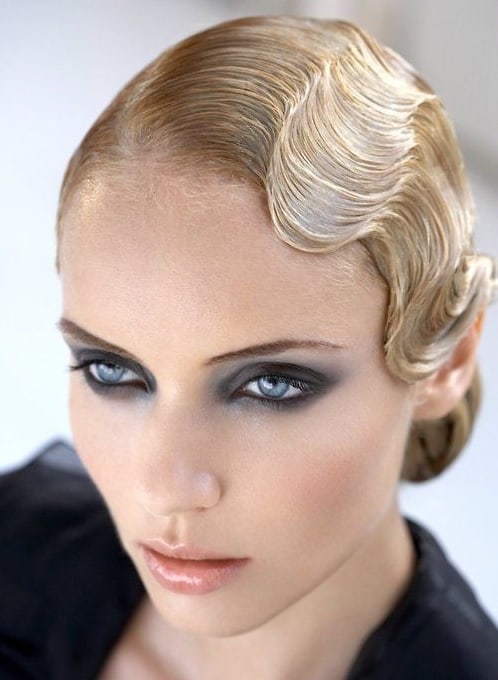 The 70s-inspired finger waves are a part of a very elegant updo that can be your hairstyle for a glam occasion.
Ideal for: It can elevate every single opulent dress for that gala night you are attending.
How to Style: It might be best if you let a professional do this one. If not, create a very smooth updo with a low bun, and start working on the waves with your fingers.
3. Beehive Hairstyle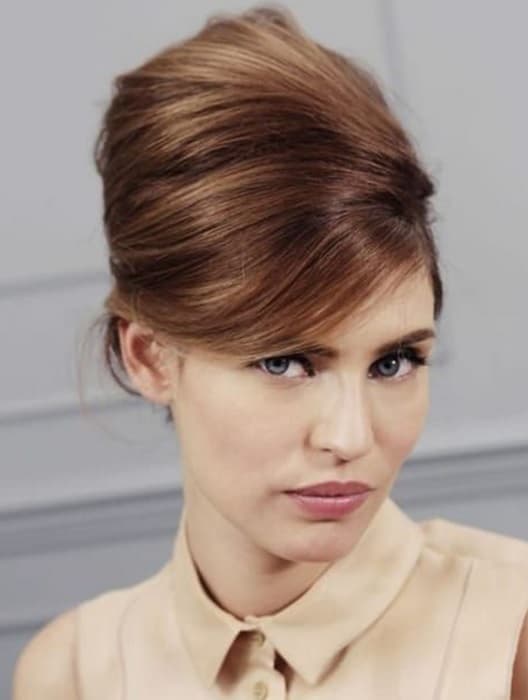 The iconic beehive quince updo, revived by Amy Winehouse can be your hairstyle of choice as well.
Ideal for: Not an everyday updo, but would be amazing for an event.
How to Style: You'll want to add so much volume if you want to recreate the original beehive hair look from the 70s.
4. Messy Waves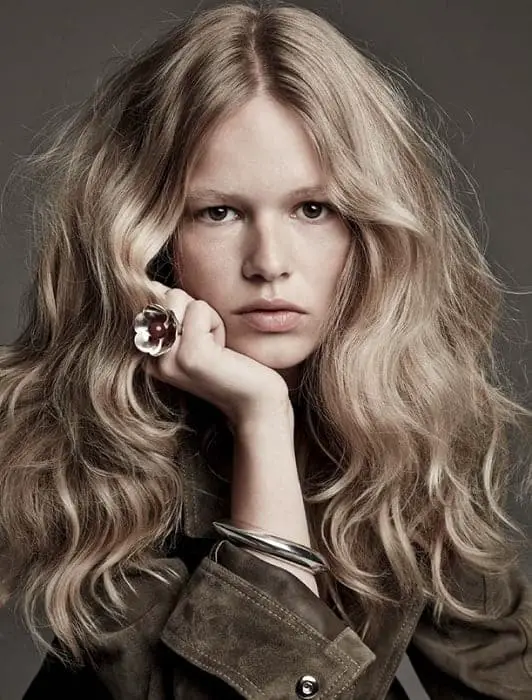 Messy beach waves are not a thing invented now. On the contrary, this is among the most popular 70s hairdos.
Ideal for: Great for everyone, mostly because it's so easy to style.
How to Style: There's no need to style anything to perfection. Instead, mess up the waves as much as possible.
5. Half-Up Bouffant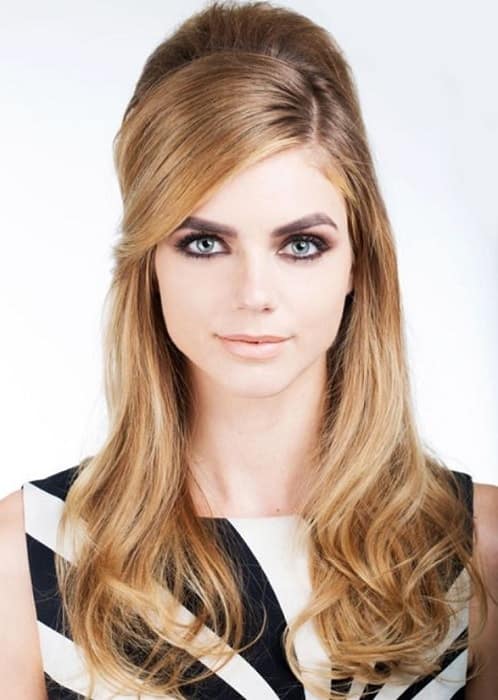 Sleek and voluminous can work in the same hairstyle. If you had any doubts, just take a look at the statement half-up bouffant.
Ideal for: It is more of a sophisticated hairdo that you can recreate when you have to attend a party.
How to Style: Blow-dry the hair with a round brush for more volume. Tease the top part in the back and secure it with pins. Sleek the front two strands and secure them behind the ears.
6. Feathered 70s Hairstyles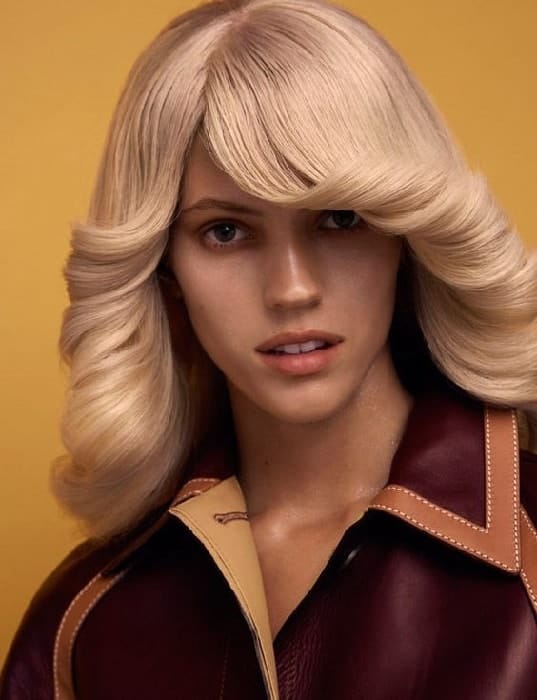 This decade knew exactly what glamour is. If you're all about opulent looks, feel free to try the fabulous feathered hairstyles.
Ideal for: This gorgeous hairdo can be done on short and long hair, but is reserved for special events. You wouldn't want to show up at college flaunting it.
How to Style: First of all, your hair has to be cut in layers to copy this specific 70s inspired hairstyle. Curl the ends with a flat iron or a curling wand. Using a round brush with a dryer is possible as well.
7. Boho Accessories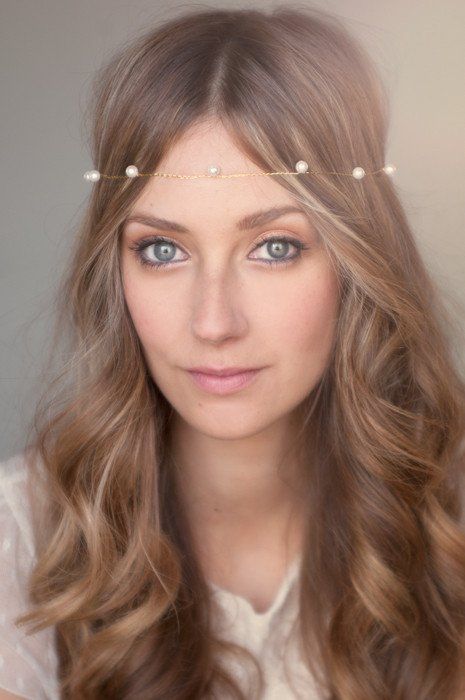 Those chic boho accessories are recognizable for 70s hairstyles. Ladies used to flaunt them with curls and on the forehead.
Ideal for: You definitely won't be going to work with this glamorous mane. Instead, work it for a night out or a dinner date.
How to Style: Start by creating curls with either a curling iron or hair rollers. Once you're done, do a middle part and put on your pretty accessory on.
8. Retro Waves
Hollywood is obsessed with these shiny glamorous retro waves. So many celebrities love copying this 70s hair look for red carpet events.
Ideal for: Any face shape can opt for the classy waves. They are best for glamorous happenings where you'll be wearing a stylish ensemble.
How to Style: Start by doing a dramatic side part. Start curling your hair with a curling wand away from the face, each strand in the same direction. Once the whole hair is done, comb it with a brush and spray it.
9. 70s Hairstyles with Blunt Bangs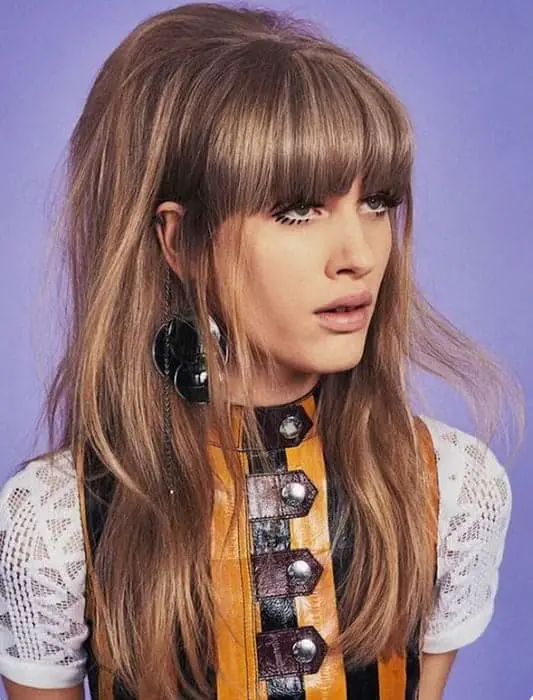 This decade brought so many timeless and beautiful 70s hairdos for women that are now making a comeback. The long blunt bangs you've always wanted to get can now become your go-to style for the winter.
Ideal for: Long and blunt bangs such as these are very flattering for women with square and oval face shapes.
How to Style: Leave the mane messy, and deconstructed. Back in the 70s, there was no need of perfectly sleek and polished finishes. Don't forget about a boost of volume in the back part.
10. Afro Finger Curls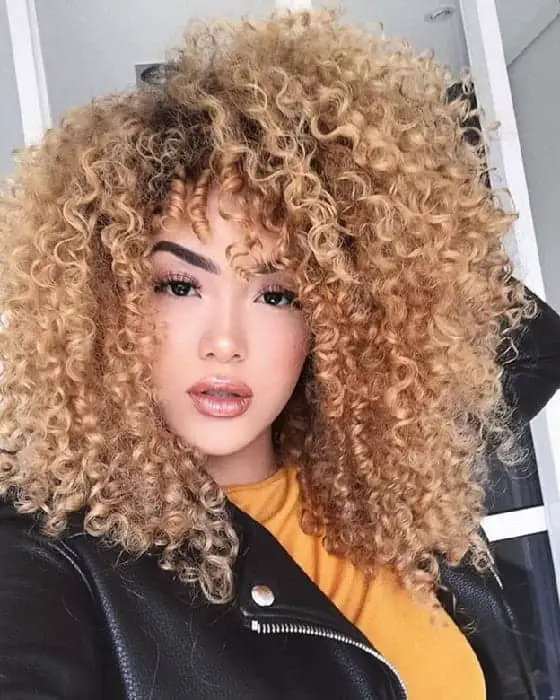 Women with natural afro finger curls can set their luscious mane free. The ones that are not blessed with this bouncy do, can curl it.
Ideal for: It is one of the most playful 70s hairstyles that looks so cute. Any hair type and face shape can try it, and the gals who already have a naturally curly do have to start treating it well.
How to Style: Do you remember that curling trick with a pencil that was all over the internet? It just requires a pencil and a flat iron. Wrap each strand of hair around the pencil and go over it with the iron.
11. Dreadlocks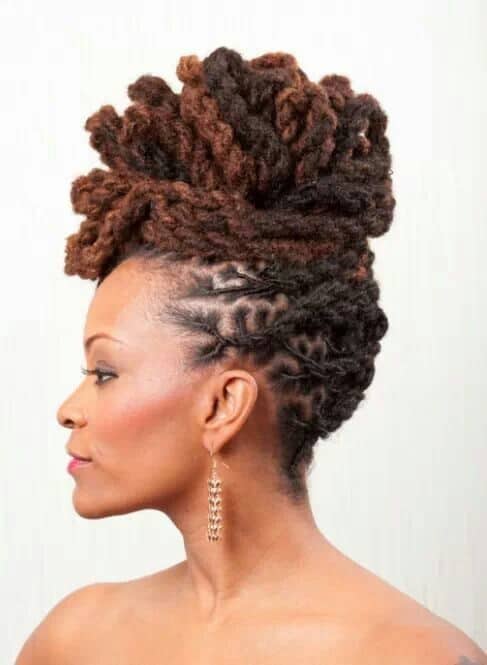 Dreads are so fabulous hairstyle for women in 70s too! Start looking for a pro to do them for you. You can even get extensions in a range of colors to be the coolest girl around.
Ideal for: Any woman with an adventurist spirit, ready for experiments is the best candidate for locks.
How to Style: You will definitely need a pro at dreadlocks, otherwise, you won't be able to do them yourself.
12. 70s Hairstyles with Headbands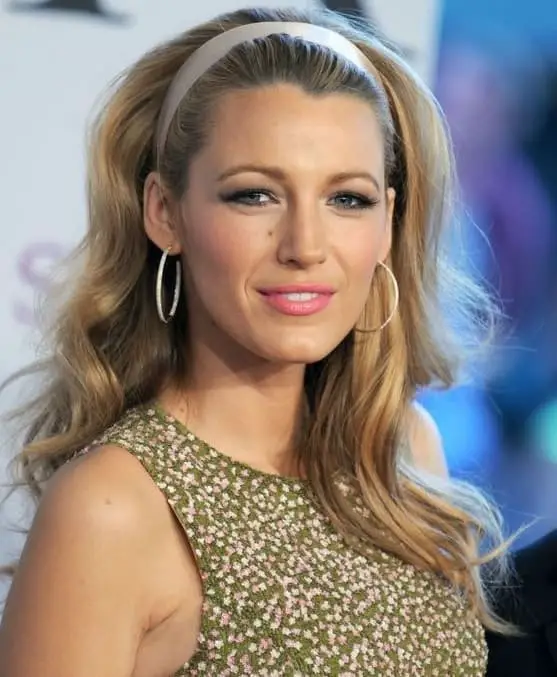 Those wide satin-like headbands you've been seeing on Instagram lately belong to the 70s. It was a decade of opulent hair that involved so much boost in the roots.
Ideal for: Gals who are obsessed with hair accessories will want to copy the style above right away. There is no rule on which face shape can opt for it, which means it's meant for everyone.
How to Style: Curl the hair with either a brush or a curling wand with a large diameter. Comb it back and add the headband.
13. Braided Updos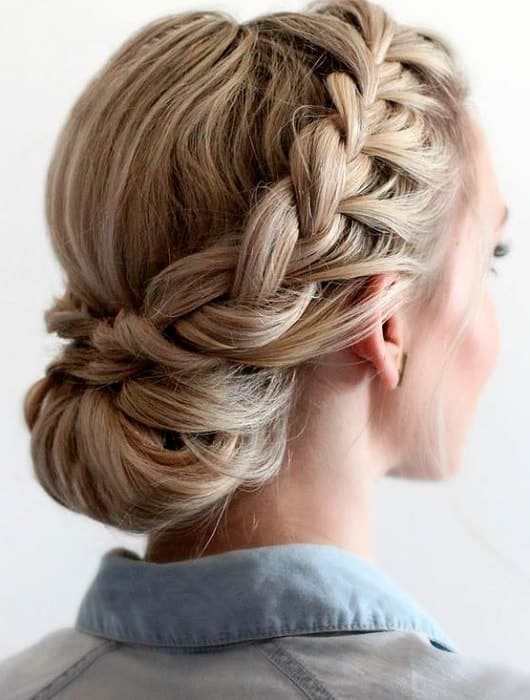 Even the tiniest braid can add that chic vibe to your updo.
Ideal for: These updos can be both elegant and fun, so it's yours to pick for which occasion you'll rock one.
How to Style: To recreate the 70s hairstyles with braids, first you want to decide which type of braid you'll use. Simply do one on each side and tame it down in a low bun.
14. Highlighted Layers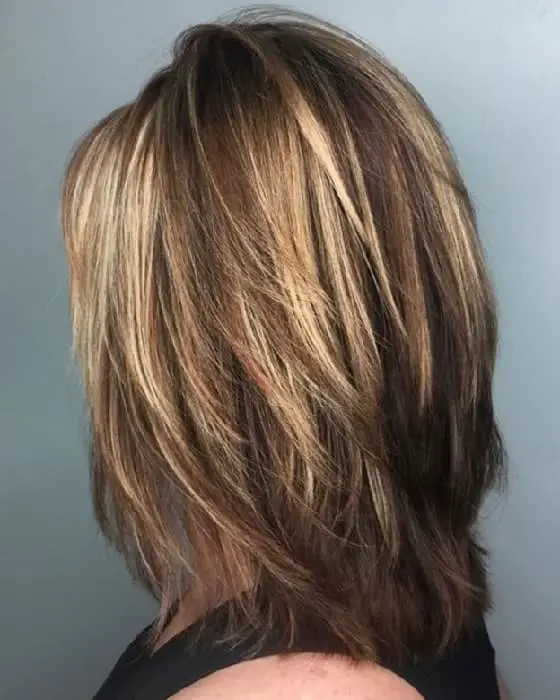 Layers, layers, layers! Popular back in the 70s, and trending once again now! Add them everywhere, and elevate the do with extra highlights.
Ideal for: The graduated highlighted styles are complimentary for all women, especially if you have a certain color wave in mind that really suits you.
How to Style: The best way to show off the new mane is a chic blowout.
15. Mushroom 70s Hairstyles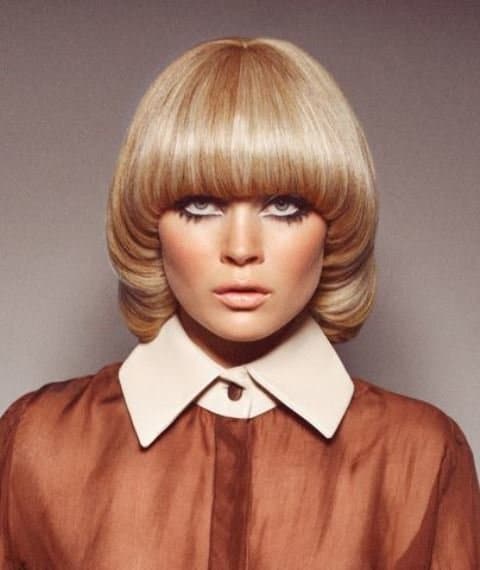 Back in the day everyone wanted to have the slickest, biggest, curviest mushroom mane. Women were totally obsessed with it, and thankfully it is popular once again.
Ideal for: Everyone can pull it off, but it's not a regular 70's hairdo you can flaunt every single day.
How to Style: Get a very sleek hairstyle by blow-drying it with a round brush, curling the tips towards the face. You can always use the help of a curling iron.
16. Disco Curls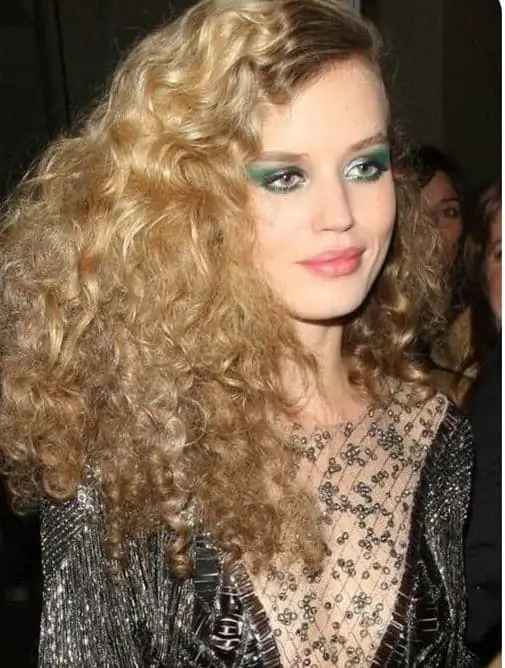 Get in a disco mood with bouncy curls! These are not like the afro finger curls, but much messier and with plenty of backcombing.
Ideal for: It's obviously made for a ladies night out.
How to Style: Use a curling wand with a small diameter, then deconstruct the curls with your finger. Add a statement embellished accessory as a final touch this retro 70s hair look for women.
17. Super-Long And Sleek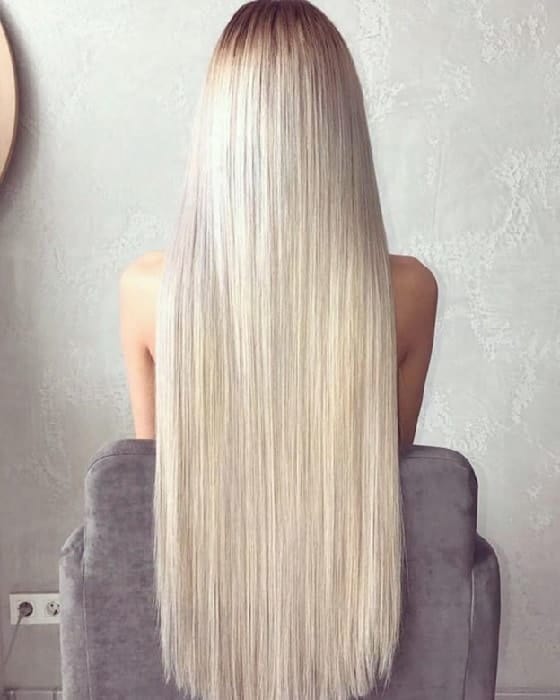 Inspired by Cher's iconic haircut, long, sleek and shiny is the new trend. Kim Kardashian already gave dark skin with blonde hair a go.
Ideal for: If you have long hair, this mega-popular hairdo is literally screaming your name.
How to Style: To achieve the very sleek vibe you'll need a straightener, hair oil and shine spray.
18. Brow Skimming Fringe
Your bangs need to be long, messy and wild if you want to copy cool 70s hairstyles.
Ideal for: Most faces will be amazing with this fringe, but the ones that will work best are square and oval.
How to Style: No need for special styling, just take very well care of your hair with hair oil and heat protecting spray.
19. Shaggy Bob with Fringe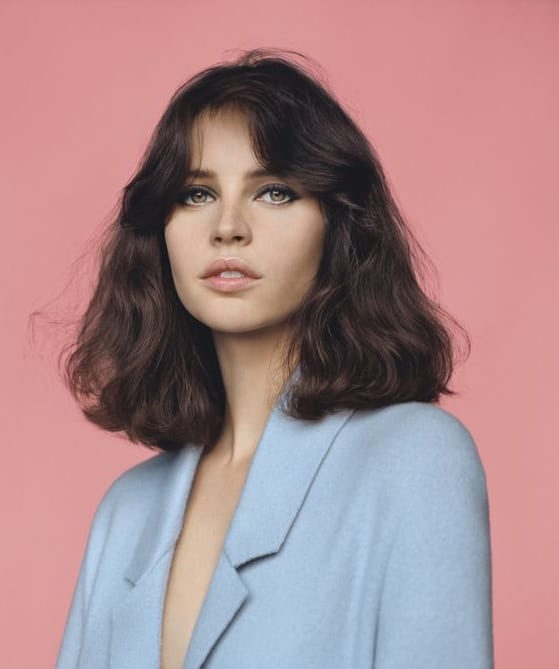 We are all crazy over bobs in 2023. If you add a shaggy vibe to yours and messy fringe, it's almost the same as going back to the 70s.
Ideal for: Everyone with a long bob can work the shaggy mane.
How to Style: There many ways to style this hairdo. The first end easiest one is to let your hair air dry and spray some sea salt. The second one is with the help of a curling iron, but all waves can be in a different direction. You can also try 27 piece bob too.
20. The Pageboy Cut
When you hear a pageboy cut, the first thing that comes to mind is 70s hairdos. This easy and chic style will perfectly show off the features of your face.
Ideal for: It is a short mane, so all women who are ready to get a crop can try it out.
How to Style: There are numerous variations of the pageboy cut, this is one of the modern dos that is very easy to recreate. If you are not a huge fan of baby bangs, have them longer.
21. Edgy Waves with Retro Drape Bangs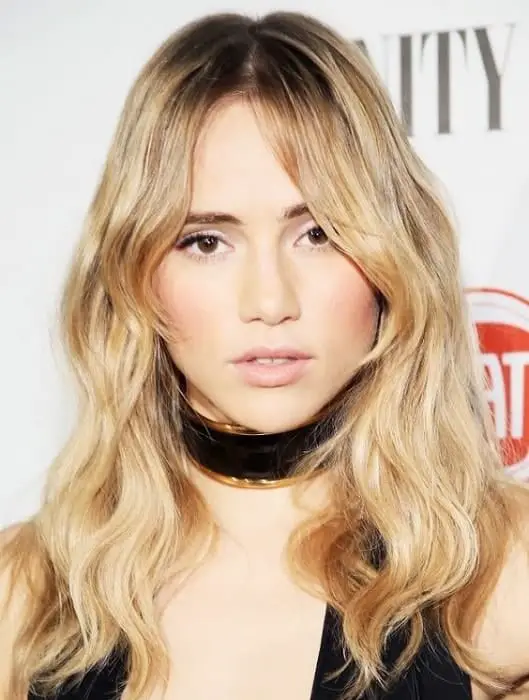 Waves look even better when paired with drape bangs.
Ideal for: This is both an everyday hairstyle and one you can flaunt at a party.
How to Style: Do the waves with a flat iron, and add some curves to the fringe as well.
22. Mega Voluminous 70s Hairdos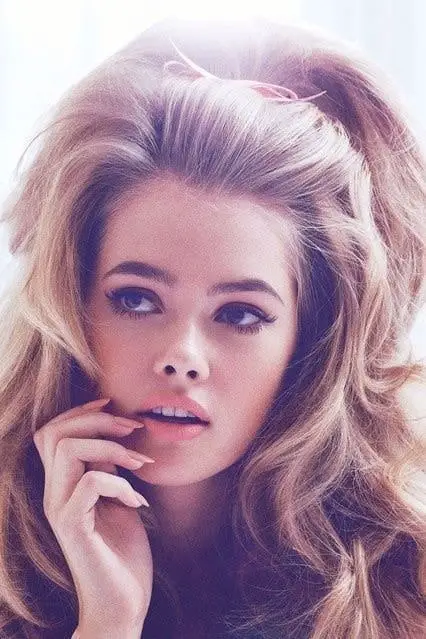 Get ready for some serious volume with this 70s vintage hairstyle!
Ideal for: You can simply walk in a café working this mane. When you actually have a classy event, that is the time to put it into action.
How to Style: Blow-dry with huge brushes, tease and backcomb. Those are the three tips you need to know about mega volume.
23. Baby Bangs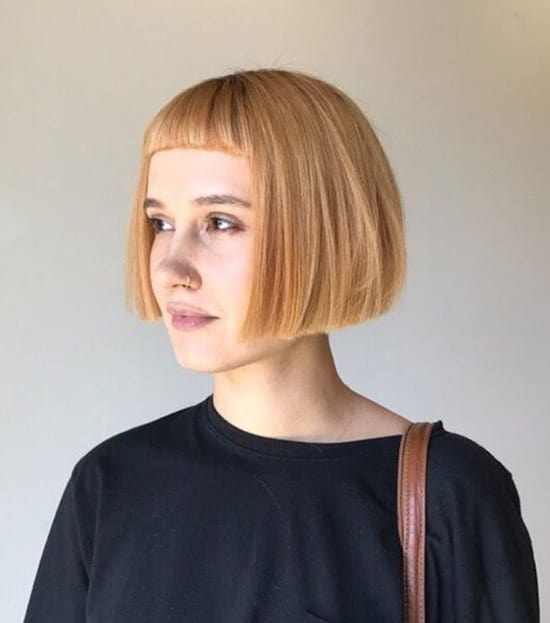 If you follow celebrities you already know that baby bangs are a thing. It means that this is the best time to bring back these popular 70s hairstyles that feature the micro fringe.
Ideal for: Oval and heart shapes should definitely go for baby bangs.
How to Style: Keep everything very simple and straight.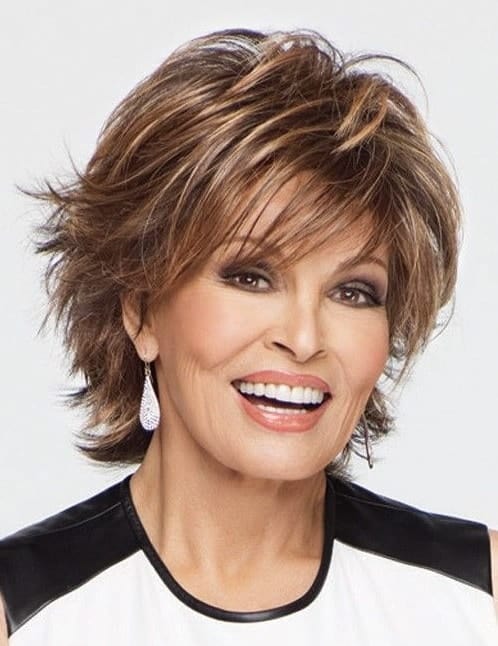 Short or long, layers will boost the volume like no other haircut. If you do a throwback to the 70s hairdos, you'll see that women got the best out of layered manes for quite a while.
Ideal for: All women can work feathered dos, from teenagers and up.
How to Style: Backcombing will be your best friend for feathered layers.
25. Boho Braids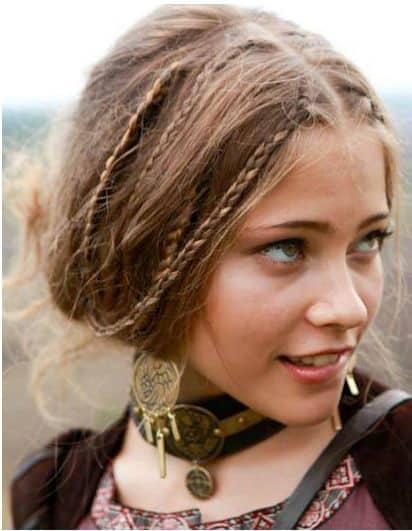 Boho braids are even better than regular braids. The thing is that you can actually experiment with them and put the braids wherever you want. That's the whole beauty of boho hairstyles.
Ideal for: The boho braids are perfect for women with a laid-back style.
How to Style: These 70s hairstyles for women are so versatile and there is no rule on how you should exactly style them.