Bangs with glasses is not the typical combo women choose to flaunt their hairstyle. But if you know the right ways to do it, you will have the trendiest look ever. There are so many chic hairstyles with glasses and bangs.
They work for many different face shapes and hair lengths. If you love your glasses very much, but you also want to try out a cool fringe, we have some trendy mane ideas for you.
Best Glasses with Bangs Hairstyles
Below you'll see 23 gorgeous bangs and glasses looks, so hurry up and make up your mind.
1. Long, Straight with Textured Bangs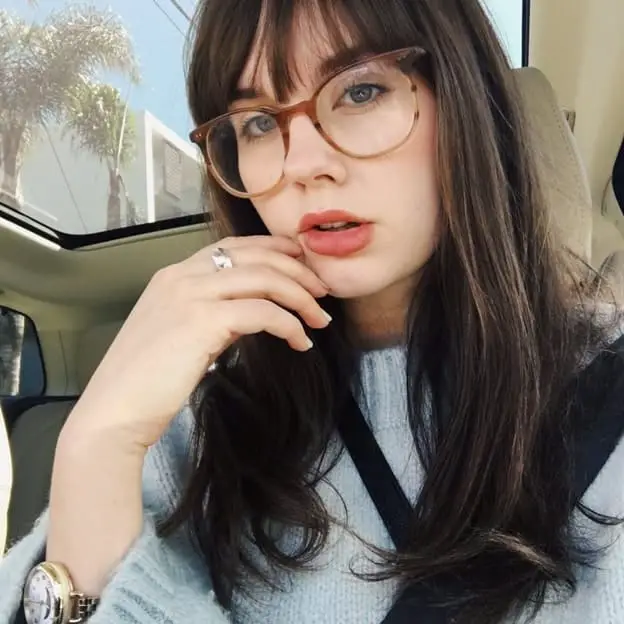 This is the most basic hairstyle for ladies bangs and glasses. Try out textured fringe if this is your first time having bangs. You'll get used to the hairdo much easier.
Ideal for: This do is perfect for square and round face shapes.
How to Style: It is definitely a very easy hairstyle recommended for women with straight hair. Just blow-dry your hair the usual way and do your bangs with a round brush.
2. Chic Bob with Layered Fringe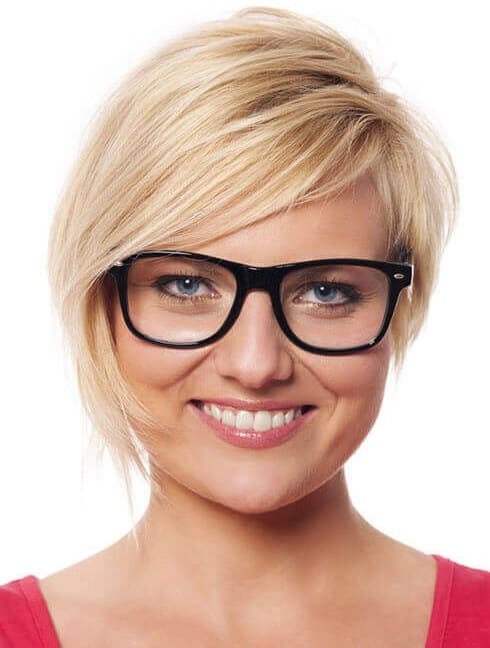 Bobs are such a huge deal right now in the hair department. Make sure to do the fringe layered and asymmetrical pixie bob for an edgy vibe.
Ideal for: Round, diamond and heart-shaped faces are the ideal ones for this mane. It will give an elongated feel, which is the main purpose for wider faces.
How to Style: Fortunately, you will only need five minutes to achieve this look. Blow-dry your hair in the direction that you want the fringe to go. If you have any strands that don't want to collaborate, turn on the straightening iron.
3. Red-Hot with Blunt Fringe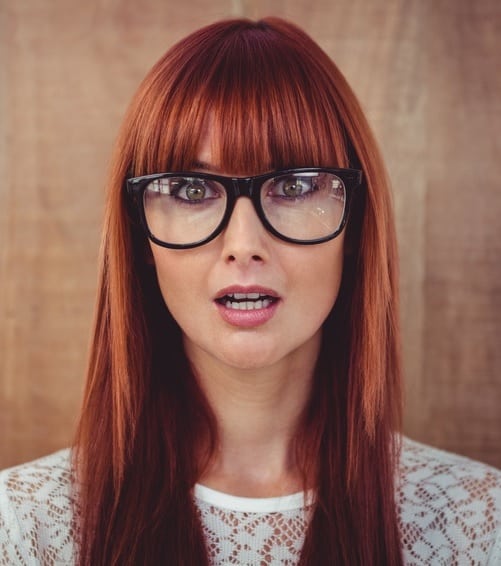 There is officially no sexier hairstyle with glasses and bangs than this one. It is so alluring thanks to the sultry red color. It doesn't matter if you have straight or wavy hair. The blunt bangs combined with red hues are a winning combo.
Ideal for: Square, oval shapes and high forehead.
How to Style: This hairdo will look at its best if your hair is completely straight. So that's why we recommend that you either straighten it or blow-dry it. Keep the bangs thick and sharp.
4. High Updo with Side-Swept Bangs
High updos are so flattering for bangs with glasses. They give that sultry look to the appearance.
Ideal for: Heart shape, oval and round.
How to Style: You can do any type of high updo that you like. Make it sleek and smooth for the office or relaxed for a night out.
5. Barely-There Bangs with An Updo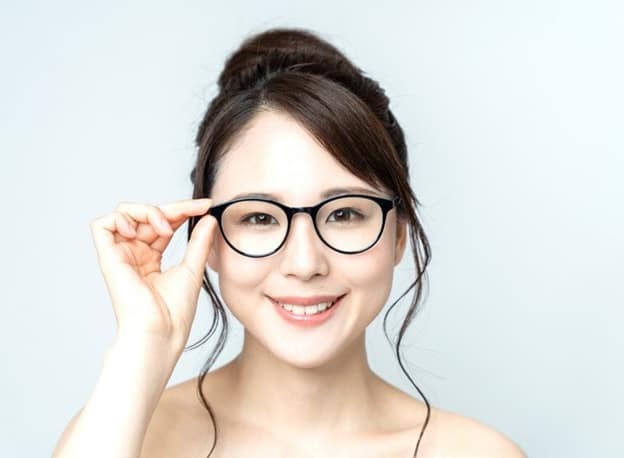 The fringe can be minimalist if you are scared to go all the way in. Plus, you can do drape bangs which are very easy to control. As long as you feel comfortable with this hairstyle, you can experiment with so many updo styles.
Ideal for: Short drape fringe is complimenting for round and heart-shaped faces.
How to Style: Create a clear middle or side part in the roots, so that the fringe will stay away from your face at all times.
6. Retro Hairstyles with Glasses And Bangs
Hairstyles from the past like sock hop are making a comeback. Pin-up-inspired manes are once again on trend. There is always the option to do a toned down retro hairdo with pinup curls
Ideal for: All face shapes, hair types, and ages.
How to Style: You will definitely need plenty of rollers to recreate this hairdo. It is not one to flaunt at the office, but it will be a great addition to themed parties.
7. Low Pony with Side-Swept Bangs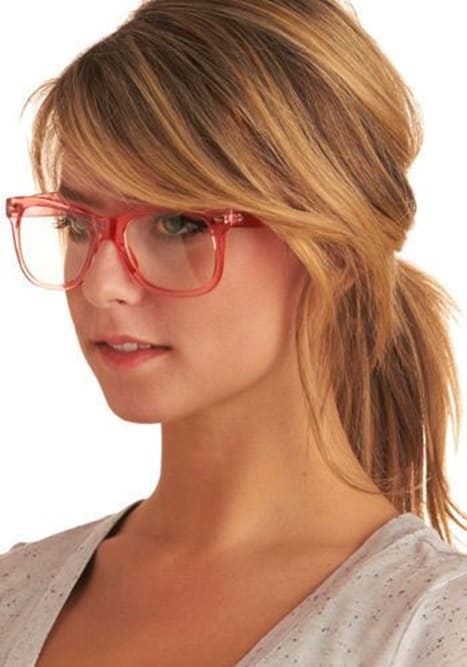 Those side-swept bangs will really frame your face in the best possible way. Low ponies are so easy to do, plus they are appropriate for many occasions.
Ideal for: Women with heart and oval-shaped faces will really look amazing thanks to these  bangs with glasses hairstyles.
How to Style: Grab a hair tie and a comb to achieve a chic low pony. Use a hair straightener or a brush for the side-swept effect.
8. Textured Bangs with Glasses & Silver Bob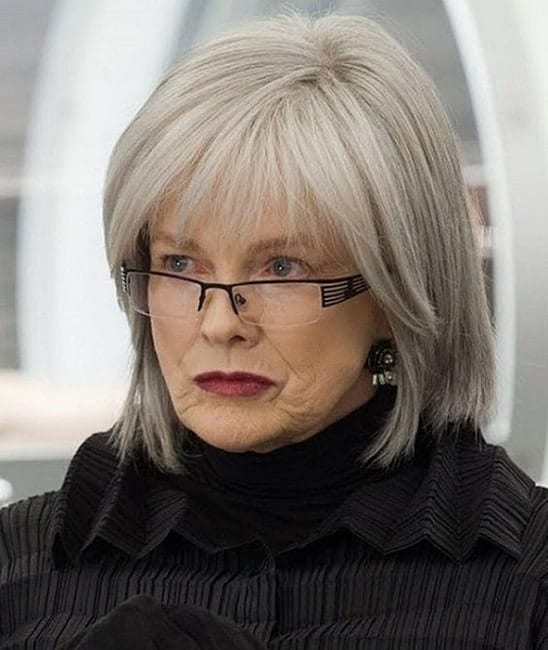 Elderly ladies will be happy to hear that their glasses can now look amazing with fringe also. This chic bob with textured bangs is a great way to start.
Ideal for: Oval is the face that is great with most types of bangs, but it would be 100% flattering with this exact hairdo. Other shapes who should oft for this mane are square and ladies with a high forehead.
How to Style: Get your styling brush ready, you'll need to add that extra volume.
Best Short Hairstyles for Older Women with Glasses
9. Angled Bob with Long Side Fringe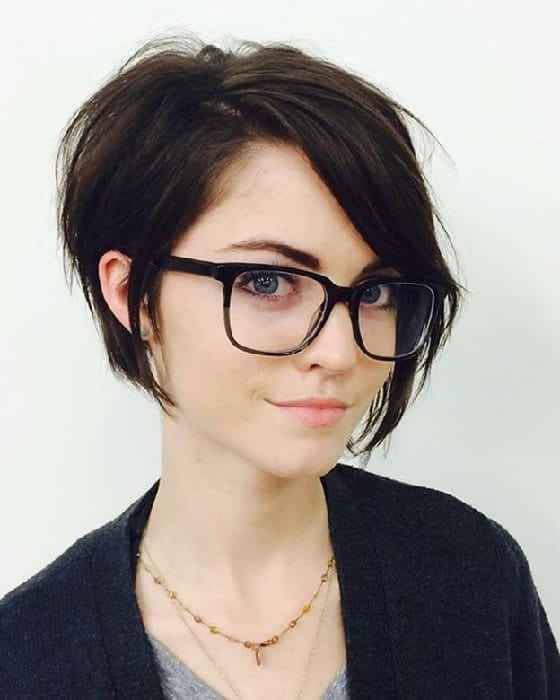 Feel free to let the bangs be longer if you are not completely sure this is the right choice for you. Hairstyles with glasses and bangs can be risky, so if you have longer bangs they will grow out faster.
Ideal for: Round, oval, heart-shaped, high forehead.
How to Style: Bobs are so simple to take care of, especially when they are short. You will need a few minutes to wash and dry the mane.
10. Curly Hair with Bangs And Glasses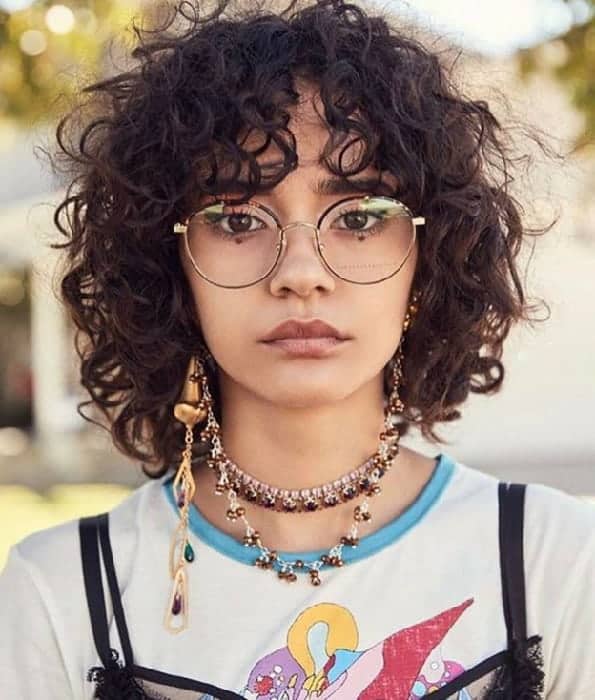 Who says that gals with curly hair and glasses can't have bangs? They can and they should. These will not be a thick fringe, but a messy one.
Ideal for: All face shapes, except for square.
How to Style: Just do whatever you do to your hair every single day. For women with curly hair, it is important to know that they should opt for regular trims. If those bangs grow, they will definitely be in your way of seeing things.
11. Textured Fringe with A Braid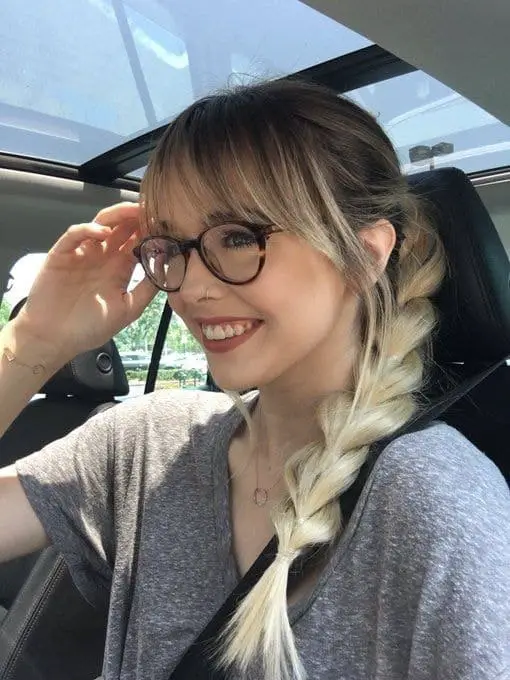 Feel free to put your hair in a braid while you're rocking bangs with glasses. Braids can upgrade every single mane. This means that they work with both side-swept fringes, thick blunt bangs and textured messy styles.
Ideal for: All face shapes.
How to Style: You will only need a hair tie to secure the braid. Experiment with many different braiding techniques to always have a unique hairdo.
12. Messy Lob with Blunt Fringe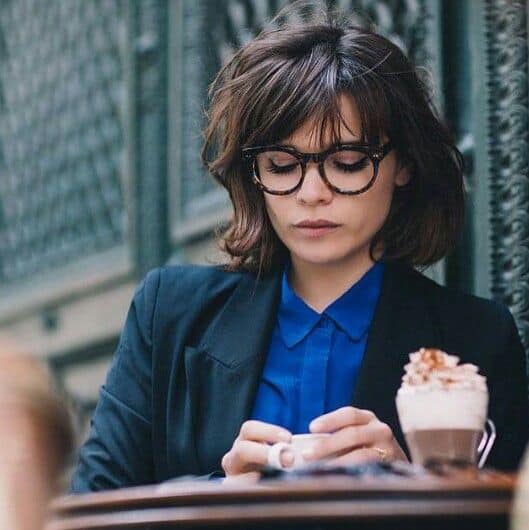 If short bobs are not for you, then you can always try out the longer version- lob. This is a very popular hairstyle which is even better combined with textured fringe.
Ideal for: Square face shapes and women with a high forehead.
How to Style: Use a hair moose to volumize your lob and bangs. Messy looks are very in right now, so you can definitely stay away from sleek, perfect dos.
13. Half-Up, Half-Down with Blunt Bangs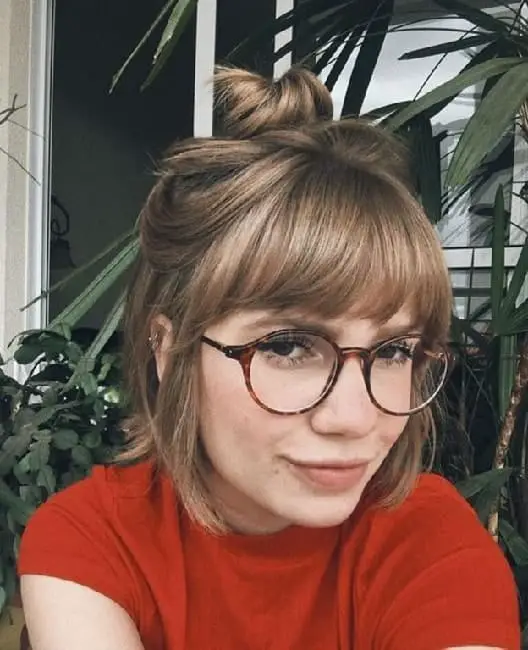 Half-up, half-down hairstyles are so easy and versatile. You can do them in short, medium and long hair. Plus, they are an ideal match with blunt bangs.
Ideal for: Square face shape. This shape is perfectly complemented by blunt, thick bangs. Gals with oval faces can also try these bangs with glasses.
How to Style: The messier your half-up is, the better. Get a hair tie and secure half of your hair up in a small bun. If you have extra time, you can always add some braids or chic beach waves.
14. Hair Bow & Bangs with Glasses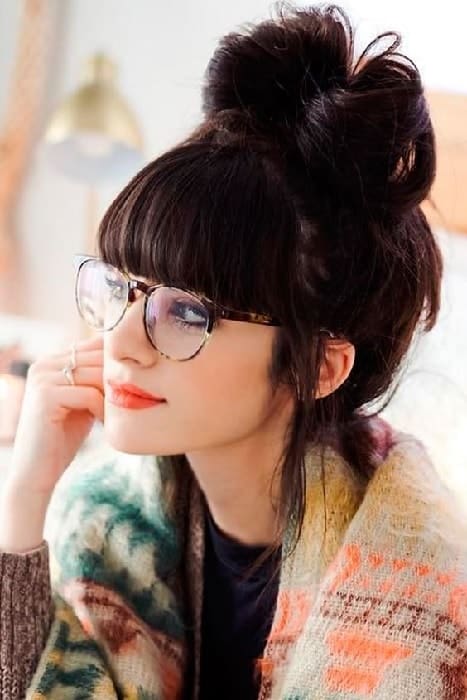 Hairstyles with glasses and bangs don't have to be boring. Skip the regular updo and create a fabulous hair bow with blunt straight bangs.
Ideal for: Square face shapes.
How to Style: Start by putting your hair up in a very high pony. Leave one huge loop, which means you don't completely pull off the hair from the hair tie. Spread that loop to get half a circle of hair on top of your hair.
The tips will be facing forward, towards the forehead. Take that end and create a part in the middle of the half circle. Secure it with bobby pins.
15. Messy Waves with Blunt Fringe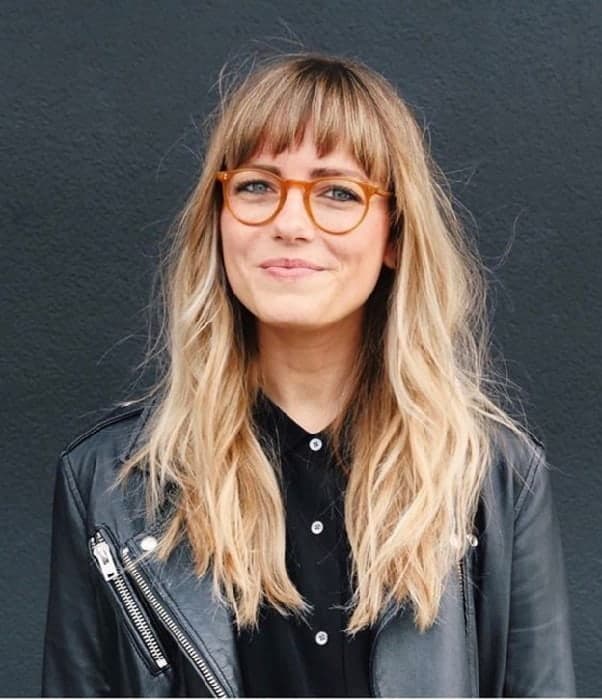 Ladies with long hair should definitely style it in waves, which are very popular among celebrities.
Ideal for: Square and oval face shapes.
How to Style: Spray your hair with sea salt-based spray and start creating waves with a flat iron. Finish off with hairspray.
16. Pixie Cut with Short Bangs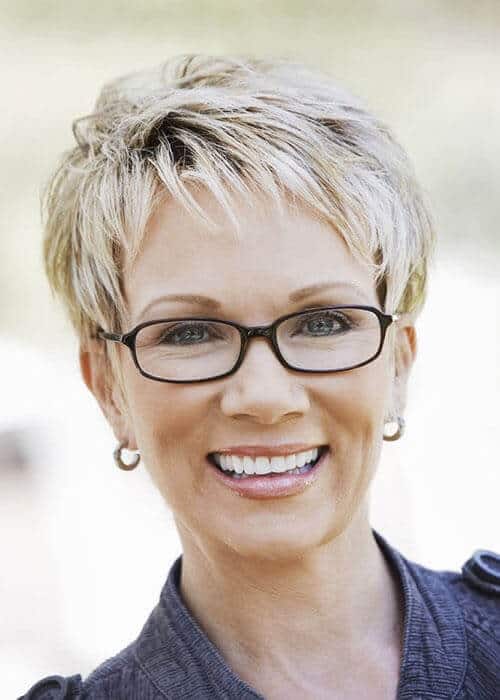 Pixie cuts are the hairstyle that almost always goes with short bangs. It all depends on you whether you'll keep them extremely short or opt for an asymmetric vibe. Either way, this is a flattering mane, especially for gals with glasses.
Ideal for: All face shapes can benefit from such a short hairdo.
How to Style: Keep everything very natural and simple. This effortlessly cool do is ideal for all ages, from the youngest to the elderly. Plus, it is so versatile that you can go for literally any hair color.
17. Blunt Bob with Baby Bangs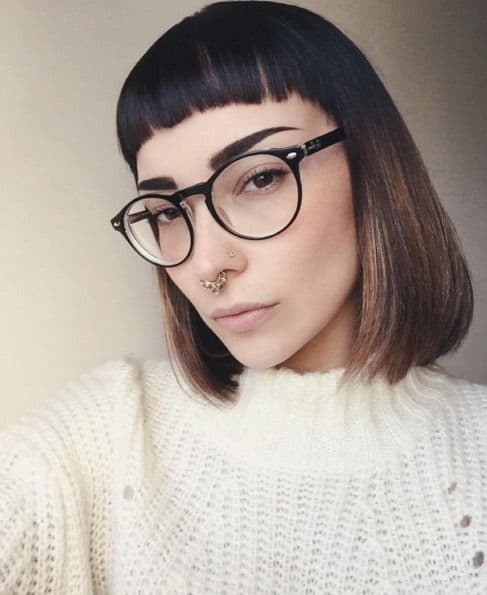 Upgrade that cool blunt bob with baby bangs. This micro trend was delivered by celebrities this summer, which means it is still fresh and ready for you to try it.
Ideal for: Baby bangs are a perfect match with heart-shaped faces. But, all other gals can pull them off with the right advice from hairstylists.
How to Style: Use a hair straightener to get the sleekest blunt bob ever. Also, straighten the baby bangs, but don't forget to use a heat-protecting product.
18. Luscious Curls with Blunt Fringe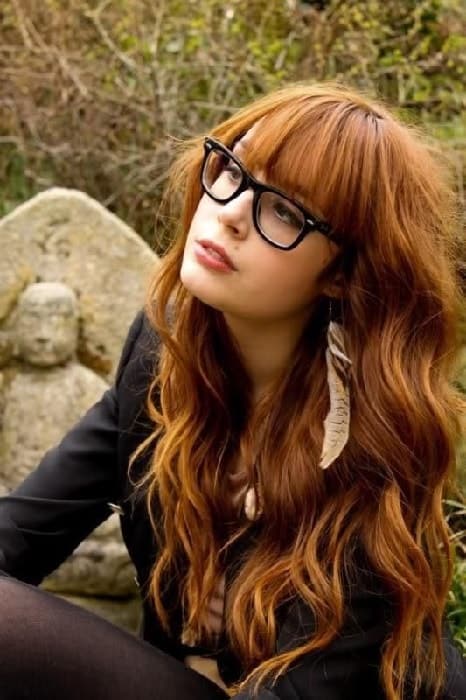 Women with long hair can style it with voluminous curls to elevate their blunt bangs. It is such a glamorous mane that you'll want to copy it right away.
Ideal for: Square and oval face shapes.
How to Style: Turn on the curling iron and start styling your hair. Don't forget to finish with hairspray. The gals who are already blessed with curly hair are born to rock this mane.
19. Pixie with Asymmetric Bangs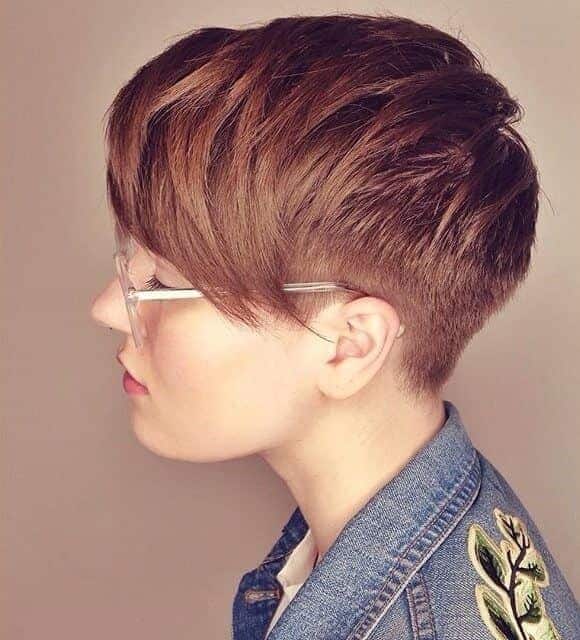 Short hairstyles with glasses and bangs can take years off your face. This fashionable short pixie has the power to transform you into a completely new person. By adding asymmetric bangs, you are joining the group of ladies who always want to be on trend.
Ideal for: Oval, diamond, heart-shaped.
How to Style: The chic pixie cut won't take too much of your time. Because the hair is short, it is very easy to wash it, dry it and style it. Sounds like the ideal mane.
20. Extra Long Bangs with Glasses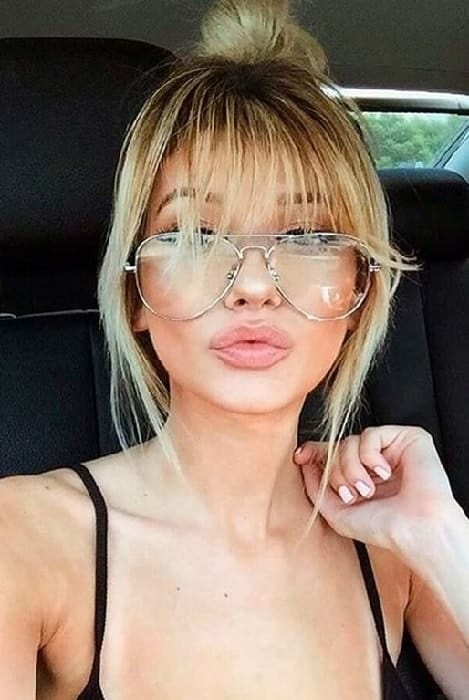 Let's be real! This one will not be easy to pull off. But it looks so hot though! If you are bold enough to rock super-long bangs with glasses, then go ahead and do it.
Ideal for: All face shapes.
How to Style: These bangs will be in your way constantly, but if you get a textured and fine fringe, it will be much easier to style. Thick blunt styles are an impossible choice. Include longer strands on the side for a much more balanced look.
21. Lob with Drape Fringe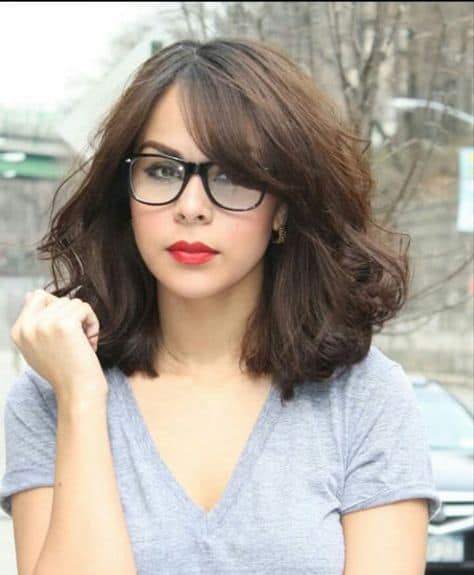 The pretty lob is such a fun hairstyle. It looks even better when upgraded with curtain bangs. They are easy to style and can be done in several different lengths.
Ideal for: Oval, round, heart-shaped.
How to Style: There are several ways to style a chic lob, all super-fashionable. Whether you make it wavy or straight, make sure that there is plenty of volumes involved. Add a hair mousse or any other volumizing product to help you out.
22. Super-High Bob with Side Fringe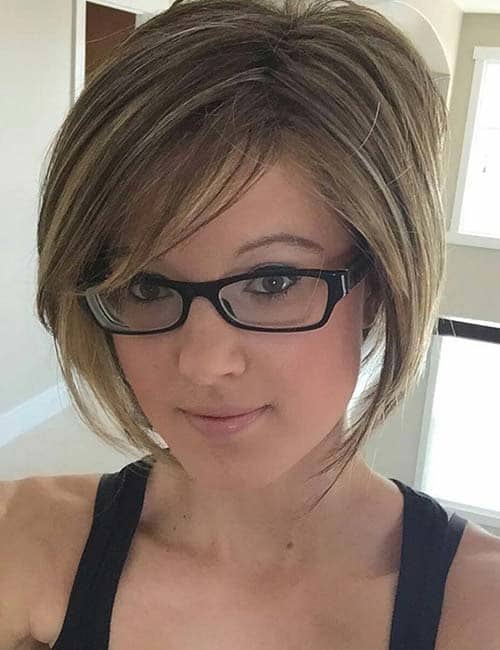 You know what they say, the higher the hair, the closer to god. Short hairstyles with bangs and glasses are best done with volume.
Ideal for: Round, oval.
How to Style: Start by blow-drying your hair upside down. That is the first step to boost the volume from the roots. Use a styling product as well. You can definitely tease it if you feel like it needs even more height.
23. Pixie Cut with Spiky Bangs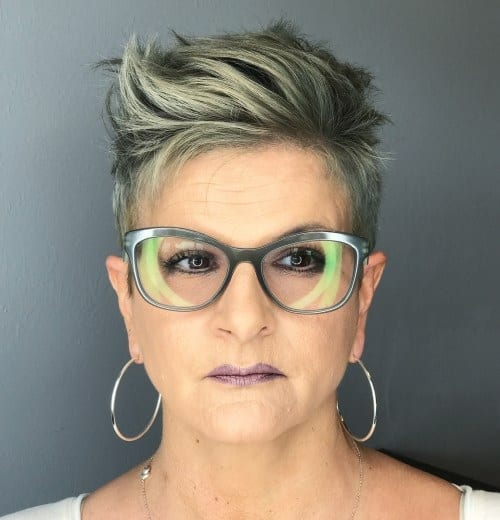 If you're already rocking a pixie cut, why not elevate it with spiky fringe. Take a part of your bangs up for a trendy final look.
Ideal for: Oval and heart.
How to Style: These chic bangs with glasses hairstyles are meant for all ages. You will need a strong hair pomade to take the bangs up and keep them there. Add some hairspray just to be sure.