A new hairstyle with bangs for black women can be just the thing you need to completely change your look. Changing your style can be super fun but sometimes can be tiresome if you don't know what you are looking for.
If you have always wanted to try bangs there are plenty of options that will look great on you and your complexion. With the right haircut, you can shine like a star.
Amazing Bangs Hairstyles for Black Women
For those women who are looking for the perfect cut, here are 22 black hairstyles with bangs just for them.
1. Blunt Bob with Bangs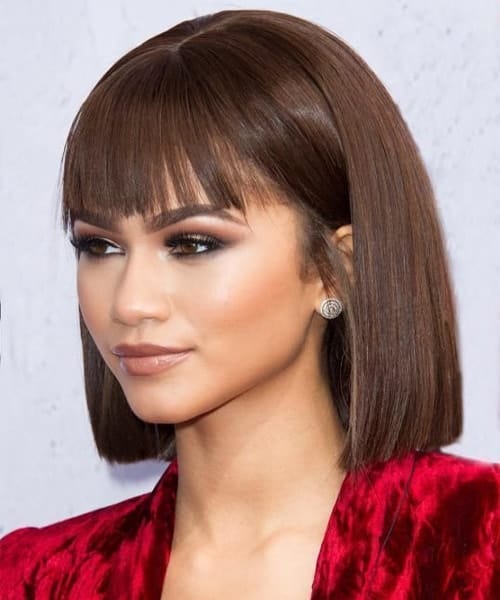 The bob is a classic short haircut. For those of you who want to try short hair, this is a great option. The blunt bangs give this hairstyle a fierce and chic tone. To achieve this black bangs look, you need to cut your bangs and hair completely straight, so your hairdresser needs to be careful with this.
If you desire, you can try a length a bit shorter or longer according to what you are looking for. Another tip to achieve the look is to straighten your hair to appreciate the shape of the hairstyle.
2. Afro Curls with Short Bangs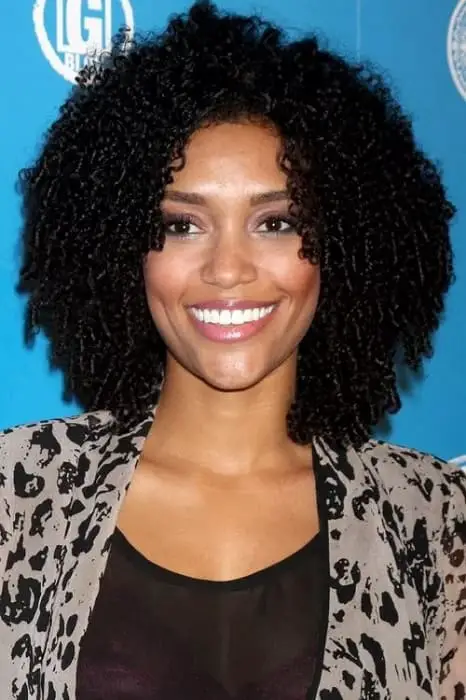 Another option for the women who love curls. Bangs can also go fantastic with afro curls. These short bangs contribute to the overall shape of the hairstyle and help you frame your face.
When thinking about getting this hairstyle you have to be very careful as you should go with a professional; however, not all professionals know how to work properly with afro hair, so you must look for a specialist in this type of hair.
3. Extreme Side-parted Bob with Side Swept Bangs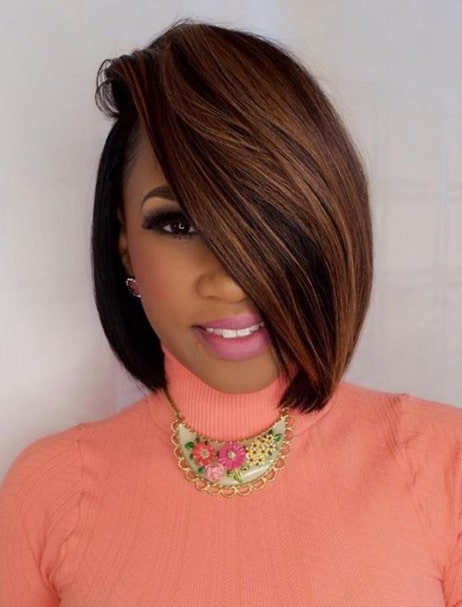 If you love bangs this is the dramatic look you have been looking for. The bangs look sleek and perfect. The hair color with the chocolate highlights goes perfect with dark complexions and the highlights will also make your bangs stand out.
Warning, these extreme bangs can be uncomfortable for some women as it is going to be difficult to see properly.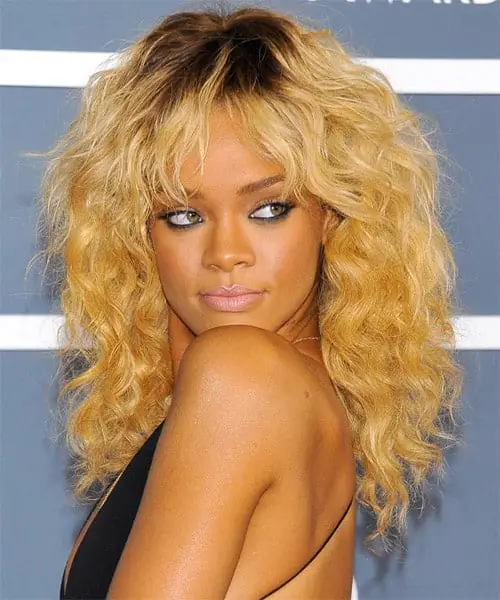 This is the perfect look to irradiate beach vibes. Every element of this hairstyle will help you to look relaxed and ready to sit on the sand and under the sun. Perfect for easy-going fun women that love to have a calm life and keep looking gorgeous while doing it.
The waves aren't too tight but quite loose and help the general look. The see-through bangs are subtle and soft and help to frame your eyes. The golden blonde with dark roots is what completes the whole black hairstyle with bangs and makes it perfect.
5. Pixie with Long Bangs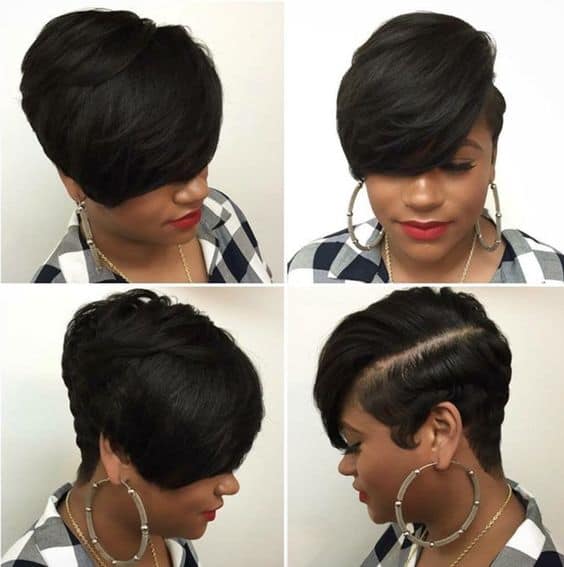 Another great option for those women who want to experiment with short hair. The pixie cut is shorter than the bob cut, but it's super easy to maintain in comparison with long hair.
The long bangs give fluidity and volume to your hair. The contrast between the volume of the bangs and the length of the short pixie cut makes this hairstyle very exciting. Remember that short hair also needs to be styled.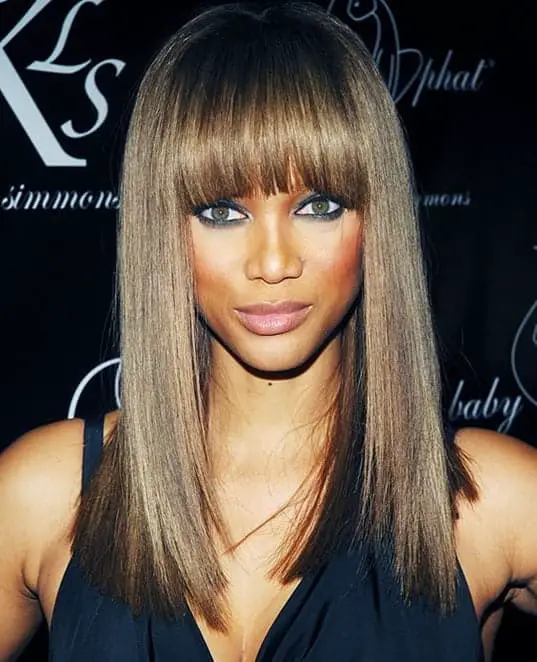 If you want to give a chop to your hair but don't want to try short hair, this is the haircut for you. It is necessary to trim your hair every so often to keep it healthy. A medium length cut is great if you still want to keep a longer cut.
But just trimming the tips of your hair can look like you didn't do much to it, so with the help of the blunt bangs, you will complete your look, making it shine under a totally new light. Blunt bangs work well for black women.
7. Curly Pixie with Long Swiped Bangs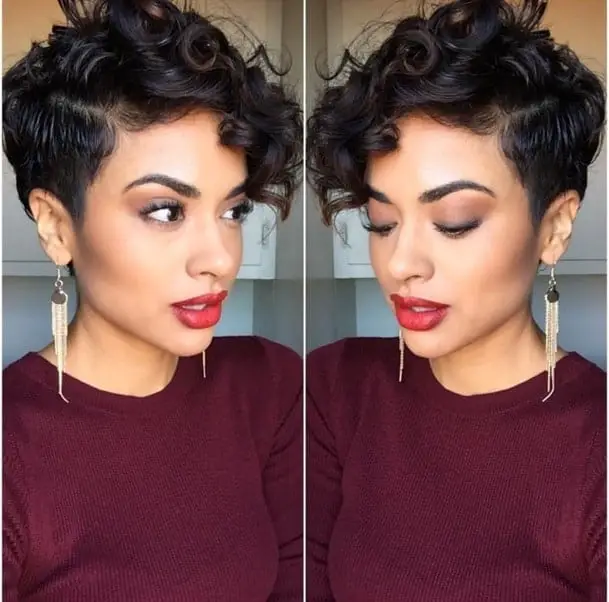 Curly hair can also look amazing in short styles with bangs for black women. The pixie is a great idea to rock your curls. Show off those beautiful curls in every length.
The swiped bangs with the short side of your hair make this look fantastic as it mixes different lengths and textures. Long swiped bangs are a classic and your curls will give it a great twist. The best part is that you can wear your hair naturally.
8. Curly Top Knot with Long Bangs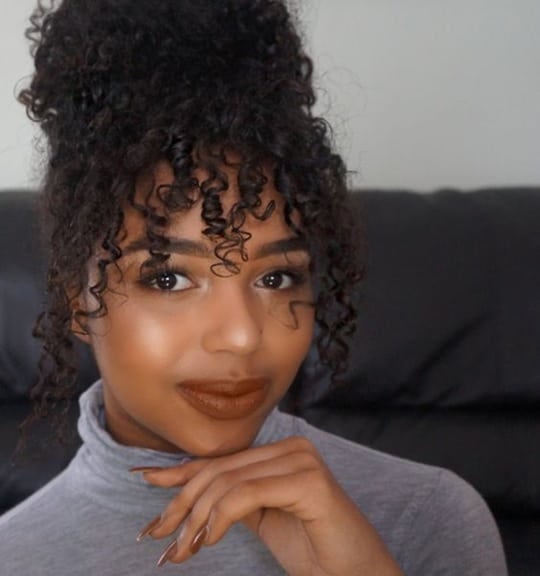 Who said you couldn't wear bangs with curly hair? If you have naturally curly hair you should totally try this. This hairstyle is a cute idea for black hairstyles with bangs. It only consists of a top knot with long bangs.
The idea is kind of simple but you should be careful as you need to go with a professional to get those awesome bangs just right. Don't try to do it by yourself, leave it to the professionals.
9. Topknot with Side Swept Bangs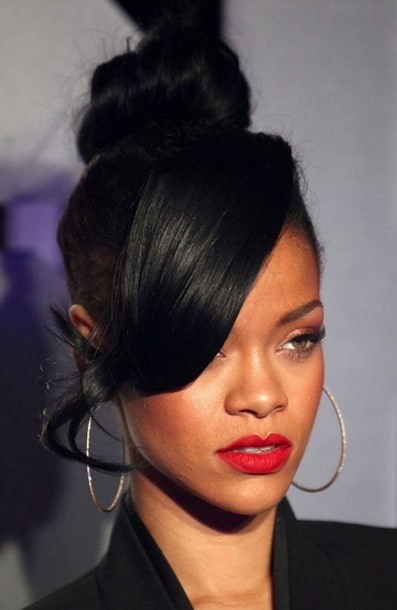 If you love top knots you also can try this hairstyle with straight hair. To achieve this style, you need your hair to look sleek and smooth.
The swept bangs give a fun relaxing touch to the rest of the hairstyle. You can combine this look with some big earrings or hoops without fearing your hair getting tangled on them.
10. Pixie with Short Bangs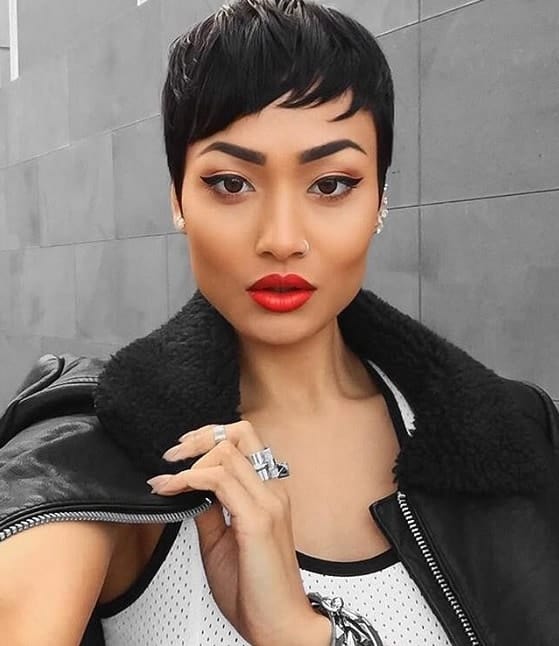 Another option for this feminine look. You can experiment with different bangs according to what you want. Here you can see some short bangs that are swept to one side, making the cut look very elegant.
In order to give this shape to your bangs, you will need to apply some products to keep it in place. You can sweep your bangs to the side of your preference or even side-part them. That is what makes this black hairstyle with bangs so awesome.
11. Ponytail with Parted Long Bangs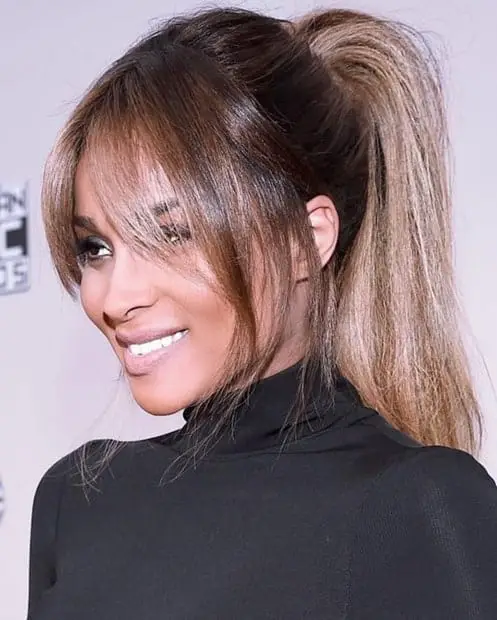 Ponytails are a fun hairstyle to try. They can also look very elegant or totally casual depending on how you style it and the outfit you choose. With this long straight ponytail, you will achieve a very playful but classy look.
The long bangs make you appear youthful while the sleek high ponytail is very stylish. The parted long bangs will allow you to see perfectly without any interference of your hair in your face.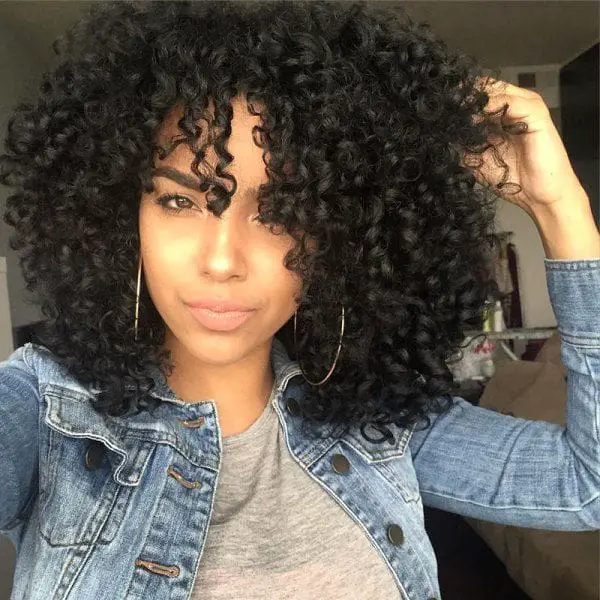 For the women who love their naturally curly hair, this is the perfect black hairstyle with bangs. You can have different lengths of bangs for straight hair and the same idea applies for curly hair.
These long bangs look amazing with the curly hair. The only thing you need to remember is doing your bangs professionally and taking care of them as you take care of the rest of your hair. Now, go and show off that beautiful curly hair!
13. Multicolored Side Bangs and Undercut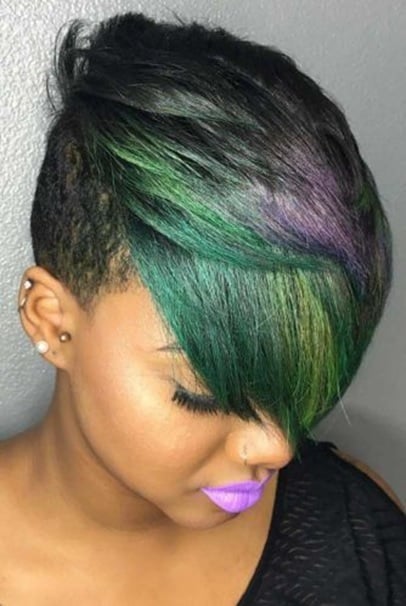 If you like bold hairstyles you should try this. All the different elements make for a crazy and fun style to wear. This modern version of the pixie cut has a lot to offer. The short hair is really refreshing while the long side bang allows you to experiment with your hair.
You can style the bangs as you want. The undercut completes the adventures look. However, if this is not enough the hair color will make you pop. You can try different unconventional colors to take your hair out of this world.
14. Fringe Braids Hairstyle with Bangs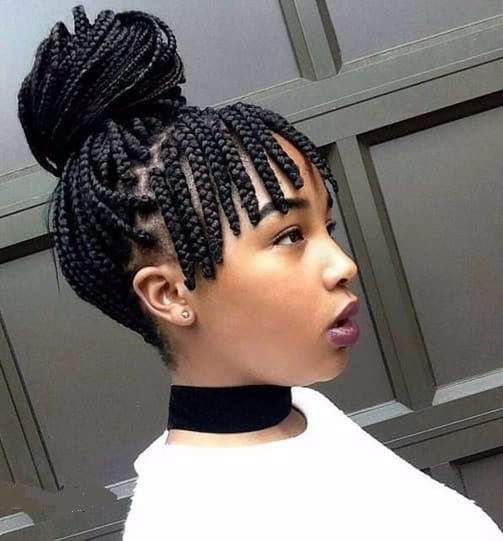 Yes, you can have bangs made out braids, and they look great. You can rock these awesome and unique bangs with the rest of your braids lose or put them on a top knot. Go with a professional to get these braids. After that, you just need to apply the proper care to your new hairstyle in order to maintain it looking flawless.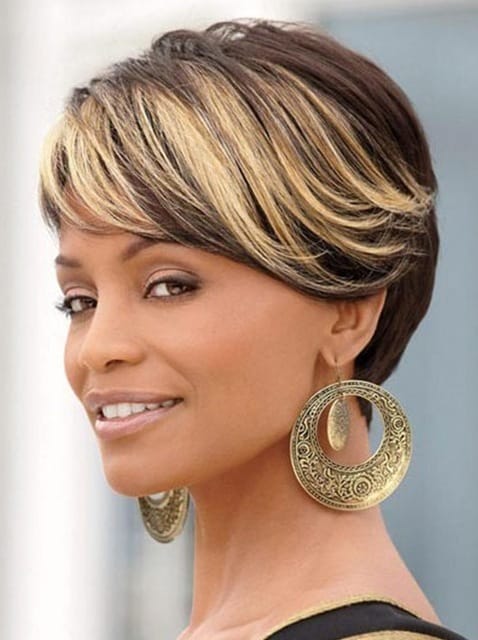 Another style you can try if you want to get some bangs is highlighting them. You will focus all the attention into your brand-new bangs. You can also try this method if you love your haircut but want to add something new.
These highlights will spice up your look. You can also use more subtle highlights, other colors or change the pixie for another cut you like.
16. Highlighted Curls with Choppy Bangs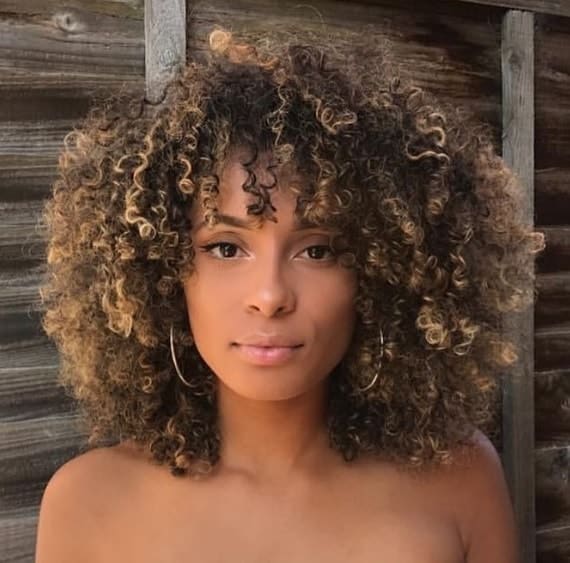 If you want to add some color to your curly hair try this hairstyle with bangs for black women. The choppy bangs will add extra texture to your look.
Blunt bangs will take a lot of space from your face, unlike these bangs that will provide more air and freedom to your factions. It also softens your features. The highlights are an extra special addition that gives you a more carefree style.
17. Ombre Bob with Swept Bangs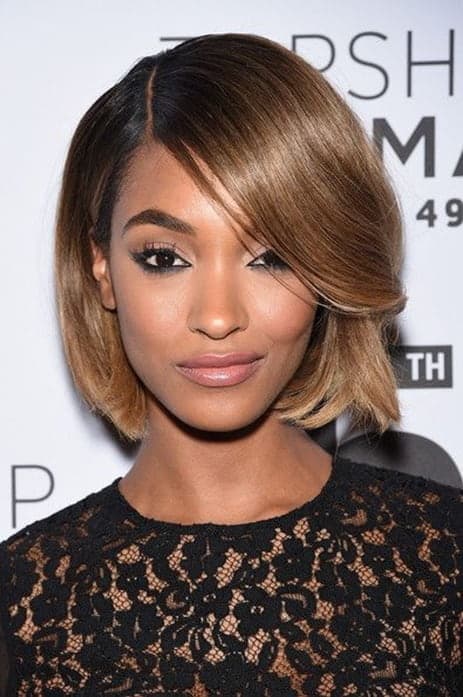 A bob cut is a gorgeous option for short hair and the swept bangs are its classic partner. If you want to give a twist to this look then you can go for an ombre bob.
The colors emphasize the shape of your hair and create a warm appearance. The ombre bob with swept bangs is perfect if you love subtle styles that will enhance your beauty.
18. Short Asymmetrical Hair with Bangs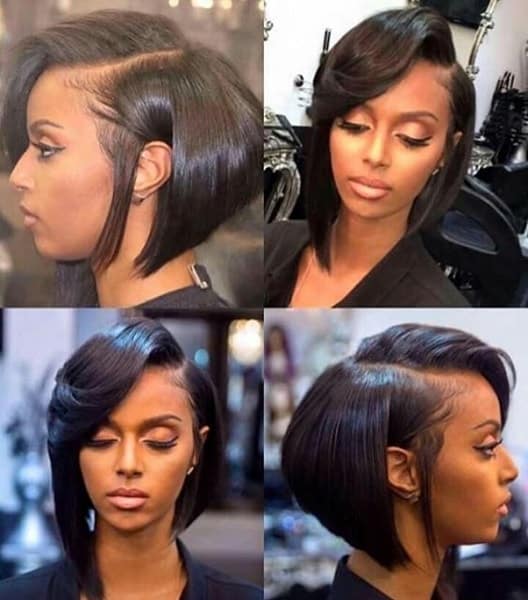 This sleek look is perfect if you want to make a statement and keep being fabulous. This hairstyle is really dramatic thanks to the different lengths and shapes being used.
The composition of all the elements ends in a beautiful result. This hairstyle needs proper maintenance through styling. It requires a big compromise that will be worth it.
19. Space Buns with Choppy Bangs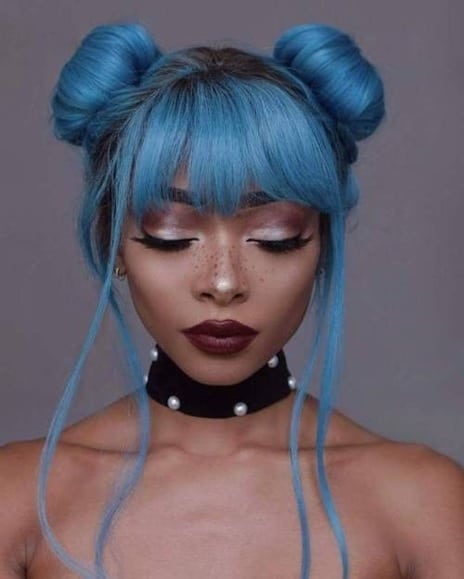 Try this hairstyle if you want a totally different and unique bangs hairstyle for black women. This youthful look has extravagant elements that work very well together. The combination between the space buns and the choppy bangs are the heart of the hairstyle.
The blue color makes this a whimsical look and the strings of loose hair are a beautiful detail that complete the style. You will look like you came straight from a science fiction movie.
20. Pixie Cut with Choppy Bangs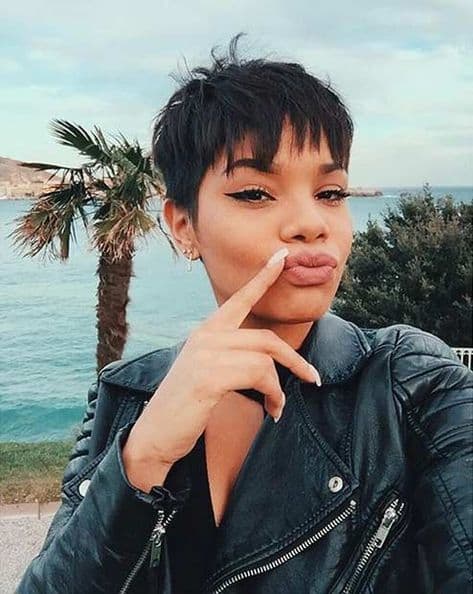 If you love short hair you can opt for getting a pixie cut. This style looks awesome with different types of bangs. As you can see some choppy bangs look great with it. The pixie is a very feminine cut that makes your face stand out.
The choppy bangs will give you an edgy look with their texture. The length of these bangs is great if you don't like having your eyes covered but still want to give them a try.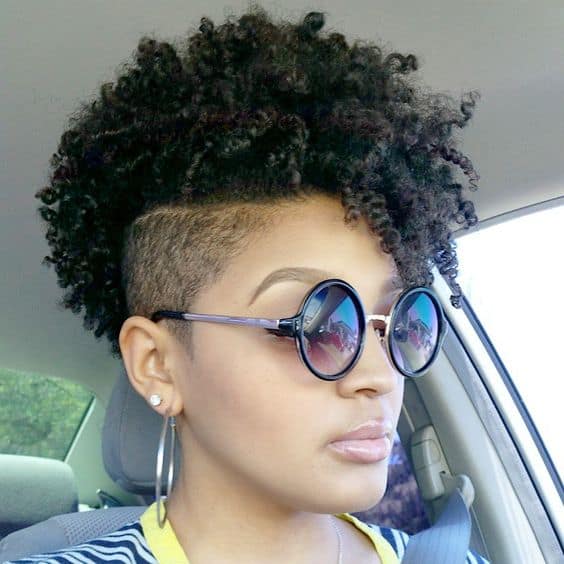 This is an original way to get bangs. Instead of cutting some bangs separated from the whole hairstyle the front of the Mohawk will work as bangs. This is a great alternative for women with curly hair as they can style their curls into a unique look. You have different options to style this cut.
You can play with different textures by deciding if you want your sides polish and well shaved or let them long and curly as your Mohawk.
Mind Blowing Short Hairstyles with Bangs
22. Straight Bangs with Wavy Hair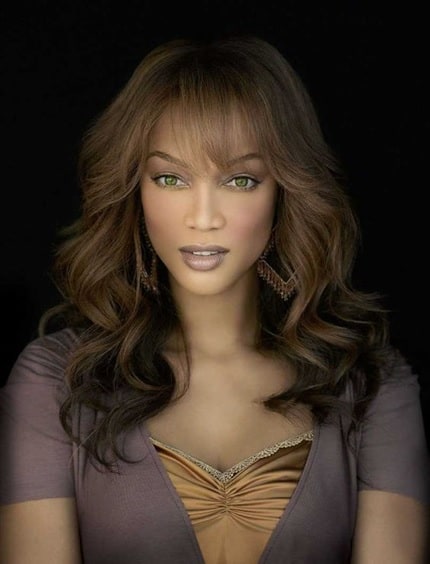 A fun way to play with your hair is by mixing different textures together. You will accentuate your beautiful hair with simple and natural hair.
You can also try the straight bangs with curly hair and the textures will create a bigger contrast giving you a more dramatic look. This is a great idea for an easy and modest bangs hairstyle for black women that keeps being attractive.