We have the best advice for women with fine hair- a graduated bob will change your life! This is the short crop with many layers that gives a whole new dimension for a fine mane. If these 15 graduated bobs for fine hair manes don't convince you to have a makeover, nothing will. Swipe through the images below to see all the flattering styles.
Best Graduated Bob for Fine Haired Women
We have compiled the 15 best of graduated bob hairstyles for women with fine hair. Have a look to get a suitable one for you.
1. Black Angled Graduated Bob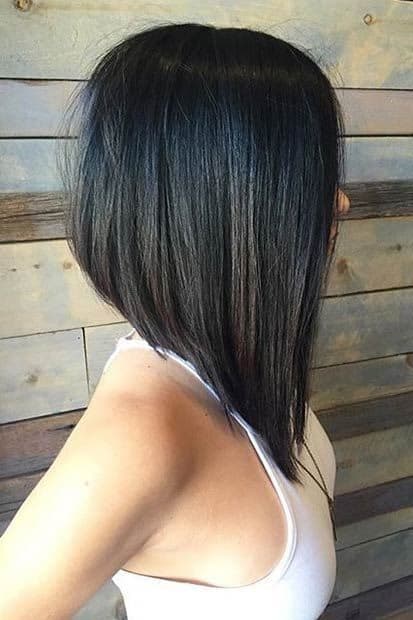 Black is the easiest color to get and flaunt at any age. If you are one of those women with fine hair who don't have an idea which hairstyle works best for them, you should definitely try a graduated short bob. This angled bob can do wonders for you.
Ideal for: There is no doubt that girls, women and elderly ladies can rock a fun mane such as this one. There are no age limitations.
How to Style: The bigger the angle, the cooler your hairstyle will be. For a straight look, put the flat iron into action. That's the best way to achieve a contrasting vibe.
Trendy Long Bob Hairstyles for Women
2. Wavy Layered Bob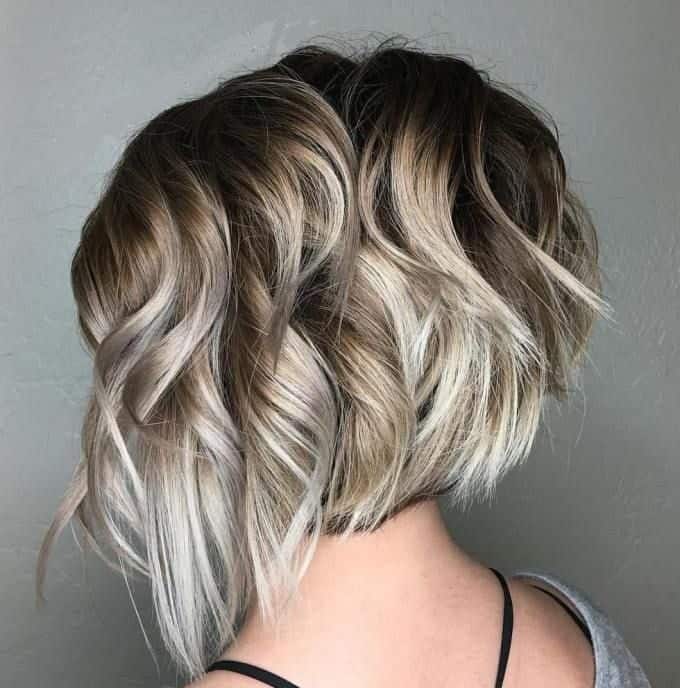 Beach waves look stunning with every possible hairdo, even a graduated bob. Try this boho style graduated bob on your fine hair which will add volume.
Ideal for: The waves seem even more complimentary with longer bobs.
How to Style: Do them with a flat iron in any direction that you want.
3. Graduated Bob with Undercut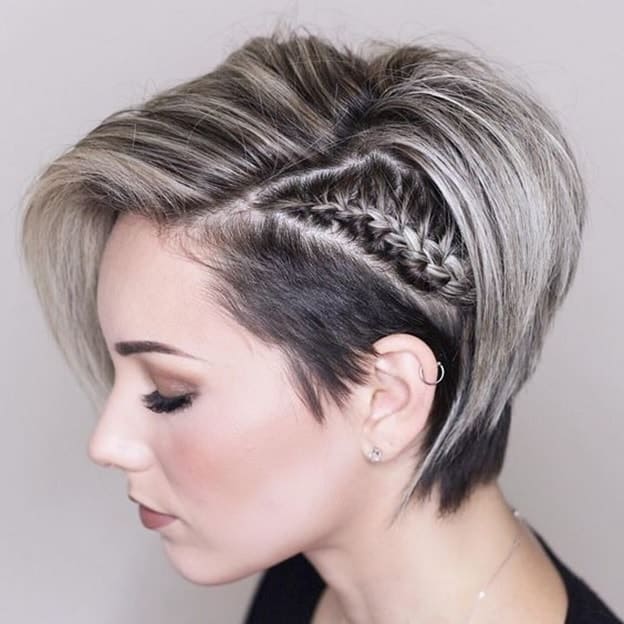 Yes, undercuts are making a comeback again! Combine them with a layered graduated bob for your fine hair and add braids as cool details.
Ideal for: Gals with a rock-grunge style will immediately want to copy this exact mane.
How to Style: You'll only need five minutes to do the braid. Also, you will need frequent cuts to keep the undercut short.
4. Blue Shades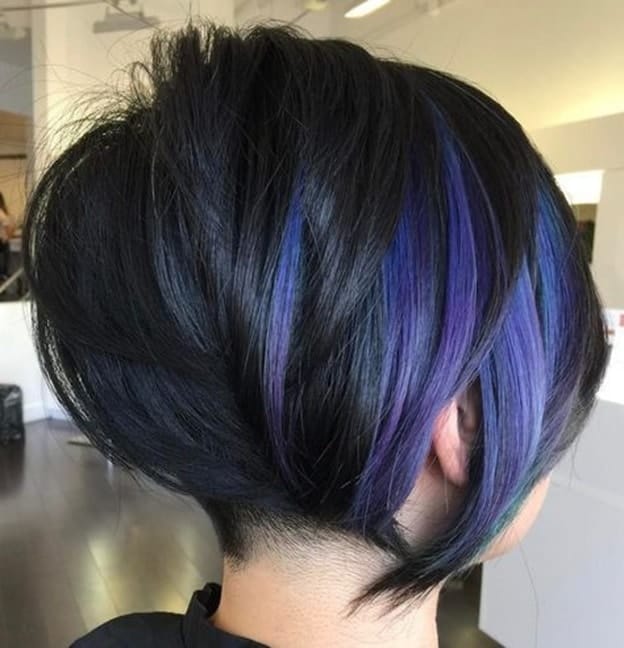 All the ladies who are tired of their classy black bob, we have just the perfect idea. This daring graduated bob for women with fine hair will upgrade your mane game this winter.
Ideal for: All bold women who are not afraid of color will go crazy over the blue hair dye.
How to Style: Tease everything up, so that the high top can reveal the colorful layers.
5. Messy Ash Blonde Layered Bob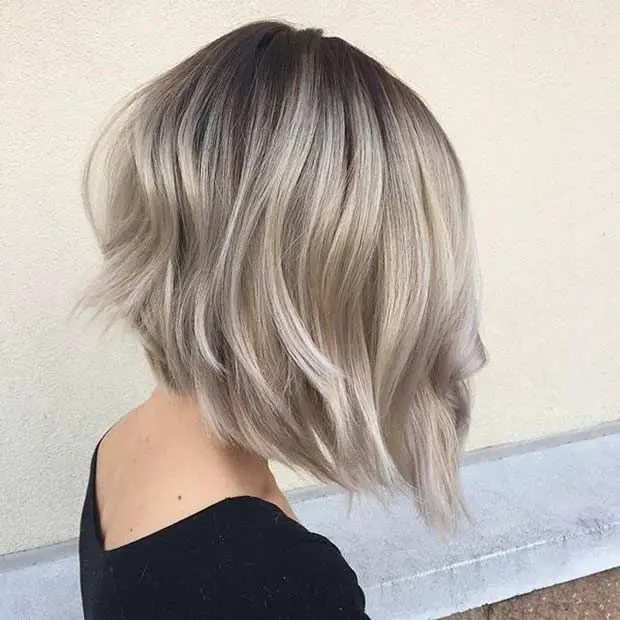 If vibrant shades of blonde are not meant for you, this trending ashy hue can do the job. It's mega-popular on Instagram, so why not try it?
Ideal for: Shorter cuts are very flattering for square, pear, and oval-shaped faces. The color has no limits when it comes to age.
How to Style: To achieve the extra volume you might need to use volumizing hair products. Aside from that, a little teasing will do the job.
6. Short Graduated Bob for Fine Hair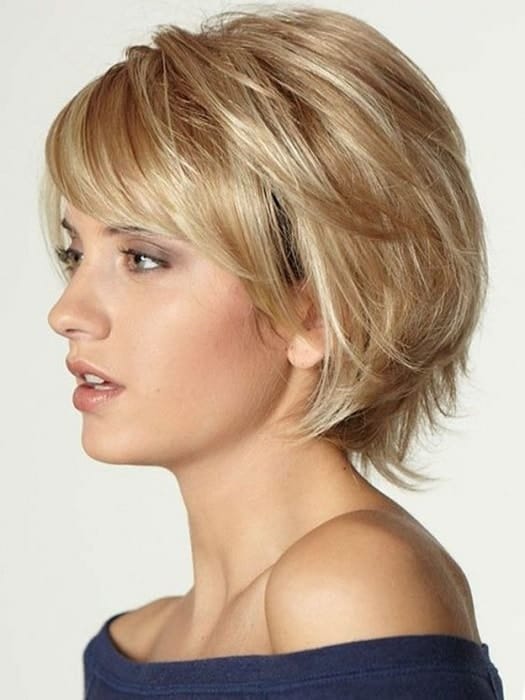 Short crops with multiple layers are a very interesting match with a side-swept fringe. When you're all about graduated bob hairstyles for fine haired women with a short length, this one will give you a mane that appears strong and thick.
Ideal for: A very volumizing hairdo, for all ladies who struggle with fine hair. The side-swept fringe is great for oval, heart and oblong face shapes.
How to Style: Backcomb the parts you want to lift, and finish with hairspray.
7. All Shades of Purple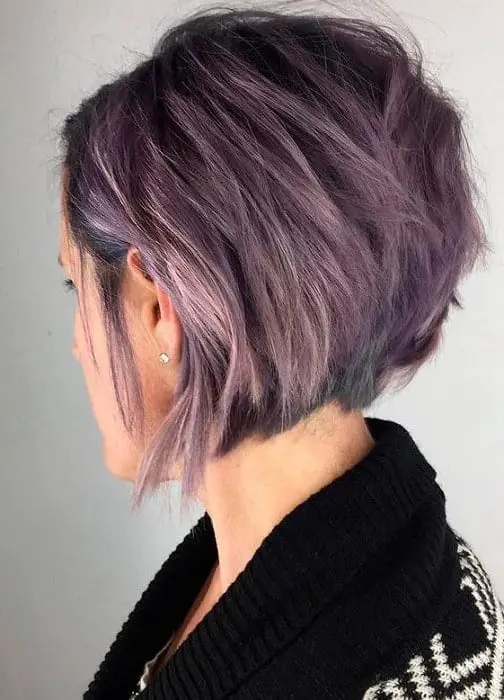 Aren't you already obsessed with this gorgeous hair dye? You know what they say, good hair color is essential for women with fine hair. This multi-shade coloring technique seems like the best fit.
Ideal for: Innovative women who do common hair color changes are the ideal match for the purple layered bob.
How to Style: Keep it straight, or wavy, either way, it's a sophisticated mane.
8. Layered Bob with Long Bangs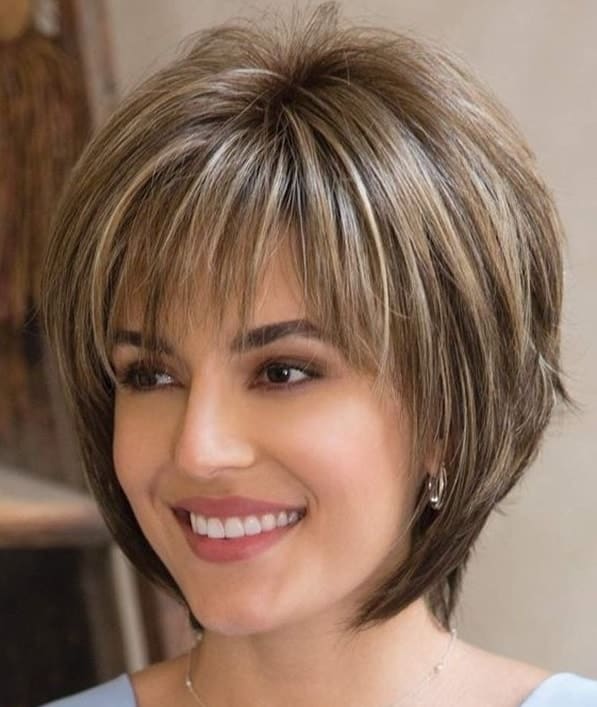 Bangs are very popular right now in all shapes and forms. Messy choppy fringe will be a great fit with the multiple layers on graduateb bobs which are flattering for women with fine hair.
Ideal for: This short length is recommended for square and heart-shaped faces.
How to Style: Style it with loads of volume in the top to present the graduated vibe.
9. Platinum Bob for Fine Hair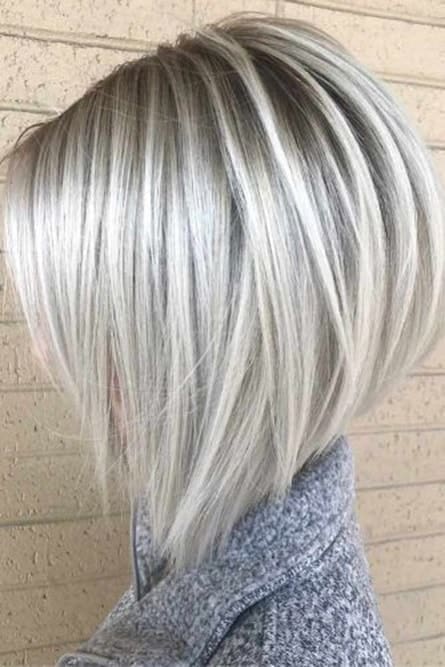 Platinum is the new gold this winter! If you are ready for much brighter hair color, we kindly recommend the fierce platinum blonde.
Ideal for: Compliments all ages, shapes and skin tones. Quite a universal and unique hairdo.
How to Style: Tease the back layers to create a high voluminous finish.
10. Red Graduated Bob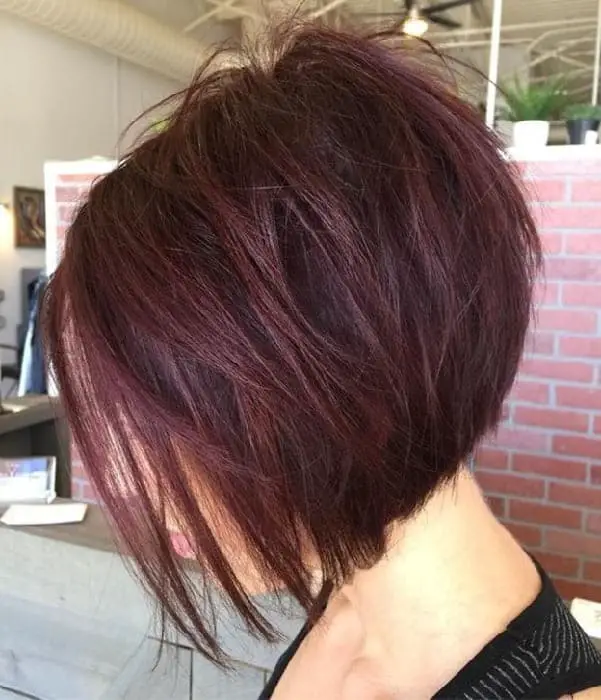 We can never get enough of rich red hues. They show so much character and are always on trend.
Ideal for: Anyone and everyone!
How to Style: Work your graduated bob for fine hair straight, so that everyone can see the cool layers, long front, and shorter back part.
11. Messy Graduated Crop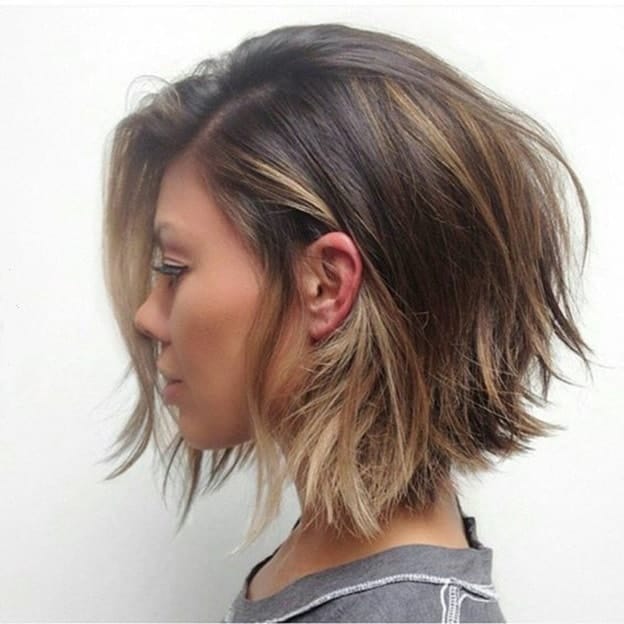 Messy is approved by all the celebrities! That's why you want to check it out, especially if you have fine hair. The unfinished look of your hairdo is great for more volume where it needs to be added.
Ideal for: Longer bobs benefit round and oval faces.
How to Style: Turn on the curling iron and twist the layers in different directions. Use hairspray and your hands for an even messier finish.
12. Light Layers on Top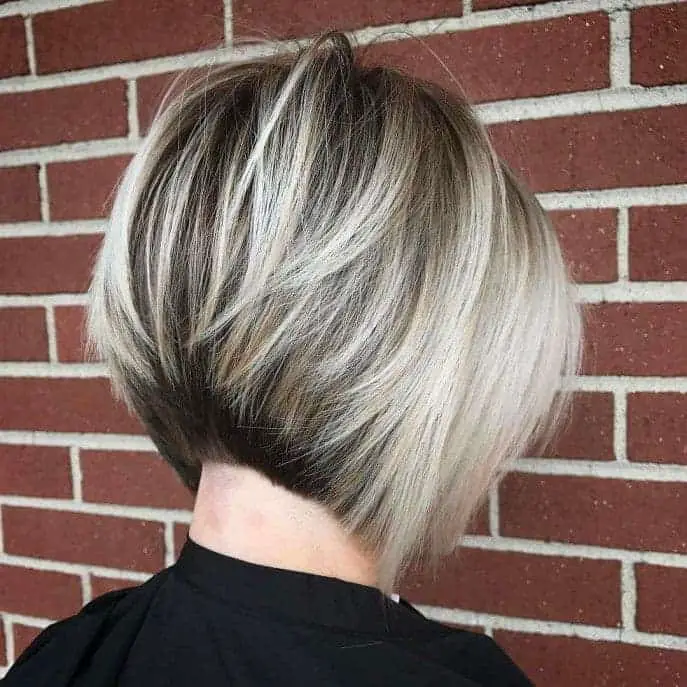 A very dark base with light layers on top! Thanks to the cut of this graduated bob with fine hair, everyone will be able to see both!
Ideal for: Perfect for the whole range of ages.
How to Style: Backcomb the back of your hairdo in a very high finish.
13. Vibrant Roots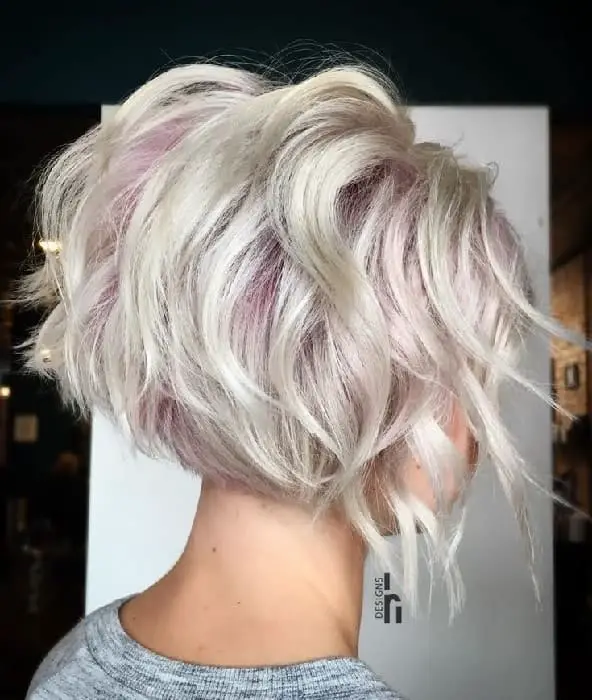 Nothing excites us more than new, fun hair coloring trends. This one features very bold roots that completely stand out from the color of the hair. Ladies with fine hair can definitely give this graduated bob a test drive without any worries.
Ideal for: Since it can be done in any hue that you like, it is appropriate for all ages.
How to Style: Make it messy so that everyone can see the chic roots.
14. Graduated Bob with Baby Bangs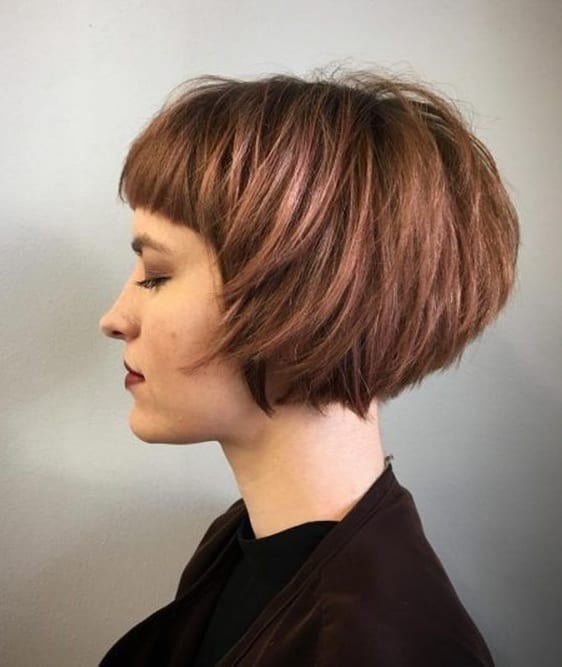 If you have the courage to cut such short bangs, it's guaranteed that you'll be flaunting a very fashionable layered bob.
Ideal for: Baby bangs go best with heart-shaped faces.
How to Style: There's literally no work that you'll have to put into this mane. The only thing is a boost in volume if that's what you prefer.
15. Next Level Coloring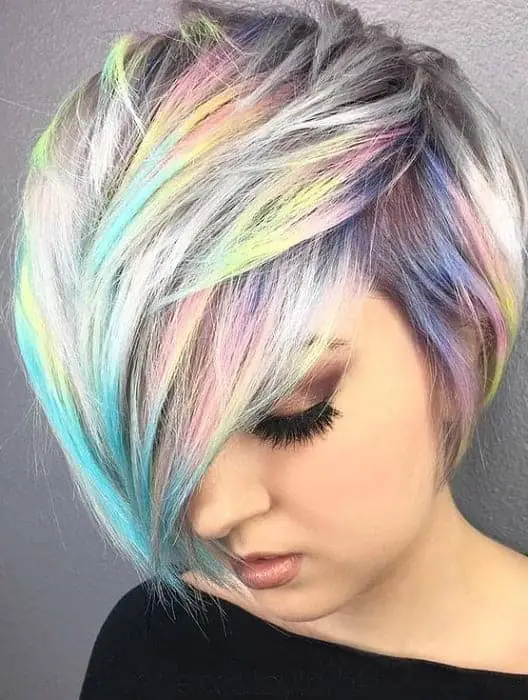 Go ahead and rock a very colorful graduated bob to make your fine hair look thicker and more voluminous. This is a great hair trick every professional will recommend.
Ideal for: It is definitely meant for younger ages, but anyone can decide to give it a go.
How to Style: Whichever way you style it, you'll have the best graduated bob hairstyle with fine hair that everyone will love. It's such a great mane to leave a strong impression.