Kenyan women wear their curly and kinky hair in different styles. Protective natural hairstyles for Kenyan women are better choices as a lady's hair is like a crown. These natural haircuts play an essential role in protection, growth, retaining moisture, and are classy too. Long, medium or short; there will always be a natural hairstyle that will work best for you. However, sometimes straightening or the perms destroys the women's natural hair.
Classic Kenyan Women's Natural Hairstyles
Following natural hairstyles are the best protective styles for Kenyan and any other black women to try in 2023.
1. Cornrowed Buns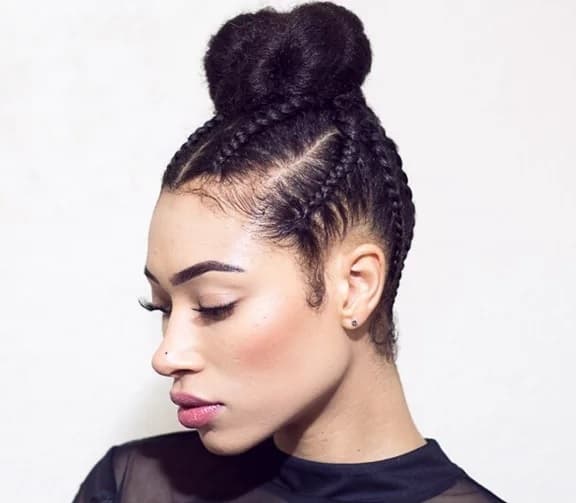 Cornrowed buns are one of the most fabulous natural hairstyles for Kenyan women whenever you want an edgy, fresh look. It is suitable for all textures and can be styled in various creative ways. They are the best way to retain the length of your hair as the hair is tucked away and can last for long, and therefore no need for regular styling.
2. Bantu Knots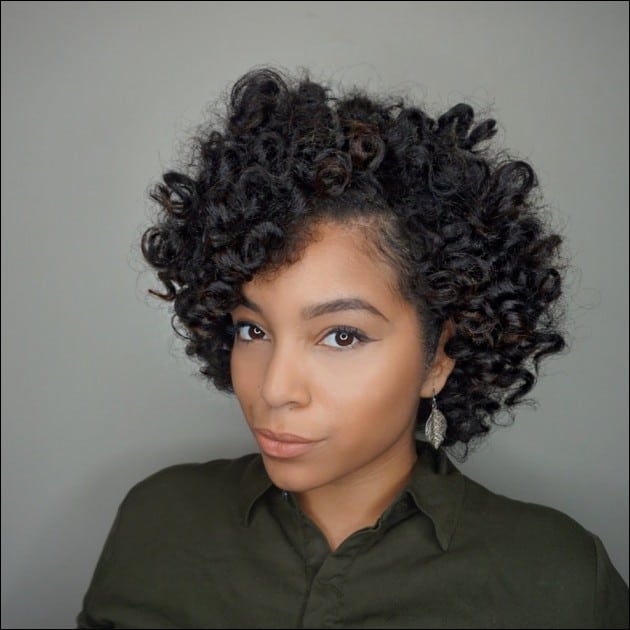 This Kenyan women hairstyle looks great on any hair texture. It is achieved by creating subtle coils on the hair. It gives you an elegant look.
3. Natural Mohawk for Short Hair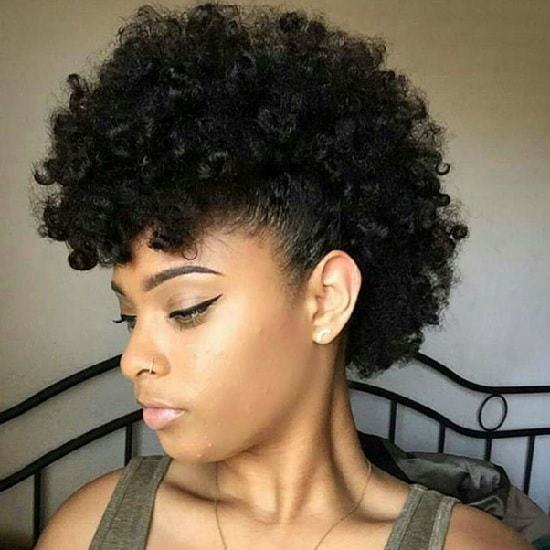 This natural Mohawk look will help you achieve that bold, versatile, and acentric look. It can be achieved in various ways. First, you may opt for a natural Mohawk cut that is effortless to maintain. Secondly, pins can also be used to accomplish a mohawk look. Finally, you can have the sides of your hair braided.
4. Finger Coil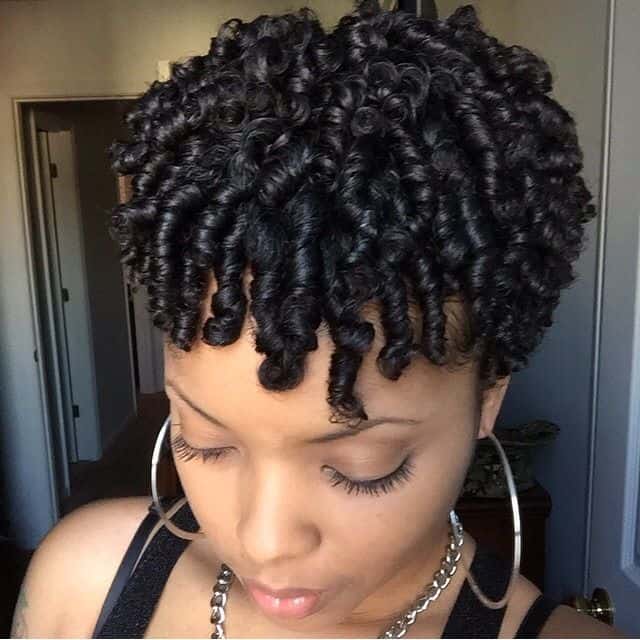 This natural hairstyle for Kenyan black women is achieved by highlighting the hair texture with finger coils. Straw sets, Lexi rods, and twist outs are essential ingredients to create this look. Finger coils look excellent with curly hair and are easy to maintain and effortless to style.
5. Fauxhawk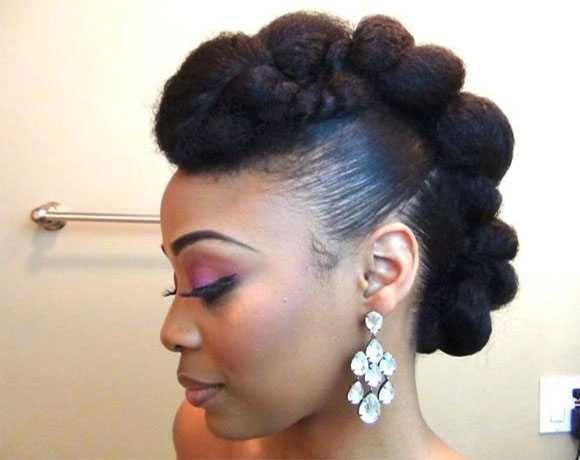 Fauxhawk is a Kenyan natural hairstyle that gives you an opportunity to embrace both the hair texture and length. Besides you can augment it with color to make it stand out. You can upgrade it by combining the fauxhawk with a clear temple cut.
6. Twisted Natural Updo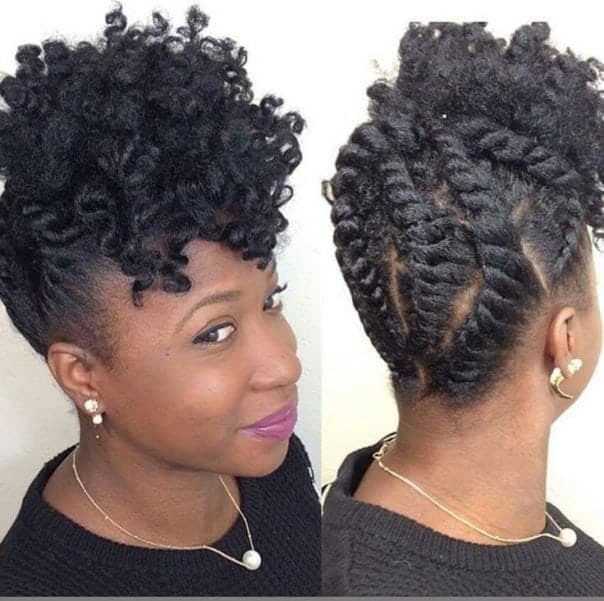 For a versatile look that you can quickly change from formal to casual, updos are the best natural haircut for black women to go for. From pompadour buns to braided updos; the updos guarantee you a stunning look and regular styling as it lasts for long and maintaining it is effortless. It is ideal Kenyan natural hairstyle for all hair textures.
7. Puffs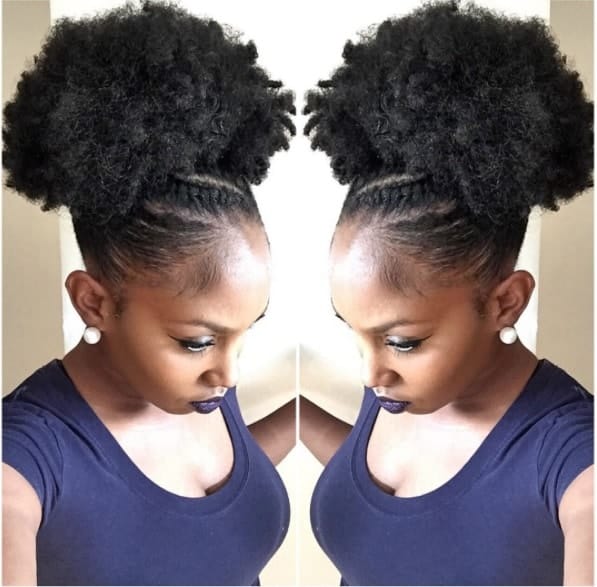 This is one of the easy and quick natural hairstyles for Kenyan women with mid-length hair. You can either opt for a low, long or side puff for your style. You start by holding your hair into curls. Using bun enhances the components of hair, curls, or braids. Besides, you can use accessories on your puff by using headscarf, ribbon or bandana. Puffs are effortless to maintain.
In conclusion, while you strive to enhance the growth of your hair, always remember moisturizing and trimming your hair is imperative for maximum care. Try your next hair look with these natural hairstyles for Kenyan Women.