Rocking a long blunt bob is much easier than you can even imagine. This chic hairstyle gives you that power to conquer the world. Meant for strong ladies who want to leave a strong impression, this gorgeous mane will leave everyone breathless. Take a look at the trendy hairstyles below to chose a favorite.
Trendy Long Blunt Bob Haircuts for Women
Blunt bob ob is a classic hairdo to rock with short hair but that doesn't necessarily mean you can not try it on your long hair. Check these latest 11 long blunt bob variations to try on your hair without losing the length.
1. Classic Long Blunt Bob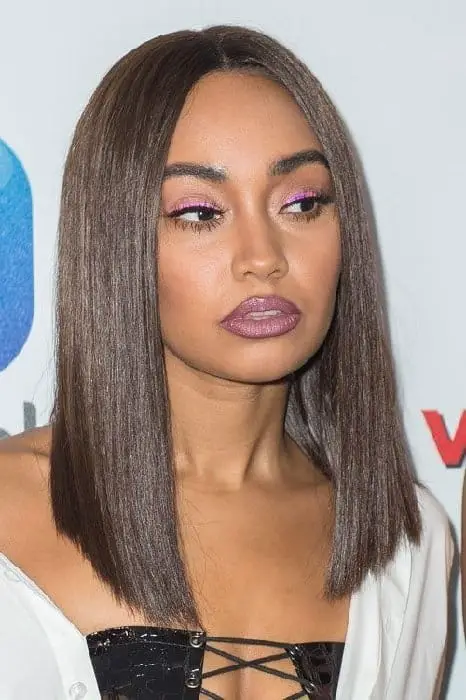 If this is your first time trying a blunt long bob, you definitely want to choose the classic option and find out whether this hairstyle is meant for you.
Ideal for: This is the long bob that fits all different face shapes. Layers can add width and length to a face, so this is the main reason why a straight blunt cut is a great choice for everyone.
How to Style: To get such a straight, sleek look you might need to put a hair straightener into action. Achieve the super-shiny vibe with a whole range of products that will leave the hair silky and glossy.
2. Grey Blunt Lob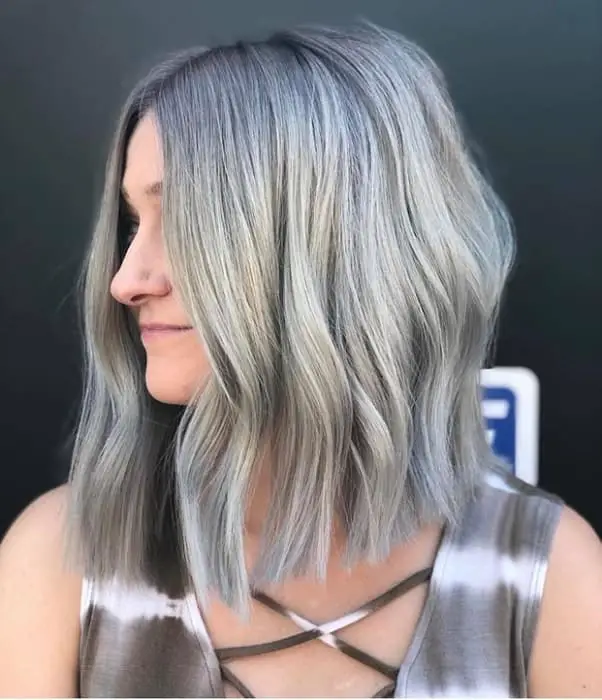 Grey is such a popular hair color this season. When you need a fresh change, this type of long blunt bob is what you want to opt for. The multidimensional finish of the dyeing technique is very flattering.
Ideal for: Long face shapes will look much more balanced with a wavy hairdo. The grey shade is now reserved for all ages, starting with 20 and up.
How to Style: When you want to copy these very soft waves all you need is a flat iron and hairspray.
3. Caramel Long Blunt Bob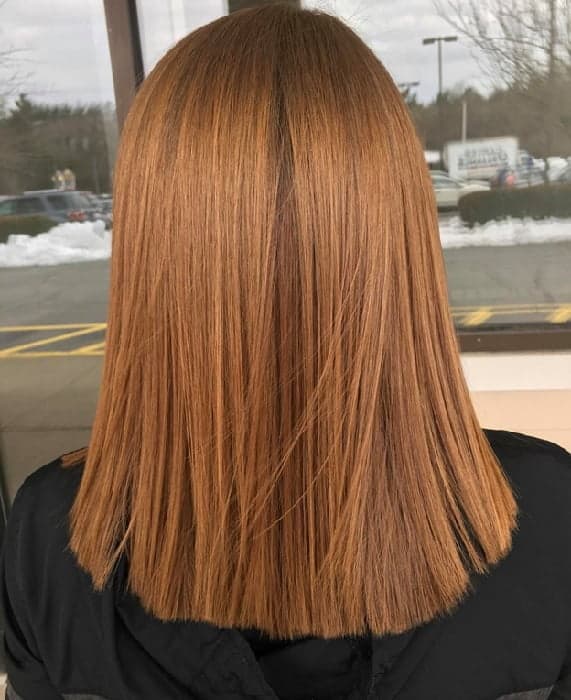 Another stunning long blunt bob that features the most beautiful caramel shade. This one has both red and brown undertones. It's a straight and simple cut that super-easy to style.
Ideal for: It's great for ladies who want a new dye but don't want to risk going completely red. The fact that this lob embodies a full range of shades makes it perfect for many women.
How to Style: You will always need a straightener if you want that pointed straight tips.
4. Blunt Lob with Side-Swept Fringe
It's officially time to add fringe to your mane. The side-swept bangs are much easier to pull off compared to all other styles. Plus, they really complement a long blunt bob hairstyle.
Ideal for: Side-swept fringe is best for oval, round, and heart-shaped faces.
How to Style: You can try styling this hairdo with a round brush, to achieve a voluminous and gorgeous blowout. If you prefer a sleek look, then just use an iron.
5. Blonde Blunt Lob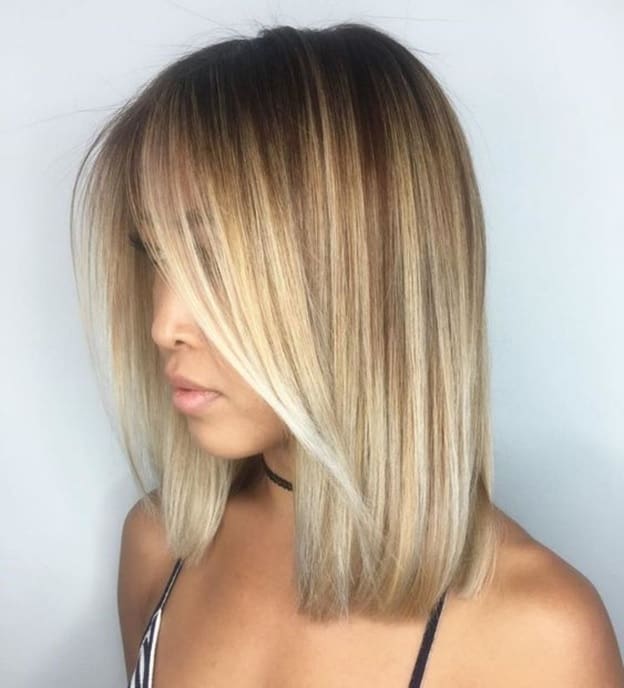 Blonde is the hair color that is trending every single season. The greatest thing about this long blunt cut bob is that you can always mix it with other shades for a much more natural vibe.
Ideal for: This simple and pretty hairstyle is meant for all face shapes. If you love how it looks, you can try it out just in time for the holidays.
How to Style: Just straighten the tips with a hot tool and you will have the smoothest, sleekest lob.
6. Angled Long Blunt Cut Bob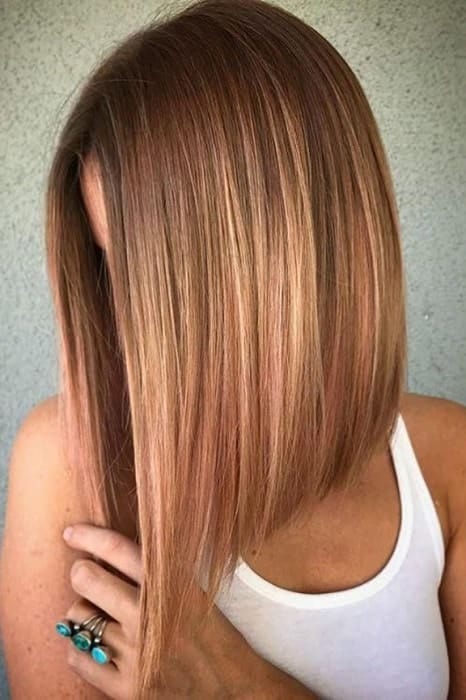 Leave the frontal strands a bit longer, to get that moment of an angled long bob. Such a chic way to stand out.
Ideal for: It doesn't really matter which face shape you have, this mane is trendy for everyone.
How to Style: You will need the hair to be super-straight so that everyone can see the angled vibe of your mane.
7. Colorful Blunt Lob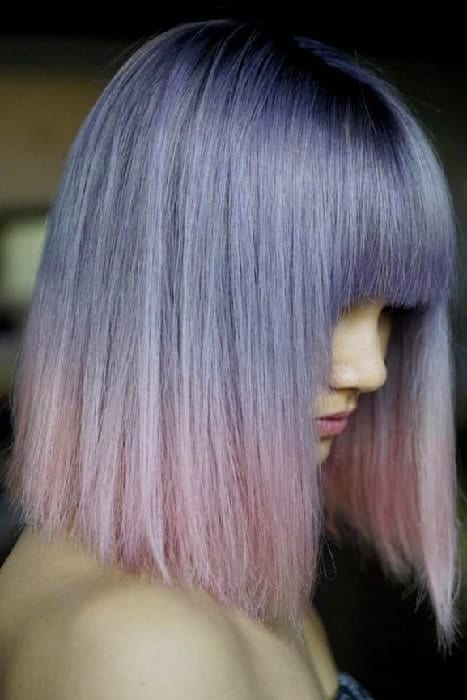 Sometimes opting for a colorful mane is the best change you can make. These pastel shades are so cute and very popular this season. And what's best, it can be several hues instead of a single one.
Ideal for: If you want to copy the entire hairdo with the blunt bangs, the preferred face shapes are square and oval.
How to Style: Style your vibrant long blunt bob by blow-drying it with a round brush, or straightening it with an iron.
8. Highlighted Long Blunt Bob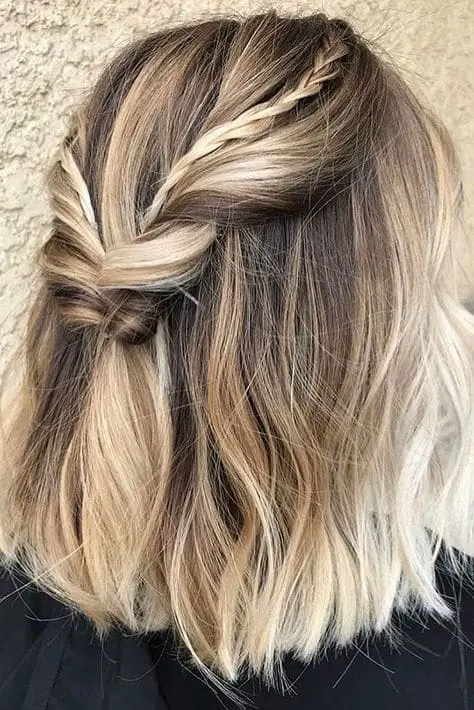 When you want to freshen up your do for the season, you can achieve that with blonde highlights on your blunt bob with long hair.
Ideal for: Highlights can be done for every single hair color you can think of.
How to Style: Add a few waves here and there for the ultimate trendy look. We are absolutely obsessed with this cool half up, half down hairstyle.
9. Ombre Blunt Lob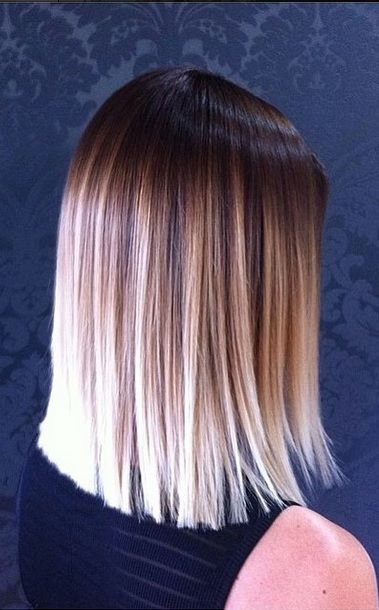 Ombre is one of those hair coloring techniques that can be done in so many different shades. That is definitely the feature which makes ombre so popular among ladies for quite a while.
Ideal for: You can work ombre with any face shape and at any age.
How to Style: Feel free to leave the mane straight, or add curls. Either way, everyone will be able to see the chic new dye.
10. Electric Blue Blunt Bob with Fringe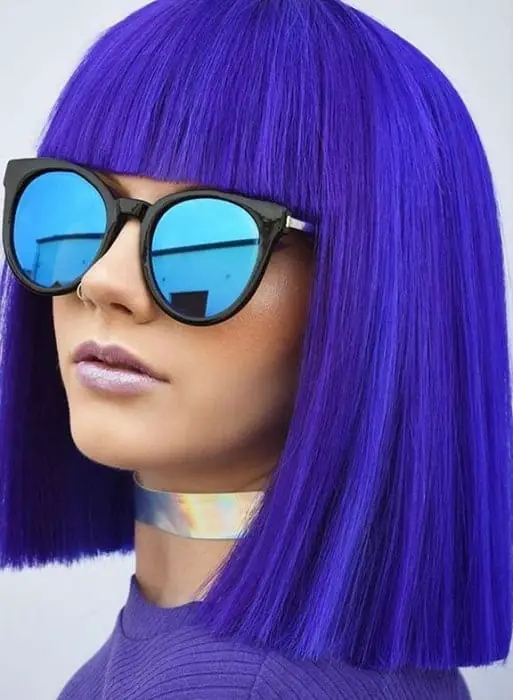 This very vibrant color will really elevate the way you look. Most gals will pass on it, but if you are into unique looks, you should definitely try it.
Ideal for: The blunt lob mane with fringe is ideal for square and oval faces.
How to Style: First of all, you'll have to find an amazing hairstylist that will help you achieve the daring color. Once you have it, straighten it with an iron, including the bangs.
11. Platinum Wavy Blunt Lob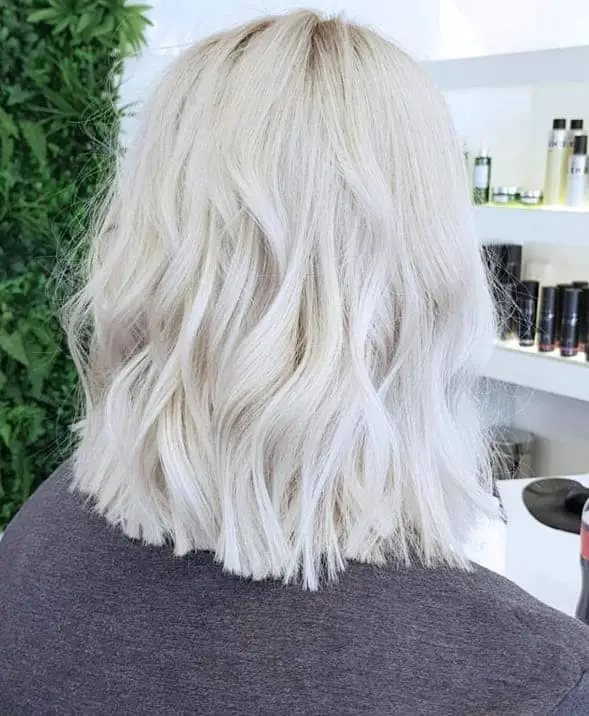 Get on trend with a platinum blonde hairdo. The fact that you have a long blunt cut bob shouldn't keep you from getting messy waves.
Ideal for: It would look chic on all face shapes. This is definitely a very trendy hair color, that flatters quite the range of skin tones.
How to Style: Get the flat iron and start doing some waves. Mess them up with your fingers.