The trend of short asymmetrical pixie hair is just coming more and more into fashion. Celebrities to fashion icons, we can see everyone nowadays with a bob or pixie haircut. It is becoming the solution for contemporary and modern women to style their hair on-the-go. The cuts are easy to maintain, tangle-free, and suit any hair type. Here are 12 pixie cuts that you can choose from to get that chic look.
Popular Short Asymmetrical Pixie Hairstyles
Following are the classic short asymmetrical pixie variations that are trending among short hair lover women. Go through the styles and adopt your next look with confidence!
1. Pixie Cut with Long Bangs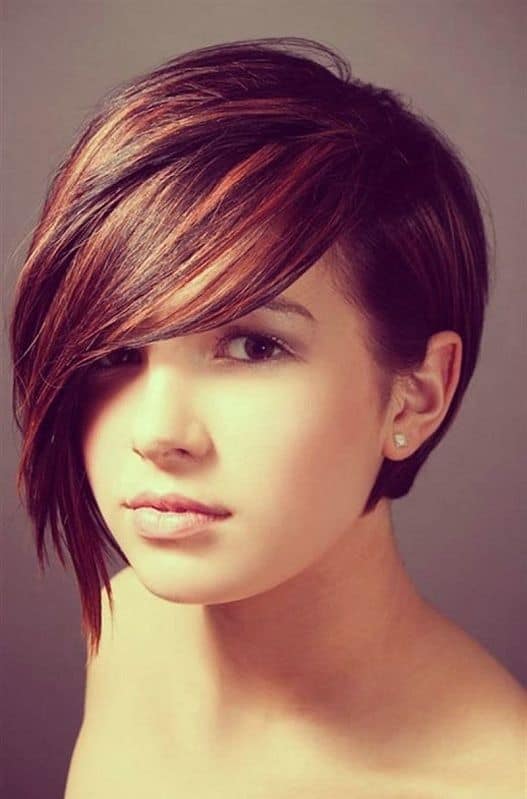 The usual pixie cut can be glammed up further by adding a few bangs to it. This short asymmetrical pixie at the nape of the neck and longer strands are found on the top. Side sweep these bangs to create a perfect look.
Ideal for: This look is perfect for those with a strawberry-shaped face or for those with plump cheeks. It is perfect for turning chubby into cute.
How to style: Just ask for a closer crop from the back towards the neck. Let your bangs be swept to one side of the face partially covering it, and your adorable look is done!
2. Short Pixie Cut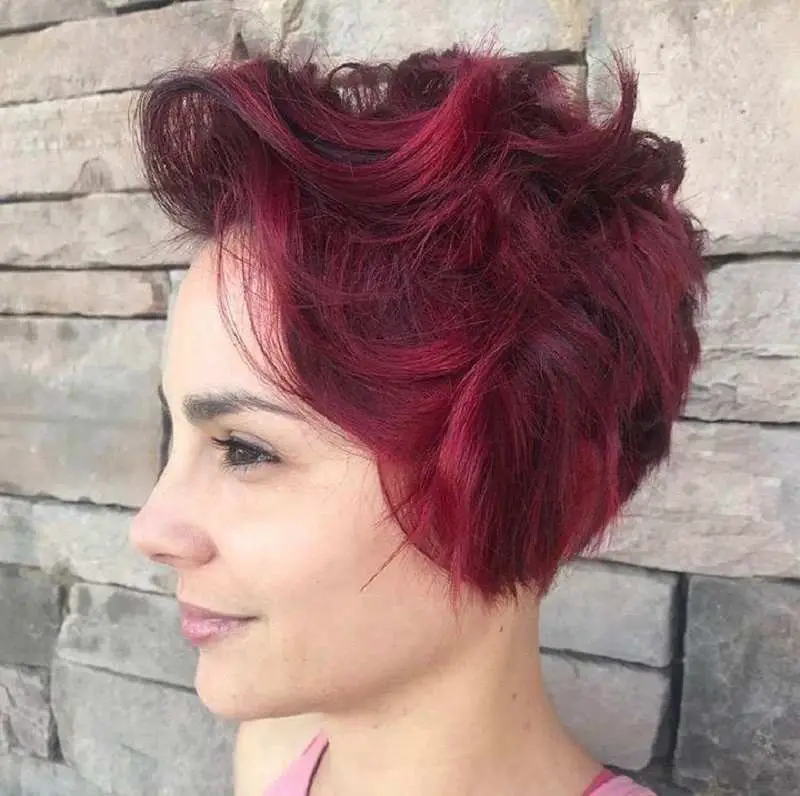 Characterized by really short hair length, this is a great style for someone who wants to look professional and style-savvy. Look sharper and more alluring in this modern look.
Ideal for: It brings attention to your facial features and is thus more suitable for those with big eyes. The short length enhances your cheekbones and is thus great for women with an angular face.
How to style: Ask for a close crop asymmetrical pixie cut that maintains a short hair length but still has enough length to run your fingers through it.
3. Asymmetrical Pixie Cut for Thick Hair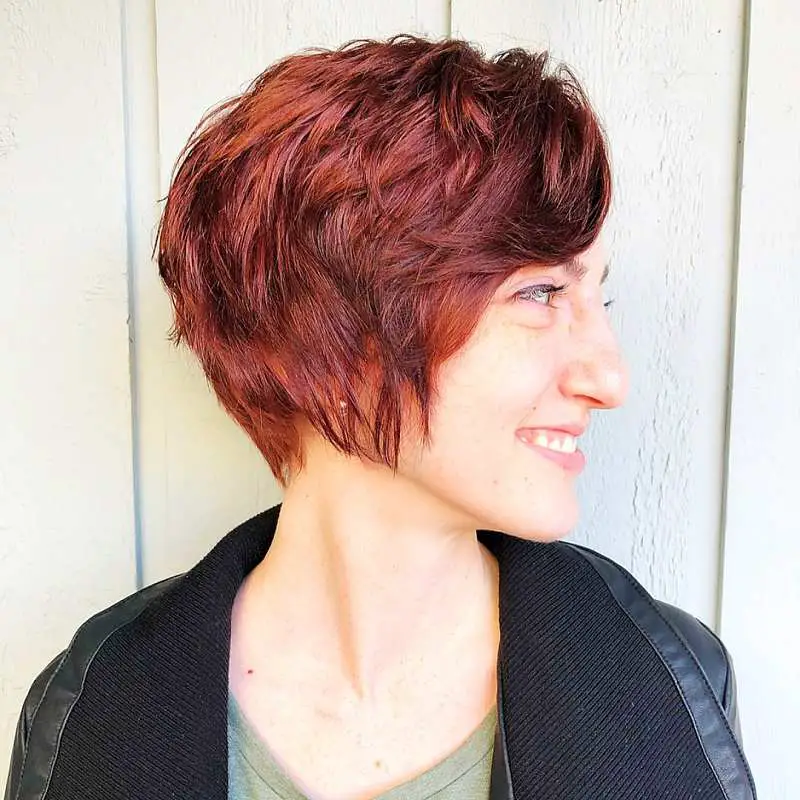 Have a thick crop of mane and not sure how to style it? Worry not because the ever-faithful pixie cut is here.
Ideal for: Ideal for those with thick hair and can't maintain long mane, this asymmetrical short pixie cut makes sure that your air looks thinner than it is.
How to style: Consider going for colors that match your eye color. If you are daring enough, go for a platinum blonde look with dark roots.
4. Curly Pixie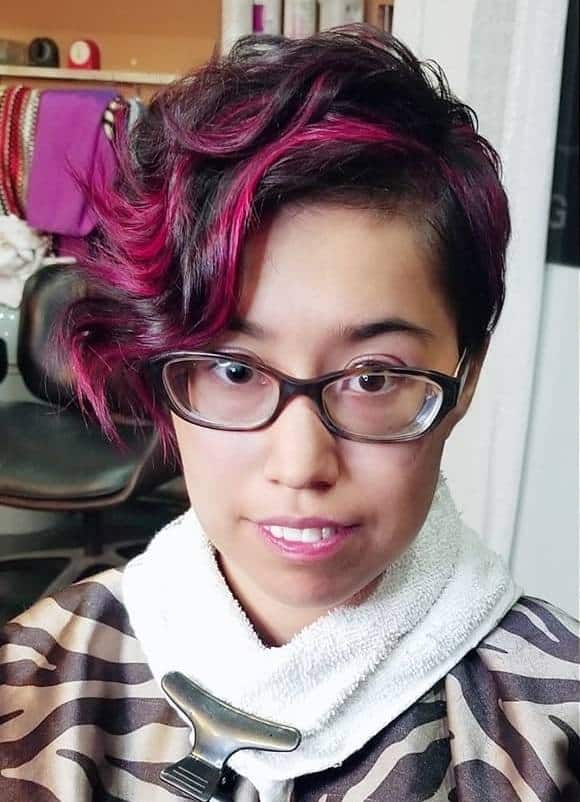 The curly pixie style is the perfect blend of the retro look and the bombshell babe. The entire ensemble looks whimsical while bringing out the sophisticated look in you.
Ideal for: This look is perfect for those with a long or oval face. It is also perfect to add more volume to your hair by collecting all on top.
How to style: Highlight your curls with wild red or magenta color to add more flavor. Consider having shorter length hair to one side to spice up the look.
5. Pixie with Waves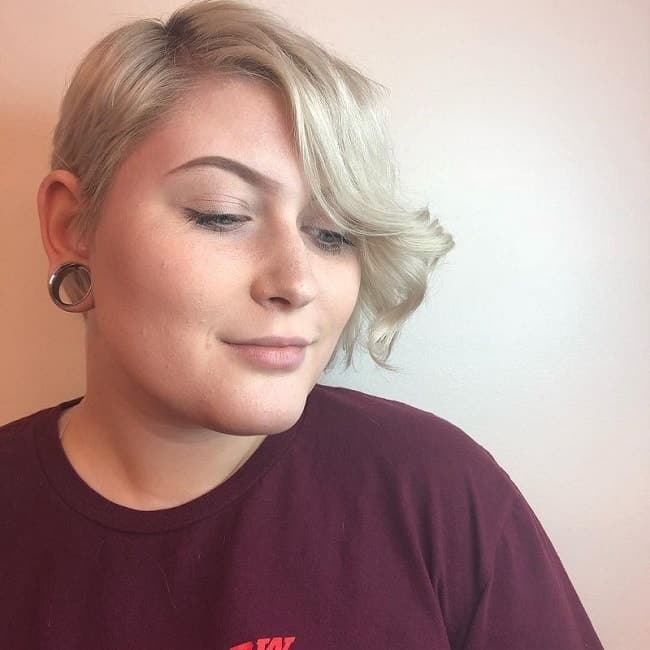 Bring out the adventurous side in you by styling your wavy hair with an asymmetrical pixie cut. This short asymmetrical pixie is perfect for those who are bored of having to pull their hair into ponies often.
Ideal for: It would be a bombshell look for those with square jawlines. The bangs will curtain a part of your face, turning the attention away from the angles.
How to style: Side sweep your waves into bangs to hide a part of your face.
6. Pixie Undercut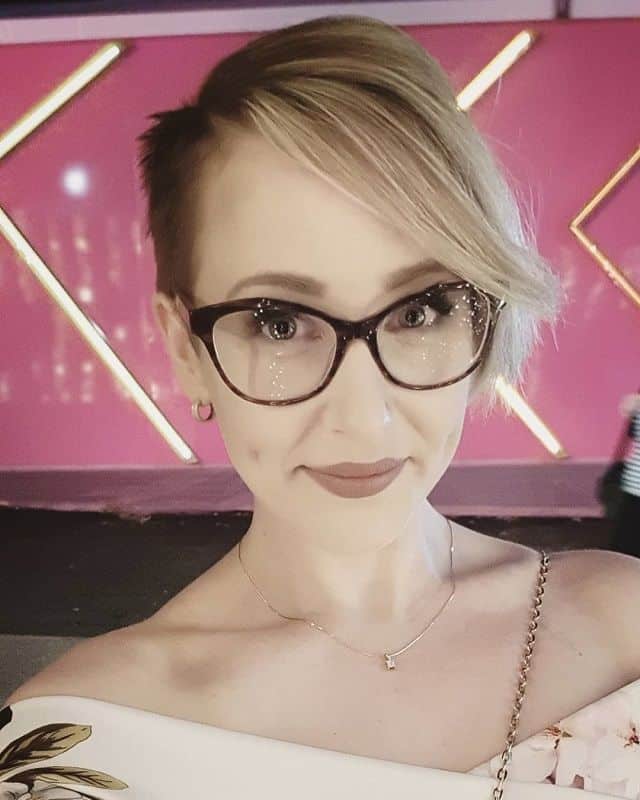 Add a bit of spice to an otherwise mundane pixie cut. The pixie undercut is perfect for the woman who is a worker bee in the morning and parties in the evening.
Ideal for: This look suits those with a long face and those with big eyes and lips.
How to style: Use blonde highlights & close crop the sides of a pixie cut to add more volume on top and to the side of the face.
7. Pixie Goth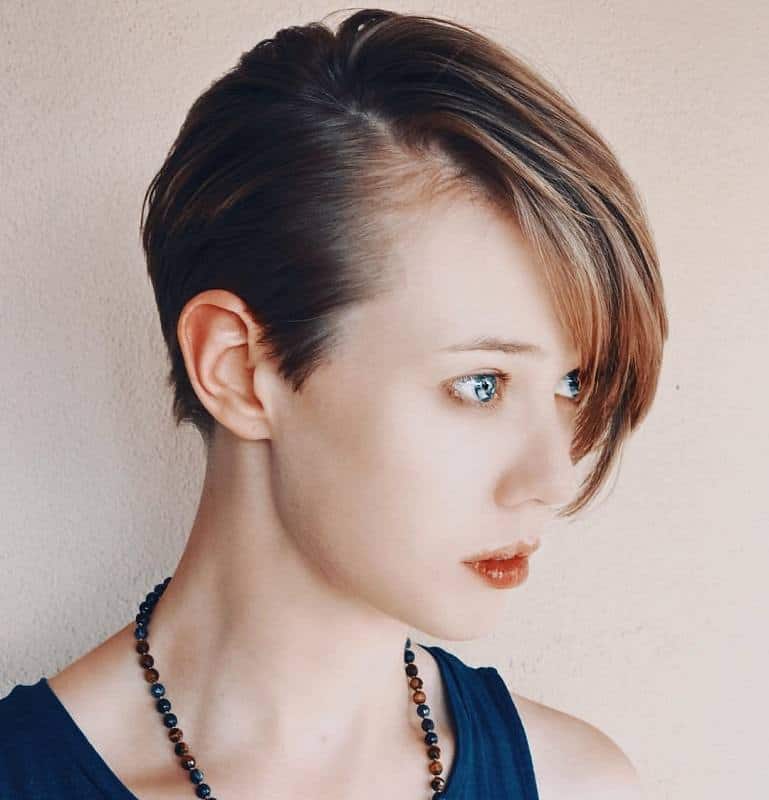 Dream of being a Goth goddess but tired of looking the same every day? Try out this new pixie style with dark roots.
Ideal for: The pixie Goth is perfect for those with a strawberry-shaped face, as the cut brings out the cheekbones.
How to style: Go for any pixie cut and dye the back of the head and the roots several shades darker than the bangs. This creates a perfect Goth look.
8. Pixie Cut with Shaggy Edges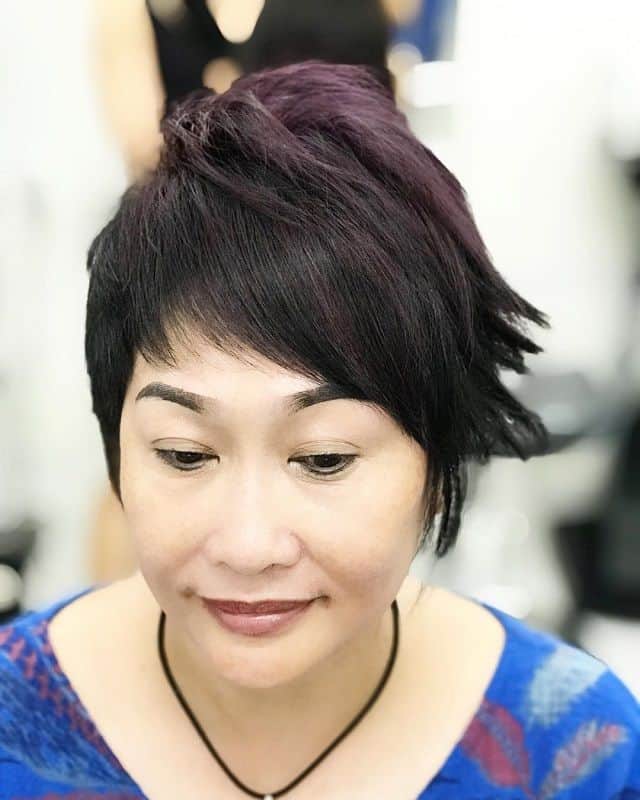 For an effortless and tousled look, go for a shaggy-layered asymmetrical pixie for short hair. Look casual and effortlessly style your hair to show off your efforts.
Ideal for: Best-suited for round and chubby faces, this cut draws attention away from the roundedness.
How to style: Simply ask for an asymmetrical end cut, and your casual look is ready!
9. Rainbow Colored Pixie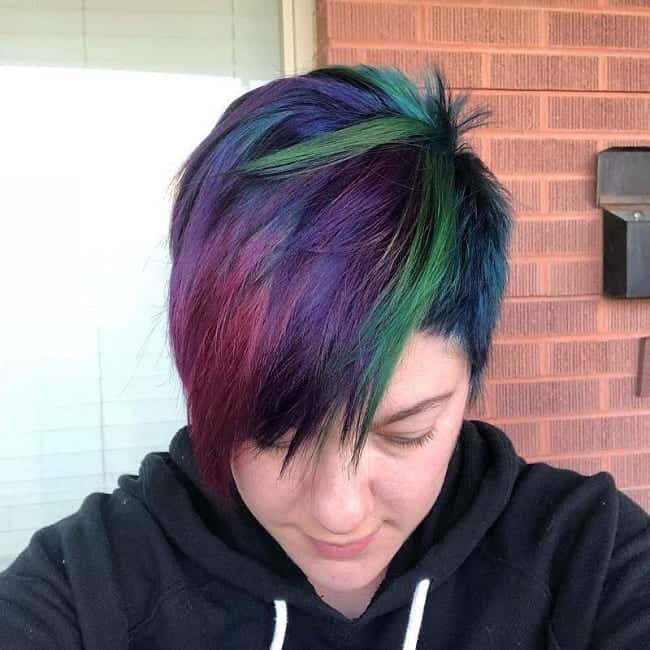 Feeling adventurous and wild? Want a break from the monotonous? Then the rainbow-colored pixie is your solution.
Ideal for: This short asymmetrical pixie look is ideal for those with high cheekbones and plump cheeks.
How to style: Style your pixie as per your liking and add some multi-colored streak highlights to it. Make sure that the colors blend into one another for the perfect chic look.
10. The Raven Pixie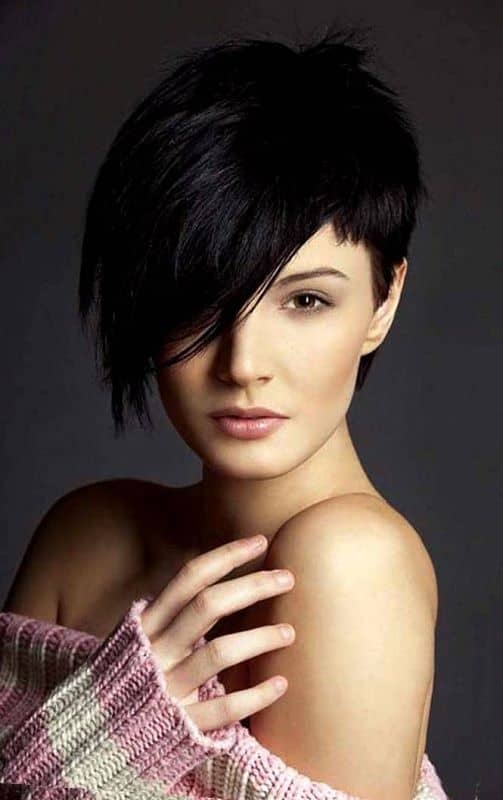 If you think that mono colors are boring, think again. The raven pixie style is a super hip style for those elegant women.
Ideal for: The raven pixie look is perfect for those with highlighted cheekbones, olive skin, and big eyes.
How to style: Go for an undercut pixie cut with side swept bangs. Color your entire mane a deep, rich, raven black, and your cool-girl look is accomplished.
Awesome Edgy Haircuts for Women
11. Flaming Red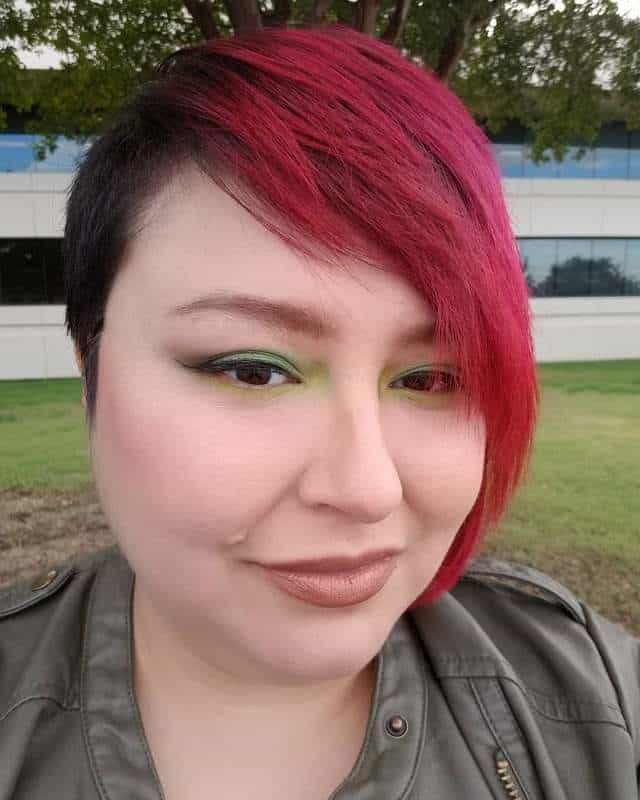 To those for whom the raven pixie won't suit, this wild pixie style is your best friend.
Ideal for: Women with much lighter skin can opt for this look to be sassier. What's more- this look suits those with an oval face, round face or a square jaw.
How to style: Make sure to go for darker roots to make your style stand out.
12. Longer Pixie Cut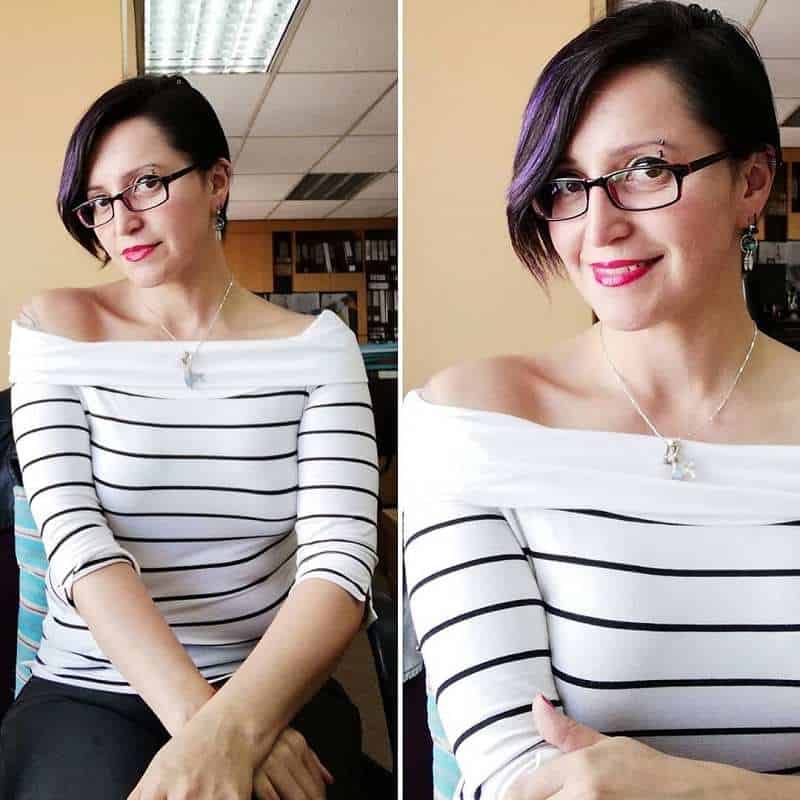 Want a pixie cut but still not willing to sacrifice all your hair? The perfect solution is to go for a longer pixie cut.
Ideal for: Suitable for all face types, this is your go-to look for a fresh, sweet and youthful look.
How to style: This asymmetrical short pixie cut features neither an undercut nor a shaved side. It simply shortens the hair on one side, while allowing it to fall freely on the other.
These short asymmetrical pixie hairstyles will not only go with every dress or top that you put on, but you can rock this hairstyle for any outing. Try a young and sophisticated pixie haircut!