Who said pixie cuts for thin hair are impossible to rock? You can find new exciting hairstyles no matter your hair type. Sometimes, we are afraid to try new things with our hair because we are not sure if it is going to look good on us.
A lot of women believe that because they have thin hair short haircuts are not going to work for them. However, there are different cuts to try no matter the thickness of your hair. Short is not equal to flat.
Best Women's Pixie Cuts for Thin Hair
If you are ready for the challenge, here are 21 ideal pixie cuts for women with thin hair.
1. Short Choppy Pixie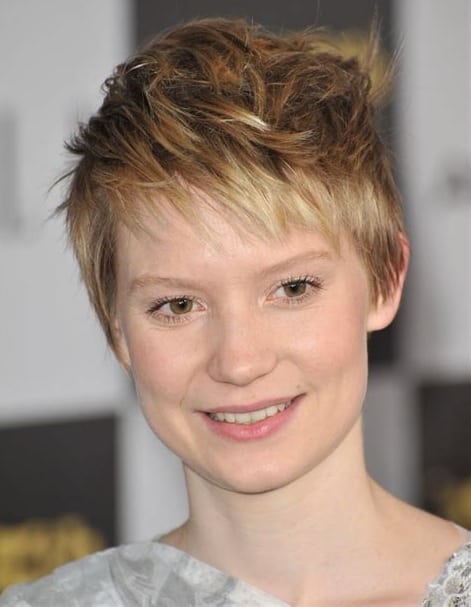 An edgy style that can give you the volume you are looking for. The hair length is really short, but this doesn't mean your hair is going to look flat on top of your head.
This pixie cut provides different layers to your thin hair. Short hair can also be styled and that is the secret of this pixie. Look amazing no matter your hair length.
2. Finely Chopped Pixie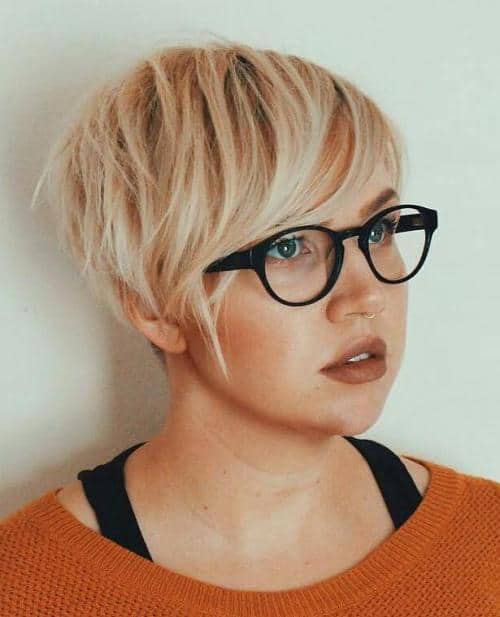 An amazing option for an asymmetrical haircut that will make you look cool and fascinating. With this cut, you can rock different elements that will make your hair look luscious and lavish.
It's ideal if you are looking for something carefree and modern. It is a great option for young women who are looking to try short hair as it makes them look mature without losing their youthfulness.
3. Long Messy Pixie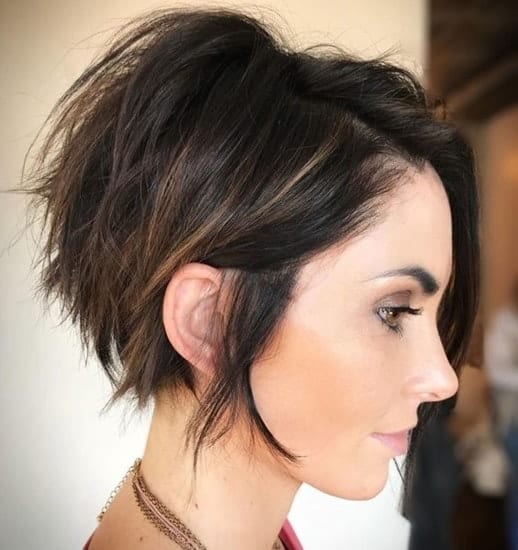 This pixie cut for thin hair is perfect for laid-back women. If you don't want to devote too much time to your hair but still want to rock an amazing look, this is the hairstyle for you. Get some more ideas here.
It gives beach vibes that you can enhance by adding some highlights. You will look amazing with this look and doing the bare minimum to maintain it.
4. Sweeping Pixie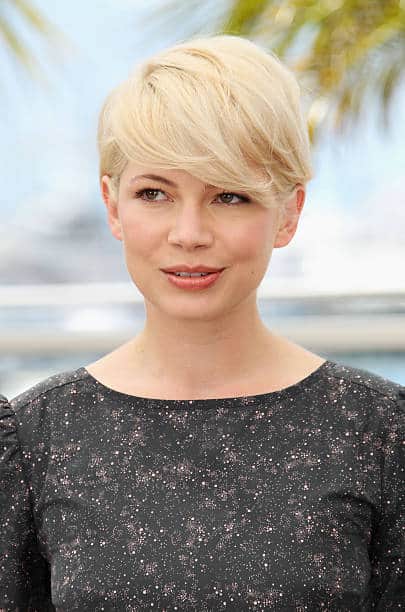 A more romantic and classic look. This is the option for you if you love timeless short haircuts. You will evoke glamour wherever you go with this cut. This thin pixie hairstyle will give your hair volume and movement. You will look effortlessly elegant and beautiful.
So, if you are into classic things you should try this fantastic style. To enhance the classic look you can dye your hair with colors like a light blonde or a dark black to try to bring forward an old Hollywood look.
5. Layered Pixie with Nape Undercut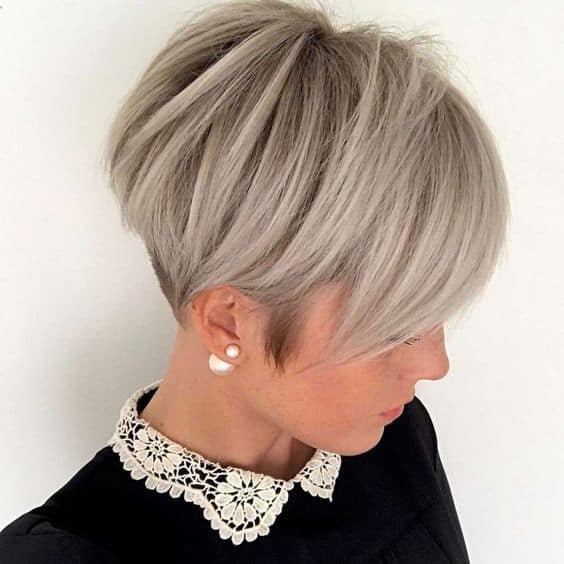 If you want to look avant-garde and modern, try to add a nape undercut to your hairstyle. Undercuts are the latest fashion, and everyone loves them. You will feel lighter and have a lot of volume thanks to the layers of your pixie.
Rocking the latest and edgier fashion doesn't mean stop being elegant and this hairstyle is the proof. This haircut looks amazing with this grey color as it helps to accentuate the modern look and gives a classy impression too.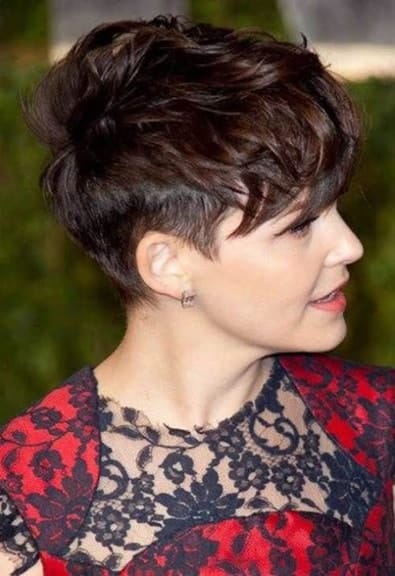 Look great, free and lax with this style. Give yourself some volume for your thin hair with crescent layers. The secret of this haircut is to look like you woke up looking fabulous. It doesn't require too much care and you can use your fingers to style it as you desire. And, if you're feeling adventurous you can add an undercut to update the look.
7. Pixie with Long Bangs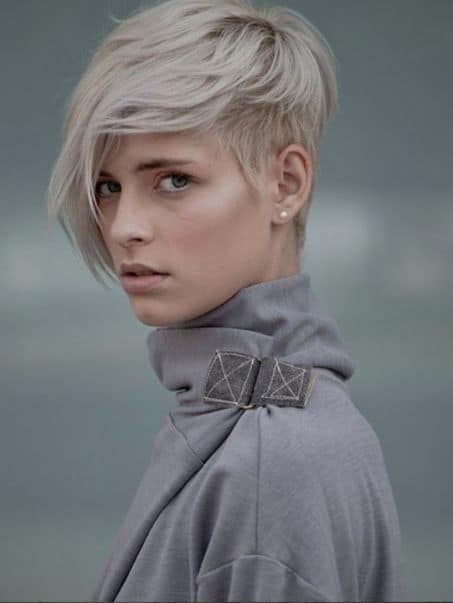 This hairstyle is a classic pixie on thin hair. The long bangs will bring all the attention to your face.  Try this cut if you are looking for a mix of short and long hair. Avoid it if you are not comfortable with the idea of having your hair covering your eyes.
Pixie cuts have many variations so don't worry if this is not the one for you. You can also try and mix different elements from several haircuts to create the one you are looking for.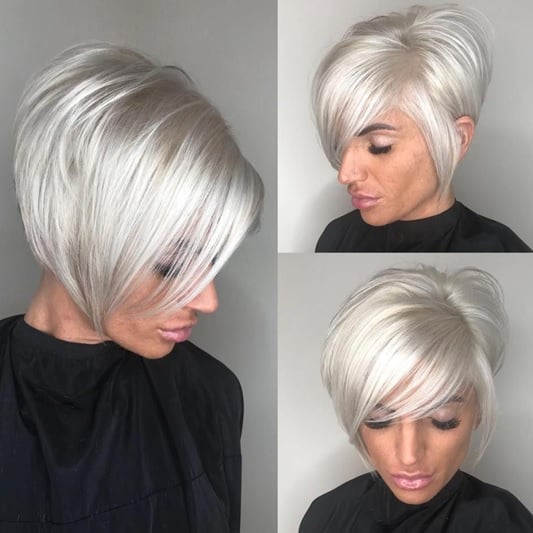 The combination between a bob cut and a pixie cut is ideal for women who are trying short hair for the first time. This sleek hairstyle will make you look glamorous and ready to hit the red carpet. Don't worry about your thin hair; this cut will give you lots of volumes, the most important thing for you.
9. Curly Pixie Cut with Undercut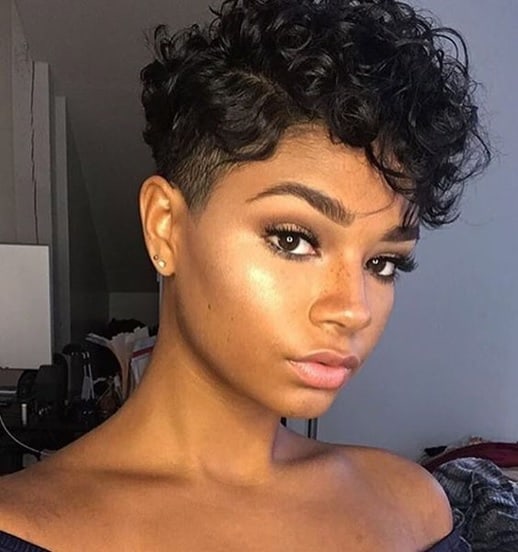 Curls are an amazing tool to play with if you want to simulate denser hair.  The texture of this cut helps you achieve more volume. The undercut gives you a modern feel. If you don't have natural curls it can be really laborious to achieve and maintain them, so you will have to dedicate a lot of time and patience for this thin pixie cut.
10. Pixie Bob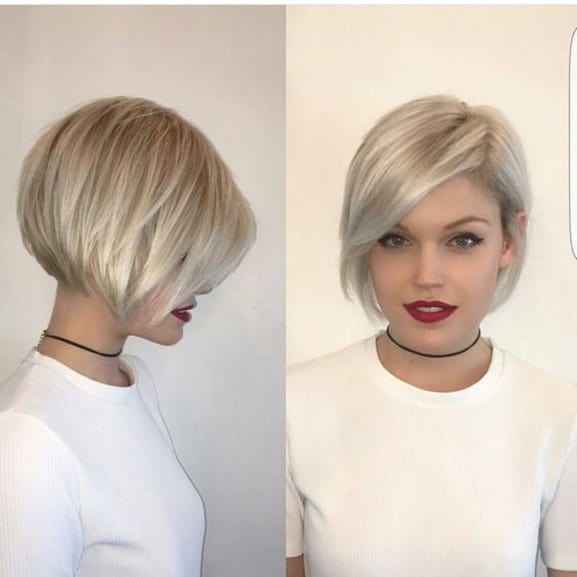 The original pixie bob is ideal if you want short hair, but you are not ready to compromise with how short a pixie cut can be. A simple and practical hairstyle that will not compromise the volume of your hair and requires minimal maintenance.
You don't need to spend hours trying to make your hair look perfect as this cut will give you an effortlessly beautiful look in a couple of minutes.
11. Round Pixie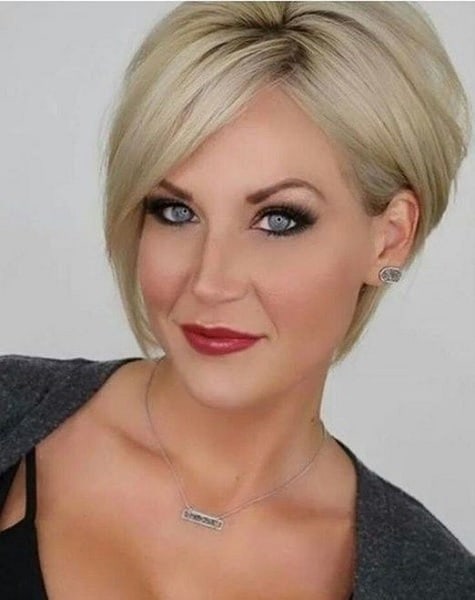 Another great variation of the pixie bob. The difference is in the shape that it gives to your head. The shape is rounder than other similar haircuts. The round cut will help to add even more volume to your head making this hairstyle a perfect pixie cut for thin hair.
You can also play with different colors that will bring depth to your style. This light blonde with dark roots is an amazing choice if you are also looking for a new hair color.
12. Textured Pixie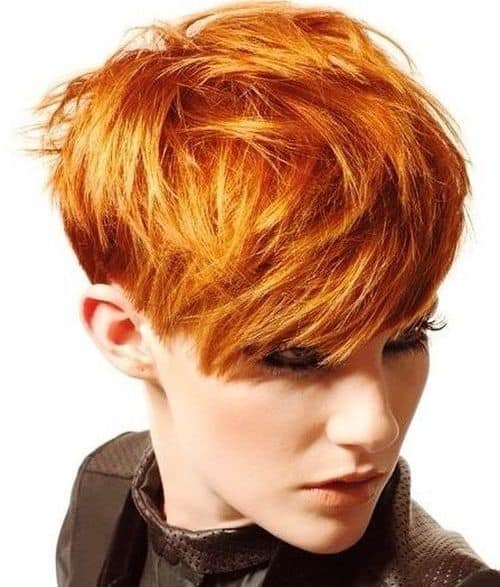 Short hair can give great volume to your hair and with this hairstyle, you will achieve it. This pixie cut for thin hair will avoid your hair looking flat and dull by bringing some fun texture to the game.
You can add some undercut or try different bangs to try new things. And, if you are feeling super playful and adventurous, you can experiment with exciting new colors in your hair.
13. Side-parted Pixie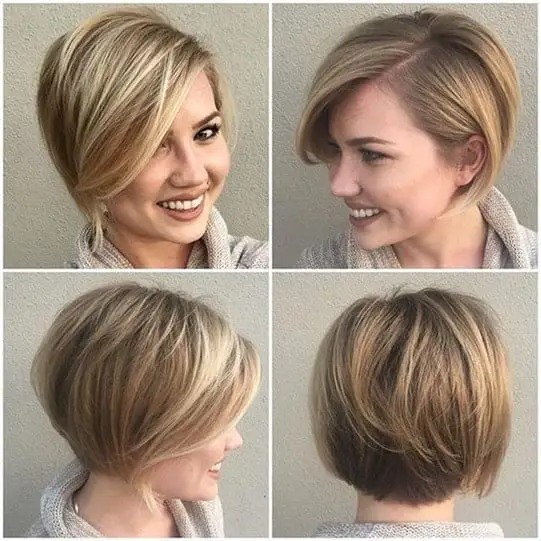 If you are not ready to fully commit to short hair this a great way to get away with it. A longer version of the pixie bob on thin hair that will give you a great shape and lots of volume. You can show off some amazing side bangs with this cut.
Look young and playful with this hairstyle. The bangs will bring attention to your face and if you want to add some light you can try blonde highlights in your hair.
Best Short Hairstyles with Bangs
14. Edgy Pixie Cut for Thin Hair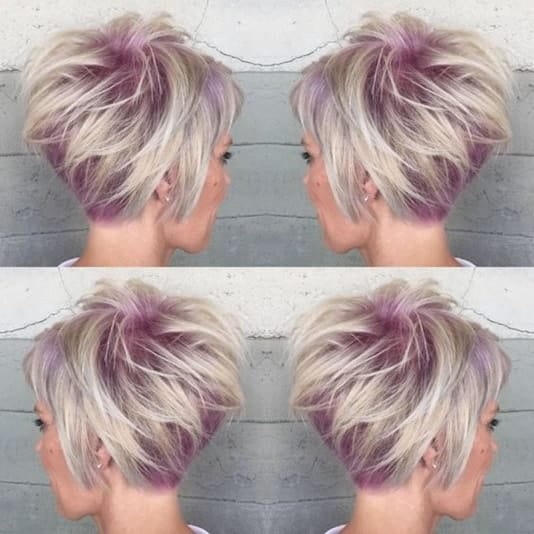 If you are looking for something totally different that will allow you to express yourself, this cut is the right one. If you are going for a Rockstar look you can decide to try an edgy pixie. According to how you style it you will look totally different.
You should experiment with this cut if you are looking for something unconventional. You can also dye your hair in various exciting and eye-catching colors. Try the craziest and most daring color combinations if you wish!
15. Pixie with V-cut Layers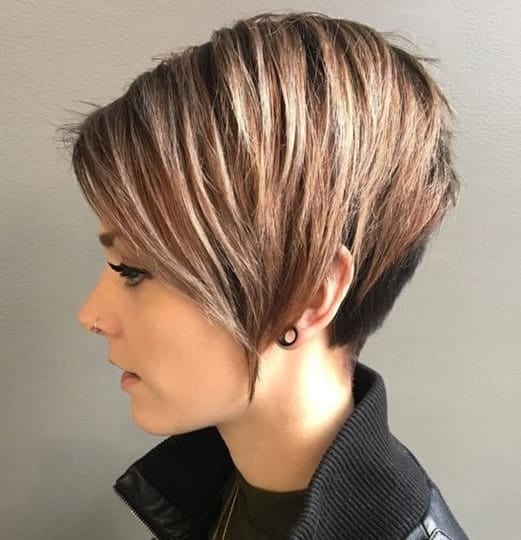 The v-cut layers bring attention to your neck and make it look thin and long. The layers also help to bring more volume making this hairstyle amazing if you're looking for pixie cuts for thin hair.
An undercut will also help your neck look flawless by letting others admire it better. It's a low maintenance look that can be the spotlight wherever you go.
16. Pixie with Long Angled Layers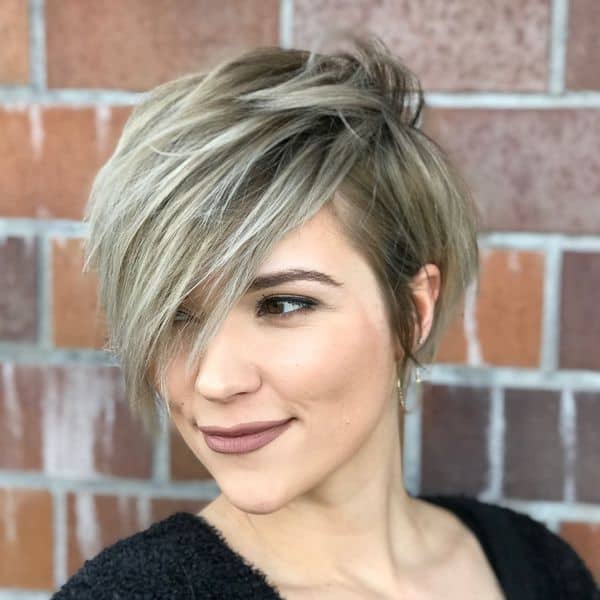 With this thin pixie cut, you can bring some interesting dynamics into your hairstyle. This cut plays with the gradual reduction of layers giving your hair a lot of movement.
The layers go to both sides of your head and if you desire you can add an amazing long bang that will give this pixie a special touch. You should try this if you are bored of long hair and want to give a try to short hair. Plus, it is super easy to maintain.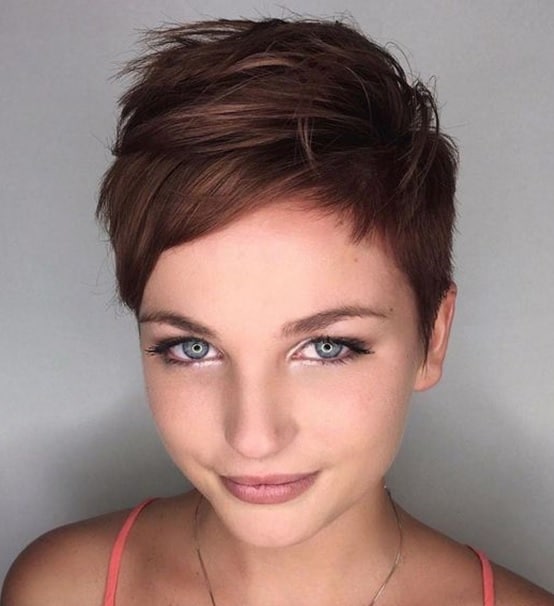 The feathered choppy pixie will bring a lot of volume to your new short hair. If you want to look amazing with this hairstyle you have to consider it is really important to use different products in order to achieve this look.
Search for the products that best suits you and your hair. You can test different ways to style your hair and look for the one that you like the most or rock more than one. With this pixie cut for thin hair, you will achieve a beautiful and feminine look.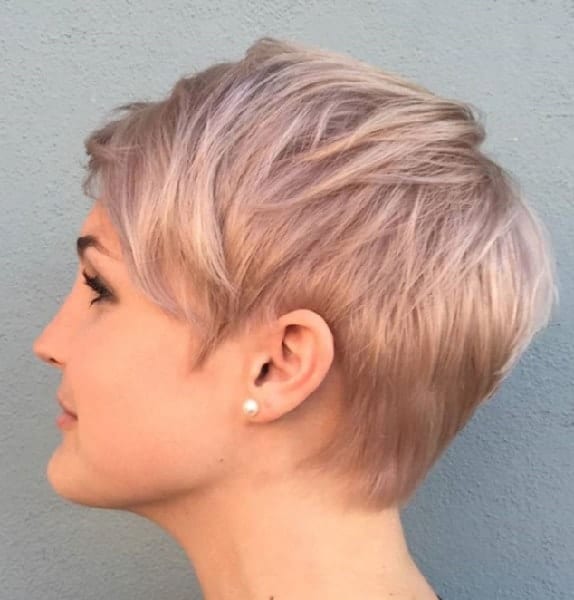 This modern look will give you all the texture and volume you are looking for. Short hair can look amazing if you style it correctly. The best part is that you have plenty of alternatives to try.
Look for the one that you feel the most comfortable with. According to how you style it you can switch the attention to specific parts of your face. Play with this cut and find the style that will help you to show off your best features.
19. Long Pixie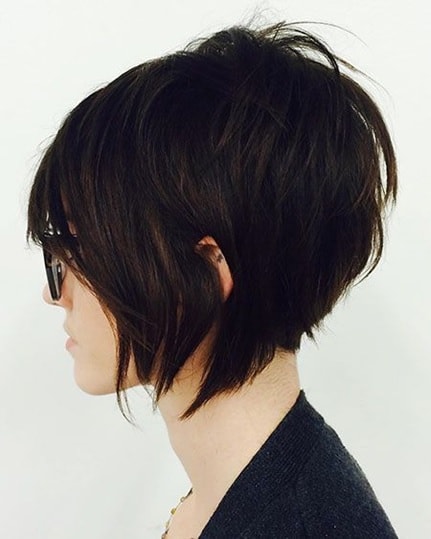 This cut will give you tons of volume with a longer hair length. The different layers allow you to have a lot of movement. It is ideal to transition between short hair and long hair. An amazing alternative to the short pixie, this hairstyle is ageless so give it a try no matter your age. Every woman can look amazing with this pixie cut for thin hair.
20. Funky Pixie Undercut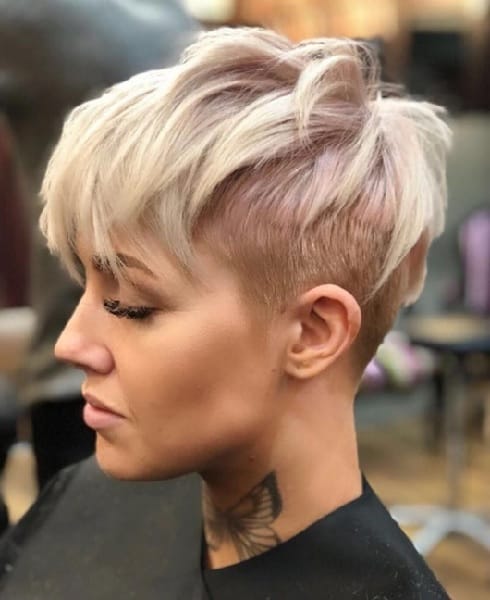 Attention! Try this funky pixie cut if you are super adventurous. A great option if you are looking for an unconventional and original pixie cut for thin hair. However, there is a warning; you have to style it constantly and properly to avoid looking flat and plain.
An asymmetrical look brings a modern twist to the pixie without losing the charm of the cut. You can upgrade your look by trying unconventional hair colors as this white hair with pink undertones.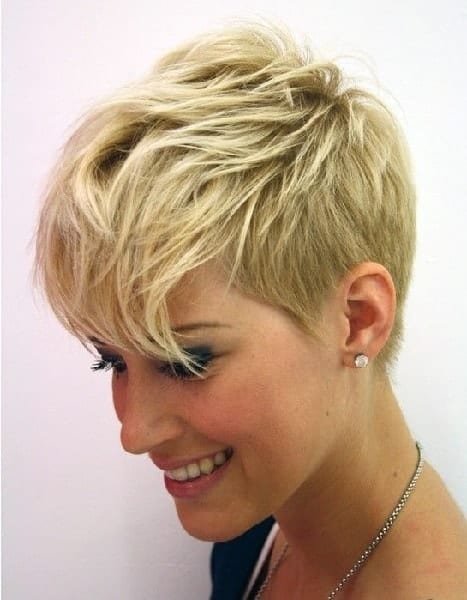 The short asymmetrical pixie cut with wispy bangs is a fresh look to show off. There are plenty of different types of bangs and you can try any of them as this haircut goes great with all of them.
If you hate having your hair covering your eyes the short bangs are perfect for you. Have in mind that bangs required constant trimming to look great. The silver lining is that you can also style them to one side or side-parted them if you want.
Now you know that it doesn't matter the thickness of your hair you can also try on short haircuts and still seem like you have a voluminous hair. Don't be afraid to try out a new pixie cut on your thin hair. Take the risk!