It is never easy to choose the right makeup, dress, and shoes to attend a wedding: you can't attract more attention than the bride, but you also need to look fancy.
On top of everything, choosing the hairdo for a wedding is even harder – it is an essential detail for any bride, bridesmaid or guest in the ceremony, none of which want to look bad in the event.
Many women choose to get their hair professionally styled in a beauty salon, but that can be very expensive. What they don't know is that many incredible hairdos can be achieved at home, on their own, just using a few tricks and accessories.
We've compiled a list of beautiful, romantic, elegant and stylish wedding hairdos that you can do yourself, at home. They depend on each woman's personality, hair type (short, medium or long), and face shape; as well as the type of wedding ceremony, whether it's during the day or at night. Following these tips, you'll look amazing in this most special event.
Types of Hairdos for Weddings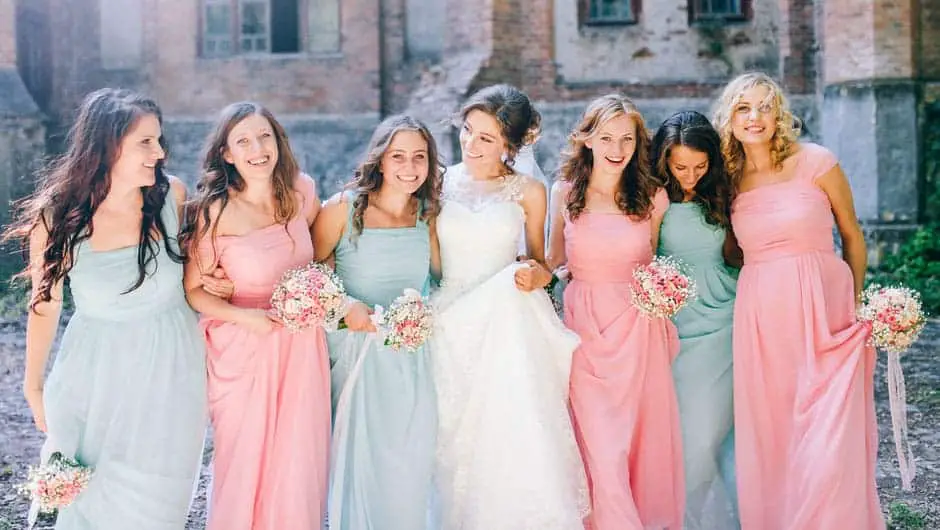 This is perhaps the most difficult choice to make when deciding on a hairstyle for the wedding. The style should match the woman's personality, her face shape, hair type and length, as well as the dress she'll wear. See below the most classic and elegant wedding hairdos.
Braids
They are a favorite in wedding ceremonies. Since they're elegant and classic, they can be adapted to any hair type and look. There are many types of lovely braids that can be worn to a wedding – by the bride as well as the bridesmaids and guests. You'll find great tutorials on the internet. See below a few types:
Basic Braid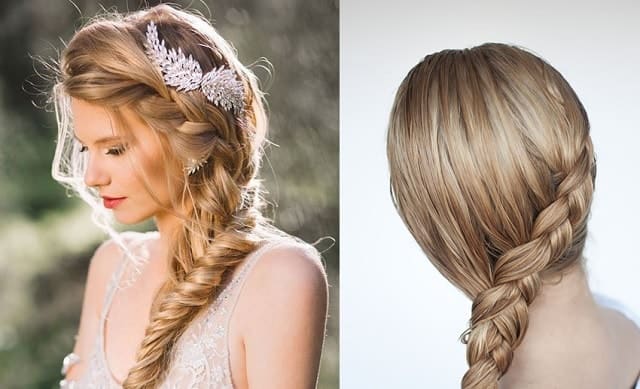 The classic braid that our mothers and grandmothers would do on our hair as children. It is done by braiding together three sections of hair until it reaches the desired length. You can wear one or more of these to achieve a youthful look.
Rope Braid
This one is done with two sections of hair. It is ideal for those who want their hair half or fully loose.
French Braid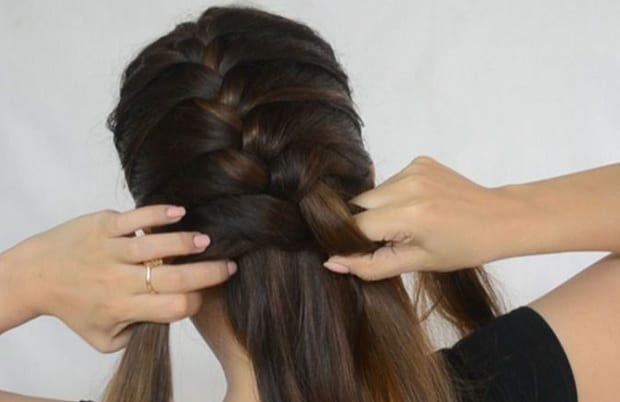 Two frontal braids forming a tiara. This type of wedding hairdo frames the face and gives you a youthful look.
Cornrows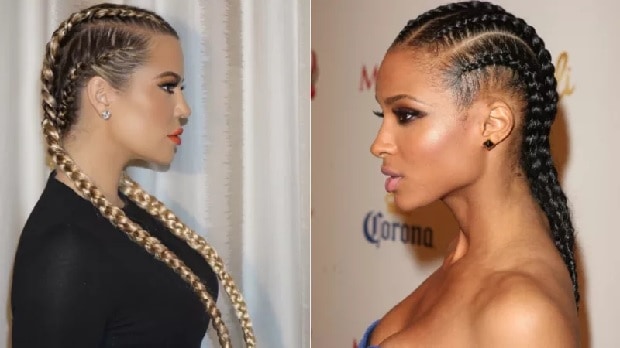 Another classic braid type, from ancient times. They're done by braiding three small sections of hair from the top of the head and adding more sections as it is worked down the length.
Fishtail Braid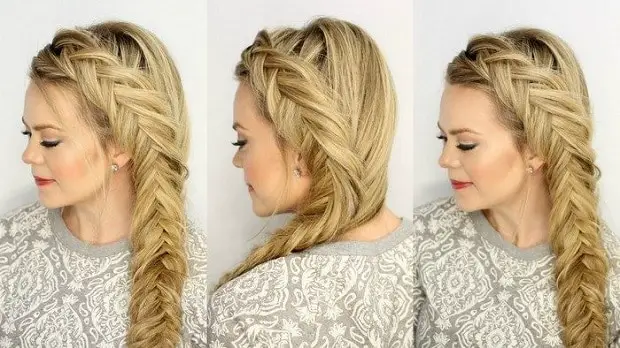 As the name suggests, this type of braid resembles a fishtail. It is done by braiding together four sections of hair, twisting them to reach the desired look. It can be done to the side of the head, loose, tight, undone, etc. to make you look elegant.
Side ponytail braid
It is the famous wedding hairstyle combined with a classic braid at the side. It is simple but makes for a charming wedding look.
Waterfall Braid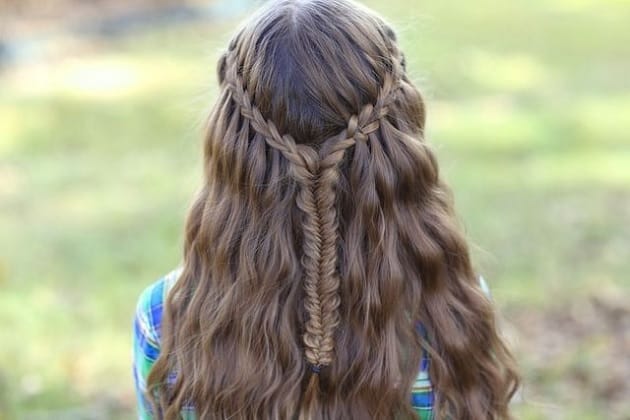 This type of braid uses the classic three-strand braid. As you braid the hair, you leave the middle strand and take a new section to add to the braid. You can repeat this sequence until you go all around the head. Generally, people use two braids of this type on each side of the hair, then tie them together at the back.
Bun hairstyles for weddings
Buns are also very common as wedding hairstyles. They give you a touch of simplicity but with extreme elegance. There are bun styles for more mature or more youthful looks. They can be combined with tiaras and hair pins, and mixed with braids. See:
Classic Bun
This is the simplest type of bun, in which all the hair is pulled back and rolled at the back of the head. It is very simple and can be done at home. You just need hair pins, an elastic and fixing spray, to make your hair beautiful for the wedding.
Banana Twist
This hairstyle provides a sophisticated look, very popular with celebrities, and simple to do. With hairpins and setting spray, you'll have a beautiful hairdo for the wedding. You just need to twist your hair in a spiral and pin it in place. It can go on top of the head or closer to the neck. It looks beautiful with crystal hair clips or pins.
Half Top Knot
This is a modern wedding hairdo that can look great for a wedding. It uses only the bangs and front sections of the hair. It looks very delicate if you wear it in the middle of the hair instead of the top.
Knot Bun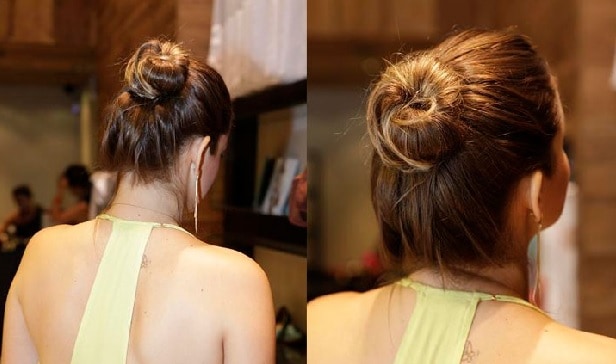 This type of bun is literally done by making a knot on the hair. If done in a loose way, it will look more casual. You can wear it high or low and choose to let a few strands loose or not.
Braided Bun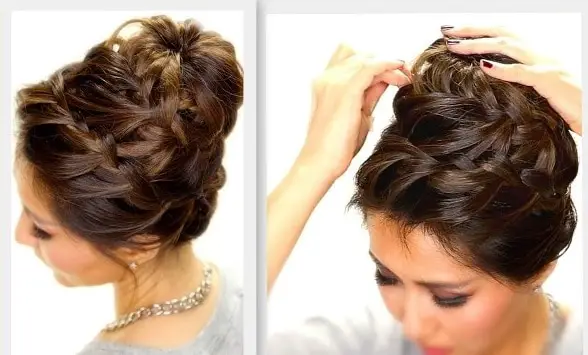 It is a braid twisted into a bun on the head. To do it, simply tie your hair in a ponytail, braid it, twist it into a bun and pin it in place.
Messy Bun
It is very popular with celebrities, and very simple to do. Tie your hair into a ponytail, at any height you prefer. Slip a few strands over the hair tie, at the sides. Pin them in place with clips or hairpins, leaving the tips loose.
Half updos for weddings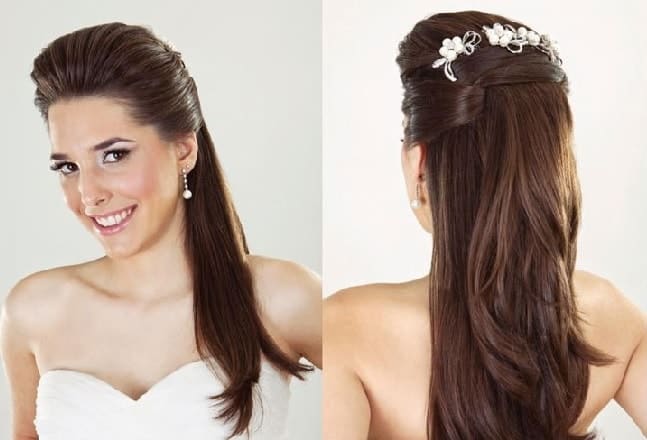 These are the wedding hairstyles when half of the hair is tied up, with clips and tiaras, and the rest is loose. They are much easier to do than braids and buns.
However, since they are simple, the brides, bridesmaids or wedding guests should combine them with lots of accessories and elaborate dresses. The hair will look simple but you will look great.
Half-down Hairstyles
Unlike the half-up hairstyles, these will leave part of the hair loose and all the rest up. It looks very interesting on short-haired people. You just need to do your hair up and loosen a few strands.
Side Updo
This is one of the most used hairdos for weddings since they are simple to achieve and very charming. The hair is loose only on one side of the head. To use this hairstyle, you need longer hair.
Pompadour
These can be done on any hair type and length. This updo is ideal for those that want more volume on the hair, and don't have a lot of time to spend modeling it.
The pompadour can be used on completely loose or half-up hairstyles. Simply take one section at the front and tease the back of the hair. Pin it in place and you'll have a very fancy wedding look.
Wedding Hairstyles for Short Hair
There are many options for short-haired women, from romantic to modern looks. Romantic styles vary between soft waves, half-up or side updos. In the modern styles, textures and details compose the look. You can also choose hairstyles with more volume on top and waves at the tips.
Accessories can also give your hair a party vibe. Use flowers, hair clips, bows and tiaras. Don't forget the setting spray to keep your hair looking perfect until the end of the event.
If you want to go for a radical change of look, hair extensions can also help. They'll make your hair longer and give you more styling ideas.
Wedding Hairstyles for Medium Length Hair
These are the easiest ones to do. They can vary between fully up or loose hairdos. The main tips are for half-up hairstyles, loose hair with soft waves or side updos, and high buns. If you have this hair length you can also wear the aforementioned accessories for short hair.
Wedding Hairstyles for Long Hair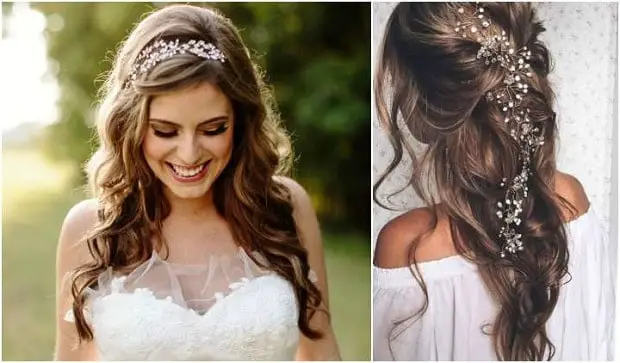 Having long hair helps a lot if you want to wear different hairstyles. For a wedding, you can wear braids and buns, or mix both; half-updos with waves, curls or straight hair; and even fully loose hair. These will give you a sophisticated and modern look.
Watch the following video of DIY wedding hairstyles for the medium/long hair tutorial
Hairdos for Brides
Certainly, the bride is the main star in a wedding ceremony. She attracts the attention of everyone. That's why she must look stunning, not only regarding her dress and make-up, but also the style and beauty of her hair. It will be forever captured in photos and memories of the attendees.
When choosing the best hairdo, the bride must consider her hair type (if it is straight, curly, kinky or wavy), its length (short, medium or long), as well as the style and time of the ceremony. Her dress must also subtly match her hair and accessories, veil included.
The wedding hairdo must also make the bride comfortable at the ceremony and party, without coming apart after the many hugs she'll receive as well as the confetti and rice throwing.
See below some interesting tips:
Short hair
Medium hair
Long hair
Hairdos with veil
Generally, hairdos with the veil vary between buns and loose hair, but you can choose other elegant types. What matters is that the hair is firmly in place and doesn't fall apart during the event. Depending on the veil's style and size, it can be worn without attaching to the hair, making the look harmonious.
Indian Bridal Hairstyles for Long Hair
Hairdos for Bridesmaids
Bridesmaids have many options of hairdos, for all hair types and lengths. See below a few of the best options:
Short Hair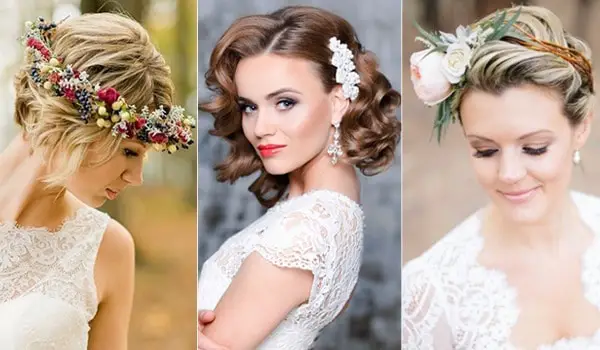 Medium Hair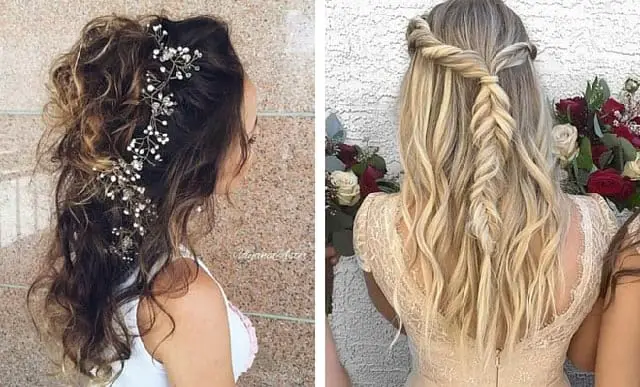 Long Hair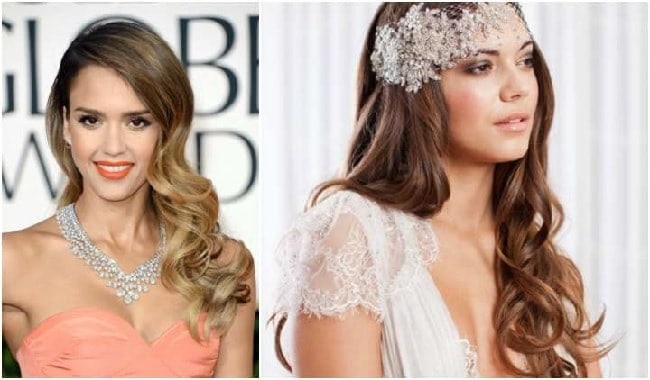 Hairdos for Guests
Although they're not part of the main cast of a wedding, the wedding guest can also wear an elegant, charming hairdo and look lovely in photos. It's important to remember they can't attract more attention than the bride, which is the star. That doesn't mean, however, that they can't make their hair elaborate.
See below a few tips to get a great hairdo:
Short Hair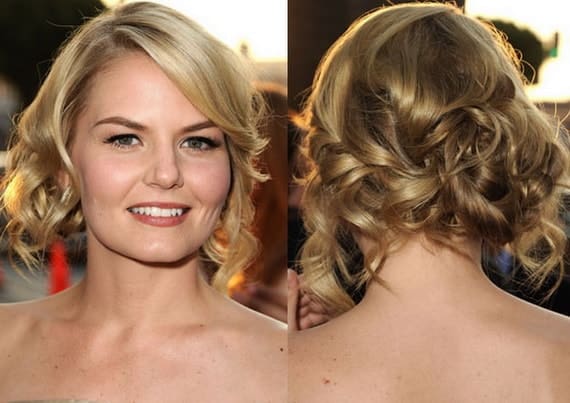 Medium Hair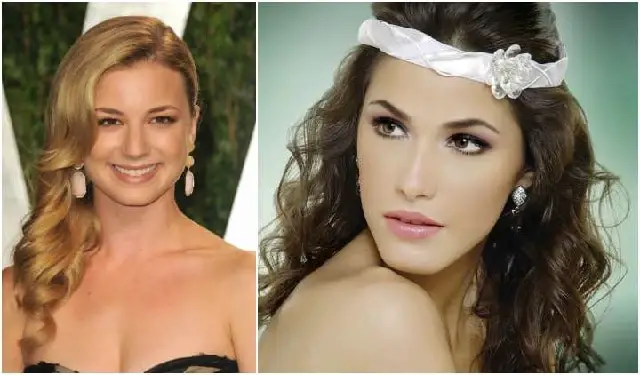 Long Hair
These amazing hairstyles are elegant enough to give you a gorgeous look on your special day. So grab your favorite hairstyle and stand out among others!