Shaved head designs have become quite popular nowadays and it's not usual anymore to see women with incredible shaved hairstyles. The trend stems from celebrities bringing back this kind of hairstyle to the mainstream, such as Pink, Rihanna, Natalie Dormer, Cara Delevingne, and many others.
Though shaved hairstyles are not for everyone and not all women can pull it off. It requires quite a bit of confidence and style. They can look incredibly cool or incredibly awful, so this is definitely not something for everyone.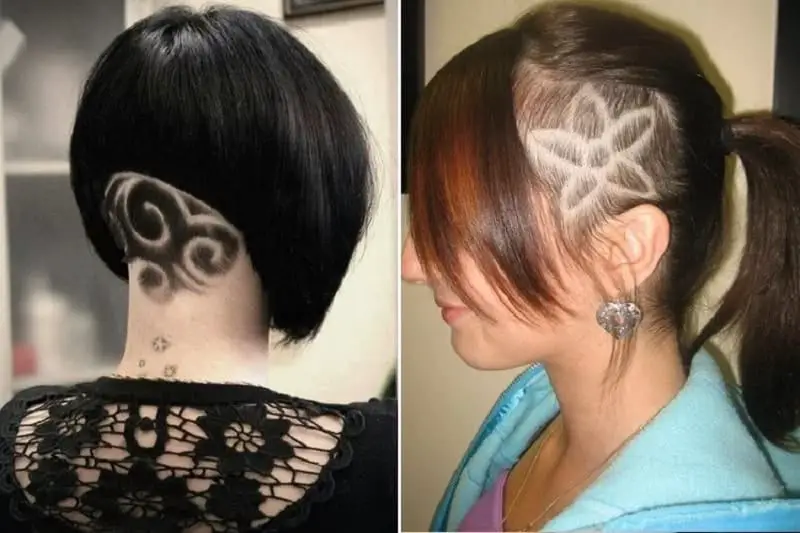 Remember that no matter what kind of design you choose, you will have to wait for the hair to grow back, so there's no easy fix to it. This means that you must be sure that you want this and that it's not too much for you.
The great thing about shaved head designs is that they can be done on the front and side of the head and at the back of the head as well, which is known as undercut shaved hairstyle. So, if you're seriously thinking about this and you like the idea more and more, you should take time to decide what kind of shaved hairstyle you want.
An important thing you need to consider about side shaved designs is that not all options out there will go well with the shape of your face, so you need to make sure you're making the right choice. The best way to make sure is to do your research and also discuss your options with your hairstylist.
Shaved head designs are a great way to show not just your personality, but also your creativity. Hair artists are capable of making your vision come true on your head, and they take their craft very seriously, so you will be able to get the best hair tattoo; all you need to do is research and choose the right hair artist for what you want.
If you're looking for something new to try or if you want to make your hairstyle unique or make a statement, a shaved head design is definitely the way to do it. Your hair will grow back eventually, so it's not a permanent commitment. This means you will be able to try several designs if you end up liking the idea, and I believe you should do this at least once in your life.
Because there are so many different things you can do, we took it upon ourselves to look for 10 different options for you to consider. We will be looking at shaved head designs on the back of the head, the front, and the sides, so you can make the right choice for yourself!
Back of the Head or Undercut Shaved Designs
This option is great for women who want to keep the party in the back and make an impression as they walk away. Some front or side designs can seem a bit intimidating and too extreme for some ladies out there, so keeping the art in the back is a good strategy.
Plus, if your hair is medium to long, you will be able to hide your hair tattoo whenever you want; all you need to do is let your hair done and no one will be able to see it. This is a great compromise for many women out there!
Plus, you have a lot more space to work on when you're shaving the back of the head, and hair artists can certainly have a lot of fun with that. Today we're keeping it simple, stylish and beautiful so you can see that shaved head designs don't have to be extreme to look good and make a statement.
Here are the best back of the head shaved designs you should consider!
1. Diamond Shaped Design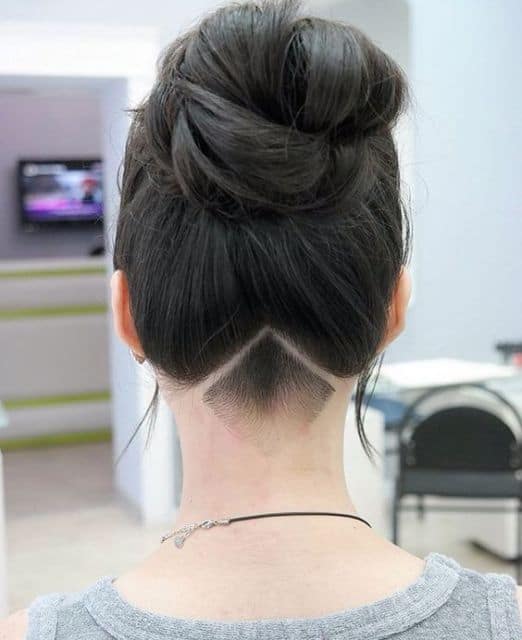 As you can see, shaved back of head designs hairstyles don't have to be extreme to look good. This is a simple yet incredible diamond shaped design with a great little dégradé or fading effect. This undercut design is perfect if you don't want something crazy and if you want to keep it very elegant and stylish. You can hide this by wearing your hair down whenever you want!
2. Tribal Design on Short Hair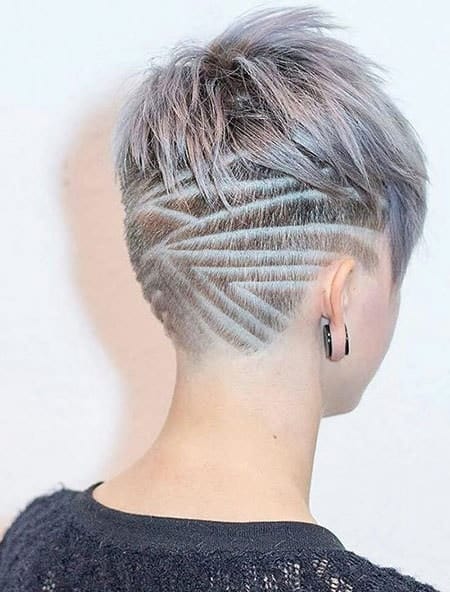 Before I move on to front and side shaved head designs, I wanted to show you what shaved head designs look like on short hair. They are super stylish and cool; there's no denying it. If you can already pull off a pixie haircut, then you can make it special with your own hair tattoo.
3. Geometric Design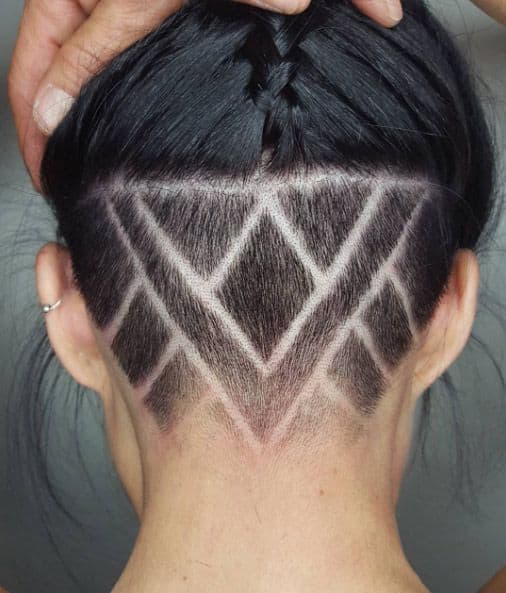 Geometric designs are also very popular when it comes to the shaved back head designs hairstyles and they look amazing. This is a slightly complex design, but you can get simpler ones and you can also get geometric animals, geometric flowers, and more. You will have a lot of options to choose from, so have fun!
4. Lotus Flower Design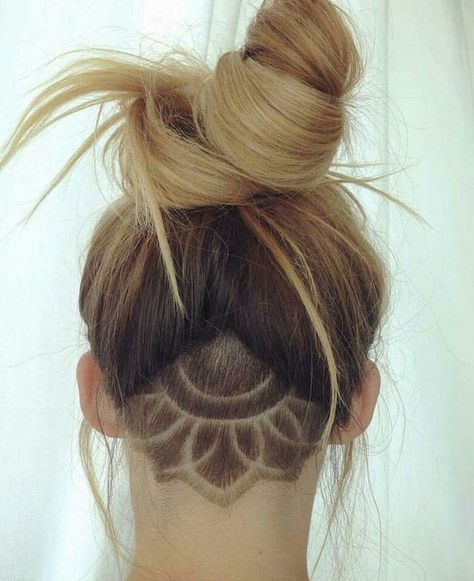 Lotus flower designs and flower designs, in general, are also very popular options for women. You will find a variety of lotus flower designs to choose from and they can be placed on the back of the head and on the side, wherever you prefer.
As you can see, the lotus flower looks incredible and it's just a beautiful back of head shaved designs hair like a tattoo. Besides flowers, you can also get designs of all kinds of different things such as butterflies, mosaics, animals, and other things!
Flower Tattoo Designs for Women
5. Tribal Design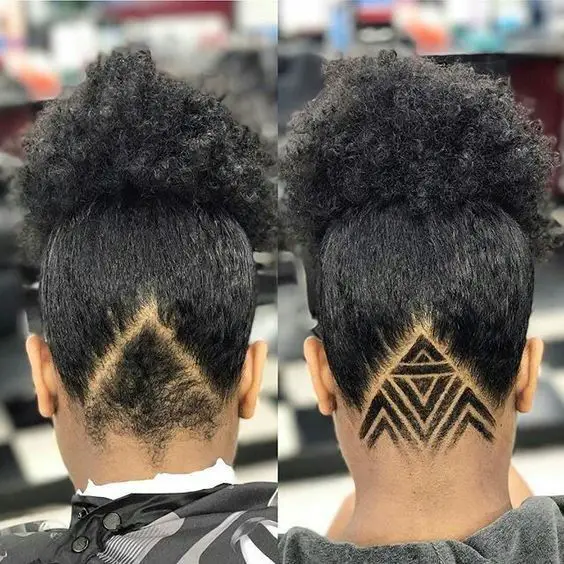 As you can see, shaved designs on the back of head look great on all types of hair, so you will have no limitations when it comes to that. This tribal design is incredible and it continues to be very simple. Tribal designs are actually very common when it comes to shaved head designs for both men and women, so you'll have a lot of options to choose from.
Creative Side Shaved Head Designs
Shaved head designs on the front and side of the head are a bolder choice and this is perfect for women who are not afraid to do something different and show the world their hair art. This option is not for everyone, but you'll see that there are simple designs out there that will make it a lot less intimidating and that look stylish, elegant, and very cool.
These designs can compliment long, medium and short hair, so you won't have a problem finding a design for you. Here are some of the best front and side shaved head designs that you should consider!
6. Flower Design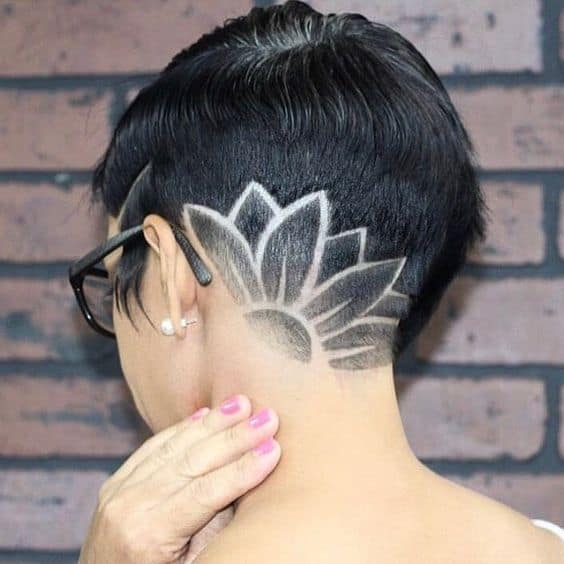 As we mentioned before that flower designs can also be placed to the side or as a back head shaved design, and this is a nice example. This looks incredible and it's not a lotus flower, so it won't be as common, which is great.
I really liked this placement because it compliments short haircuts very well and it's not placed so close to your face, but it's still noticeable.
7. Heart Design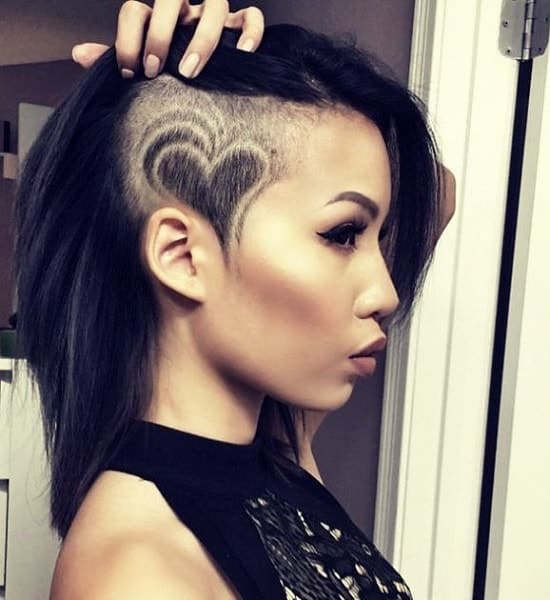 Another great way to spruce up your shaved side is by adding shaved head designs like this! If you love hearts, then you can get something like this, but you can definitely choose any other shape you like. This kind of design tones down the harshness of the shaved side without ruining that tough, sexy look you're looking for.
Haircuts for Women with Heart Face Shape
8. Half Shaved Head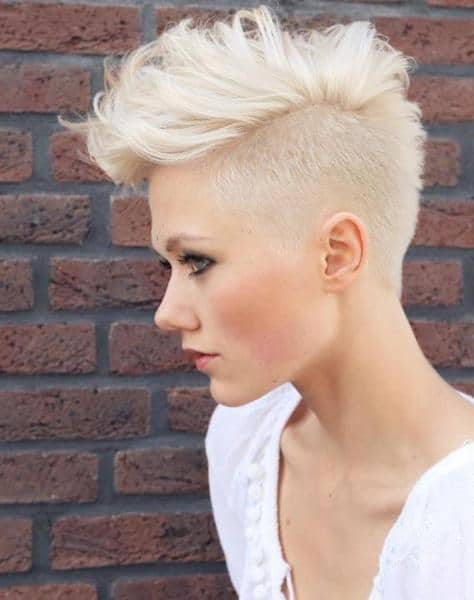 The half shaved head is one of the most common shaved hairstyles for women. It doesn't feature any designs and similar to a mohawk, but it doesn't need to because it creates a beautiful contrast. As you can see, this side shaved head design looks good on short, medium and long hair as well. If your hair is long, you will be able to hide this whenever you want.
9. Shaved Side Design with Bangs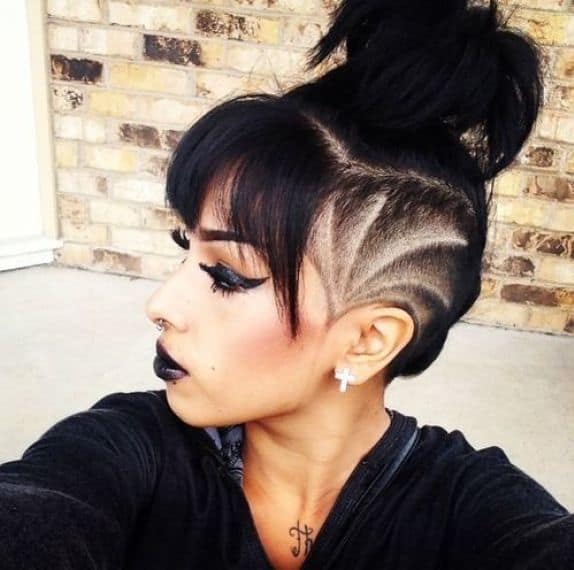 Oh, yes! There are many ways you can make your shaved side hairstyle look a lot more stylish and complex. Adding bangs with short hair is one of the options and, as you can see, it complements the hairstyle quite nicely.
If you already wear bangs well, this will be a no-brainer for you. Side bangs also work quite nicely and whatever shaved head design you choose will look incredible.
10. Shaved Side with Hard Lines Design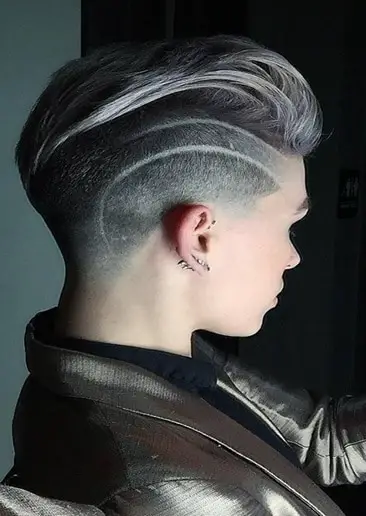 If you want to add detail to your shaved side, you can integrate some hard lines like these. They can have this kind of curved shape you see in the image, or they can be straight. You can also get a tribal design or a geometric one if you want something a bit more complicated.
There you have it! 10 beautiful and different options for you to consider. Let me remind you that shaved head designs can suit all hair types and all lengths as well, so you will be able to find the design that suits you best.
Women also style this kind of hairstyle with bold colors like red, orange, green, pink, and purple, among others. Some women go as far as to dye their designs. For example, flowers with colored petals, geometric designs with contrast colors such as baby blue and dark blue, among other things.
I also noticed that women can bedazzle their designs by adding glitter! Isn't that the greatest idea?! Overall, there are many designs to choose from and many different ways you can personalize your shaved head design. This kind of hairstyle is a great outlet for your hair creativity and it's a great way to experiment and have fun!