There are so many amazing ways to do blonde hair with bangs this winter. It can be short or long, all you need is a good idea. Plus, blonde comes in such a wide range of shades for you to experiment with. All of the 20 manes below are very simple, so you don't have to be a pro to style them.
If Hollywood stars and celebrities can flaunt short blonde hair with bangs, so can you. For all the women who are not huge fans of short haircuts, they can feel free to add bangs to their long blonde hair. Go through the chic hairdos below and you'll be surprised by the trendy choices.
Short Blonde Hair with Bangs
Short blonde hair with bangs is really winning in the hairstyle department this season. Bold ladies are flaunting their bobs, lobs, pixie cuts accessorized with chic fringe. Check out the trendy blonde hair with bangs ideas and make a choice.
1. Blonde Bob with Baby Bangs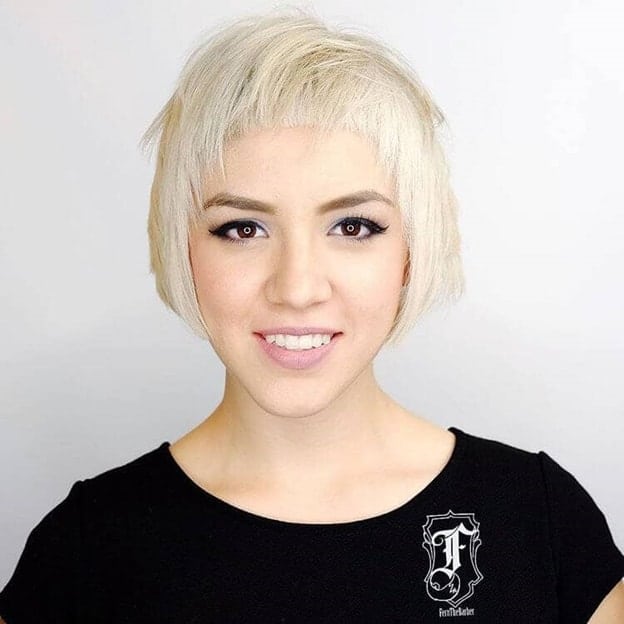 Currently one of the coolest short hairdos is the bob. Celebrities love it so much, that they've inspired a bob obsession all over the world.
Ideal for: Women with a small forehead should definitely opt for baby bangs. They tend to elongate the face. When it comes to the bob, oval and round face shapes are the best options.
How to Style: You won't have too much trouble styling this fun short bob mane. You'll only need 10 minutes to wash and blow-dry your hair.
2. Edgy Pixie Cut with Asymmetric Bangs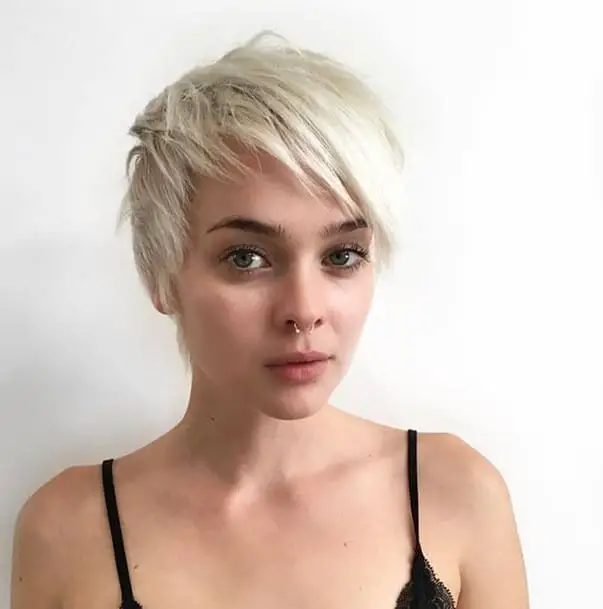 If you are courageous enough to get a pixie cut, you can always add an asymmetric fringe to it. It's edgy, cool and very interesting short blonde hair with bangs.
Ideal for: Square face shapes can definitely benefit the most from pixie cuts. Since the fringe is so messy and fun, it will complement both small and large foreheads.
How to Style: This is one of those styles that you don't have to worry about. You can hop out of bed and just give it a quick comb. No need for special styling tools or products.
3. Retro Lob with Blunt Bangs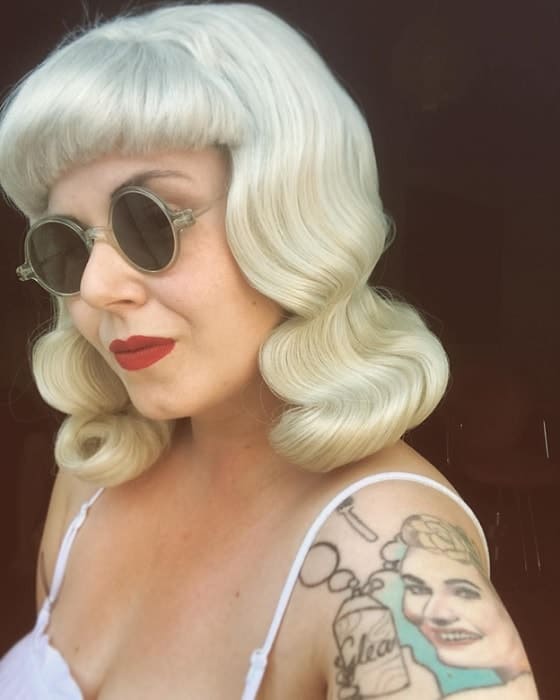 This list would be incomplete without a vintage curly lob inspired by the 1920s.
Ideal for: Ladies with different face shapes can try out this elegant hairdo.
How to Style: This short blonde hair with bangs would be ideal for a special event. It is so classy that you can feel free to flaunt it for a glamorous happening. Create the retro curls with a curling iron and add some strong hairspray as a finishing touch.
4. Pixie Cut with Side-Swept Fringe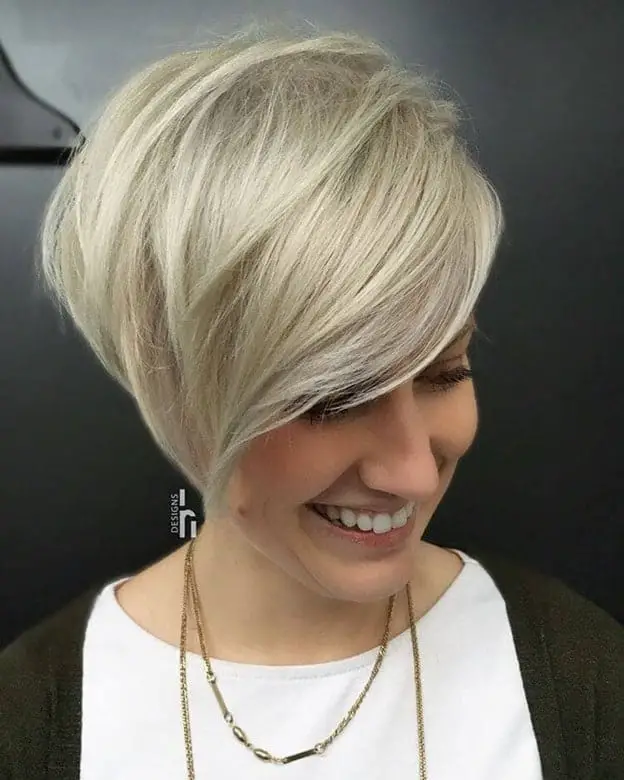 A longer pixie cut looks fabulous with a side-swept fringe. Women of all ages can copy this blonde hair and bangs style.
Ideal for: This is the most flattering hairstyle for round, oval and square faces. Side-swept bangs give this face shapes the perfect framing touch.
How to Style: Add a volumizing product while your hair is still wet. It will help you achieve a fuller look that really stands out.
5. Wavy Lob with Blunt Fringe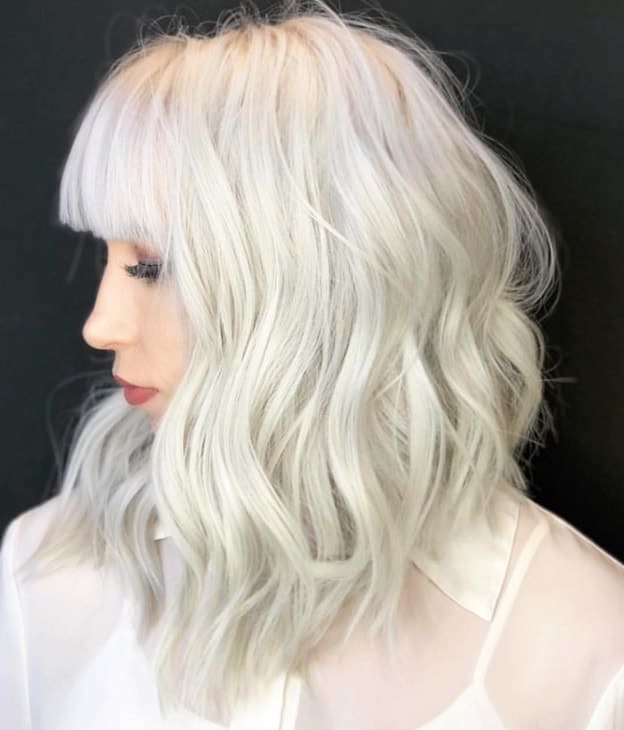 Keep it short and wavy if you want to follow the latest trends.
Ideal for: Blunt bangs can actually be great for all different face shapes, all you need to do is find the right length for you. Longer faces should go for longer and softened styles, while round shapes should rock short, micro bangs.
How to Style: You'll need a flat iron and a hairspray to achieve the messy beach waves.
6. Platinum Blonde Pixie with Layered Bangs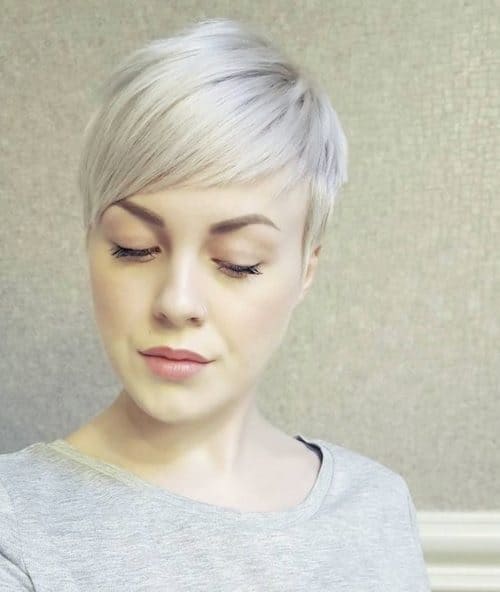 Platinum blonde is officially the most popular hair color for 2023. You have just enough time to pull it off and finish the year in style.
Ideal for: It is ideal for gals who are looking for a hairstyle that doesn't need too much attention. Heart, oval, and square face shapes will be a perfect match with the layered fringe.
How to Style: Pixie cuts are usually very easy to style, wash and dry. That's why women are obsessed with this mane.
7. Wavy Lob with Curtain Bangs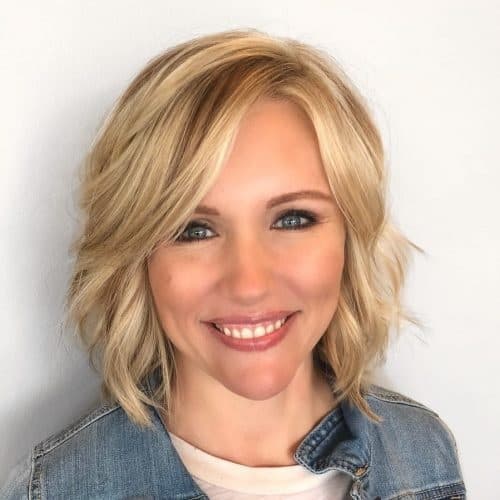 90s-inspired curtain bangs are so popular right now, that you have to copy this hairstyle before the end of the year.
Ideal for: This type of bangs can complement diamond and round face shapes. They will additionally frame the face, so ladies with round faces should keep them long, while the ones with the diamond face should keep them short.
How to Style: Grab the iron and add some chic waves here and there. Mess things up even more with your fingers.
Beautiful Short Hairstyles with Bangs
8. Braided Pixie with Undercut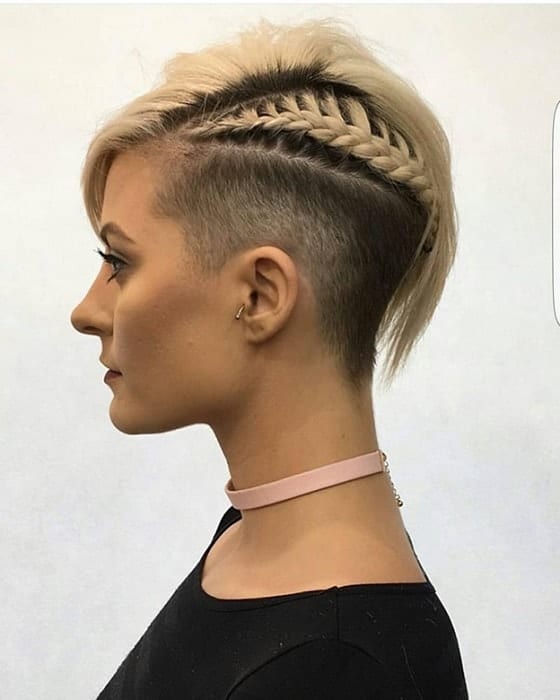 This is the most daring bangs on short blonde hair idea on the list. It embodies so many trends and it's mostly meant for younger ladies.
Ideal for: Gals who are not afraid to rock a unique hairstyle will love this edgy look.
How to Style: The fringe will always be side swept with this type of hairstyles. Make sure that your braiding techniques are on point.
9. Accessorized Bob with Bangs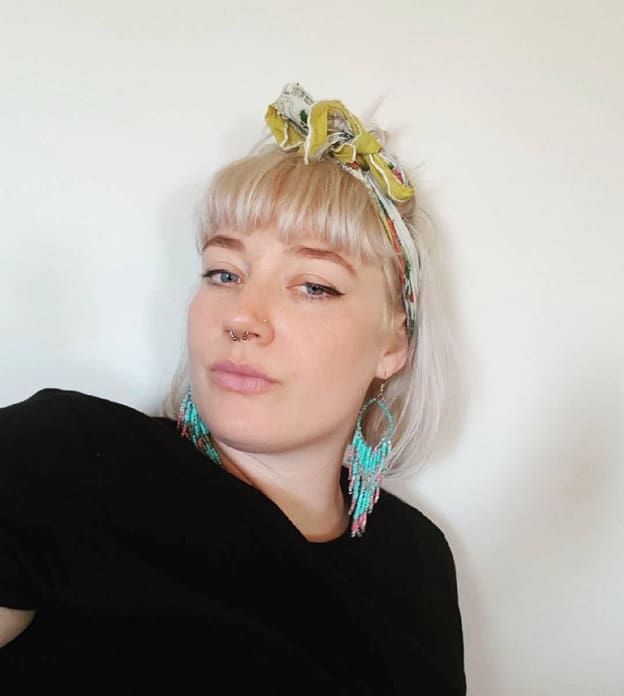 Accessories are always a great idea, even for short blonde hair with bangs.
Ideal for: All face shapes can add accessories to their fringe hairdos. When you get tired of having the same hairstyle every single day, a headband or bobby pins can do a huge difference.
How to Style: Get a vibrant headscarf and tie it around in a bow.
10. Short Bob with Super-Long Bangs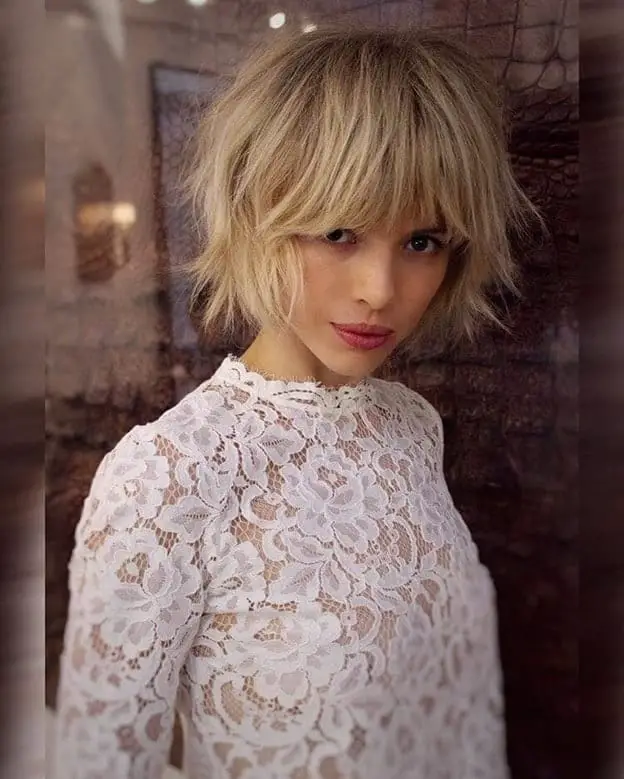 There is a brand new way to rock bangs. Keep them long and messy for the coolest look ever. Blonde hair with bangs has never looked better.
Ideal for: This fringe can be perfect for literally all face shapes. The best thing is that you don't have to risk cutting the bangs to short and not liking the final result.
How to Style: This is a messy mane that is so easy to pull off. You can keep it straight, or add some waves with an iron.
Long Blonde Hair With Bangs
When you have long blonde hair you can experiment with so many different styles. But since fringe is so popular this season you have to try long blonde hair with bangs. The 10 versatile manes below can be the inspiration of your next transformation.
11. Straight, Layered with Blunt Bangs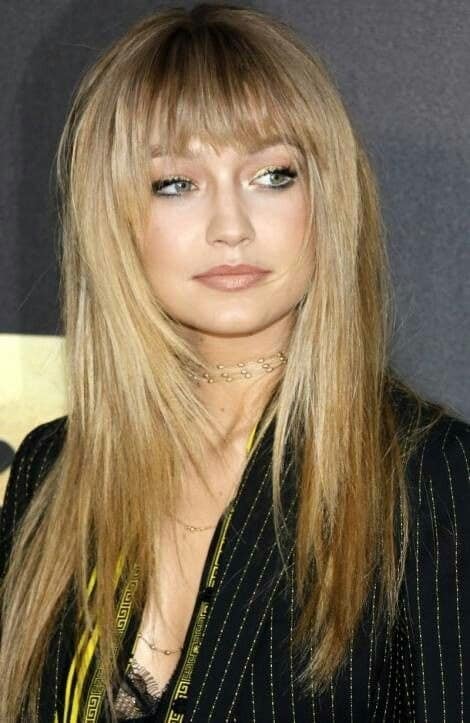 Straight, textured and sassy is the new favorite bangs on blonde hairstyle among popular stars.
Ideal for: Square, pear and round shapes are the ones that would be perfect with this hairstyle. But the good news is, all other women can try it with the help of a hairstylist.
How to Style: If you already have straight hair, this mane requires no work. Gals with curly hairdo will have to turn on the straightener.
12. Textured Fringe & Curls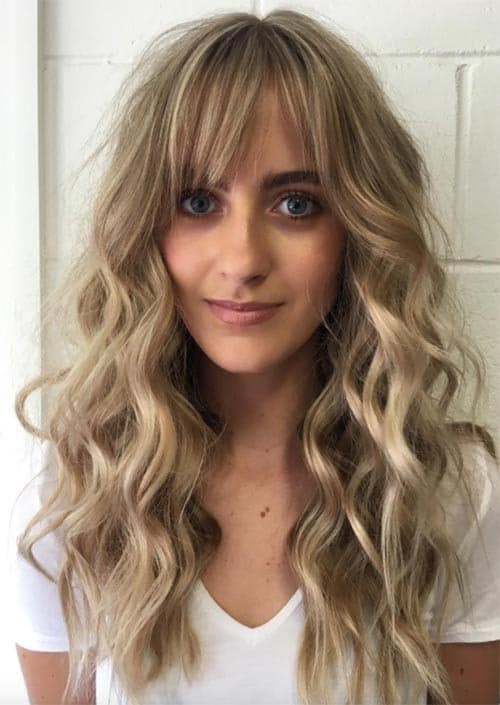 Your fringe doesn't have to be thick and blunt. Another way to go is a textured look that is so much easier to style.
Ideal for: Almost all ladies can work these bangs, all they have to do is find the right length. Square and round faces will definitely benefit the most from the hairdo.
How to Style: Prepare to style some curls with a curling iron. The fringe won't need any styling as long as your hair is naturally straight.
13. Low Pony with Drape Fringe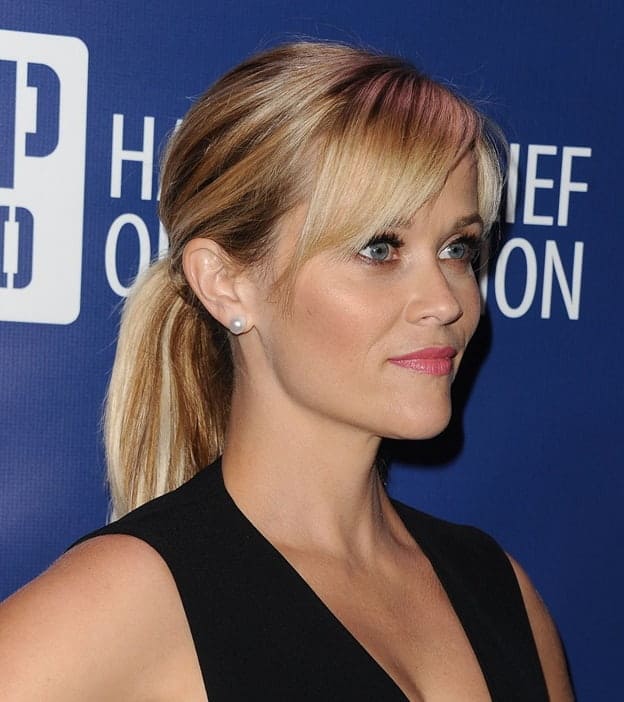 Blonde hair with bangs will look even better if you tie it in a low ponytail. This mane is meant for everyday activities, but will also be an amazing choice for a special event.
Ideal for: Heart, inverted triangle, and oval are the three shapes that are a match for the low pony with fringe. Oval is actually the face that was made for all different types of bangs.
How to Style: It's a simple hairdo that you can recreate in only minutes. Get a hair tie and do a low ponytail. Hide the tie with an extra strand of hair.
14. Platinum Blonde with Extra-Long Bangs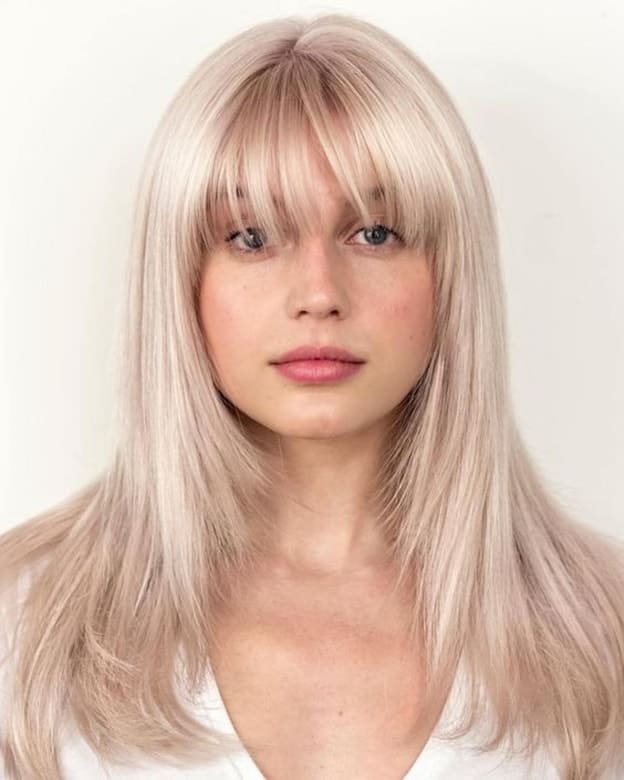 Gals can get easily bored from the regular blonde, so why not go platinum. When you match this shade with extra-long bangs you get a winning combo.
Ideal for: Heart and pear face shapes will look absolutely stunning with this hairdo.
How to Style: The best way to style long fringe is with a large round brush and a blow-dryer. That way you'll make sure that the bangs are away from the face and not in your eyes.
15. Textured Long Hair with Side Curtain Fringe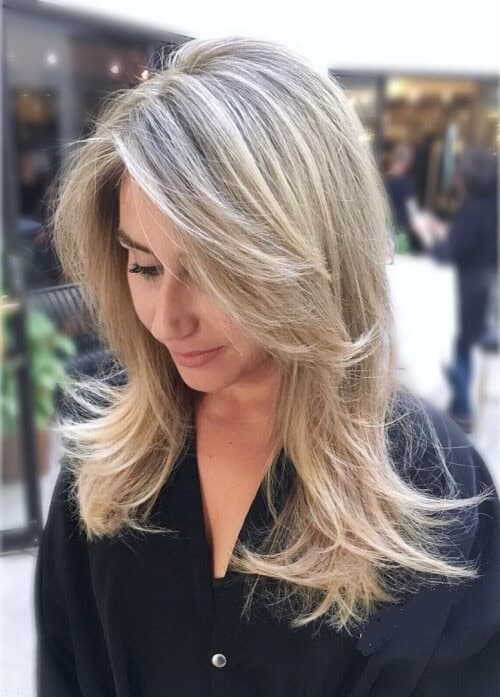 When you want the extra volume to the long blonde hair and bangs, you get a textured haircut with layers. They will really boost the final look of the mane.
Ideal for: Drape fringe with a side part is the best match with oval faces. Women with a heart-shaped face should choose longer bangs.
How to Style: Use a large round brush to blow-dry your hair for a natural look.
16. Simple Braid with Blunt Thick Bangs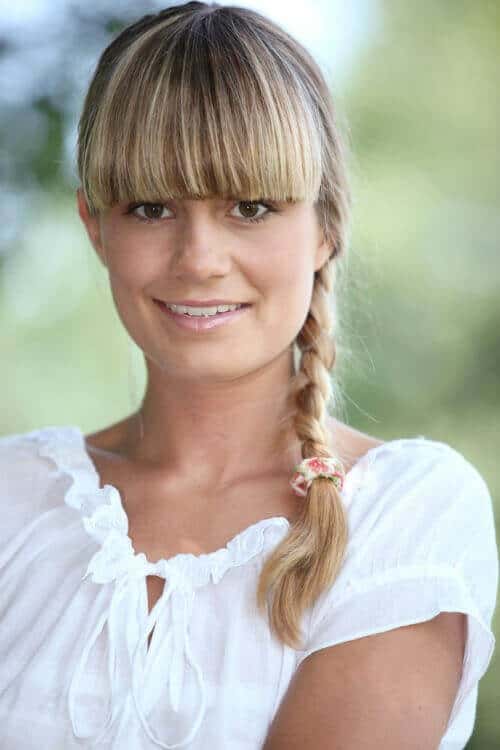 Long hair is ideal for braids. Go for the regular ones, Dutch, fishtail, French, or any other style that you like. The cutest thing ever is a side blonde braid paired with thick blunt fringe.
Ideal for: all face shapes. Thick blunt fringe will make a pear-shaped face look longer.
How to Style: All you need is a hair tie. Start braiding your hair on the side, or ask for help from your friends. There are so many types of braids you can try when you have extra time.
17. Blunt Bangs with An Updo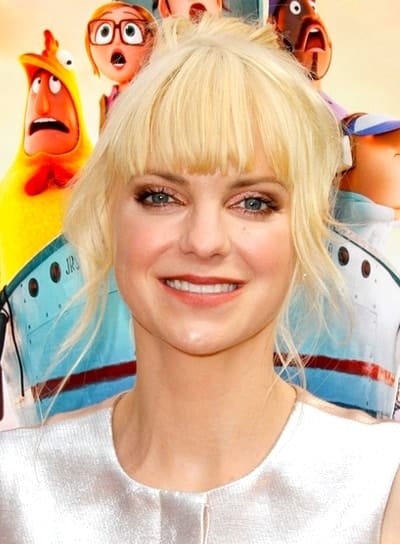 Don't be afraid to put your long hair in an updo. This comes as the best solution when you have to go to work but you don't have enough time to wash and style your mane. A classy updo with fringe is such a glamorous hairdo for an event.
Ideal for: Textured blunt bangs do wonders for square shapes, while thick blunt fringe is most suitable for long face shapes.
How to Style: Put your hair in the easiest updo and secure it with bobby pins. Add some soft waves as a finishing touch to the longer strands on the side.
18. Half-Up, Half-Down with Bangs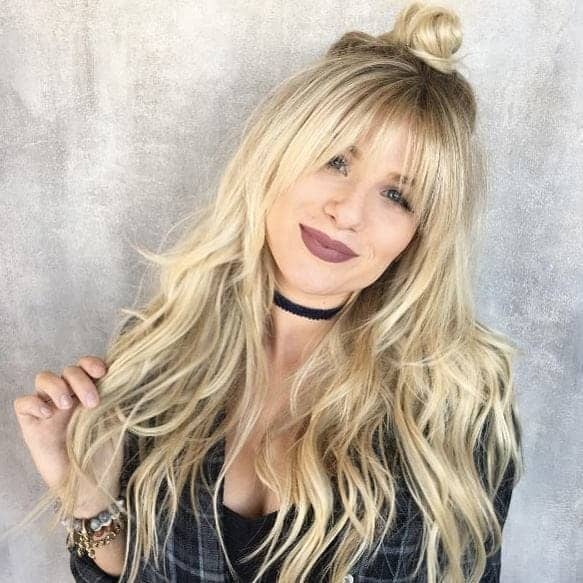 Upgrade your fierce long blonde hair with bangs and add a half-up, half-down hairstyle. There is a variety of ways to pull this mane off. You can do a high bun or a high half pony. The choice is yours.
Ideal for: These long textured bangs will flatter any face shape. If you change your mind, you can always use tricks to hide the long fringe. That's why long bangs are the best option for ladies who are experimenting for the first time.
How to Style: You can do a messy, wavy look with a flat iron, or keep the hair straight. Ladies with curly hair only have to get a hair tie and put that top part up in a small bun.
19. Thick Drape Fringe with High Pony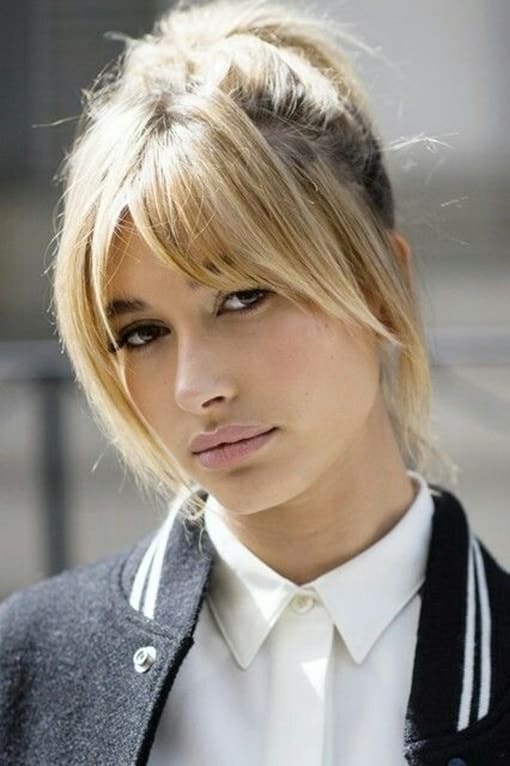 High ponytails are an easy way to look flawless even when your hair is not perfectly styled. There are days when you are too exhausted to go for beach waves or sleek and straight dos. Those are the days when high ponytails come in handy.
Ideal for: Thick curtain fringe with a middle part works best for diamond face shapes. If you make it longer, this type of bangs will elongate a round face.
How to Style: Grab a hair tie and put the hair up in a very high pony.
20. Long Blonde Waves with Drape Fringe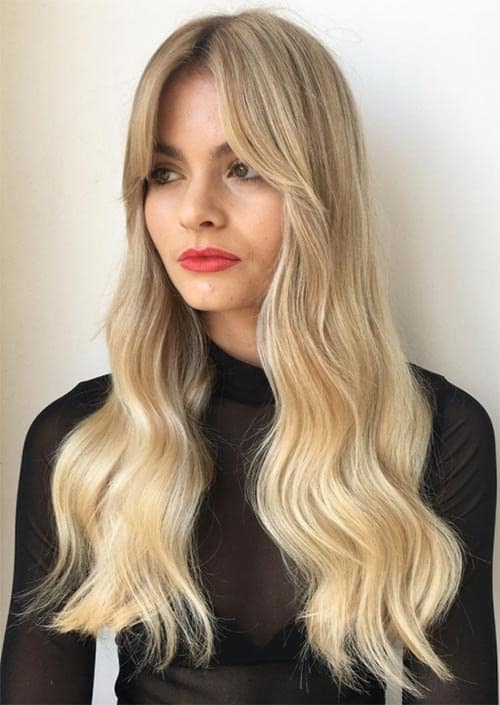 If you've been searching for a sophisticated long blonde hair with bangs as an idea for your winter transformation, this one is it!
Ideal for: When you opt for a middle part with drape bangs, you will make your face look longer. That's why this hairstyle is great for round faces. If you keep the bangs shorter, that will compliment a diamond-shaped face.
How to Style: From now on, the flat iron will become your best friend. These chic waves are done in only 10 minutes. You can also experiment with the part, it can be middle or a side part. Don't forget to use hairspray at the end.